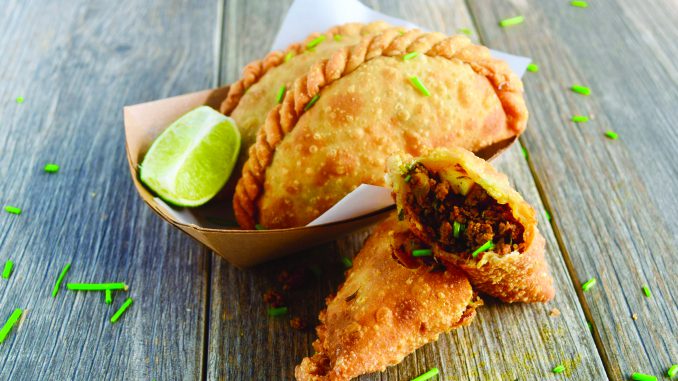 By Mike Conway
A mere glimpse is enough to stir the heart and the stomach — the half-moon shaped golden pockets of dough, swelling with savory fillings. Ubiquitous across much of Latin America, the empanada is to those regions what apple pie is to America — a staple, a comfort food, with recipes handed down from generation to generation.
And now Ashburn has a new source for these delicious creations: Tumi Urban Kitchen.
"What most people in Latin America look for is the traditional beef empanada," said Ricardo Cavero, the owner of Tumi Kitchen and a resident of Martin's Chase in Ashburn. "The beef empanada is the measuring stick for all of Latin America."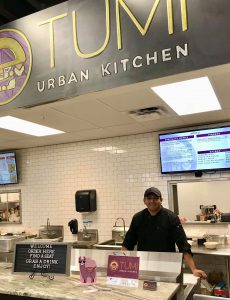 A versatile pastry found in Latin-influenced cuisine around the world, empanadas can be made with surprising combinations of meats, cheeses and seasonings — chicken, pork, chorizo. Still, Cavero's beef empanada represents the best traditions of his native Peru.
"We use several different onions, raisins, a little bit of egg and traditional Peruvian seasoning. Then we add a few things to give it sweet and savory accents," he said. "Finally, we top it with a slice of lime, because a squeeze of lime can add an extra element of flavor to the experience."
Tumi was launched at the ChefScape commercial kitchen on Ashburn Road in old Ashburn. It recently moved to the new ChefScape site at the Village at Leesburg, where Cavero is operating one of the kiosks in the food hall. The kiosk has the new Tumi Urban Kitchen name.
Tumi is one of two brands Cavero has created in Ashburn. In 2017, Cavero launched the Rocoto Gourmet food truck offering Peruvian cuisine at locations around Northern Virginia. During down time this winter, the truck is getting a makeover and will reappear this spring as Rocoto Peruvian BBQ.
Ashburn Village resident Roxce Castillo is of Peruvian heritage, and she and her husband and their three children are always looking for authentic Peruvian cuisine. So she was thrilled when she learned about Tumi and its signature empanadas.
"They are something your mom makes, your grandma makes — ever since you were a little kid," Castillo said. "They just make you feel like home."
The Tumi menu goes far beyond the beloved puffed pockets.
"We have a build-it concept," Cavero explained. "You select your base, which can be garlic and onion-infused jasmine rice, or a salad, or a sandwich, which comes on a big, butter-toasted Peruvian-French roll, and then you can choose from any of our meats."
The selection of meats includes crispy, sweet "chifa" pork — representing the influence of thousands of Chinese immigrants to Peru — and a spicy chorizo seasoned with aji panca, a Peruvian red pepper.
"We also do a sloppy Inca, which is a creamy, pulled chicken with a little cream and cheese—a nod to the 'aji de gallina,' which is a traditional Peruvian dish," Cavero said.
Courtenay Jeffers, ChefScape's marketing manager, said, "Tumi Kitchen brings a unique twist to ChefScape. Authentic Peruvian cuisine can be hard to find in this area, but we are fortunate to have it."
You'll get no argument from Castillo, who has already enjoyed the new Tumi empanadas — both the traditional baked kind and the crispy fried versions — dipped in a traditional spicy sauce.
Her verdict on Tumi Urban Kitchen is as American as they come: "I think it's a home run."
—Mike Conway is a freelance writer and Loudoun county resident who has previously written for Northern Virginia magazine.