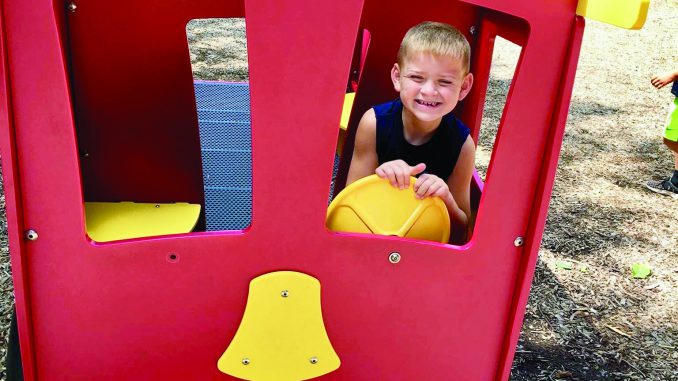 By Chris Wadsworth
Like any parent of young children, Jason Pualoa knows the value of getting his kids away from toys and television and outside into nature.
"They absolutely bounce off the walls when they are trapped inside all day," said Pualoa, who lives in the Broadlands with his wife, Lindsay, and their sons, Dominic, age 5, and AJ, 2.
So when the weather is nice they head to one of Ashburn's many parks.
"They love climbing on the playgrounds — running up and down them, running through them," Pualoa said. "It's imaginary play. Dominic likes to pretend he's working a drive-through."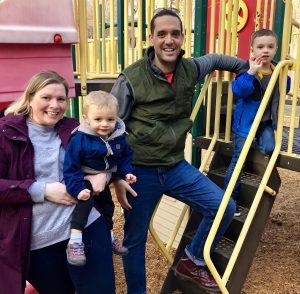 Ashburn has some great parks — no doubt about it. Many are small parks built by individual neighborhoods. Many are playgrounds attached to local schools. And Loudoun County has a growing number of its own parks around Ashburn.
But two new parks currently in the works for the Ashburn area are something special — and unlike anything seen before in this area.
We're talking about the Hal & Berni Hanson Memorial Regional Park and the Reservoir Park on the Beaverdam Reservoir.
What's amazing about them — beyond the features and amenities they will bring to our community — is that they are truly a yin and yang when it comes to parks. They are completely different — with different vibes and different missions — but they will both add so much to life in Ashburn.
HAL & BERNI HANSON MEMORIAL REGIONAL PARK
The folks at Loudoun County Parks & Rec have their own lingo. They have "neighborhood parks," "community parks," "district parks" and "regional parks." Regional parks are the big boys — at least 200 acres plus — and there are currently only three in Loudoun — Claude Moore Park in Sterling, Philip A. Bolen Memorial Park in Leesburg and Franklin Park, west of Purcellville.
The Hal & Berni Hanson Park will be the fourth when it's completed along Evergreen Mills Road just south of Brambleton.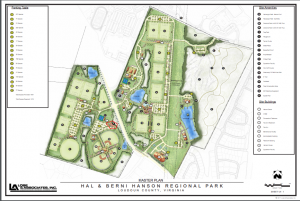 "This is probably the largest project in Loudoun County other than roads," said Mark Novak, the chief park planner for Loudoun County Parks, Recreation and Community Services. "This is our biggest project. It's massive."
The specs for Hanson Park certainly are impressive.
Its 257 acres will include five fishing ponds, two baseball diamonds and two softball diamonds, four tennis courts, 11 soccer/lacrosse fields, Loudoun's first dedicated cricket field, a disc golf course, a mountain bike trail, a kids splash pad, a skateboard park and not one, but two dog parks.
There will also be a nature center, concession stands, picnic pavilions and a waterside lodge that can be rented for special events such as conferences and weddings.
"The lodge is the first of its kind for us," Novak said. "It will provide a more old-fashioned park feel. If you go to a national park, they have these lodges. You go in and they have a nice, big fireplace. We thought it would be a good opportunity for us to put a lodge like that in near the pond with a view looking out over the park."
Hanson Park will also include a special playground for children who are differently abled. It will have specialized equipment and features that are inclusive to all children. Possibilities include ramps that don't require climbing or a swing set that can accommodate a wheelchair.
Lisa Rios lives in Ashburn with her husband, Julius, and their three children. Her youngest, Luka, is 1½ years old. He has spina bifida and uses a wheelchair due to limited mobility in his legs. But that doesn't stop him from playing at parks.
"We go to the playground, and I carry him so he can chase his brother and sister, so he can get in on the playing," Rios said.
But the many stairs and the uneven ground and the wood chips that cover local playgrounds all are obstacles to kids such as Luka. So his mom is excited about the new park.
"I hope it's a place where kids of all different abilities can come together," Rios said. "For him to be able to play with all types of kids — I think it will be really enlightening for the community as a whole."
Hanson Park is still a couple of years out. The current timeline calls for construction to start later this year and for it to be fully open by 2022. While that may seem like an eternity, especially to eager kids — it sounds like it's going to be worth the wait.
"It's going to be our ultimate facility," Novak said. "It's going to have a lot of unique recreational opportunities not afforded in our other regional parks. It's just going to be a neat place."
RESERVOIR PARK ON THE BEAVERDAM RESERVOIR
Three miles up the road sits Ashburn's mighty Beaverdam Reservoir.
The preliminary plans call for Reservoir Park — as it's currently named — to be built on 70 acres on the southern shore of the reservoir. If Hanson Park is a park on steroids — with ball fields, playgrounds, concessions and more — Reservoir Park is quite the opposite. It's all about peace and quiet, connecting with nature and — most importantly — the water.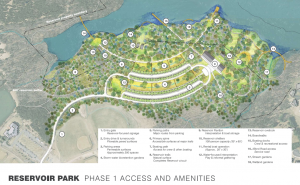 The planned park is coming together under a partnership between Loudoun Water, which owns and maintains the 300-acre reservoir as a source of drinking water for local residents and NOVA Parks, the regional park authority in Northern Virginia.
"Our mission is to be ready to serve and support the county's growth," said Susan Crosby, the director of communications for Loudoun Water. "But we also want to go beyond our role as a service provider and be an educator that helps people understand the value of water to everyday life. Beaverdam can be a showcase to highlight the water cycle and everyone's part in it."
The plans for Reservoir Park are still in the "concept" stage. That means everything that's proposed is just a preliminary idea at this point. Once the necessary approvals come through, designers will create a more detailed plan and put it into motion.
But if even only some of what's proposed comes to pass, it sounds like a beautiful space is in Ashburn's future. Picture wooden boardwalks stretching across marshlands and extending out over the dark blue waters of the reservoir, connected to a maze of trails winding their way through a shoreline woods.
The park will also probably feature picnic shelters, boat launch docks and possibly even boat rentals — all non-motorized, of course. The reservoir is first and foremost a source of clean water for Loudoun residents.
Another component will be instructional — teaching visitors about water, the importance of the reservoir and its ecology.
"We would love to work with teachers to create portable lessons for students on water quality and water conservation and help coordinate visits to this 'outdoor living lab,'" Crosby said.
The reservoir has been closed since 2017, due to construction on the dam at the north end. For much of that time, the water level in the reservoir was dramatically lowered. But that work is wrapping up this spring, and activities on the water, such as canoeing and kayaking, should resume this summer.
As for Reservoir Park itself, Loudoun Water officials estimate it could open sometime in 2021 or 2022.
For the Pualoas, the timing couldn't be better. Their pre-school kids will be in elementary school when Ashburn's amazing future parks come online — and they'll grow up with them as part of the community.
"It's a real positive for us," Jason Pualoa said. "To have public parks that are free is really, really nice. We're definitely looking forward to those parks as the kids get older and can enjoy more things."