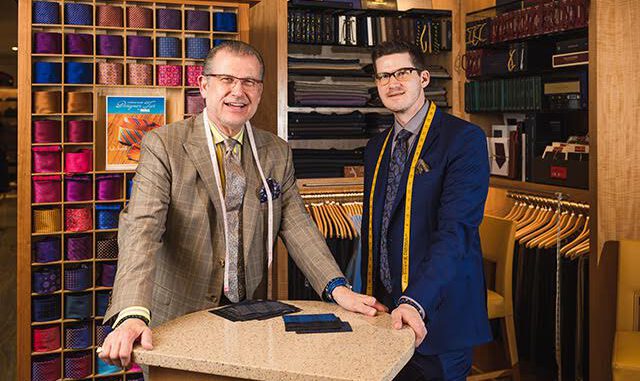 Designed for Success
By Chris Wadsworth
For David Eisele, it would seem his fate was written in the stars all the way back to high school. That's when his classmates at Mark Morris High School in Longview, Wash., voted him "Best Dressed." It was an early sign that clothing and fashion and style would always be at the center of his life.
"When I was in high school, denim jeans were just starting to come into play after years of people wearing khakis. And I wore designer denim and dress slacks," Eisele recalled. "I always dressed really nice. It made me feel good and I think it made me do better in my environment – and it was a springboard to the business."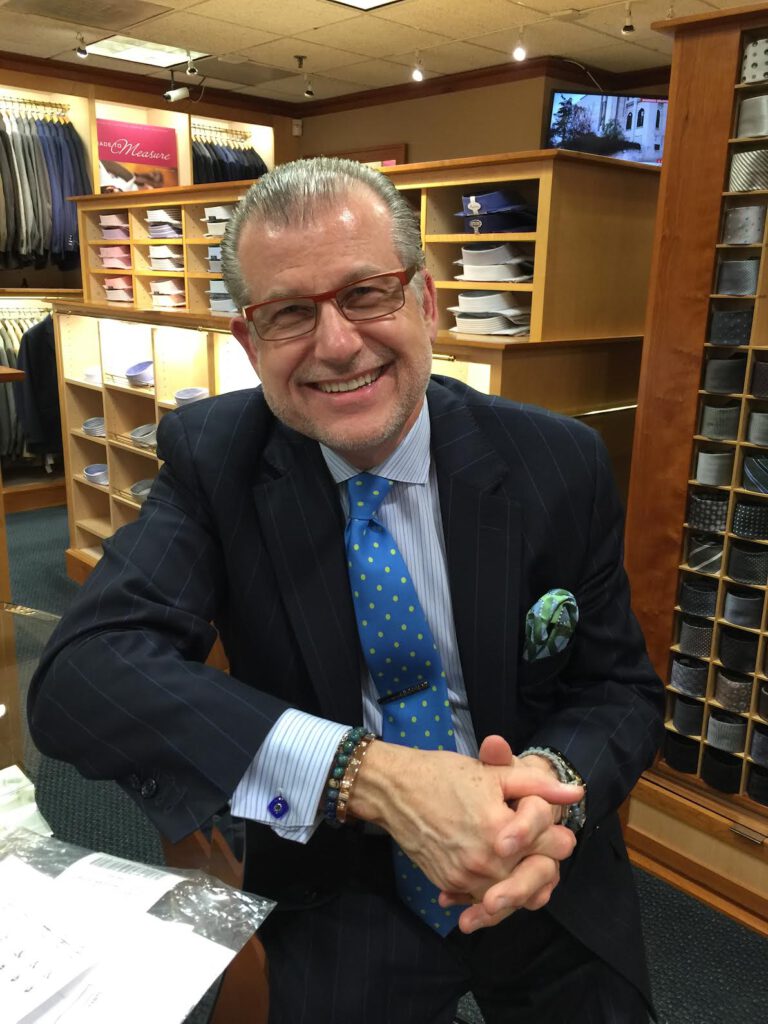 Eisele, who lives in Brambleton's Birchwood neighborhood, went on to study at the Fashion Institute of Technology in New York City. He worked in the jewelry business – even owned a jewelry store – for more than two decades. In 1991, he wanted to start a new business from the ground up and launched Timeless Ties and More. He grew that to four locations across Northern Virginia. 
Eventually, Timeless Ties transitioned into the business he is known for now – Davelle Clothiers, one of Northern Virginia's premier bespoke suit and clothing shops for men. 
"I've been in Northern Virginia for 40 years, so I get the feeling here. I get the vibe," Eisele said. "We bring a European taste to the area. Initially, some people aren't comfortable with that more modern style – they like to stick with what they know – until they see what we have to offer."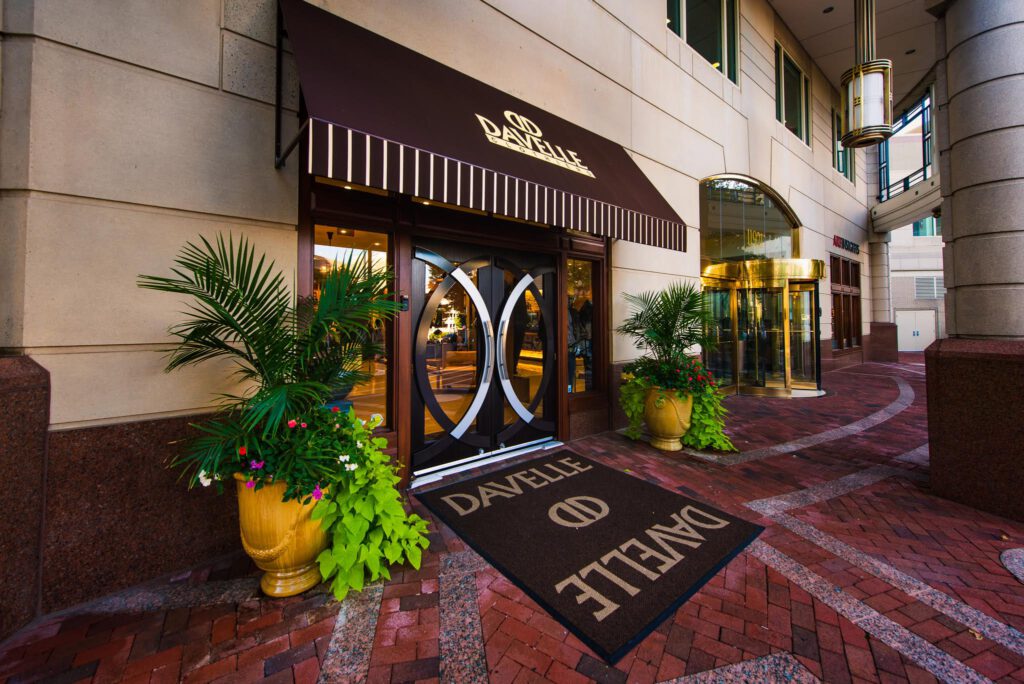 Today, Davelle Clothiers is found in the Reston Town Center – its home for 31 years – and caters to businessmen around the region. Eisele is also the official designer for D.C. United, the Major League Soccer team in Washington, and he was named a top designer by Washingtonian Magazine. Despite this wide reach, Eisele notes that nearly half his clients are from the Ashburn area. 
Among them is Stephen Brown, who lives in Lansdowne. 
"You'd go to Nordstrom or somewhere and you'd pull a shirt off the rack, and they might include alterations, but it was never quite right," said Brown, a runner who is 5-foot-9 and between 165 and 170 pounds. "You can't just pull something off the shelf and expect it to fit everybody." 
So, a few years ago, Brown walked into Davelle Clothiers. He was immediately wowed by the personal attention from Eisele and his team. 
"They take great pride in what they are doing. He's got a couple of his own lines … and the next thing you know, I had a suit coming my way and a couple of shirts," Brown said. "Looking back, I don't know how I ever pulled something right off the shelf. They were always baggy, and now it's so nice having something that is custom fit to me."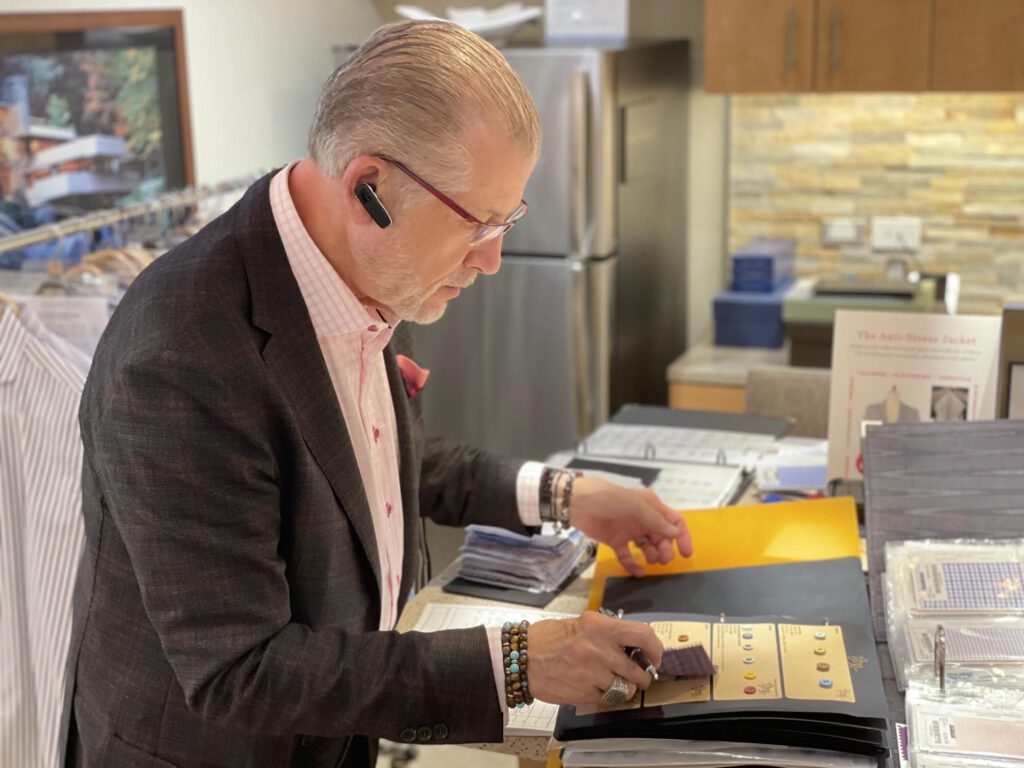 Few people in the business know Eisele better than his son, Dave Eisele Jr., who works with his father at Davelle. 
"I was raised in the family business," Eisele Jr. said. "When I was a kid, our warehouse was the house. We started back in 1991. I was 10 at the time. I remember using that old-fashioned pricing gun. It was my way of earning some extra spending cash."
Eisele Jr. admits his father can be intense. The store's motto is "Davelle is in the details" – a play on the saying, "The devil is in the details" – and David Eisele is a stickler for the details – probably a good trait for someone who deals with precise measurements and high-quality products.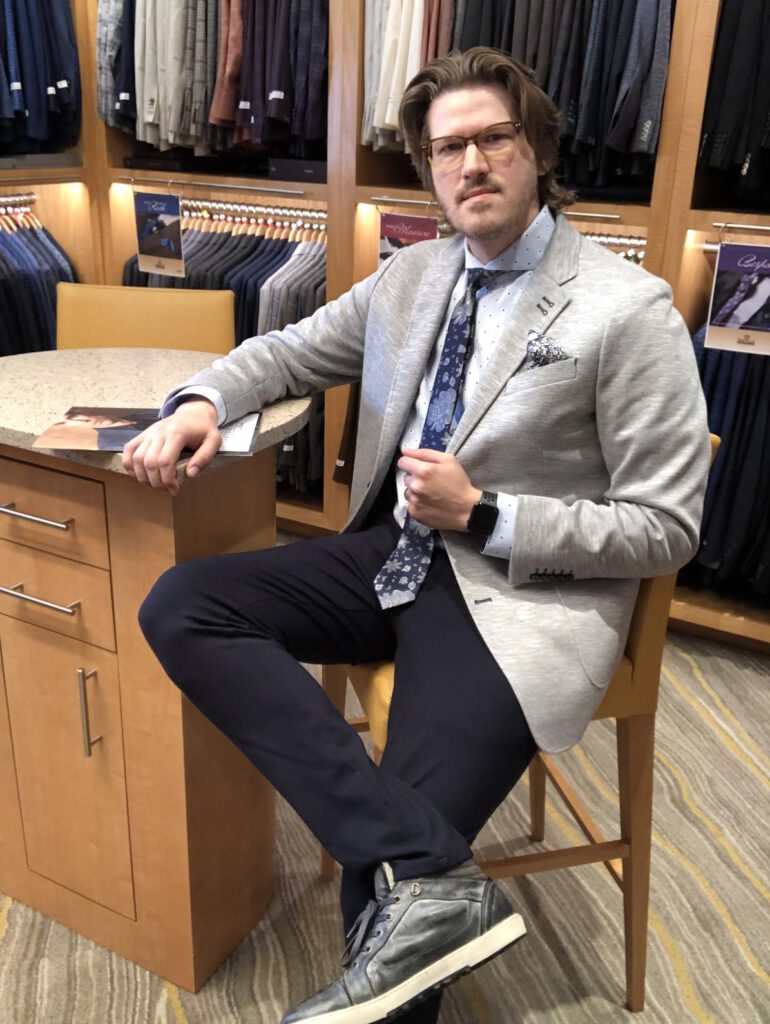 "Details are everything," Eisele Jr. said. "From the bookkeeping… to the appearance of the store – the cleanliness, the presentation. Everything is meticulously folded and hung just so." 
One of the big changes David Eisele has seen over his decades in the business is the slow movement towards a more relaxed look at work. Casual Fridays have bled into casual all week long. And the recent pandemic and increase in people working at home didn't help. 
Still, Eisele says there is room for high-quality clothing even in these changing times. 
"If you're not going to wear a tie, then a man needs a power symbol to represent himself," he explained. "So, a jacket can really differentiate a person and separate them from everyone else." 
Even custom dress shirts can be tweaked with unique touches such as special trims or buttons, he noted. 
After so many years and so much change, this grandfather of six admits to occasionally thinking about the future. But retirement? It doesn't sound like it's imminent. 
"I'd like to do this for the rest of my life," said Eisele, an energetic 69 years old. "You can tell it's my passion. You can tell that I love it. I want to continue designing and creating for the people I love."