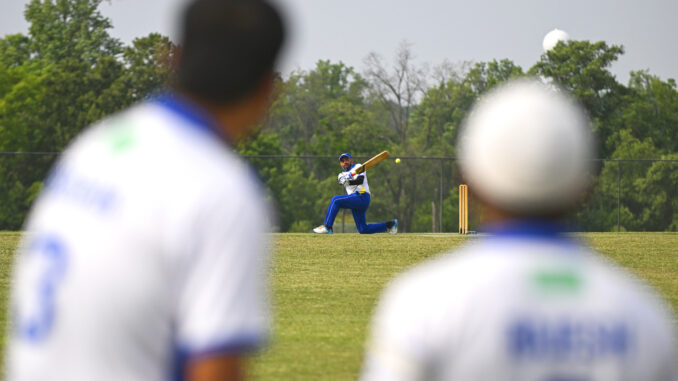 JIMINY CRICKET!
By Paul Anthony Arco
Ashburn resident Sumit Daryani grew up loving the sport of cricket.
He was 10 when he first took the "pitch" in his native Dubai, in the United Arab Emirates. He eventually played for his high school team as a right arm fast bowler, and his passion only intensified. He idolized Kapil Dev, a cricket legend who helped India to its first World Cup in 1983. 
"I like the entertainment of the sport," said Daryani, who now lives in the Village of Waxpool neighborhood. "It can get suspenseful – you often don't know who's going to win until the last minute."
If that's the case, then there must be a lot of suspense in Ashburn and wider Loudoun County. Cricket is booming here. According to Loudoun officials, the county-sponsored cricket league had 60 teams this spring and some 1,800 players. And that's just the adults. Youth cricket is growing, too.
The interest and demand has been so high that Loudoun's new Hal & Berni Hanson Regional Park near Ashburn includes the county's first dedicated cricket pitch.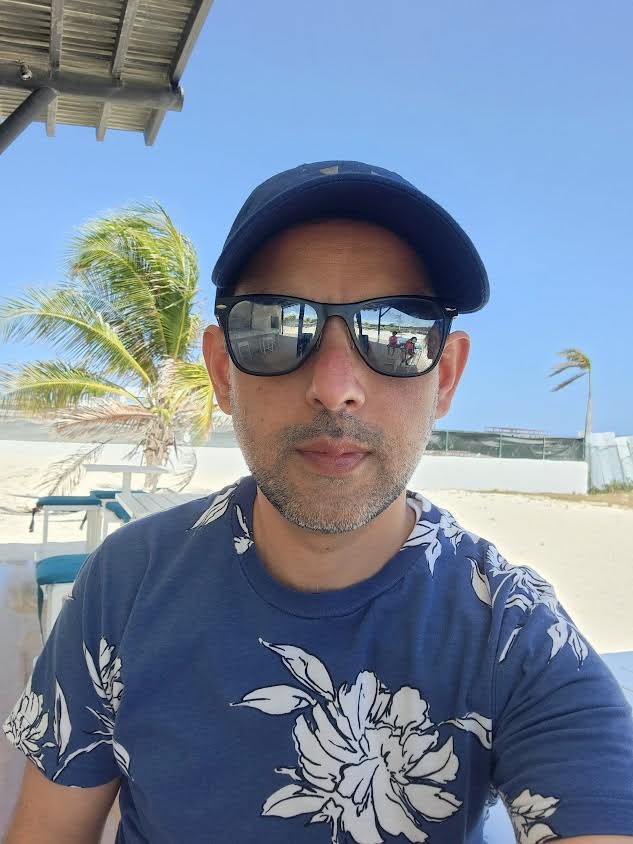 Daryani moved to the United States in 2001 to further his education. Over the years, he played recreational cricket across two countries, but his work as the director of software engineering for Capital One keeps him busy, so he's on a break for now. 
Instead, Daryani spends much of his free time coaching his 11-year-old son, Arav, a left-handed pace bowler, who has followed in his footsteps. (A fast bowler or pace bowler refers to a style of play in cricket focused on the speed at which the ball is thrown. The other main style is a spin bowler, who puts spin on the ball.)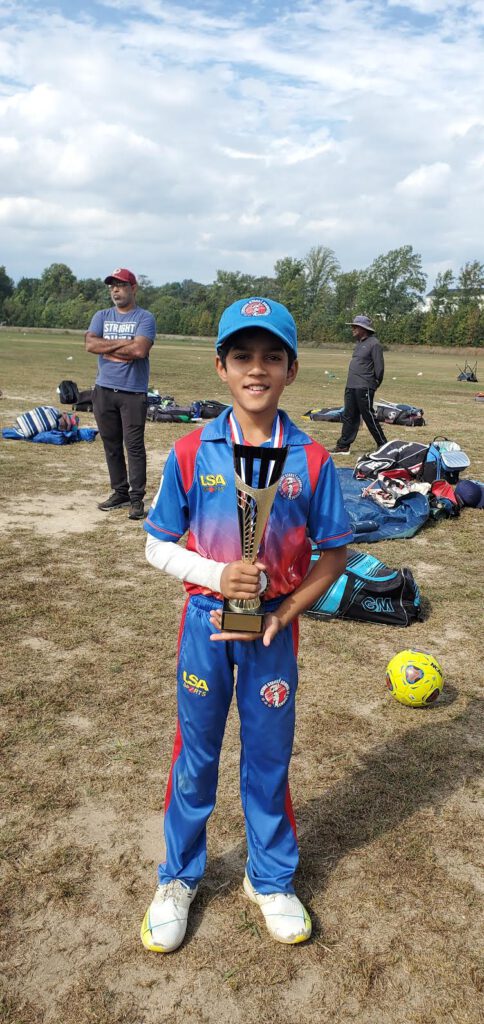 "He took to the sport and learned very quickly – bowling came naturally to him," Daryani said. "He's much better than me at that age and he's learned a lot through his training. But the best part is cricket has become a way for me to bond with my son."
WIDE WORLD OF CRICKET 
Cricket is one of the oldest and most popular sports in the world, behind only soccer. It apparently originated in southeast England as early as the late 1500s. Besides England, the sport is especially huge in former British colonies, such as India and Australia. It's growing quickly in other parts of the world, including the West Indies, the Netherlands and Zimbabwe.
A large portion of Ashburn residents have moved here from many of those countries, along with India, Pakistan and Bangladesh – and brought with them that same passion for cricket. According to the latest census estimates, roughly one in five Ashburn residents is of Asian heritage.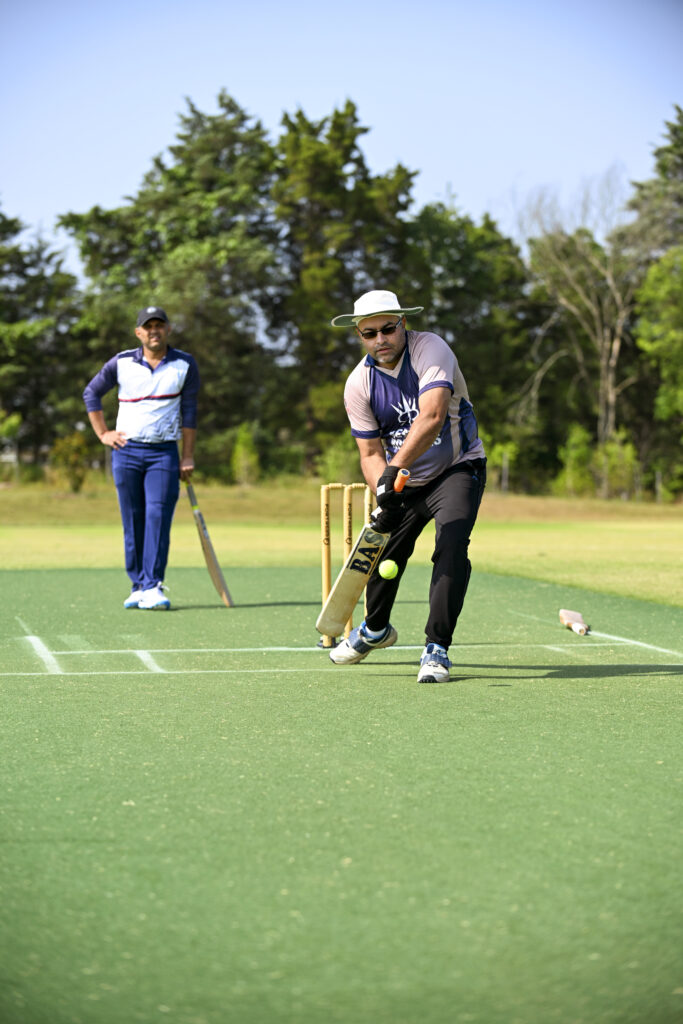 Thanks to community support, Loudoun County Parks, Recreation and Community Services (PRCS) started an adult cricket league in 2009 with seven teams that played on a temporary cricket pitch at Mickie Gordon Memorial Park in Middleburg.
Modifications were then made to fields at Philip A. Bolen Park in Leesburg to accommodate cricket by adding temporary pitches and later permanent pitches on shared-use fields. In 2016, PRCS built two cricket fields that were shared with youth soccer on the weekends for games. In 2016, the baseball field at Mickie Gordon Memorial Park was redesigned to become a permanent cricket pitch with lights and a concrete base. 
When planning began for the Hanson Regional Park, which opened in fall 2022, county officials included a field specifically designed as a cricket pitch. The pitch at Hanson is the size of 2½ soccer fields and sits in the far corner of the park, next to a pavilion and surrounded by soccer fields.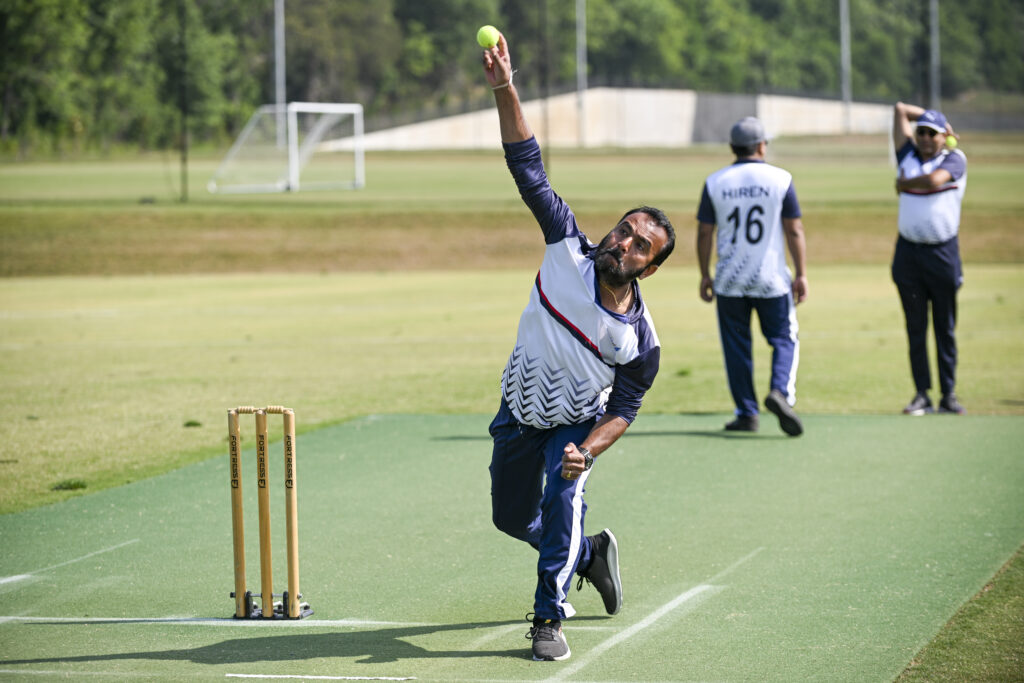 "The parks system has done a fantastic job of recreating that passion for people who are from different countries where cricket is huge," said local player Kaushal Kansara. 
Terry Ellis, youth sports coordinator for PRCS, who previously served as adult sports coordinator, said when he inherited the program there were 12 teams and now there are 1,800 players on those 60 teams.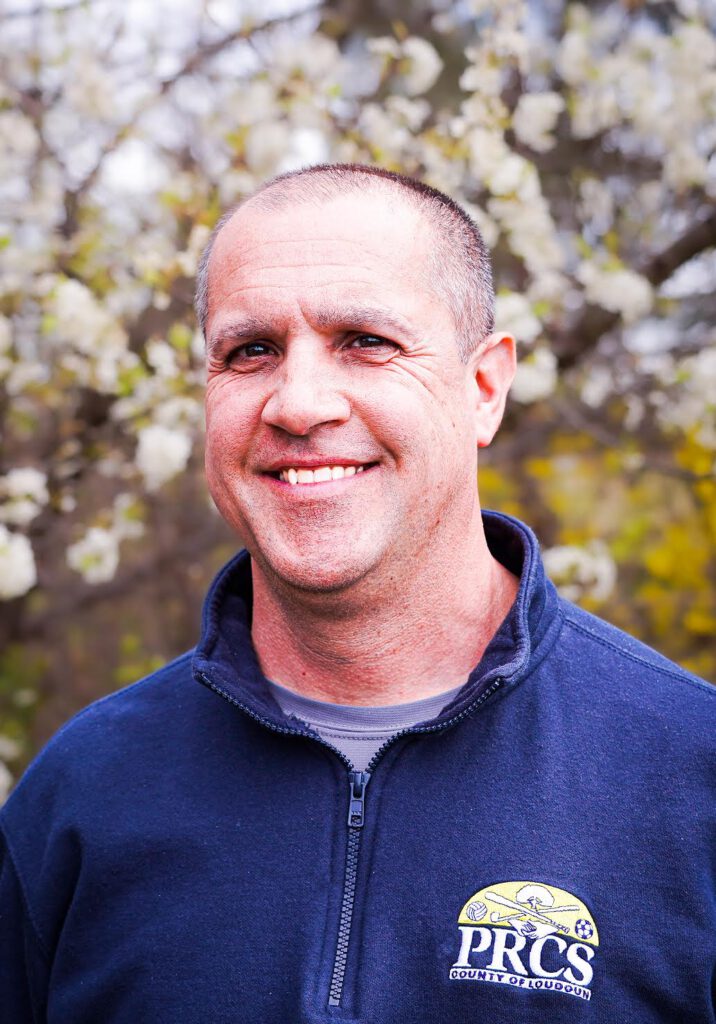 "The growth is unreal," Ellisa added. "Over the years, the demand for fields continues to get bigger and bigger." 
Ellis says players come from as far as Maryland, and the county has plans for additional fields. 
The Loudoun County Cricket League consists of two seasons – a spring season from March to July and a fall league from July to October. The leagues run on weekends, and tournaments are held during the week. A tournament includes round robin play, playoffs and a championship. PRCS is looking at adding tournaments for participants age 40 and over. 
LIKE A RELIGION
Cricket is a family event. During championship matches, the pitch is lined with adoring fans, including wives, children and even grandparents.
"Like any major sport, many of these guys grew up playing cricket and they developed a love and a passion for the sport," Ellis said. "When you have that passion, you want to play and play and play. Some of these guys would play all day if they could."
That includes Kansara, who started playing cricket at age 5, when he lived in his native India, where cricket is king. "It's really big," said the Leesburg resident. "It's almost like a religion."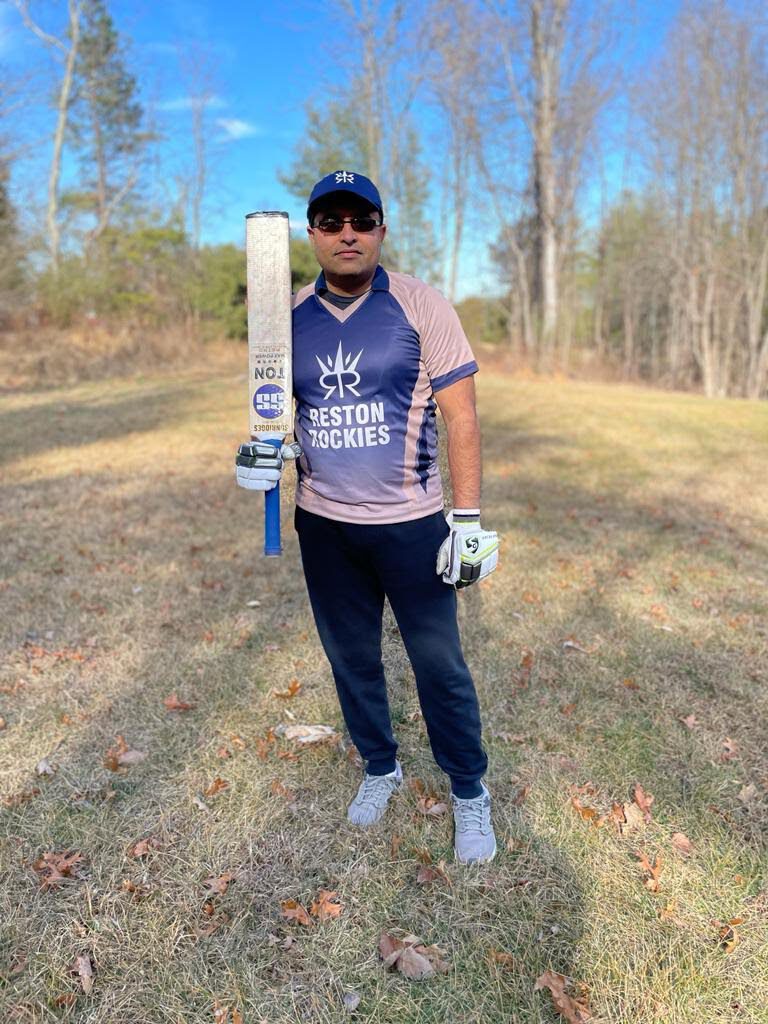 A structural engineer who runs his own firm, Kansara moved to the United States in the early 2000s, when he enrolled in Virginia Tech to earn a master's degree. His first glimpse of cricket in this country came when he played recreational cricket on the basketball courts at Virginia Tech.
Kansara says the excitement for cricket is comparable to that of football. "I've been to football games at Lane Stadium at Virginia Tech, where the fans are rowdy and you can feel the vibration from your seat," he said. "It's the same with cricket. It gets crazy." 
Although he enjoys the competition, Kansara appreciates the sport for its decorum. "It's called a gentleman's game," he said. "There's no room for cursing at each other or at the umpires – no matter the call or decision. There's respect for everyone. Any time we teach the kids about cricket, the first lesson is always about the spirit of cricket, which is to respect everyone. You never argue with anyone. You keep it to yourself."
START THEM YOUNG 
Chita Nilak is the co-founder and head coach of Loudoun Cubs Cricket Academy, a premium academy that has trained more than 250 boys and girls since it opened five years ago, including many from Ashburn. The academy hosts national, state and regional tryouts, boot camps and high-performance individual and group lessons. Nilak said three other academies in Northern Virginia offer cricket training to more than 500 young people between the ages of 7-17.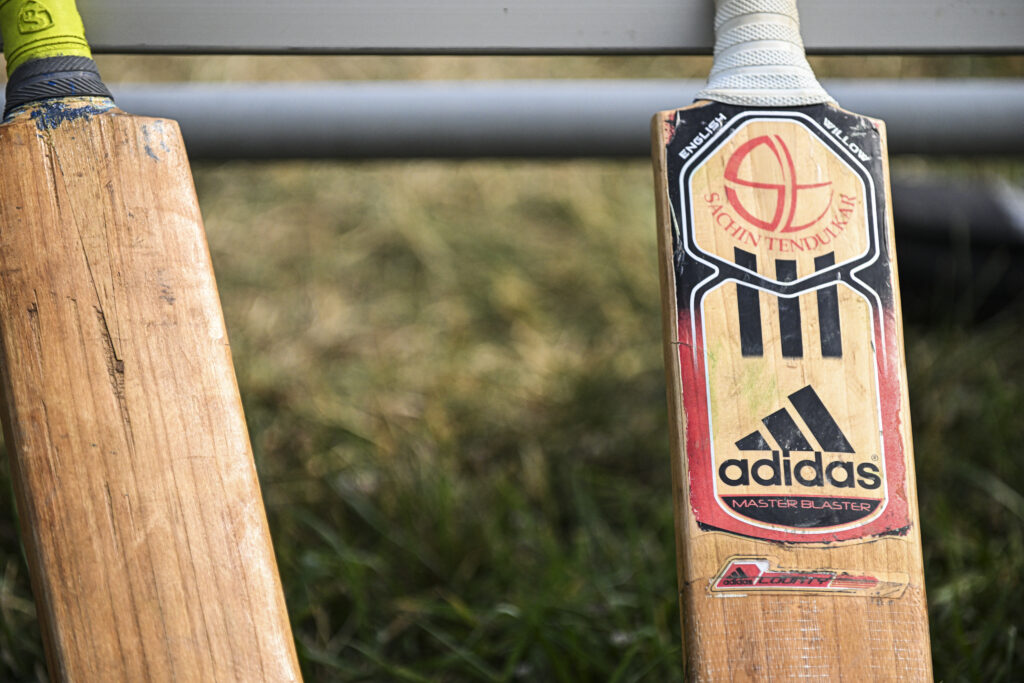 Nilak has excelled both on the pitch and on the sidelines as a Cricket Australia certified national coach. He has not only coached his academy teams to regional and national championships but also coached the USA Cricket national women's team and the regional U19 girls' team to a national title in 2022.
"I used to take my kids to play baseball, softball and other traditional American sports, but then I thought, 'Why not cricket?'" Nilak said. "So, I would spend time with kids in my neighborhood, throwing the ball to them. We're using a bat and a ball, so basically, it's the same hand-eye coordination as baseball, field hockey or lacrosse for that matter."
Abhishek Shanbhag is a shining example of the Loudoun Cubs Cricket Academy's training program. The Brambleton middle-schooler was introduced to cricket when he was 5. But he was also playing soccer, his first love at the time. Then, in 2020, Shanbhag moved from soccer to cricket once and for all and hasn't looked back. 
And he's good. The 12-year-old is the captain of the academy team. He was named the top bowler of the National Youth Cricket League and top player in the Washington Youth Cricket League. He was also selected captain of the U13 Virginia 2022 team.
Shanbhag attributes his early success to hard work and a commitment from his coaches to help their players improve. 
"I love it," said Shanbhag. "First, there is the sports aspect of it. It's fun and simple. You bowl the ball, hit the ball or try to catch or field the ball. The best part is the people, though. My coaches, teammates and officials help create a fun and loving environment."
GOING PRO
Nilak has even bigger plans for local cricket. He's in talks with Loudoun PRCS to bring a minor league cricket team to Loudoun someday. "We want to take our time and do it right, to make sure we have the community support," Nilak said.
In the meantime, fans across the country, including Ashburn, don't have to wait long to see the best cricket players in the world. Professional cricket has arrived, in the form of Major League Cricket, which is scheduled to begin play with a tournament in July in Texas. The Washington Freedom is among the six teams in the league.
"Cricket is a passion Indians have like basketball and football is here in the U.S.," said Sanjay Govil, a major investor of the league. "Everyone in India played cricket, and when they came to the U.S., they were looking for avenues to play, hence the popularity of the sport." 
The Freedom are working with George Mason University to study the feasibility of a stadium that could host both MLC matches and George Mason baseball games.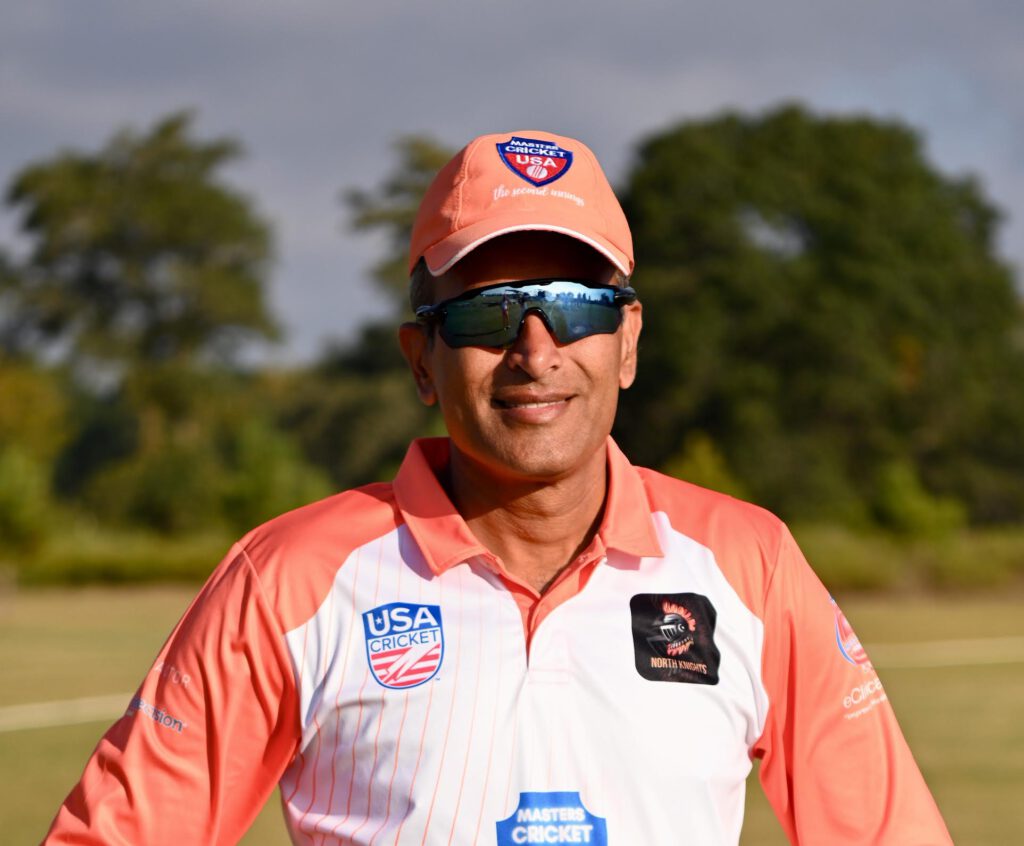 And for the first time, the cricket World Cup is coming to the United States in 2024. Achin Patel can't wait. 
Patel moved to the U.S. in 1997. Growing up in India, he played cricket every chance he had. During his career, Patel, who lives in Leesburg, has won several cricket championships and was glued to his TV when India won the World Cup in 1983. But the best thing about the sport, he says, is the camaraderie among participants.
"I like to bring people together as a team," Patel said. "Even when we're not playing, our team will meet for a social outing, just to spend the day together. We're more than friends – we're family."
Paul Anthony Arco is a longtime journalist and freelance writer who has written articles for publications around the United States.
CRICKET 101 
Cricket is played with two teams of 11 players each. Each team takes turns batting and playing the field. The batter is a batsman, and the pitcher is a bowler. The bowler tries to knock down the bail of the wicket (pieces of wood on the top) and the batsman tries to prevent the ball from hitting the wicket. Two batsmen are on the pitch at the same time.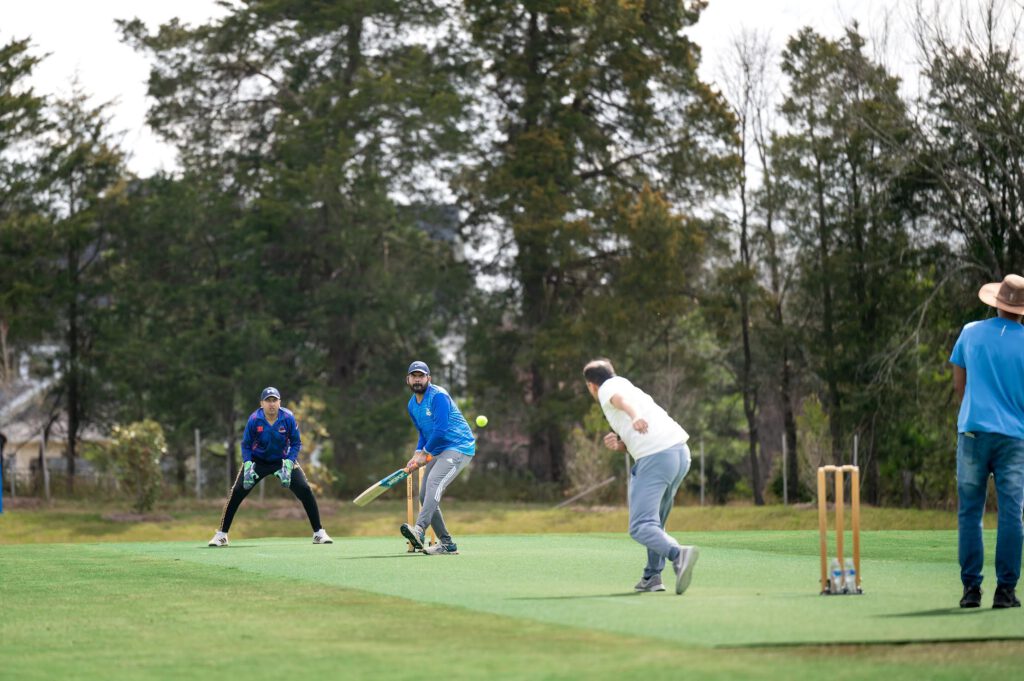 The batters can run after the ball is hit – but they don't have to. A run is scored each time they change places on the pitch. The team with the most runs wins. Each at-bat, called an "over," comprises no more than six bowls per batsman. The fielding team must retire or dismiss 10 batsmen to end the innings. Batsmen also are out when a hit ball is caught in the air or when the wicket is hit while they are running between them.