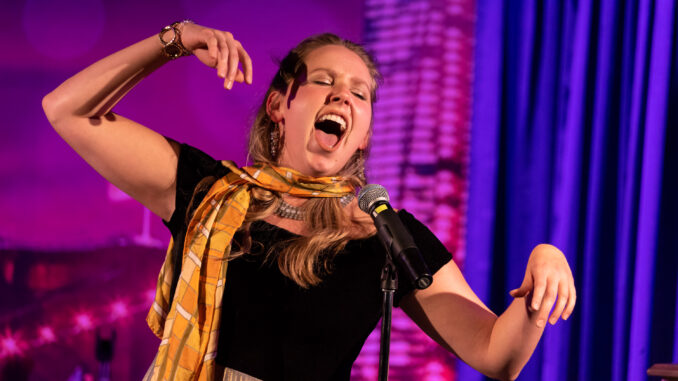 BELLE OF THE BARTER
By Tracy Owens 
When she was in eighth grade at Farmwell Station Middle School, Zoë Velling was cast as Belle in the musical "Beauty and the Beast." While singing some of Belle's biggest numbers, she had an epiphany., "This was something I wanted to do with my life, not just for fun," she said. 
A dozen years later, in 2020, her dream came full circle when she performed the role of Belle as a professional actor at Barter Theatre in Abingdon, Va. 
Barter Theatre, nestled near the Blue Ridge mountains in the southwest corner of the state, is Virginia's official state theater. Founded in 1933, it is the oldest continually operated professional theater in the country. 
As a member of Barter's repertory company since 2017, Velling, 27, is thriving. Her success in a difficult field can be traced to her roots in Ashburn, where she was encouraged by a close-knit family and special teachers.  
ASHBURN CHILDHOOD 
Velling's parents are Steven Velling, a veterinarian who formerly owned the Ashburn Village Animal Hospital, and Carolyn Velling, a former teacher.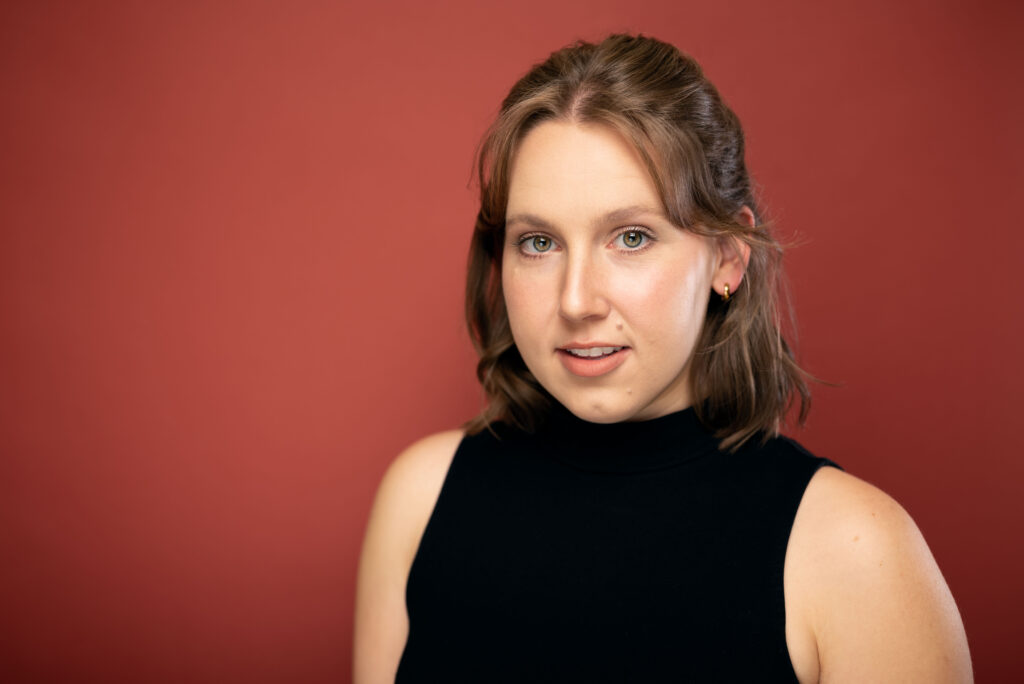 Zoë Velling says her folks were always encouraging of her creative pursuits, enrolling her in a dance class as a preschooler and vocal lessons as an elementary school student.  
In her first public recital, with the Creative Dance Center, she pretended to be a frog jumping on a lily pad at a performance at the Ashburn Village Sports Pavilion. When her parents asked her later about her favorite part of the recital, her response: "the clapping." 
PUTTING IN THE WORK 
In high school, Velling studied STEM at the Academies of Loudoun while spending every other day at Broad Run High School.
"I had a really colorful high school experience," said Velling, who studied everything from nanoparticles to theatrical blocking. "I'm really glad I exposed myself to so many things." 
Velling's talent was obvious early on, said Tim Willmot, a drama instructor at Broad Run for 14 years before moving to Briar Woods High School in 2015.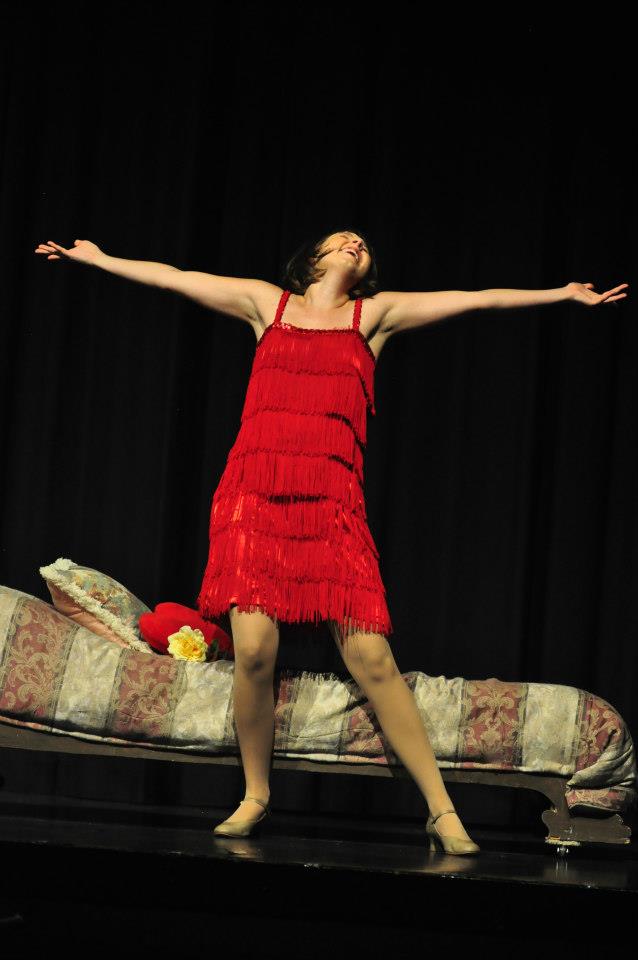 When Velling started high school, Willmot's then-wife, Jennifer Kauffmann, was the choral director at Broad Run. Willmot remembers the two of them reacting with amazement at Velling's tryouts for the musical "Into the Woods." 
"It was like, holy cow, there's something there," Willmot said.
Kauffman said Velling helped to improve the entire production and singled out her work ethic. When Velling was cast as the lead in "Thoroughly Modern Millie," she wasn't the best tap dancer, Kauffmann said, but she worked at it until she was.
COLLEGE AND BEYOND 
At James Madison University, Velling graduated with a bachelor of arts degree in music.  
With some classmates, she went to Memphis, Tenn. during her senior year –  February 2017 – for the United Professional Theatre Auditions. This annual conference is attended by dozens of hiring outfits, from Disney World and Dollywood to smaller repertory theaters. 
Each performer had about 90 seconds to show their acting and vocal chops, Velling said. "The audience is full of people looking to hire. It is terrifying." 
Katy Brown, now the producing artistic director at Barter Theatre, gave Velling a callback. Velling did three or four monologues and Brown – still looking for something – asked her just for one more. Having run out of scripted material, Velling performed a poem she had written as a spoken-word piece.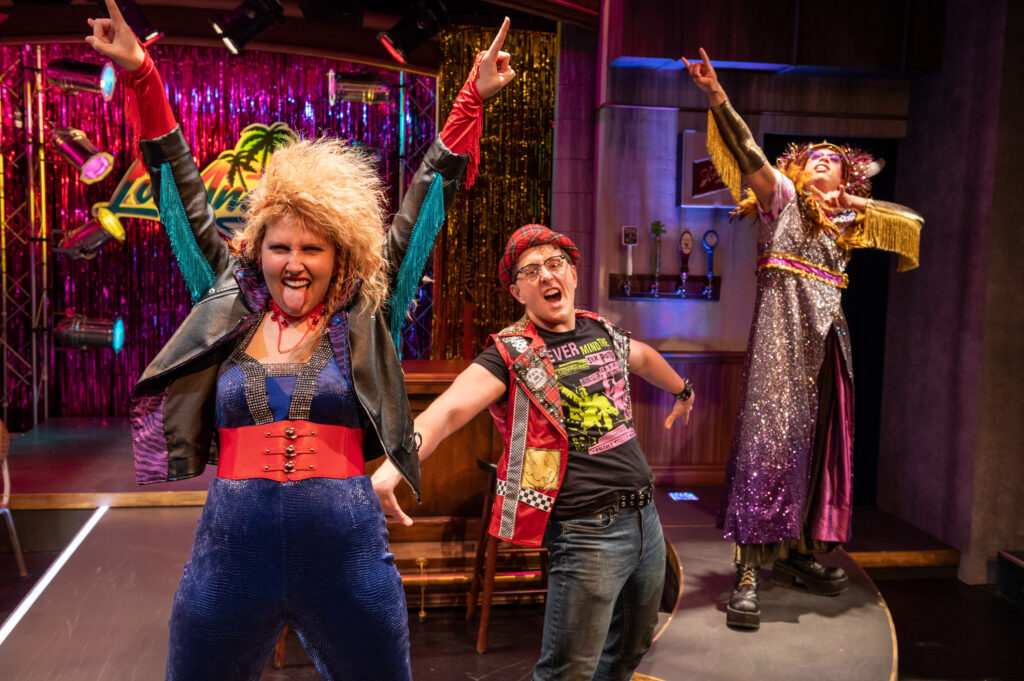 That powerfully vulnerable move is what got her offered a 15-month internship in the Barter Players. The Players company tours schools in low-income areas on the East Coast from Northern Virginia to Florida, performing for children who in most cases have never seen a live performance. Velling said the Players is part of Barter's mission to help improve the world through the arts. 
"You load in a van at 5 a.m. and set up to do 'Tom Sawyer' in a cafeteria at 8 a.m.," Velling said. "It's one of my favorite things I've ever done." 
BARTER 
The internship led to Velling becoming a member of the acting company at the Barter, where early on she played the dragon in "Shrek" as well as Shelby in "Steel Magnolias," the tragedy-ridden bride whose wedding colors are "blush and bashful." 
In a 2018 review, the Johnson City (Tenn.) Press wrote, "Newcomer Zoe Velling is instantly captivating as Shelby." 
But just as Velling was learning to grow and stretch in her craft, the COVID-19 pandemic in 2020 threatened to bring everything to a halt. 
This would have been a blow to Velling and her colleagues, but also to the town of Abingdon, where the Barter is the largest economic engine. "Barter is the heartbeat of the town," Velling said. 
In those first scary days of the pandemic, Brown concocted a bold plan for how to do theater safely. That summer, the troupe debuted "Barter at the Moonlite." Casts took over the Moonlite Drive-In Movie Theater and invited people to watch musicals safely from their cars.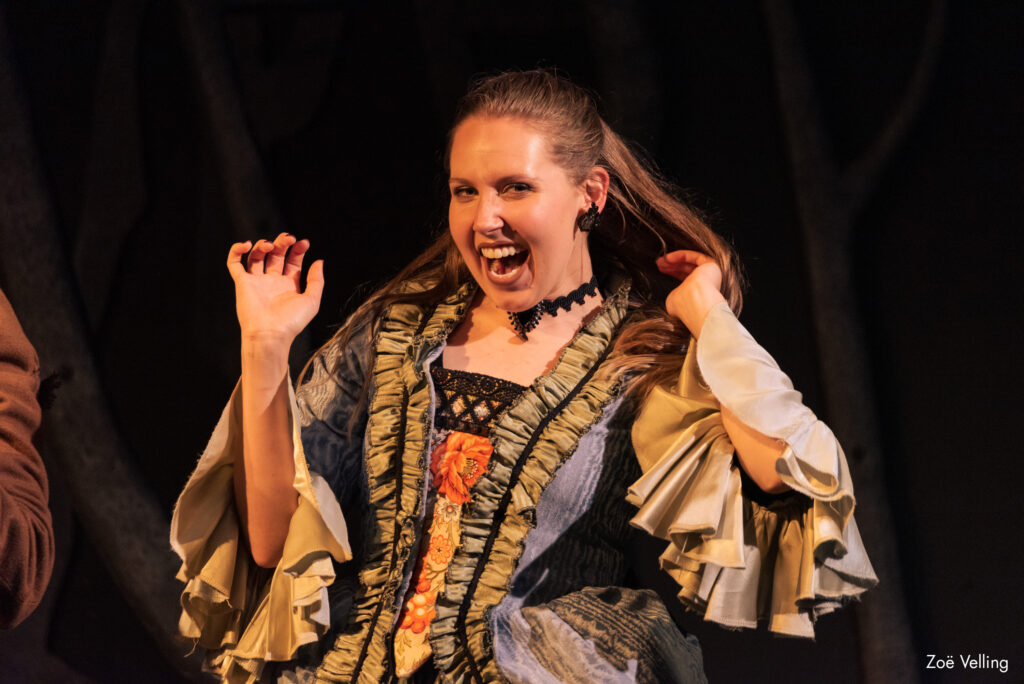 Velling says she recognizes it is rare for someone her age to be able to be settled in a community with an arts career without having a side hustle. She and her partner, Allan Lee, enjoy living in Abingdon with their pandemic puppy, an Australian cattle dog named Cali. 
"I don't take this for granted," Velling said.  
COMING UP 
So far Velling's professional experience has been mostly on stage, although you can spot her in early 20th-century garb in the television docuseries "America's Hidden Stories," filmed in Richmond. She has a non-speaking role as Woodrow Wilson's daughter. 
One of Velling's favorite things about life with a repertory company is the chance to play many kinds of characters. She might be onstage with two roles while rehearsing for three others. 
A special part was Judy Bernly in "9 to 5: The Musical" – the character popularized by Jane Fonda in the movie version. Velling said she liked it because it's about a woman learning to find her voice. 
Not coincidentally, Velling is a vocal instructor when her schedule permits, working particularly with school-age girls, helping them find their own voices, as her mentors helped her.
This year, Velling is doing her first big role in a Shakespeare play at the Barter. "I'm going to be terrified," she said, laughing. "But that's OK, because that means I'm growing."
Tracy Owens is a former magazine editor who writes about arts, businesses and people in the Southeast. Her work has appeared in Salon, Gulfshore Life, Islandia Journal and many other publications.