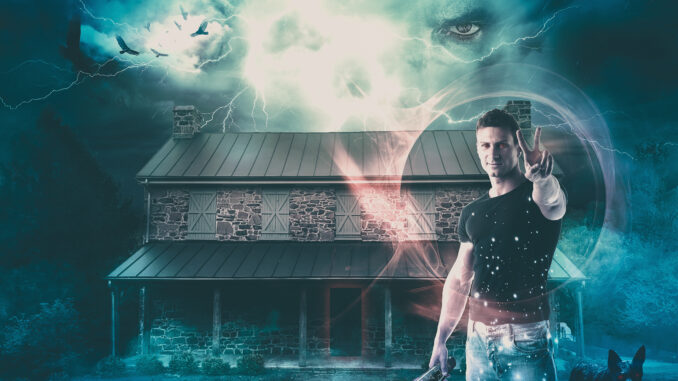 ASHBURN'S DARK SIDE
By Chris Wadsworth
By day, Michael Layne is a mild-mannered cybersecurity strategy professional for a local government contractor. But by night, he's… well, OK. He's not Batman. But Layne does have a pretty cool alter ego – or several alter egos, if you want to be precise.
Under different noms de plume, Layne has written more than a dozen novels and short stories. As you can quickly surmise from the covers, his works tend to fall into the horror or thriller categories, featuring all types of creepy crawlies and things that go bump in the night.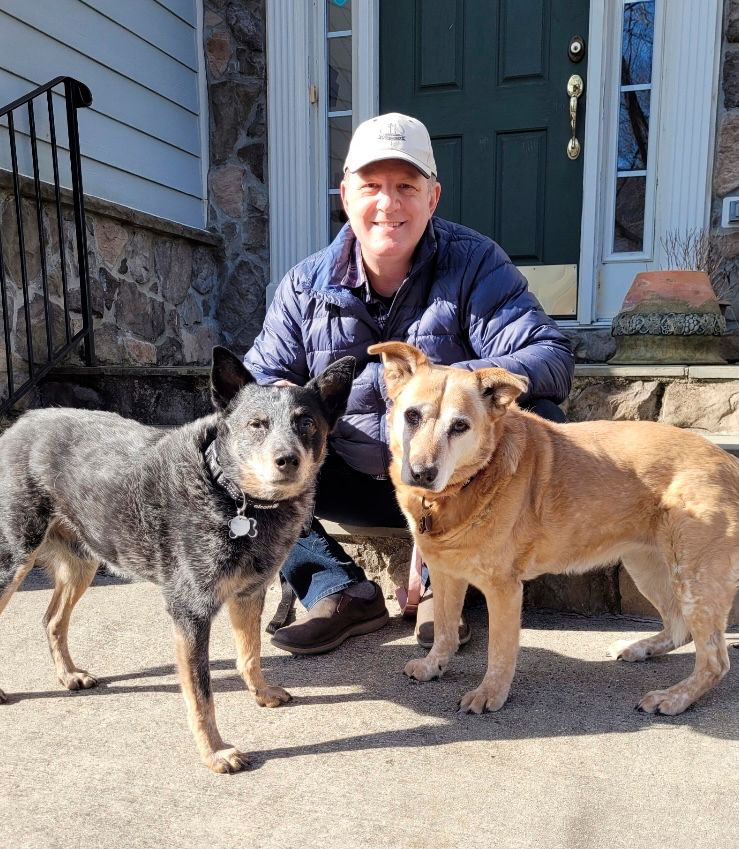 But the Broadlands resident has several books (so far) of particular note. They are horror novels set right in here in good, old Ashburn – featuring Ashburn landmarks, locations and occasional strange events.
This three-book series is called "Ashes Still Burn" – get it? Ash-burn? Monsters in Ashburn was enough to pique our interest, so Ashburn Magazine interviewed Layne about his books and the inspiration behind them. Here are portions of our conversation. 
Q: HOW WOULD YOU DESCRIBE THE "ASHES STILL BURN" SERIES? WHAT TYPE OF BOOKS ARE THESE?
"At its most basic, 'Ashes Still Burn' is a dark urban fantasy series, where magical beings, like old forgotten gods, demons and other fantasy creatures live and exist just under the radar in Ashburn. Actually, they're all trapped in Ashburn by a big bad demon, but readers don't fully know why, which is part of the mystery and adventure that's unveiled throughout the novels." 
Q: WHY DID YOU DECIDE TO SET THIS SERIES IN ASHBURN? WHAT MAKES IT A GOOD SETTING?
"I started looking around one day as I was driving down Claiborne Parkway. Have you really done that around here? There are a lot of strange things if you look hard enough. The LeFevre house – a 150-year-old Pennsylvania/German stone farmhouse, sitting right next to where all the suburbanites hold their Friday summer concerts. And if you look down while you're there, you'll see a huge, kind of mystical, compass painted on the asphalt. We have roads that go nowhere and end in dark forests. And how about Waxpool Road? Try telling someone you'll meet them on Waxpool and prepare to never find your friend again. So, in my books, Waxpool is a cursed road where unfortunate people sometimes get lost and never arrive at their destination." 
Q: HOW DO LOCAL PEOPLE, PLACES AND THINGS BECOME PART OF YOUR PLOTS?
"The town of Ashburn itself is a character in my books. I don't use any real people, but I liberally make use of local places, buildings, urban myths, news articles, trails, clubs and whatever else interests me. Remember when all those turkey vultures started hanging around, and the HOA's first cut at a solution was to hang dead vultures in effigy around the neighborhood [in order to] scare them off? Well, because of that, 'The Blood of Ashburn' ended up having vultures in it. But in my story, a vampire who lives in the caverns beneath the town is able to see the world through the eyes of the vultures and command them to do her bidding."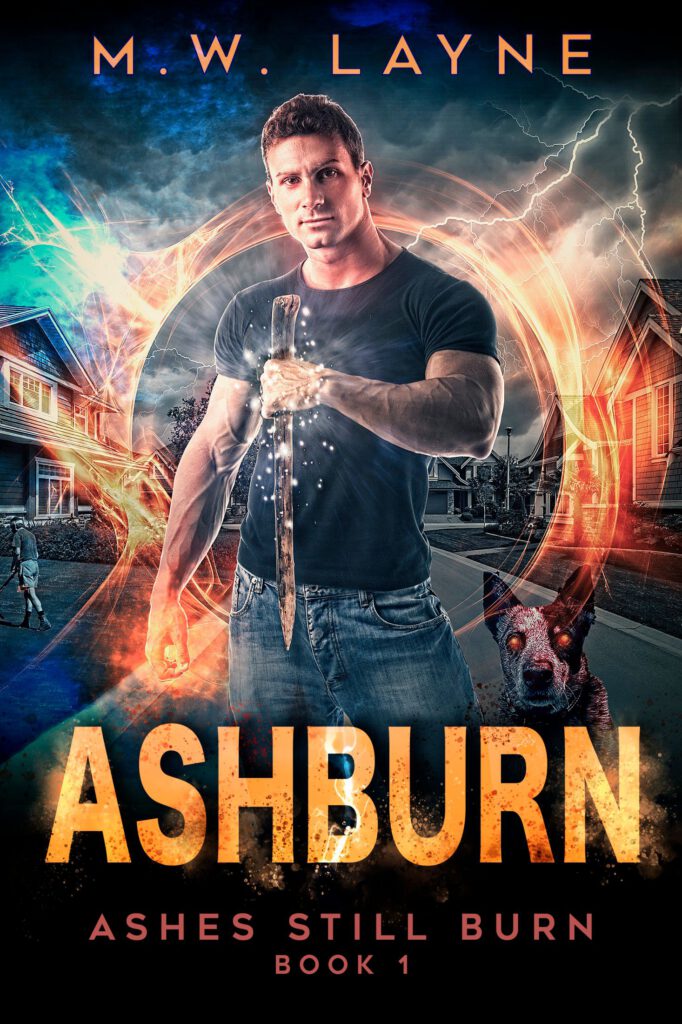 Q: YOUR FOCUS SEEMS TO BE HORROR, SCI-FI AND THRILLERS? HOW DID YOU BECOME A FAN OF THESE PARTICULAR GENRES?
"I blame my Uncle Pete for that, mostly. When I was a kid, growing up in Newport News, my mom's brother used to visit every week and bring a paper bag full of comics and fantasy novels. I was a lucky kid! So, I grew up on regular comics, like 'Thor' and 'The Incredible Hulk,' but also on horror magazines he would give me, like 'Creepy,' 'Eerie,' 'Vampirella,' 'The Savage Sword of Conan,' 'Heavy Metal' and others. He also supplied me with plenty of novels by Edgar Rice Burroughs, Robert E. Howard, Asimov, you name it. Like I said, I was pretty darn lucky. All of that, including Dungeons and Dragons, which was taught to me in public school, if you can believe that, was instrumental in creating who I am today as far as my tastes." 
Q: YOU'RE SELF-PUBLISHED? WHAT HAS THAT PROCESS BEEN LIKE?
"Yes, all my works are self-published. Early on, before the Internet, I sent some manuscripts to a few traditional publishing agencies. Man, that was brutal. And it took so long. Seven months of waiting only to receive a form rejection letter. When the publishing world began to change, I decided self-publishing was where I wanted to spend my time and energy. The process has been a learning experience at every turn, for sure, but I'm fortunate enough to possess many of the skills most authors have to contract out."
Q: WHAT TYPE OF SKILLS?
"For instance, I'm also a painter and an artist, so I do my own covers. And I'm good with new technology, so I leverage a lot of the latest software for writing, editing, illustrating, designing and publishing. Man, it is a great time to be a writer. I mean, am I in bookstores? Not unless I'm doing a local author signing, but my stories have been read all around the world, and I've received tons of feedback – good and bad – from readers everywhere. Which is great for me since I love to improve myself and my writing." 
Q: WHERE DO YOUR IDEAS COME FROM?
"Funny, but I'm lucky enough to not have to search too hard for story ideas. I keep a file with ideas for novels, and I think there were over 30 fleshed-out concepts in there the last time I looked. But everything I experience, each interaction, every trip I take – they all result in me asking questions, lots of questions, and those turn into these ideas that make me wonder about all the 'what-ifs' out there."
Q: WHERE DO YOU FIND THE TIME TO WRITE?
"I prioritize it. I make sure I do something for my writing career every night. Maybe it's writing, or outlining, working on a cover, creating an ad, prepping for a local convention at Comics Logic or answering questions for Ashburn Magazine – whatever is on the burner." 
Q: WHEN YOU AREN'T WRITING, WHAT DO YOU LIKE TO DO?
"The same as everyone else, I guess. Netflix bingeing. Movies. One Loudoun. I also read as much as possible and am in a great book club that exposes me to books I'd never think to read on my own. I try to exercise a couple times a week. I'm selling a lot of my comic book collection on eBay. I walk my dogs and hang out with them. And I'm trying this dating thing again. So far, so good! And I paint, although not much of that lately. My whole life, I've written and painted. Back and forth, but I'm really focused on my writing now."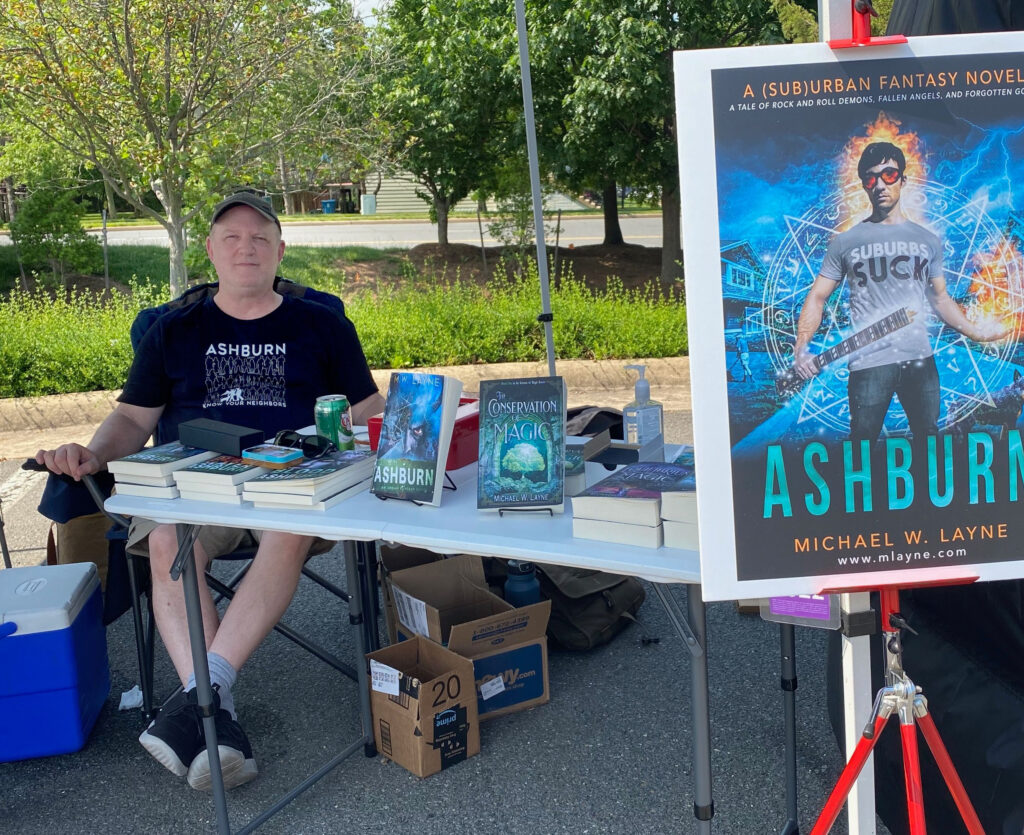 Q: WHAT DOES THE FUTURE HOLD FOR MICHAEL LAYNE? ANY MORE BOOKS SET IN ASHBURN?
"Well, I think I mentioned this already, but I have a lot more books lined up to write than I will ever have a chance to finish. I'm currently almost done with the first draft of a new psychological thriller, written as Michael Wade. Working title is 'Blown Out of Proportion.' I am loving the change of pace with this one. No magic. No fantasy. Just straight-up, deranged humans in today's world. I've also outlined book four in the 'Ashes Still Burn' series. I also have three non-fiction books that will have to wait until I can get to where this novel-writing gig is full-time. I'm working on getting closer to that point every day." 
MICHAEL LAYNE BIBLIOGRAPHY
"The Conservation of Magic," originally published as "Redemption" (2013) (Novel)
"Running Club: A Short Dystopian Thriller" (2013) (Novella)
"The Gate" (2013) (Novella)
"The Applicant" (2013) (Novella)
"Trapped in Whittier" (2013) (Novel)
"Hunted Under Vegas" (2014) (Novel)
"Becoming Walker" (2014) (Short story, no longer published)
"The Equilibrium of Magic" (2014) (Novel)
"Buried in Alaska" (2015) (Novel)
"The Complexity of Magic" (2017) (Novel)
"Ashburn: An Urban Fantasy Novel" (2018) (Novel)
"Thirst: A Horror Short Story" (2021) (Short Story)
"The Demon Slayer of Ashburn" (2021) (Novel)
"The Blood of Ashburn" (2022) (Novel)
"Blown Out of Proportion" (TBD 2022) (Novel)
"The Evolution of Magic" (TBD) (Novel)
"Untitled Book 4 in the Ashes Still Burn Series" (TBD) (Novel) 
You can learn more about Michael Layne's books on his website at: www.writerlayne.com.