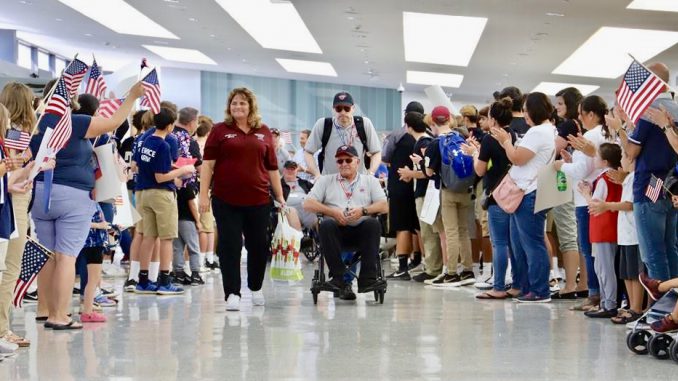 By Chris Wadsworth
By this point, everyone has probably seen the heart-stirring images of elderly veterans arriving at Washington airports, men and women who served in World War II, Korea and even Vietnam coming to visit the war memorials in the nation's capital.
In those images, dozens, sometimes hundreds, of people greet the veterans, cheer their arrival, high-five them, even hug them. The visits are called Honor Flights, the crowds are a combination of volunteers and passers-by — and while it all looks very spontaneous, a lot of planning and work goes into each arrival and farewell.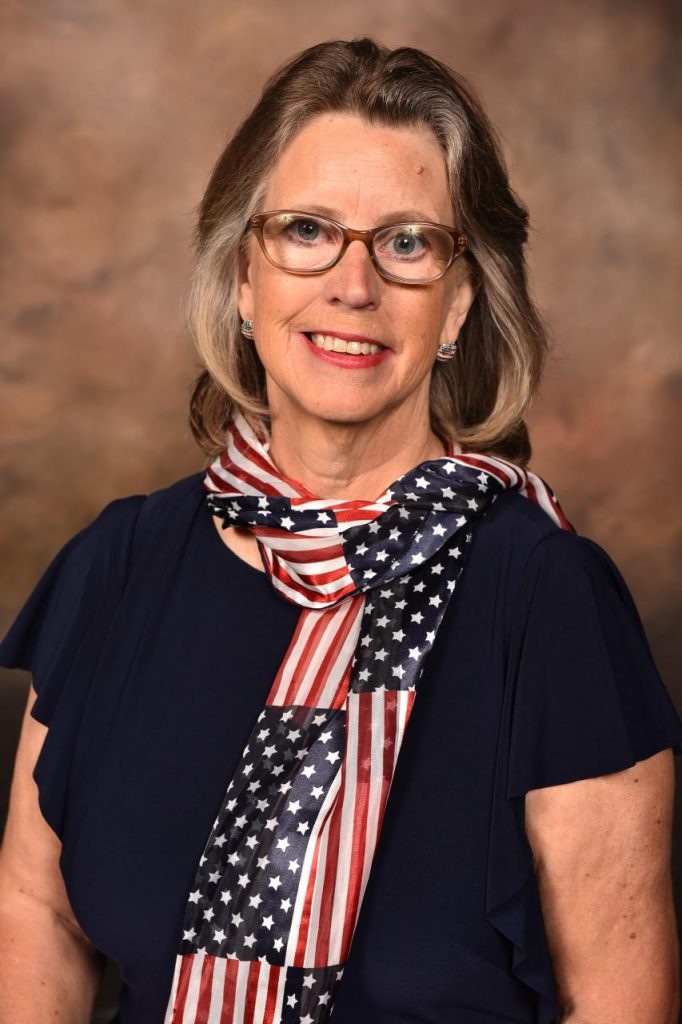 Donna Colombo, 55, is an Ashburn Farm wife, mother and grandmother. She's also the current president of the Virginia Parent Teacher Association, or PTA, and is one of a handful of dedicated volunteer organizers who oversee Honor Flight visits at Dulles International Airport.
ASHBURN MAGAZINE: WHAT LED YOU TO GET INVOLVED WITH HONOR FLIGHT?
DONNA COLOMBO: "To honor all of my military family members. My father is a U.S. Navy chaplain retired. My husband served in the U.S. Navy for 15 years as a cryptologist. I have brothers-in-law that were in the Navy and Marines and the Army."
WHAT IMPACT DO YOU THINK HONOR FLIGHTS HAVE ON THE VETERANS WHO MAKE THE TRIPS?
"They don't know what to expect, so when they open the doors and there are Girl Scouts and Brownies and football players and cheerleaders and parents and kids who show up just out of the goodness of their hearts to honor them — sometimes the impact is tears. Sometimes we have that 'awe' moment — 'You really came here just for us, just for me.'"
WHAT IMPACT DO YOU THINK HONOR FLIGHTS HAVE ON THE VOLUNTEERS WHO GREET THE VETERANS?
"Sometimes the younger kids don't necessarily get the true, deep impact of what a veteran did … so it's very impactful. It puts a shining star on our heroes and  — for the kids — it opens up a conversation about what a veteran is and how we should always honor them — in the grocery store or at a Walmart or at a Starbucks. When you see a hat that says 'WW2 veteran' or 'Navy veteran,' I would bet that after Honor Flight, some of them would go up and say, 'Thank you for your service.'"
WHAT IS THE MOST POIGNANT THING YOU HAVE SEEN HAPPEN ON AN HONOR FLIGHT VISIT HERE?
"I tear up thinking about it. Just when I think I haven't cried [at an arrival], something else will happen and it will be fantastic. Recently, a Vietnam vet stood up and said, 'Fifty years ago today, I came home, and I have resented my time that I served. I have resented the government for making me go and today — that resentment is no longer there.'"
YOU SPEND A LOT OF TIME AT AIRPORTS. WHAT TIP DO YOU HAVE FOR TRAVELERS WHO DREAD GOING THERE?
"I have found that if you smile, those hard, disciplined TSA agents and those hard, disciplined police — who look like they are big and scary — are just as friendly as your neighbor next door. You just have to be friendly and smile back. Being kind pays off in so many different ways — even if you're just Joe Blow at the airport."
DO YOU THINK HONOR FLIGHTS ARE EVER GOING TO END OR WILL THERE ALWAYS BE VETERANS TO HONOR?
"I think they will continue as long as the need is there. We've got 38,000 people just on the waiting list just to fly here from the 130 hubs across the country. Unfortunately, we see the Senator Doles and the heroes of World War II that are in their mid 90s now. That's their average age and they often can't get here. But we'll get them here as long as their nurse says they can come, wheelchair-bound and all. We are going to try and get every single person here that deserves to come see the memorials and deserves that welcome at the airport."
LIGHTNING ROUND
Favorite TV Show: "The West Wing"
Favorite Movie: The entire "Rocky" series
Favorite Song: "God Bless the USA" by Lee Greenwood (often called "Proud to be an American")
Favorite War Movie: "We Were Soldiers"
Favorite Sports Team: St. Louis Cardinals
Favorite Spot in Ashburn: On my deck with my husband
Favorite Local Restaurant: Sweetwater in Sterling
Favorite Color: Red
Favorite Holiday: Memorial Day
Favorite Time of Year: Beginning of summer. I love the beach.
If you are interested in becoming involved in the local Honor Flight program, the Dulles-based team of volunteers has a website. You can learn more at: https://heroeswelcomeiad.com/
(Image at top: Herbert Valle Photography)