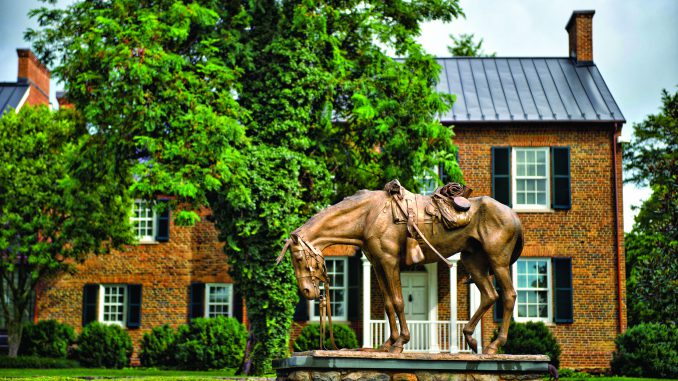 By Laura Gresham Clark
Photos by Doug Graham
As you travel through Middleburg, you may notice an unusual statue at West Washington Street and The Plains Road — a horse, head hanging low, looking dejected. It's not the usual proud, majestic portrayal one is used to seeing. But this statue marks the location of a hidden treasure right here in Loudoun County — a library and museum that celebrates the noble history of the area and the literature, art and culture of equestrian, angling and field sports.
The National Sporting Library & Museum houses an astounding collection of more than 26,000 books and over 1,200 art objects.  
The library is filled to the brim with resources for serious scholars and casual visitors alike.  Librarian John Connolly displays a remarkable mastery of every item under his charge, and he discusses his responsibility with appropriate gravitas and depth. But he still appreciates a lighthearted take on the library's mission.
"If it's a sport from a Jane Austen novel, we've got it," he said.
Connolly is referring to the fact that the library's collections include, but are not limited to, works related to general riding, horse breeding, foxhunting, steeplechasing, polo, fly fishing, carriage driving, falconry, and wing shooting.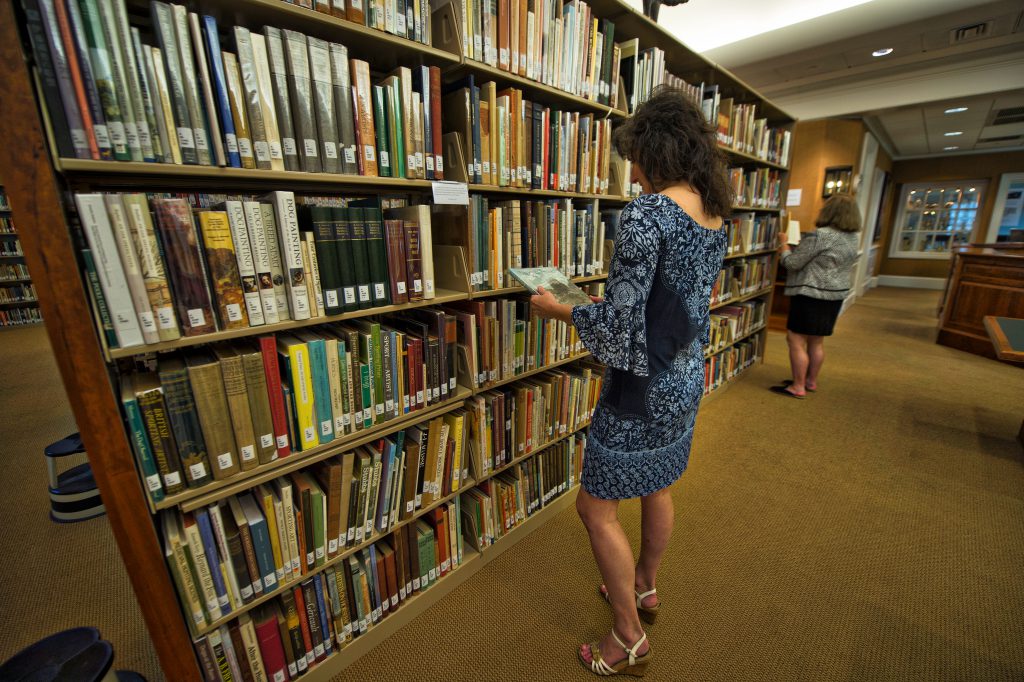 In 1954, George L. Ohrstrom Sr. and co-founders Alexander Mackay-Smith, Lester Karow and Fletcher Harper wanted to start a library that was accessible to all, not just those with academic credentials.
In its earliest days, the library was in a small house across from what is now Safeway in Middleburg. It later moved to its current location at Vine Hill, a Federal home built in 1804. A donation of 5,000 volumes by John H. Daniels in the 1990s necessitated an expansion, and the stunning new library opened next to Vine Hill in 1999. 
Attracting locals as well as tourists from around the world, the library is designed to feel warm and inviting. Its décor is evocative of a well-appointed home. In addition to the thousands of titles gracing its stacks, there are magazines, periodicals, archival collections, photographs, letters, manuscripts, and hunt diaries.
Additionally, more than 7,000 books line the shelves of the temperature- and humidity-controlled F. Ambrose Clark Rare Book Room.
Gleaming trophies take up residence at the library all year except when they leave briefly to be awarded and engraved for annual sporting contests. The unexpected collection of weathervanes assembled by the late Paul Mellon of Upperville lends an amusing touch. The library's status as a research institution prohibits checking materials out, but anyone can spend time in the comfortable rooms reading, studying and learning.
Throughout its existence, the library was also home to many works of art. So many, in fact, that it ultimately became evident that they needed their own building. Vine Hill was the ideal location, and after a significant renovation and expansion, the museum opened in 2011.
Inside the museum are paintings, sculptures, works on paper, and decorative arts from the 1600s though today. The objects reflect a passion for the same country pursuits as the library, including images of landscapes, portraits, sporting events and animals. With strong representation of both American and British works, much of the collection celebrates all things equestrian. 
One room after another offers delightful surprises. A dramatic, 12-foot horse head sculpture greets visitors as they enter. An English sterling silver model of a horse-drawn carriage is the largest of its kind. A magnificent oil painting from 1878 depicts foxhounds and a terrier enjoying a moment of rest in a kennel.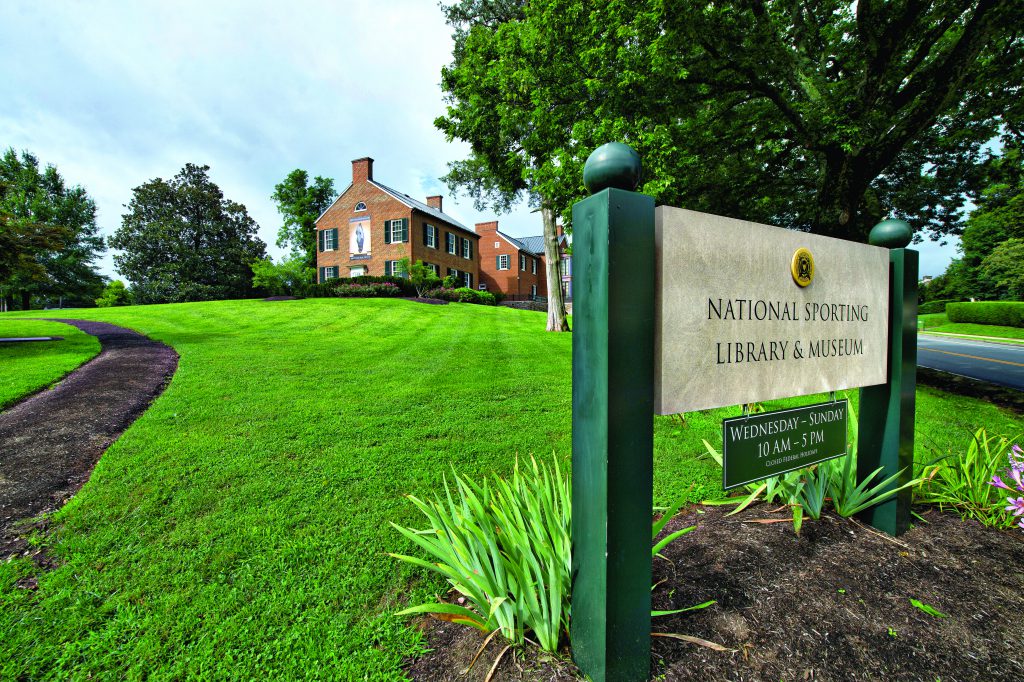 On the manicured grounds, sculptures of horses and foxes dot the landscape. Some are whimsical, like the little foal nipping its hindquarters, aptly named "Darn That Itch." Another is somber. The dejected horse is a tribute to the 1.5 million Confederate and Union Army horses and mules who were killed, wounded, or died from disease during the Civil War.
Connolly says the museum saw an attendance uptick while the PBS drama "Downton Abbey" was on the air. That may seem funny at first, until you realize that visiting the National Sporting Library & Museum truly is like stepping onto the set of a lush and engrossing period piece. It's a chance to immerse oneself in refined words and art, to feed the intellect, to escape the everyday, and to leave one's cares behind. In comparison to the hectic pace of life in 2019, that's a horse of an entirely different color.
=====
IF YOU GO 
WHAT: The National Sporting Library & Museum
WHERE: 102 The Plains Road, Middleburg
WHEN: Wednesday-Sunday, 10 a.m. to 5 p.m.
COST: Library — free. Museum — free to members and children 12 and under. Adults $10. Seniors 65+ and Youth 13-18 $8.
INFO: nationalsporting.org
Note: The museum is free on Wednesdays and on the last Sunday of every month.