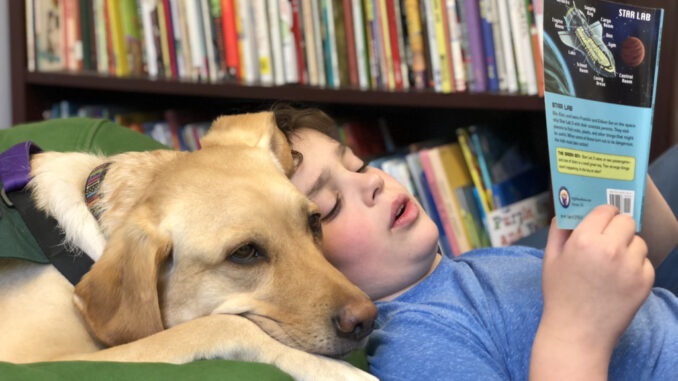 BINGO & KARMA
By Cynthia Gonzalez
Many dogs probably spend their days playing, sleeping, getting treats and going for walks. Pretty easy duty. But some dogs have a little more responsibility on their plates – or food bowls, as the case may be. 
Bingo and Karma are specially trained yellow Labrador retrievers who are part of Tail Wags and Book Bags, a nonprofit based in Ashburn. The dogs travel to area schools, working with teachers and students in what can best be described as canine-assisted lessons. The dogs literally help the kids relax so they can learn. 
"Our dogs have big hearts and love unconditionally. Children feel that immediately and their anxiety floats away," said Karin Hemphill, founder and director of Tail Wags and Book Bags. "They get caught up in the joyful experience and forget about the things that usually hold them back. The dogs don't care about how well students perform. They care about kindness and have never met a child who didn't pass that test."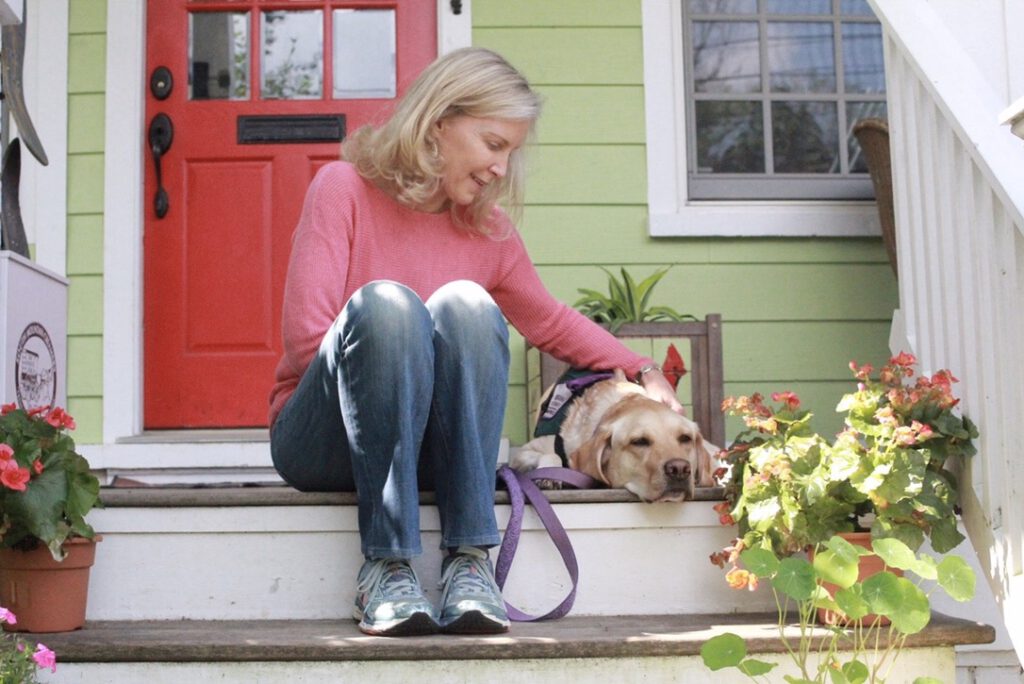 The dogs from the organization have worked with more than 400 children at schools in Northern Virginia, Maryland and the District of Columbia. 
Tail Wags was founded eight years ago in Washington by Hemphill, who moved to Ashburn's Alexandra's Grove neighborhood in 2020. Bingo and Karma live with her and are trained to help students who struggle academically, emotionally or socially. The organization uses the Orton-Gillingham Approach, a multisensory phonics program aimed at students with dyslexia or other learning challenges. 
Sophia Crawford is a 10-year-old student at the Lab School of Washington, one of the schools that works with Tail Wags. She has struggled with reading anxiety and dyslexia and has been a part of Tail Wag's "Paws to Read" program for two years. That's when students sit with the dogs and read and write in a relaxed environment. 
"I've got more confidence reading," Sophia said simply.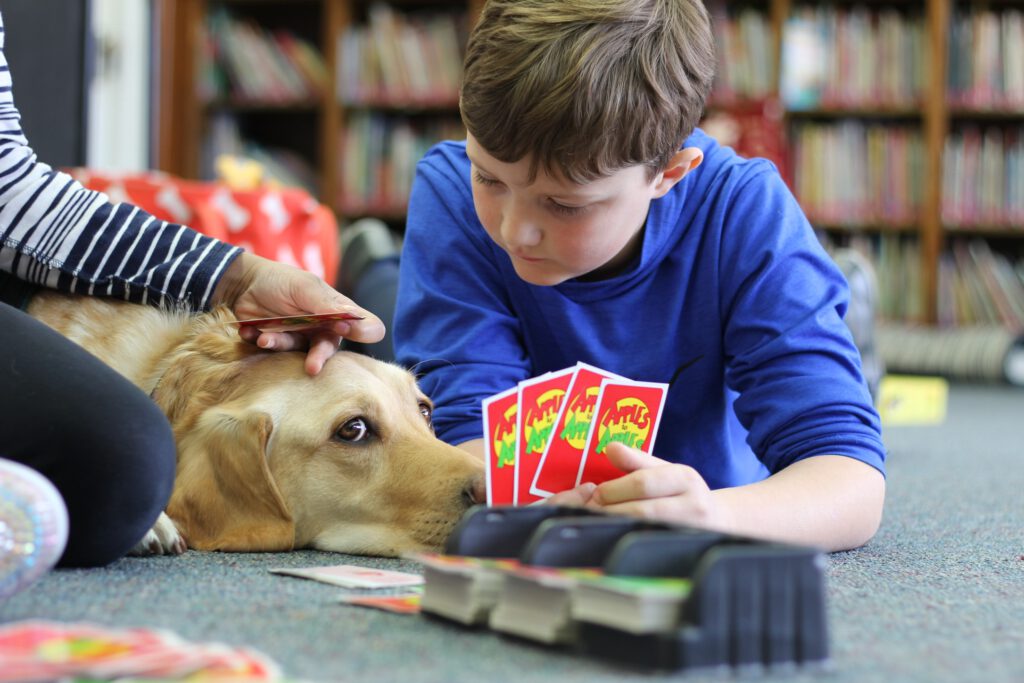 Her father, Mark Nielsen, is more effusive in his praise of the progress he has seen Sophia make with Tail Wags. 
"I don't think you can ask for anything more exciting as a parent," Nielsen said. "It has been transformative for her, and her confidence level has increased exponentially. It has certainly changed her life. It's changed ours." 
Bingo, age 9, and Karma, age 2, were professionally raised and trained at a service dog facility where they were taught to do more than 50 different tasks, such as greeting students with a "high five," painting with a paintbrush in their mouth, delivering spelling word letters in a bucket and passing flashcards to students.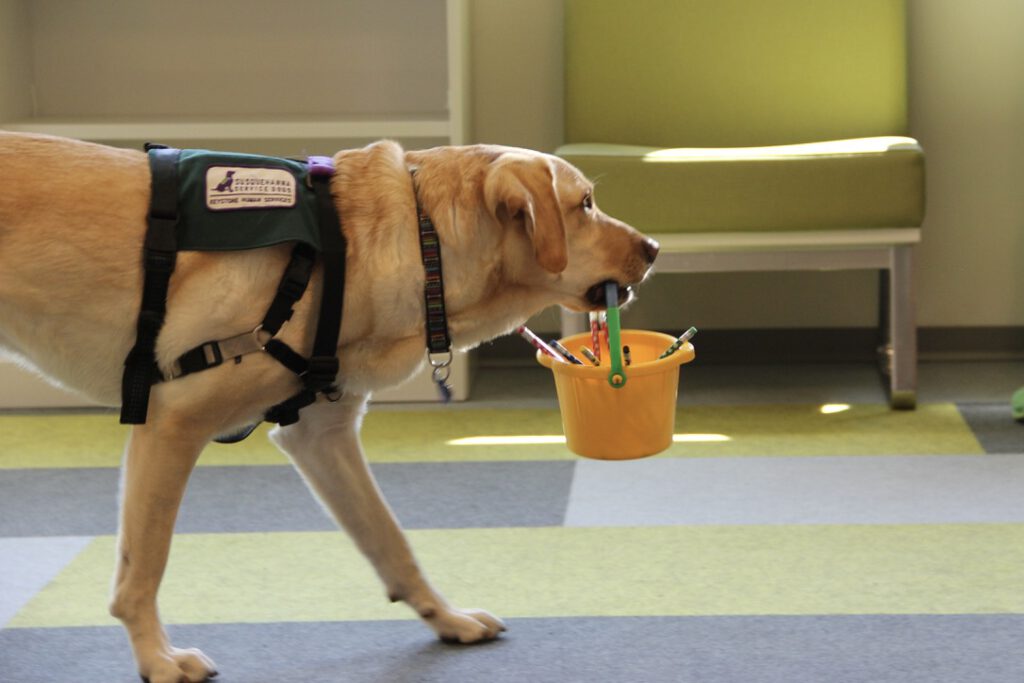 Working on reading lessons with the dogs or just spending time with them helps the students connect and work through the learning differences they experience — such as ADHD, anxiety, speech and literacy challenges, dyslexia and more. 
Lynn Gudhus is a reading specialist and science teacher at the Lab School of Washington who has worked with Tail Wags and Book Bags since the organization was launched. Students in her science classes participate in activities with the dogs such as using the scientific method to figure out what a dog's favorite toy or treat is. 
"A dog like Bingo and Karma — they're just going to love you unconditionally. There's no judgment. I think the students feel a little bit more safe to fail, take risks, be a little bit more courageous, and that's been really exciting to see," Gudhus said.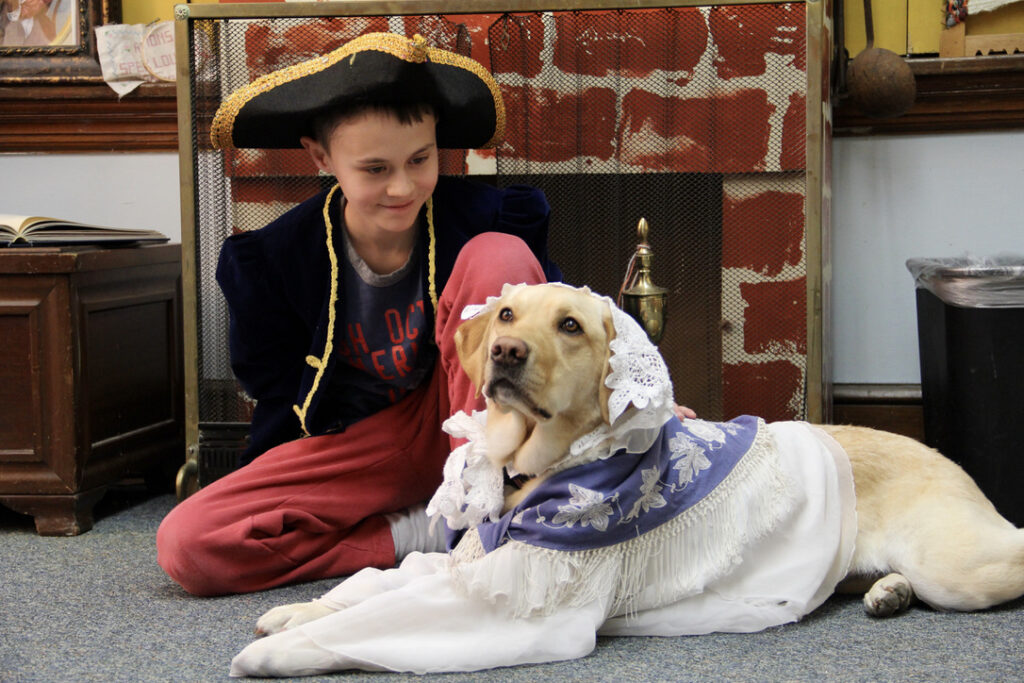 Hemphill is planning to expand her organization's offerings now that Tail Wags has relocated to Ashburn. She is rolling out a new tutoring program this summer, in addition to the "Paws to Read" program. It will provide customized canine-assisted tutoring sessions for students in first through fifth grade — and Hemphill is eager to launch it in Ashburn area schools. 
"One of our goals is to meet the needs of the local community," Hemphill said. "We'll still keep our hand in Washington, D.C., because we love the schools we work with there, but we really want to create opportunities for people in the local community to work with the dogs and have that kind of assistance."
Hemphill's own son grew up with ADHD and dyslexia, and she saw the positive impact that therapy dogs had on her son as a child. This is what led her to develop Tail Wags and Book Bags.
"I researched it quite a bit and decided this was something that I thought would be really helpful to students," she said. "I learned about how incredibly smart these dogs are and how eager they are to work." 
Cynthia Gonzalez is a rising junior at Dominion High School in Sterling and is a staff reporter for the school's student news organization, DHS Press.