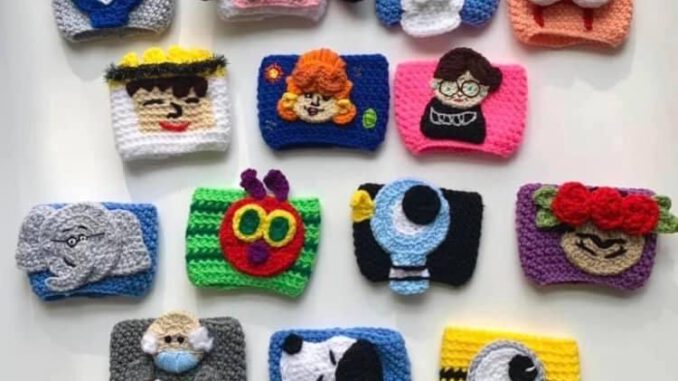 THE CROCHET LADY
By Jill Devine
"Hey, are you the crochet lady?" It's a question that Jessica Judkins is asked a lot lately. 
"I take my crochet bag everywhere I go, like the pool or playground with my kids, but when people started recognizing me, I realized I must be making an impact," Judkins said.  
Maybe you've seen Judkins' creations. They are the reason she has become something of a local celebrity. She makes detailed crocheted coffee sleeves, which she then gives away for free at coffee shops throughout Loudoun County. 
Judkins has become so popular that she was named Best Artist in the 2022 Best of Ashburn contest.
Her cute, quirky sleeves sport a variety of designs ranging from storybook or cartoon characters, such as Harry Potter, Clifford the Big Red Dog or Batman, to pop icons like Mr. Rogers, Bernie Sanders, Dolly Parton or actress Betty White. And some Loudoun residents will stand in line for hours for the chance to snag one.
A Crocheted Viral Sensation 
Judkins announces her coffee-sleeve giveaways through her Facebook page, called My Charming Colors, which has more than 3,000 followers. 
"It's a bit overwhelming lately, because I can never make enough to give to everyone who wants one," said Judkins, who moved to Ashburn Farm in August 2020 with her husband, Scott, and their two children, Judah, 11, and Magnolia, 6.  
"When I arrive at a shop, the line sometimes is already down the sidewalk. So far, I've given away about 2,600 sleeves, but there are always people who are sad when I run out," she said.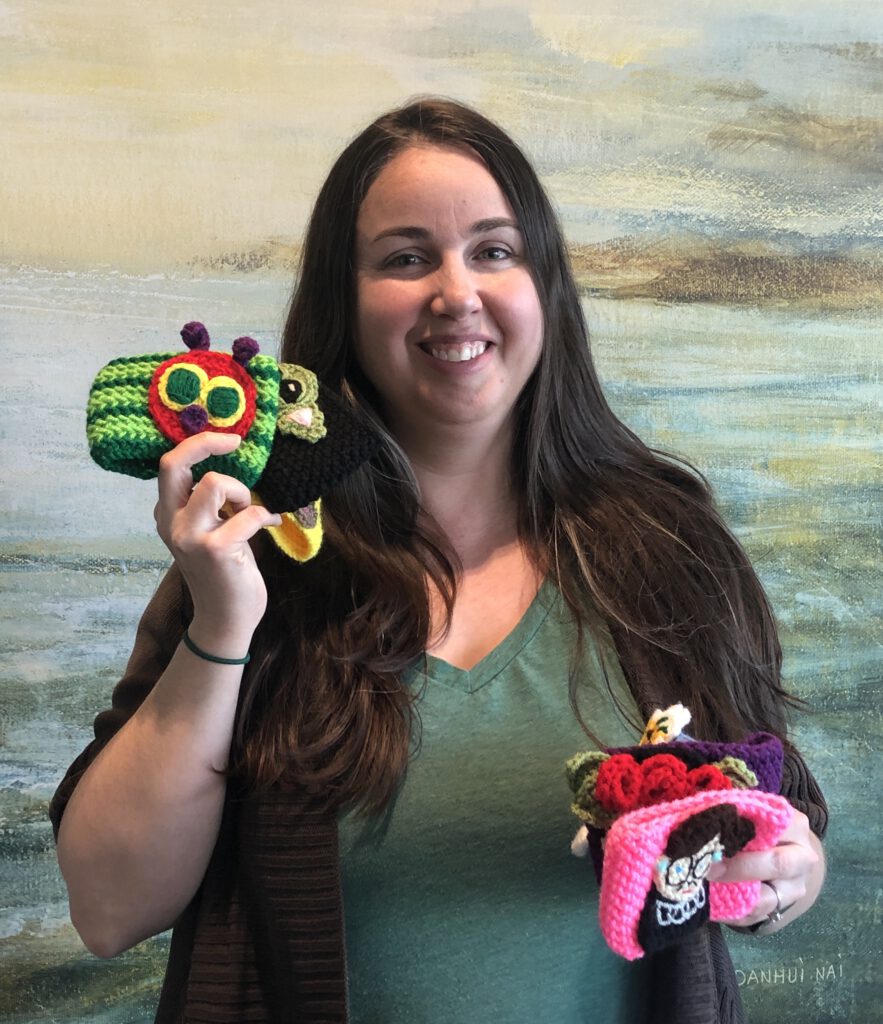 Judkins' efforts have garnered so much attention that she even got a short write-up in People magazine. 
Judkins distributes her coffee sleeves at shops such as Blend Coffee Bar in Broadlands, the Starbucks in Lansdowne and Ridgetop Coffee in Sterling, as well as Leesburg's SimplyBe, King Street and Weird Brothers coffee shops, among others. 
Before she became manager of SimplyBe Coffee, Tara Kennedy was a customer in one of those lines. 
"My son really wanted a Baby Yoda sleeve, so we got in line to buy a hot chocolate," Kennedy recalled. "A lot of people were there, chatting about where they had previously tried to get a sleeve. It's like hunting for hidden Easter eggs – and you want to shout, 'Yes, I got one!' when you succeed."  
SimplyBe Coffee employs workers with special needs, so Judkins says it is particularly dear to heart. 
"Our employees get very excited when Jess comes to our shop," Kennedy said. "Her designs are so cute, and the fact that she gives them away for free is inspirational and fits well with our shop's mission."
Encouraging It Forward 
Judkins said she got the idea to distribute coffee sleeves in 2013 while sitting in a Fairfax Starbucks with her toddler son. 
"Judah noticed that the customers waiting in line looked sad, and he wanted to give them flowers," she said. "I love to crochet, so I decided to crochet coffee sleeves to spread cheer." 
With the manager's permission, Judkins started distributing about 100 sleeves at a time at that shop, with Judah's help. 
"I attached an encouraging note to each sleeve, and he would hand them to people, telling them that they are special and loved," Judkins said. "Some people didn't know what they were and would put them on their wrists, but they did make everyone smile, which was our goal."
Today both Judah and Magnolia help their mother produce and distribute sleeves in an effort she calls "encouraging it forward," which differs from "pay it forward" in that there is no exchange of money. Although her kids are starting to learn to crochet, for now they help with distribution or by writing notes to attach to the sleeves.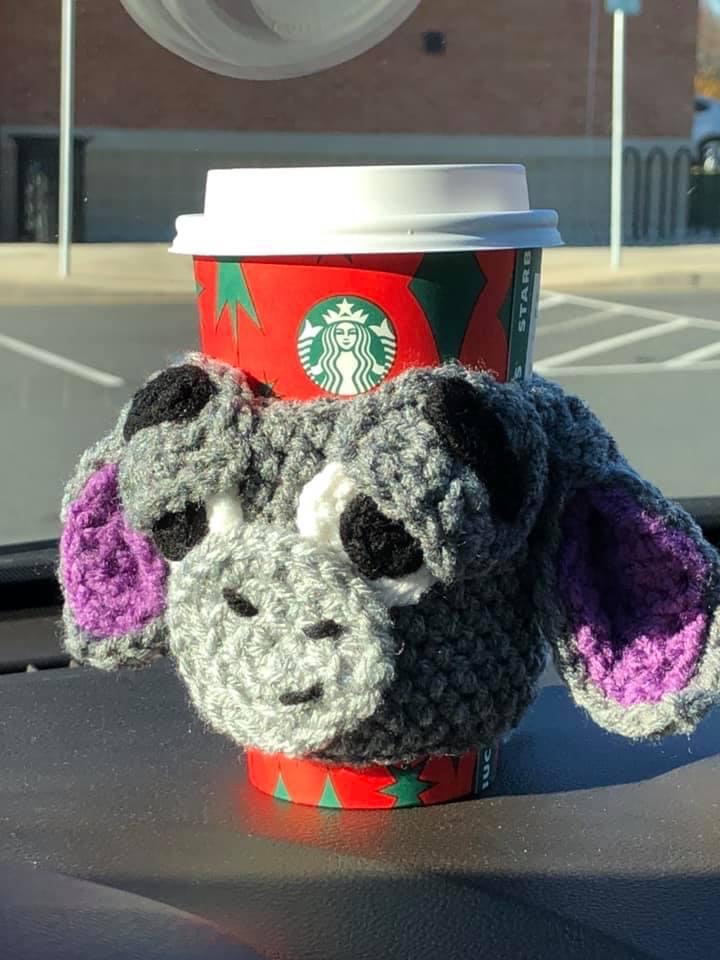 Judkins refuses payment or donations of any kind and does not take special orders or commissions. My Charming Colors is simply a charitable hobby, according to Judkins, who said she does not intend to apply to be a nonprofit.
"I'm just a fiber artist who homeschools her kids and wants to encourage other people." Judkins buys most of her yarn and supplies at JoAnn Fabric in Sterling and claims the only payment she will ever accept is the smile on someone's face. 
That desire to make others happy drives Judkins, who described an incident last year when she was grocery shopping. 
"I passed a woman who was wearing a Ruth Bader Ginsberg [RBG] shirt, so I left my cart right there and ran out to my van to get one of my RBG sleeves. I rushed back in and tracked her down in one of the aisles, calling out, 'I'm here to encourage you; you were meant to have this.' This was during COVID, so we had to stay far apart, but she took it and started crying, telling me, 'Oh, my. I've been following you on Facebook.'"
Each of Judkins' sleeves is an original design and can take from 30 minutes to two hours to make (some, like Clara and her Nutcracker are very complex). Although they are free, their value lies in how they encourage others to be generous. When one of Judkins' friends had a child who died of cancer, Judkins designed "Harry Potter" sleeves, attaching a note in honor of the child, who had loved that book series.
"I later saw online that because of my note, a person made a donation to an organization devoted to fighting that particular kind of cancer," she said. 
Special People, Special Sleeves
Shannon Rood, an assistant kindergarten teacher who lives in Brambleton, fell in love with Judkins' Eeyore design from the "Winnie the Pooh" books. 
"It was so cute, and the added touch of his pinned-on tail on the back side of the sleeve really made it stand out," she said.
Rood's work schedule always seemed to conflict with giveaway dates, so she mentioned that on the My Charming Colors Facebook page. 
"A person named Sunny saw my comment while she was in line at Starbucks. This complete stranger decided to surprise me and pick up the sleeve for me," Rood said. "It shows how much Jess' kindness spreads beyond her just dropping sleeves on counters. It has a trickle-down effect, and I was the beneficiary of both Jess' and Sunny's acts of kindness."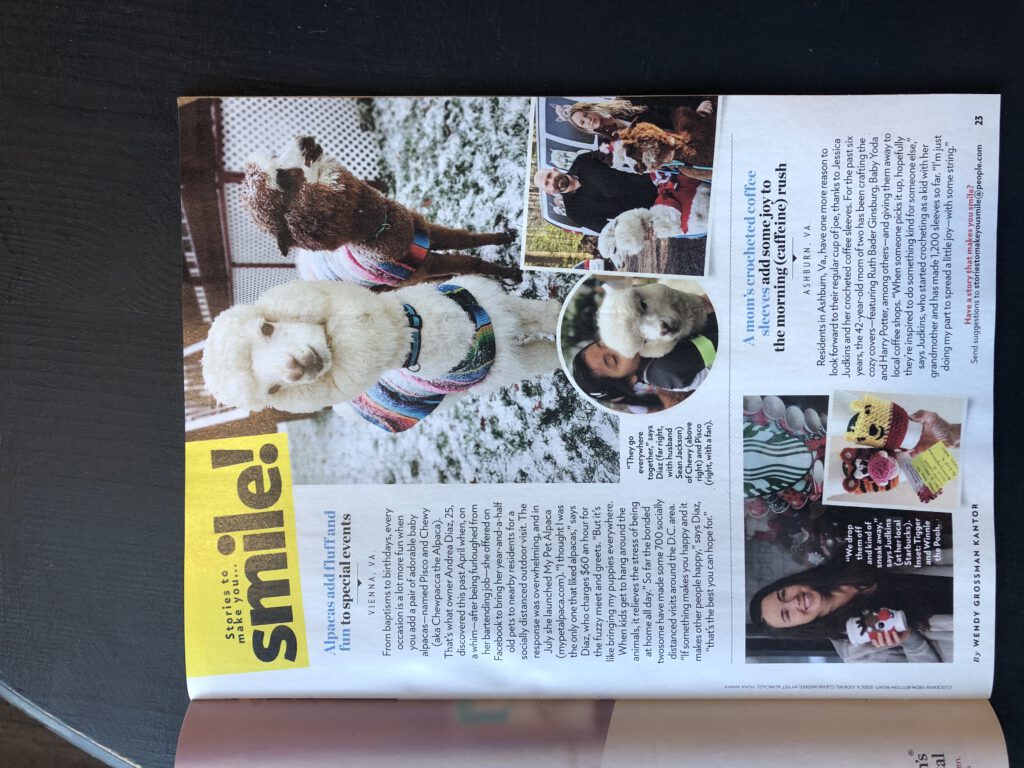 Judkins has given her crocheted sleeves to volunteers at Loudoun's COVID vaccination clinics and she also started distributing sleeves to school and hospital staff. She created a series of humorous "Trauma Llama" sleeves for employees at Inova Loudoun hospital's trauma center, and she has distributed sleeves for staff at several Loudoun County Public Schools locations. Judkins is now working on sleeves for school bus drivers. 
"Once I drop the sleeves off … I often do not see the people who receive them, so the best thing anyone can do for me is to post a note on my Facebook page," Judkins said. "That's my payment. I just want to know if the sleeves made people happy." 
No need to worry, Jess. The answer is undoubtedly yes.
Jill Devine is a freelance writer and former magazine editor from Loudoun County who writes for a variety of Virginia publications.