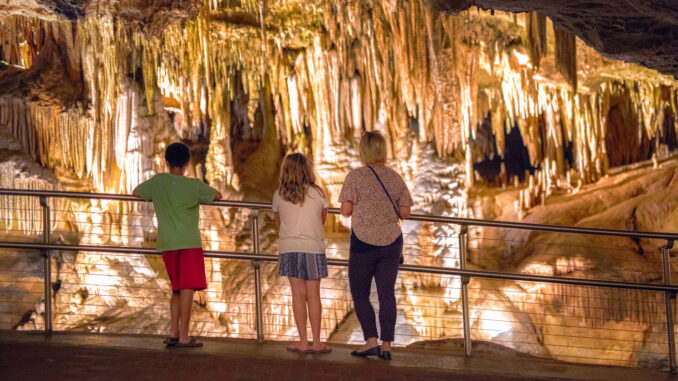 UNDERGROUND WONDER
By Glenda C. Booth
It all started with disappearing cattle and disappearing water. Something was going on in the hills around Luray back in the summer of 1878, and a group of local men wanted to get to the bottom of it.       
On a 90-degree August day, searching the fields and hills for caves with three others, Billy Campbell felt cold air coming out of some loose rubble. After he and the group dug about 10 feet, they suddenly felt something. 
"Cold air rushed out of the entrance in such volume that it was chilling to the skin despite the hot sun" and had "the odor of washed potatoes and damp earth," Russell H. Gurnee wrote in his book "Discovery of Luray Caverns, Virginia." 
The rushing air was so strong that it blew out a candle.
On Aug. 13 that year, a five-member group returned and slinked into the abyss on a rope. They were instantly overwhelmed by the other-worldly formations they found. They said they looked like dripping carrots and sparkling pin cushions, amid glistening walls, tall columns and pools of crystal clear water.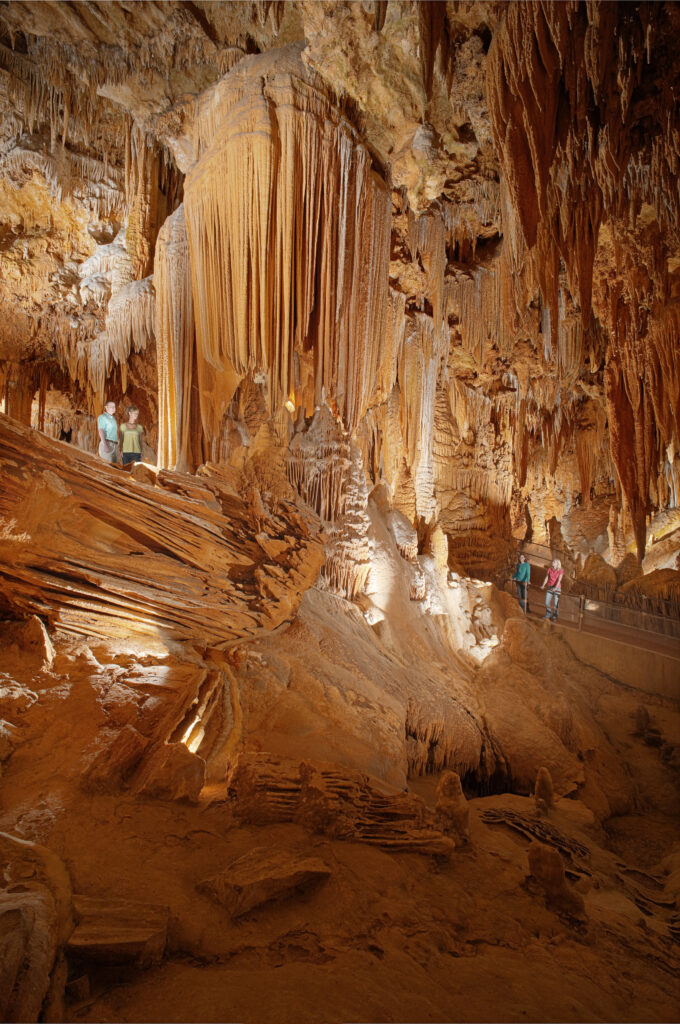 Their shouts of wonder echoing throughout the caverns hinted that they had found a big cavern complex. Known locally as "the Phantom Chasers," the men had discovered a grand and mysterious cave.       
At 64 acres, Luray Caverns — roughly 90 minutes southwest of Ashburn — is the 12th largest cavern in the world and the largest on the East Coast. Today's visitors don't need ropes and candles. They can explore this subterranean wonder world on a 1¼-mile paved walkway, most of it around 80 feet below the surface, with the deepest part at 164 feet. The caverns have a steady temperature of 54 degrees, but humidity can make it feel warmer. 
Ashburn residents Tracy and Scott Sheppard took their two boys to the Luray Caverns when they were younger. The chilly temperature was just one of the things that fascinated the grade-schoolers.
"They thought it was neat how much cooler it was in the caverns than it was outside," Tracy Sheppard said. "They wanted to know if [the caverns were] how cavemen lived 'back in the day.'"
NATURE'S FANCIFUL DECORATIONS       
The caverns started forming 400 million years ago. The oldest formation is 7 million years old. Geologists consider Luray to be an "active cave" because of its dripping water that deposits minerals that build up over time. It takes 120 years for new deposits to accumulate 1 cubic inch. Because it has no opening to the outdoors, no animals except microscopic critters can live in Luray Caverns, experts say.        
Illuminated by 720 lights, the caverns are a seemingly endless amalgam of hardened shapes, colors, drips and ripples. Stalactites hang like icicles from the ceiling or the cavern's sides. Stalagmites rise from the cavern floor and have distinct mounds or ridges. A stalactite that meets a stalagmite forms a column or pillar. Mineral-bearing water also spreads over the limestone walls or builds deposits on protruding ledges — sometimes called flowstone — that resemble frozen waterfalls, veils and tents. 
Minerals from the soil provide colors. Iron and iron oxides create reddish-orange-yellow tones and manganese creates the grays. The white calcium carbonate formations look like gleaming marble or cake icing. The greens are cave algae, a form of plant life      
It is a Dr. Seuss-like fantasy underworld, where nature's "decorations" make human imaginations run wild. People say they see cauliflower ears, mushrooms, cupcakes, shells, elongated peppers, stuffed socks, phalluses, sausages, pretzels, castles, totem poles, hanging fish, a shaggy dog and even the Michelin Man.        
An 1880 Smithsonian Institution report said, "It is safe to say that there is probably no other cave in the world more completely and profusely decorated with stalactite and stalagmite ornamentation than that of Luray."       
Over time, officials have named some formations. Pluto's Ghost is a 45-foot white column that recalls the Roman god of the underworld. Saracen's Tent, resembling a drapery, and Titania's Veil are flowstone, sheetlike deposits of minerals. 

Dream Lake, at 2,500 square feet and less than 18 inches deep, seems perfectly still and creates an optical illusion as a jumble of overhead stalactites are reflected in the water below.
"[The boys] wanted to take a swim in the water and were very curious about how deep it was," Sheppard said.
Former First Lady Michelle Obama cited as her favorite formation the "fried eggs" — two stalagmites accidentally sawed off. Visitors rubbed the remaining bases so that they look like shiny egg yolks.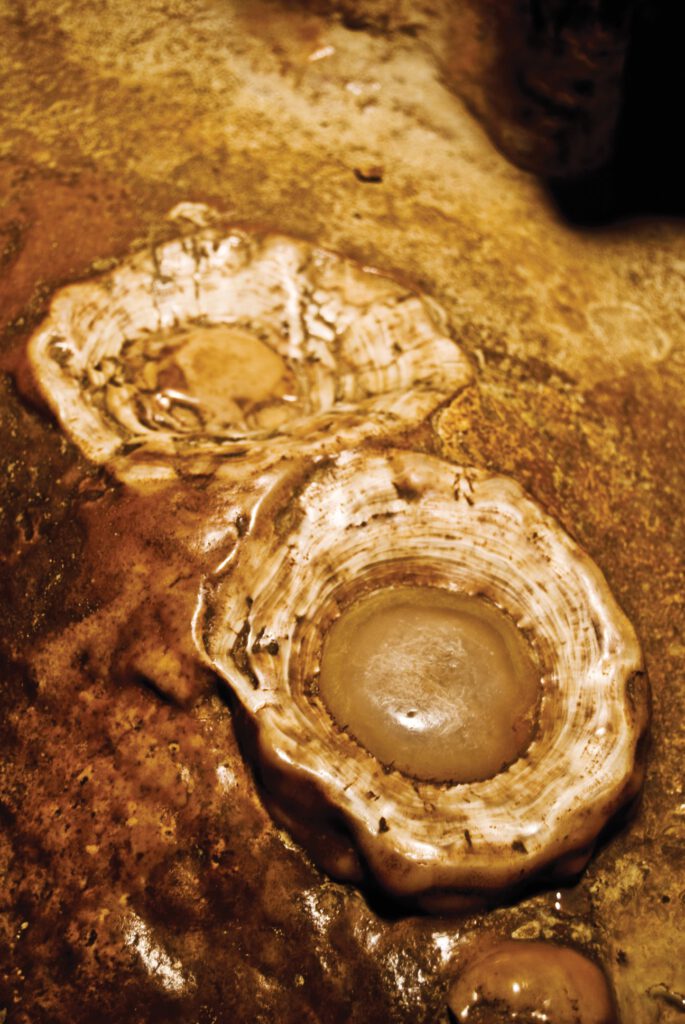 The Great Stalacpipe Organ is the largest musical instrument in the world, covering over 3½ acres. Between 1954 and 1957, a Pentagon mathematician, Leland W. Sprinkle, sanded down stalactites to match a musical scale, ran five miles of wires from the console and installed rubber mallets to strike the differing notes ranging over four octaves when the organist depresses a key. The four-keyboard console looks like a standard organ, but there are no pipes. The first song he tapped out was "Mary Had a Little Lamb." The instrument has been played 15,000 times and today runs like a player piano.
Half a million visitors explore the caverns every year. In addition to Obama, notable visitors include former Vice President Al Gore and at least four Virginia governors. Weddings and dances have been held in a large chamber called the Cathedral Room. 
Among the mysteries still lingering today are human bones that early explorers found embedded in calcite. Experts speculate they were of a Native American, probably there for 500 years, and may have washed in from a collapsed burial site. 
The cavern's geologic artistry and allure have more than proven the observation of one of the first explorers — a man named Jim Modisett — who said, "It's the damnedest hole I ever saw." 
Glenda Booth is a freelance writer based in Virginia. She writes for publications around the state.
MORE THAN CAVERNS
While the caverns themselves may get all the hype, the Luray Caverns property includes a myriad of other attractions to keep visitors busy.
The Car and Carriage Caravan Museum features a 140-item collection dating from 1725 to 1941. Man's inventive transportation modes are displayed, including an 1840 Conestoga wagon, bicycles, buggies and vintage automobiles, including an 1896 Peugeot, 1906 Cadillac touring car, 1915 Ford truck, 1925 Rolls Royce and a 1941 Lincoln.
Guests can get lost in the largest hedge maze in the Mid-Atlantic. Known as The Garden Maze, the one-acre garden features more than 1,500 hedges creating a half-mile long path that diverges at dozens of places.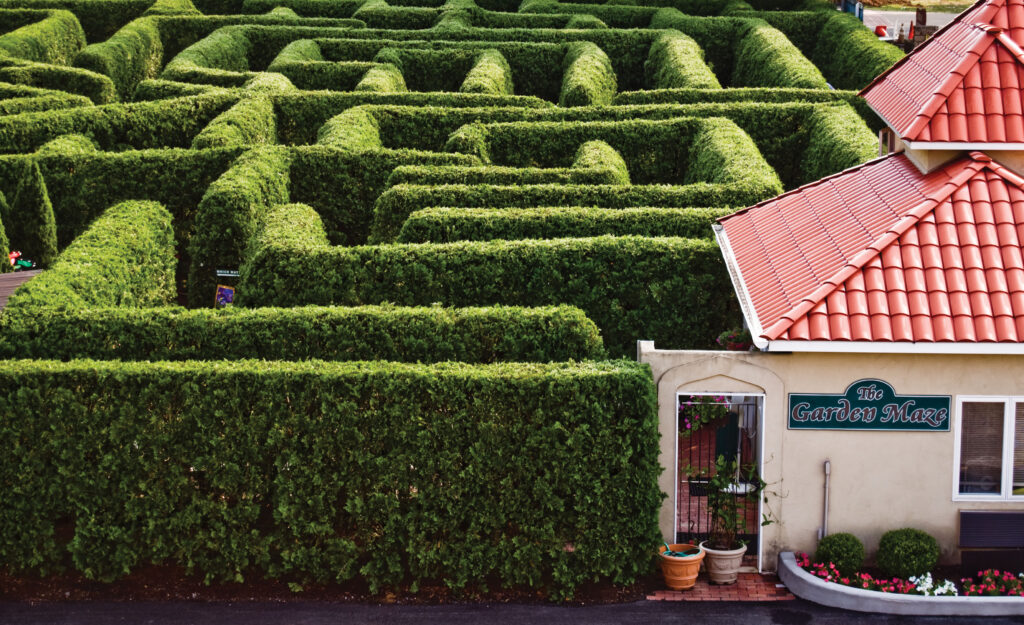 The Luray Valley Museum has Native American artifacts from 500 B.C. to 700 A.D., a 1536 Bible printed in Zurich, Switzerland, 19th-century quilts and furniture and a book signed by Davy Crockett. 
The Shenandoah Heritage Village is a 19th-century farm community of original buildings, including a Dunkard meeting house, a heart pine log house, corn crib and a one-room school built between 1870 and 1884 for African Americans.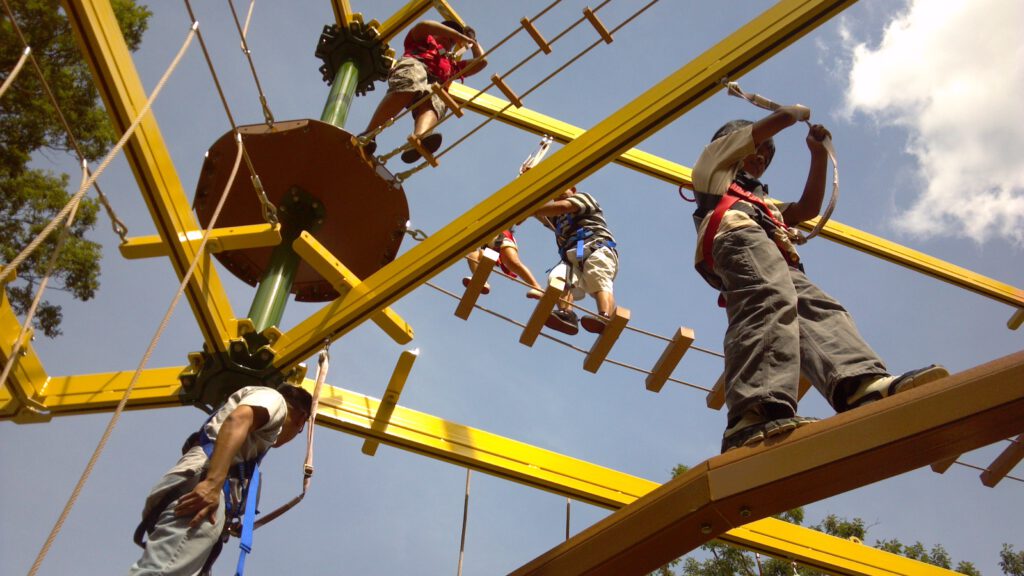 The Rope Adventure Park will have young and old alike stepping out of their comfort zone as they take on either the Low Ropes Course or the High Ropes Course and navigate (safely) across rope bridges and beams in the air.
If your kids ever dreamed of searching for treasure, they will enjoy the Stonyman Mining Company Gem Sluice, a history lesson and geology lesson all wrapped up in one where they can sift through flowing water and look for hidden gems.
In 1941, a 5-year-old boy received his first toy train set. That led to a lifelong love of toys. As an adult, that boy — now a retired minister — let Luray Caverns put his huge toy collection on display at the new Toy Town Junction museum.
There are also two restaurants — the Stalactite Cafe and the Heartpine Cafe — on the property and, in a park across the street, the Luray Singing Tower — a 117-foot-tall tower built in 1937 featuring a carillon with 47 bells.