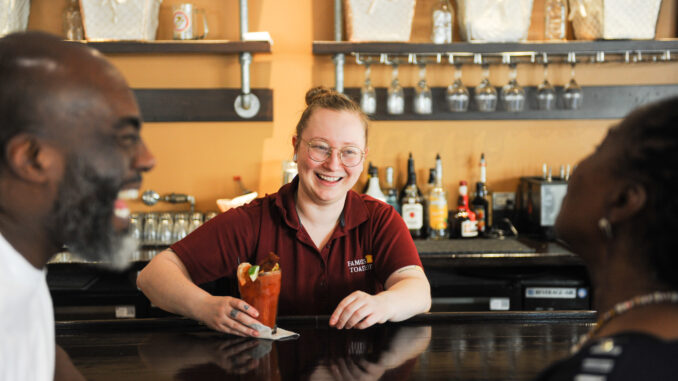 No Limits
By Chris Wadsworth
When you order a beer, you know exactly what to expect. Same with a glass of wine. A gin martini, a whiskey sour — there may be slight variations on these cocktails, but still you pretty much know what you're getting. 
That's not the case with a bloody mary. The popular brunch drink juice can be spicy, mild or somewhere in between. It can have a salt rim, a seasoned rim or no rim at all. And then there's the garnish. From a simple stick of celery to an elaborate headdress of shrimp, olives, bacon, even a burger or chicken wing — there are as many variations as there are bartenders.
"The fun part about a bloody mary is being able to top it off however you like it," said Brambleton resident Emilie Collins. "For me, the perfect bloody mary has a salt rim, a little bit of spice, some lime juice and a celery stick. 
Collins should know. For the past 18 months or so, she has been a bartender (and server and shift supervisor) at the Famous Toastery restaurant in Ashburn's Loudoun Station development off Shellhorn Road. She was also named Best Bartender in Ashburn Magazine's Best of Ashburn 2022 contest. 
Collins — seen in the photo above — says the bloody mary is one of the most popular drinks served at the restaurant — both the Classic Bloody Mary and the Ultimate Bloody Mary, which they top with a grilled shrimp, candied bacon, olives and a lime wedge. 
"I think ours are perfect," she said. "[You're] not overwhelmed by toppings, but you still get a treat to go along with your cocktail." 
There is some dispute over the origin of the bloody mary. A French bartender claims to have invented it in 1921 while working at the famed Harry's New York Bar in Paris. (The bar was just plain New York Bar at the time. Harry would tack his name on two years later.) Meanwhile, others say it was invented at the 21 Club in New York City in the 1930s.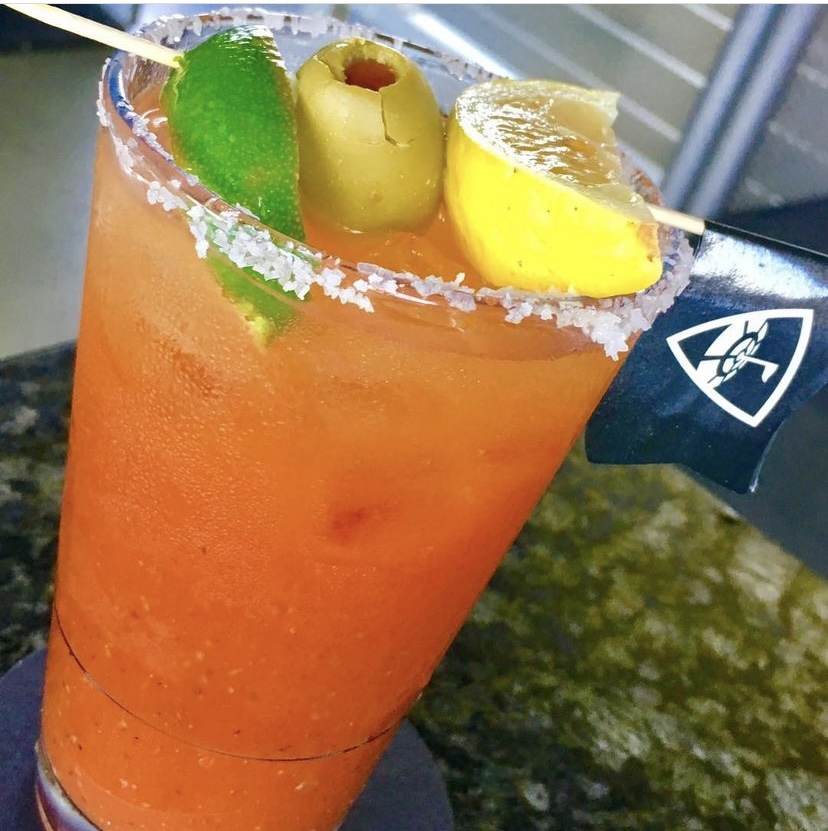 Originally just vodka and tomato juice, the popularity and the variety of ingredients used in a bloody mary have been growing ever since.
In Ashburn, Ford's Fish Shack has an Old Bay Bloody Mary made with bacon-flavored vodka and an Old Bay rim. Baker's Crust in the Belmont Chase plaza has a bloody mary made with a honey habanero moonshine, everything bagel seasoning on the rim and a pepperoni garnish. Even Top Golf has an elegantly understated bloody mary with a salt rim and an olive stuffed with a gherkin pickle.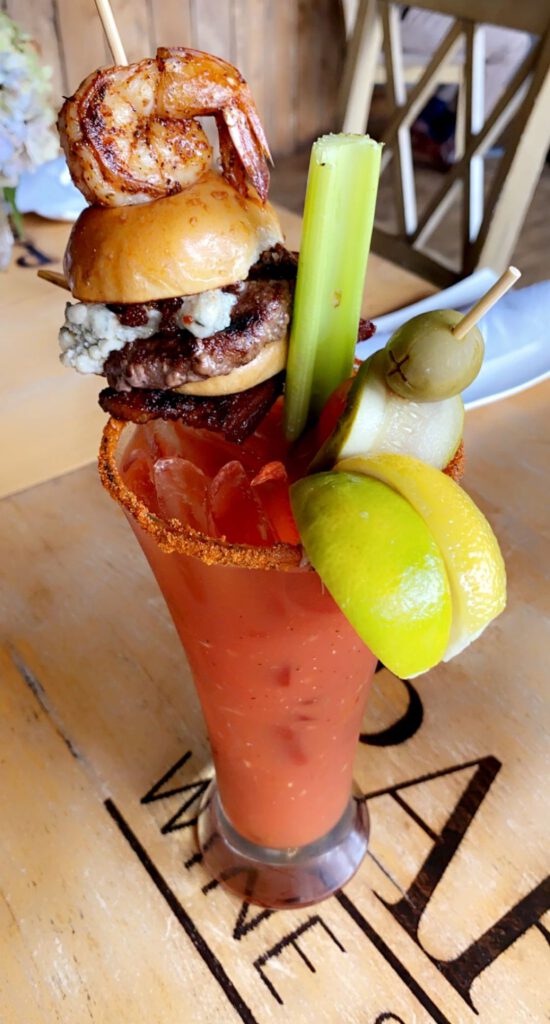 Parallel Wine & Whiskey Bar in the Broadlands has a popular "ultimate" bloody mary that features a wagyu beef slider, a bacon lollipop and a blackened shrimp — along with the usual olives, lime and lemon.
"It's like your whole brunch in one glass," said Parallel owner Jason Bursey. 
But perhaps even more intriguing on the bar's menu is the Bourbon Bloody Mary, garnished with a bacon lollipop.
"There's the Bloody Maria made with tequila, but since we are a bourbon and whiskey bar, we did one with bourbon," Bursey said. "While vodka tends to take a light approach, the bourbon has a little more body and a richer flavor. For a bourbon drinker, it's great."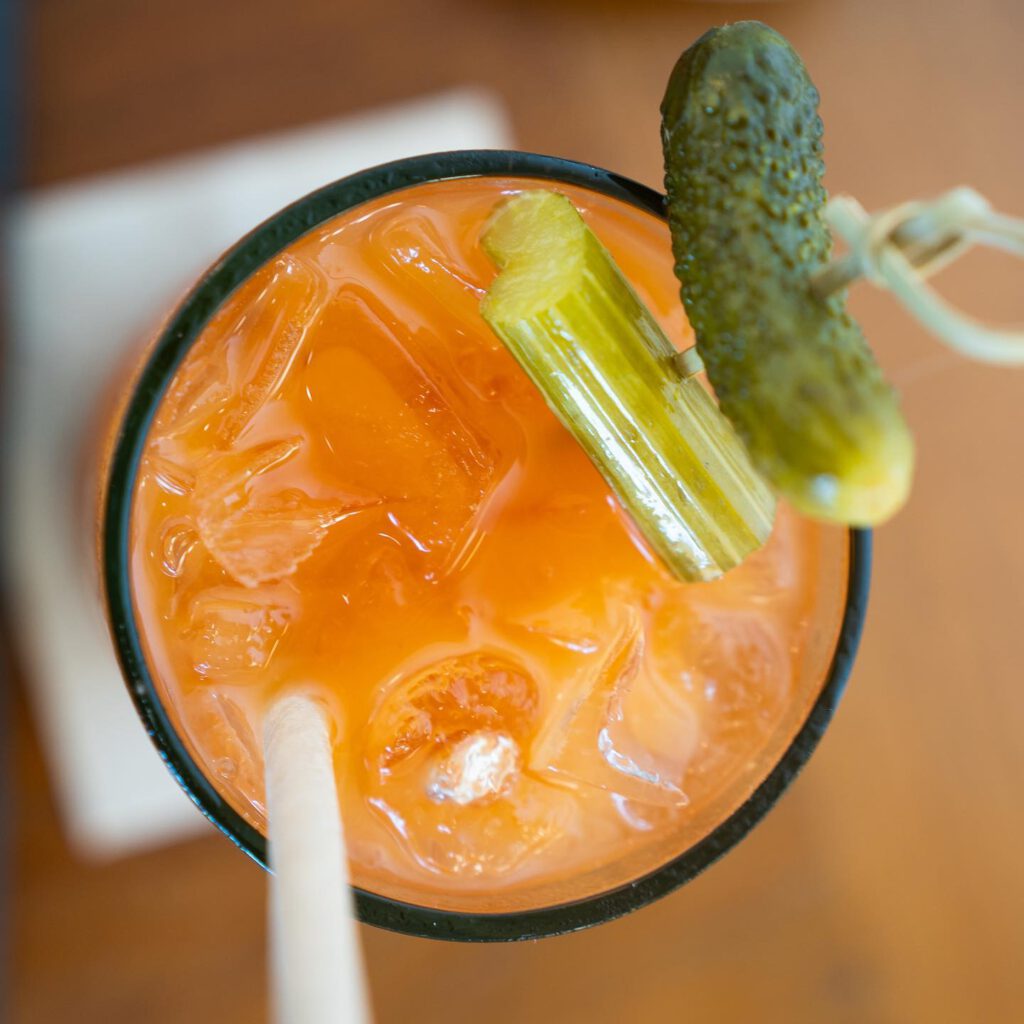 Last fall, Weathervane Coffee & Wine Bar in the Goose Creek Village shopping center was doing a weekend brunch that included a Sake Bloody Mary. Yes, a bloody mary made with Japanese rice wine instead of vodka. They garnished it with a simple wedge of celery and a gherkin. 
"There was an interplay between the tomato acids and the rice wine," said Weathervane founder Paul Large. "There was a little different taste, and people couldn't quite pin down what it was — and then they'd have this lightbulb moment." 
Although Weathervane isn't currently serving brunch, Large says if it resumes, he will bring back the Sake Bloody Mary in a "heartbeat." 
While the fancy garnish and the unique spirits may get all the attention up front, most bloody mary enthusiasts are likely to agree that it really comes down to the mix. The tomato juice with all types of seasonings and mix-ins can make or break your cocktail.
"What really matters is your base mix," Collins said. Like many Ashburn area bars and restaurants, the Famous Toastery makes its own mix — a combination of olive juice, horseradish, Worcestershire sauce and other secret ingredients. But she says don't feel bad if you gravitate toward store-bought mixes such as Mr. & Mrs. T, George's or — her personal favorite — the well-known Zing Zang. 
"Even if you're using a store-bought mix, you can add in lime juice, olive juice, pickle juice, celery salt and so forth," Collins said. "I don't think there are any limits on what you can put in your bloody mary mix."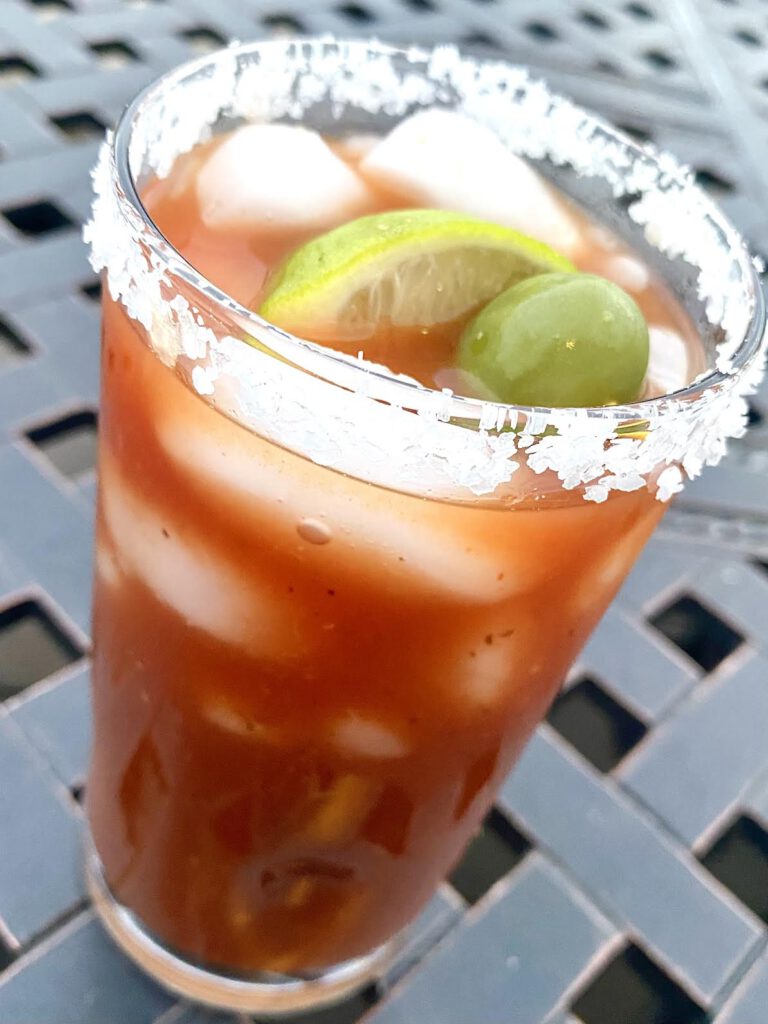 ASHBURN MAGAZINE BLOODY MARY
In the spirit of this report, we asked Ashburn's newly crowned Best Bartender, Emilie Collins, to put her own spin on a bloody mary recipe and create the official Ashburn Magazine Bloody Mary. Cheers!
MIX
Pour 1 bottle of Zing Zang into container

Squeeze in 1 lime
Add ½  tablespoon horseradish
Add 2 teaspoons Worcestershire
Add 8 dashes Tabasco
Add ¼ teaspoon celery salt
Add ¼ teaspoon garlic powder
Stir or shake well
ASSEMBLY
Rim a chilled pint glass with salt or Old Bay
Fill glass with ice
Add 2 ounces of vodka (Absolut Peppar if you want it extra spicy)
Top with the mix (above)
Garnish with lime, olives or celery stick