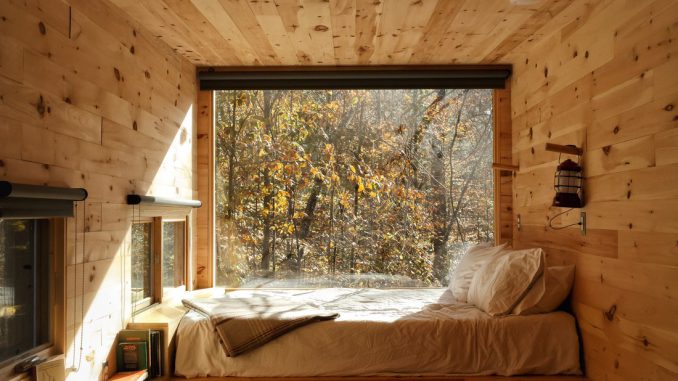 By Chris Wadsworth
Living in the greater Washington area can mean putting up with a lot. There are traffic jams and morning commutes. There's construction and development everywhere. And here in Ashburn, you may have jets from Dulles International roaring overhead.
Sometimes you just need to get away from it all.
That's where some tiny cabins tucked away near the Blue Ridge Mountains 90 miles from Ashburn come into play. They're literally called "Getaway" cabins and their goal is to help visitors rest, relax, unplug and focus on themselves or their relationships and "the wonder of nature."
"It was the best sleep I ever had in my life," said Andrew Sample, 38, of Brambleton. "I'm the kind of guy who needs silence. There were no planes flying over. No cars driving by. No people around. It was complete seclusion."
If you've watched any of the "house and home" channels in recent years, you know "tiny houses" have been all the rage.  Getaway cabins are like that — tiny homes, roughly 140 to 200 square feet — in the middle of dense woods. There's a comfy bed pressed up to a giant floor-to-ceiling window where you can sit and look out into the trees and let your mind still.
Besides the featured bed and window, Getaway cabins have a small kitchenette, a dining table, and a bathroom and shower. Outside is a firepit for roasting marshmallows, grilling out or just for a warm glow on a cool evening.
And there's one more key feature — a lockbox for your cell phone. You're certainly not required to put your tether to the outside world in the box, but it's highly recommended.
"The cell phone lockbox is meant to be a nudge towards truly disconnecting," said Amy Jacobowitz, a spokesperson for Getaway. "We believe that taking time away from devices helps us be present and in the moment. When we take a break from grabbing for our phones or scrolling our feeds, we unlock something magical."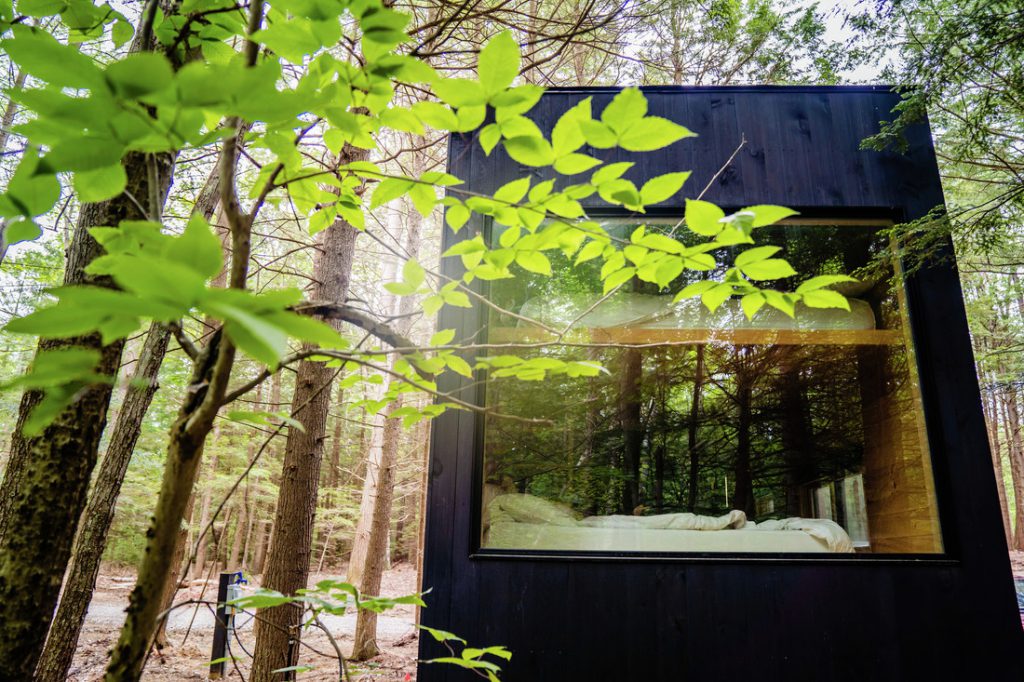 Getaway cabins are found all over the United States. They're located outside major metropolitan areas from New England to Georgia to Texas, California and the Pacific Northwest. Because who needs to unwind more than busy city dwellers and suburbanites?
"We purposefully build our Outposts within two hours of major cities, to offer those who need some time in nature the opportunity to disconnect from the city, from their routines, and from their devices, and just be off," Jacobowitz said.
Getaway DC, as it's called, is nestled at the foot of the Blue Ridge Mountains, near Shenandoah National Park. The cabins cater to all kinds of folks looking to disconnect and/or reconnect. Individuals just needing a break and some alone time. Couples looking for a simple, quiet getaway to focus on one another. Artists, writers, hikers, you name it. And there are Getaway cabins that accommodate up to four people, with the help of a bunk bed, for families with kids who want to escape.
Sample, a professional photographer who sometimes works with Ashburn Magazine, spent two nights at a Getaway DC cabin with a friend. The duo hiked in the woods, made a campfire and relaxed.
"It was the most comfortable bed, the most comfortable blankets," he said. "Sitting by this big window, staring out at nature and watching the snowfall. It was really peaceful."
But did he use the cell phone box? "No," Sample said with a sigh. "We ended up watching Netflix on my iPad."
Whether you come to clear your mind, make progress on that novel you've been writing, renew romance, walk in the woods — or yes, even to just watch Netflix in peace — there's apparently no wrong reason to get away.
For more information on Getaway cabins, check out their website at www.getaway.house.