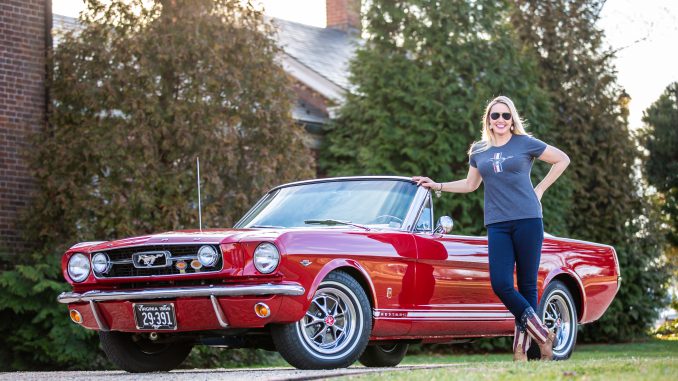 By Chris Wadsworth
Photos by Andrew Sample and Alex Erkiletian
Everyone loves a classic car. When a vintage Corvette or Thunderbird or even an old Packard comes rolling down the street, eyes turn and follow. What was once a common sight in the mid-20th century is now sexy and sleek and sets people daydreaming.
Ashburn is no exception. We surely have no shortage of classic cars cruising our streets and tucked safely away in garages from the Potomac to Brambleton. Ashburn Magazine sought out a handful of these beauties, to learn more about the local owners and the stories behind their four-wheeled wonders.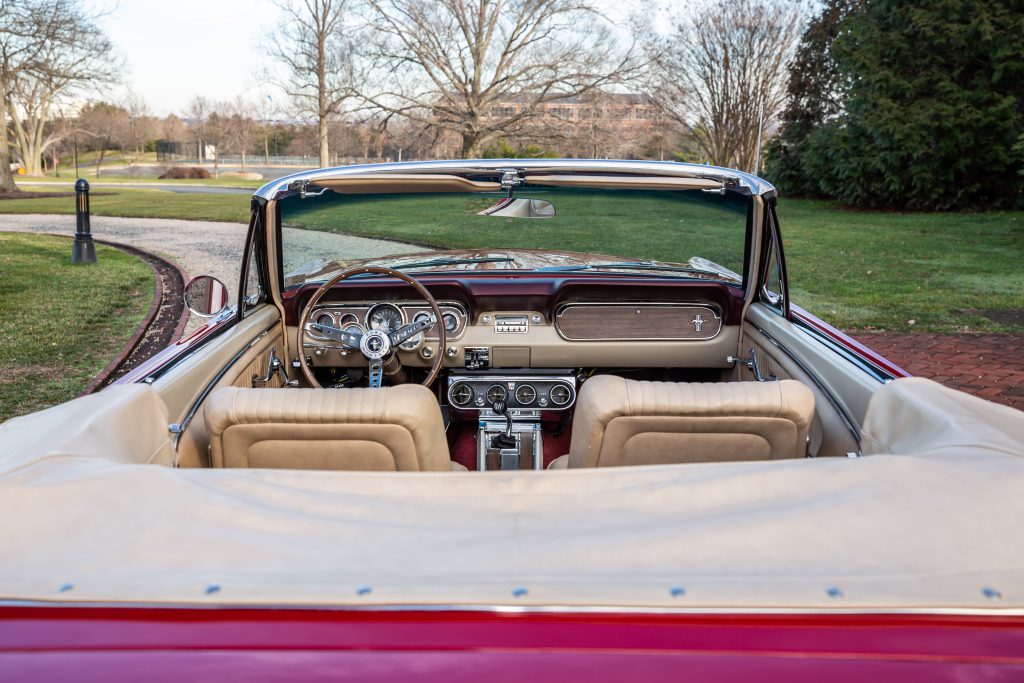 Car: 1966 Ford Mustang
Owners: Heather and Jordan Price, Village of Waxpool
Heather Price has always had a thing for cars. Her father had Corvettes and Porsches and even two vintage Jaguar convertibles while she was growing up, so she definitely caught the car bug. When the movie "Less than Zero" came out in 1987, Price fell in love with the circa 1960 red and white Corvette featured in the film. But when she and her husband, Jordan, finally decided to pull the trigger and get a classic Corvette — real life intervened.
"We went to go get it and quickly realized that our children wouldn't even be able to go in it," Heather Price said. "It's a two-seater, and they weren't old enough to go in the front seat."
So instead, Price "settled" for the 1966 Mustang. "It's a four-seater and it's gorgeous and amazing."  
On nice days, you can probably spot Heather or Jordan tooling around Ashburn in the Mustang. They often take it to pick up their kids at elementary school where the cool car causes a stir in the pick-up line. And they occasionally attend some of the car shows that pepper Northern Virginia on Saturdays and Sundays.
They don't know too much about the history of their Mustang, but they know it was a mint condition show car because there are actual medals it has won in the past embedded in the front grill.
Despite owning this beauty, Heather says she's "always shopping" for a new car and still has her eyes on her dream car as soon as her oldest is a teenager. "We are probably three years away from getting that red and white Corvette."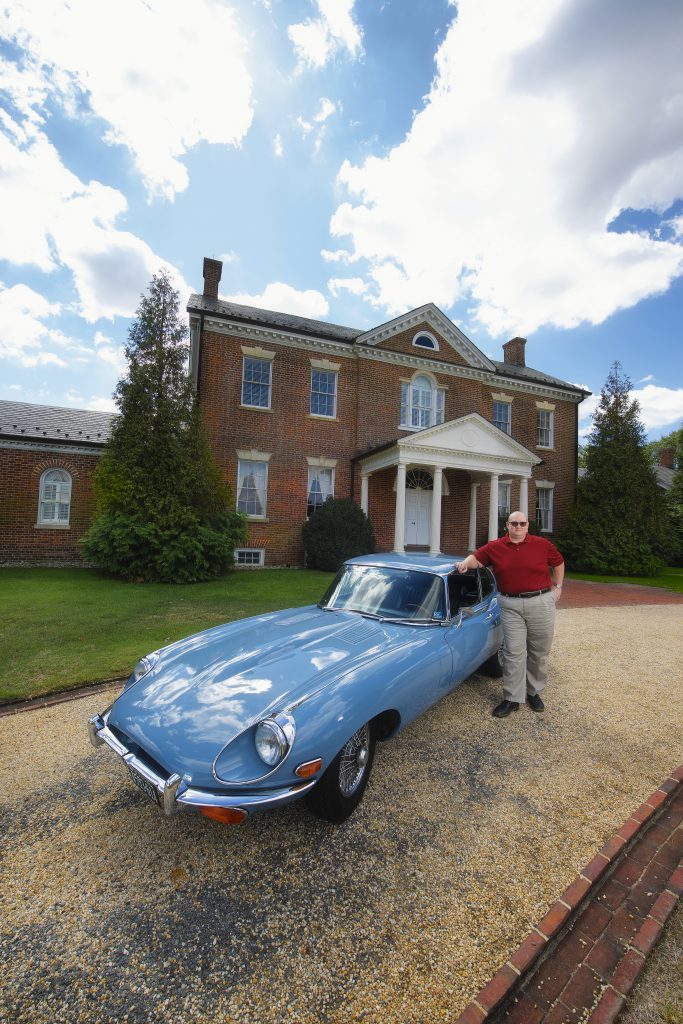 Car 1970 E-Type Jaguar
Owner: David Divins, Broadlands
David Divins is your quintessential car buff. He loves just about anything with four wheels and a motor. For the past 20 years, the Broadlands resident has owned a series of exotic sports cars.
"I have a Ferrari currently, but it only has two seats," Divins said. "I wanted a car that I could take my wife and two kids in and have a little car adventure."
Back in the '80s as a kid, Divins "drooled" (his word, not ours) over the sleek stylings of the British Jaguars. A few years back, he saw prices on vintage Jaguars starting to go up and decided if he was ever going to do it, better now than later. He found a baby blue 1970 E-Type  that had the same owner since 1978 and included factory power steering, factory manual transmission and the original air conditioning system — all relatively rare to find.
"I was going for dark red or maroon, or British racing green, but when you find a vintage car … and it has all the things you're looking for at a reasonable price, you kind of go colorblind," Divins said of the light blue. "It's grown on me. When I go to a Jaguar event, I'm the only one."
Nowadays, Divins takes his families for drives in the E-Type — to Skyline Drive in the Shenandoah National Park or to visit grandma and grandpa on the Eastern Shore. And everywhere he goes, heads turn.
"I have a Ferrari Testarossa — one of the most iconic and eye-catching cars. You're not a wallflower when you're driving a Testarossa," he said. "And it has never gotten the attention this car gets."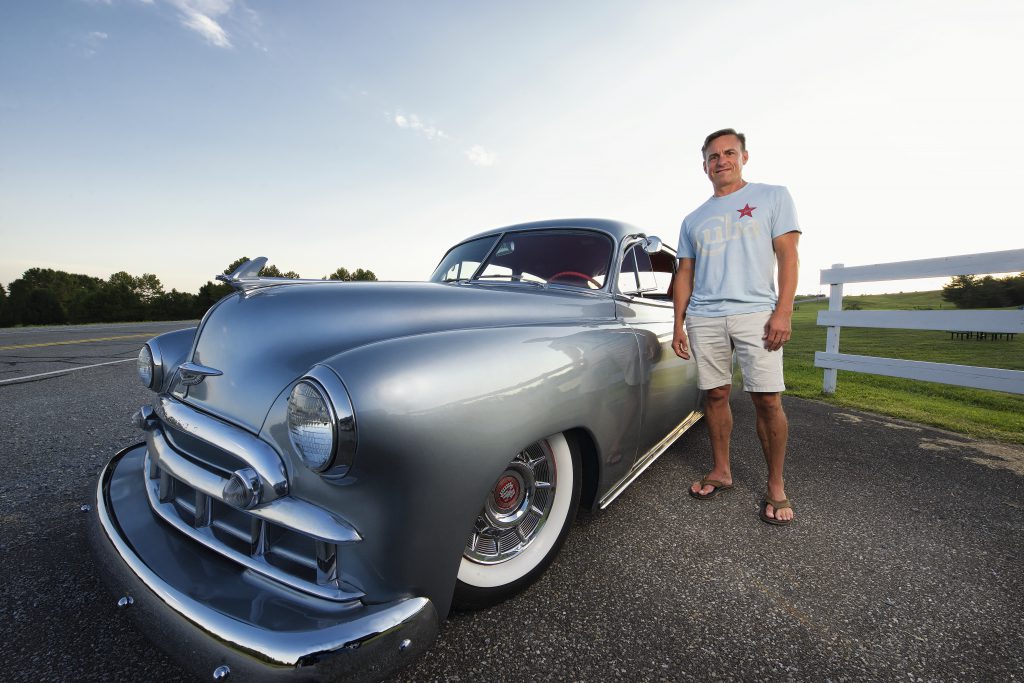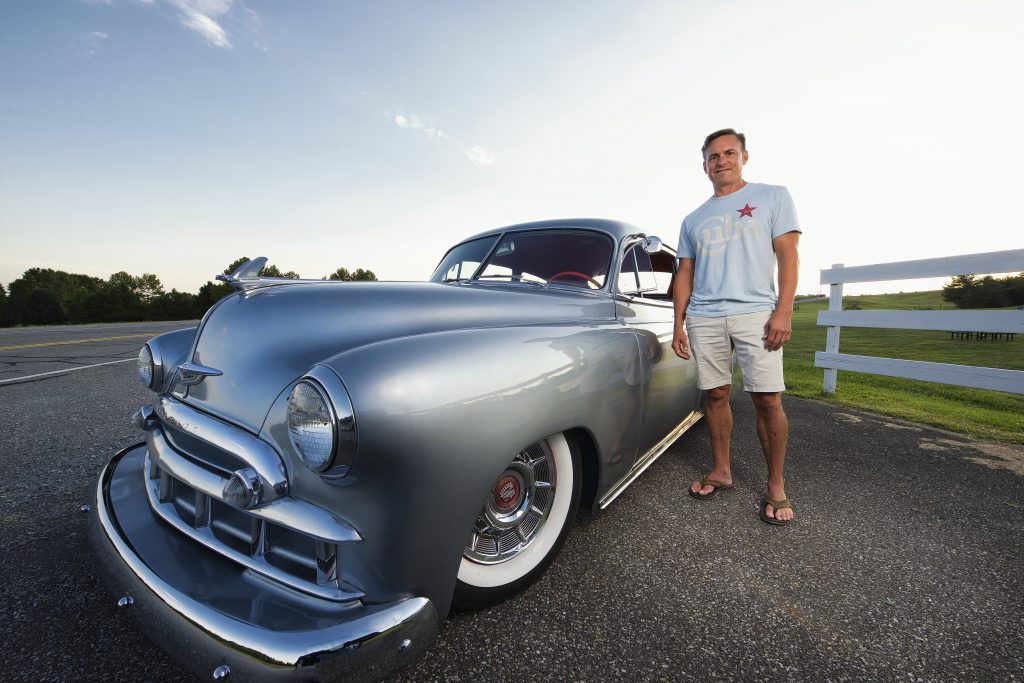 Car: 1950 Chevrolet Fleetline
Owner: David Myers, Belmont Greene
In 2018, Dave Myers and his teenage son, Taylor, headed up to a car auction in Pennsylvania. Myers' family had street rods when he was little, and now he was passing his love of cars on to his son. Still, when a 1950 Chevy Fleetline came up on the block, Myers admits he was "shocked" when they won.
"Taylor loved it … and he wanted me to bid, so I made a few bids and we wound up winning," he said. "My budget was $20,000. I thought it was going to go for well over that, but we ended up getting it for $16,000."
The car is what's known as a "resto-mod" — which stands for "restored and modified." Myers explains that means while it's a Fleetline body, it's been placed on a Chevy F-10 truck frame. It has airbags, front-end suspension and new dashboard gauges alongside the originals.
"It was considered one of the budget models," Myers said. "Because it was a budget model, you don't really see many of them around. Most of them have been rusted out or destroyed. That makes this body style unique."
Myers said spending time shopping for and fixing up the car with Taylor is the best thing he's ever done. And the reaction they get when they're driving around Ashburn is priceless. "There are people blowing horns, waving, giving the thumbs up," he said. "Everybody seems to love it."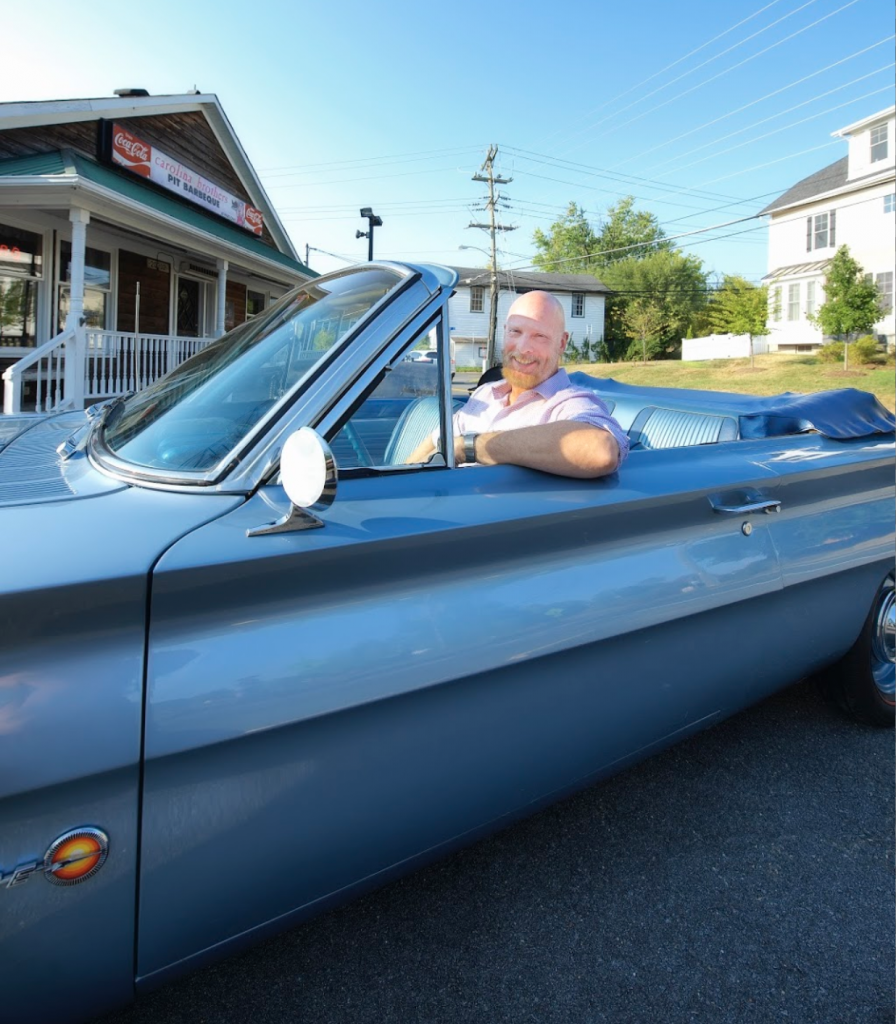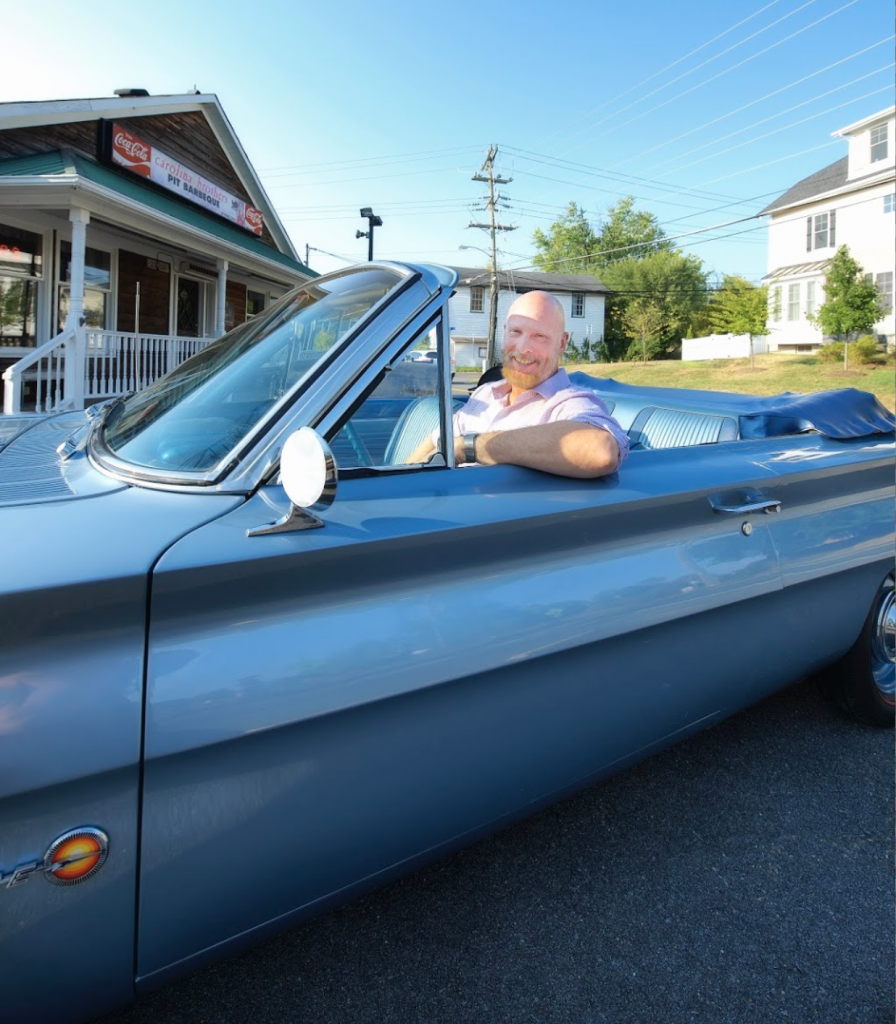 Car: 1962 Oldsmobile Jetfire
Owner: Scott Phillips, Broadlands
Scott Phillips remembers his teen years fondly, growing up in a blue-collar neighborhood of Pittsburgh. There was a big car culture and cruising culture there — picture the movie "American Graffiti" — and Phillips and his friends spent their free time talking about cars, working on cars and taking their cars out on Friday nights looking for girls.
That's when he got his first Jetfire.
"I had a four-door version of this car when I was 19," he said. "I bought it on a whim, and I didn't know what I was doing. It died two years later and I had to get rid of it. I always said if I ever had the money, I would want to get one again."
Fast-forward to 2001.  Phillips and his wife, Amanda, bought a 1962 Jetfire as a graduation gift when Phillips earned his master's degree in education administration. (Today, he is the principal at Ashburn's Eagle Ridge Middle School.)
The car needed a lot of work, and Phillips took classes at Northern Virginia Community College where he earned an automotive machinist certificate. "I earned that rebuilding the engine that is currently in the car," he said.
His two sons have also learned their way around a car working on the Jetfire, as well as a 1969 Olds that the boys restored and now drive to Briar Woods High School every day.
Phillips says the Jetfire is special because it was one of the first performance factory muscle cars from Oldsmobile back in the 1960s. He says it was designed to be a family car but with turbo-charging to make it fun to drive.
"The jet fire engine is probably the most unique thing about the car," Phillips said. "When people see it, they are shocked. There are probably only about 15 running in the United States right now."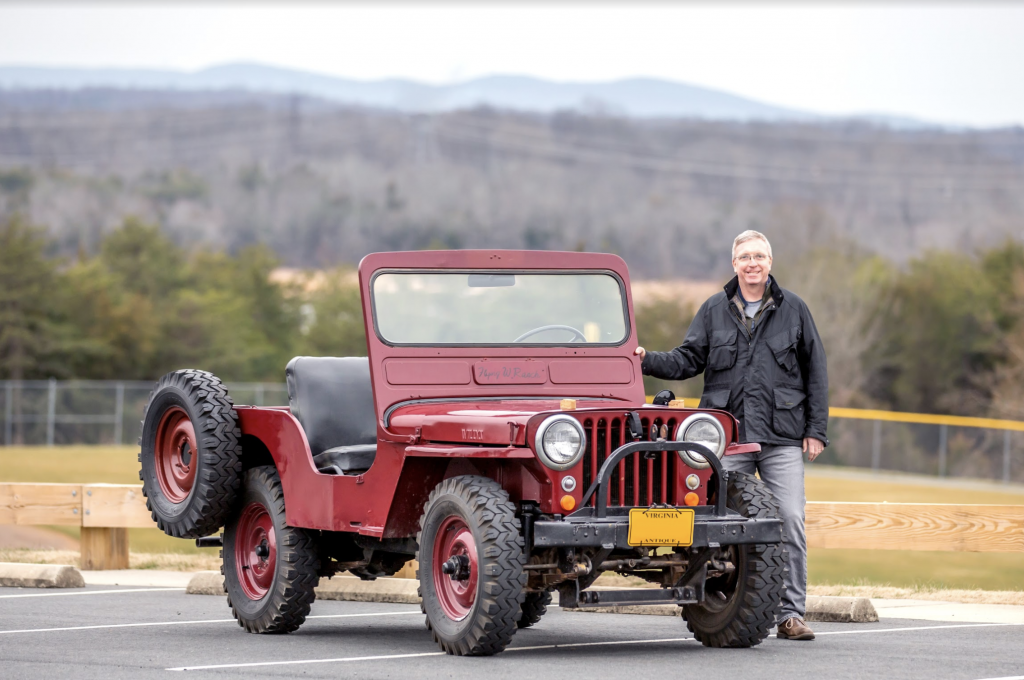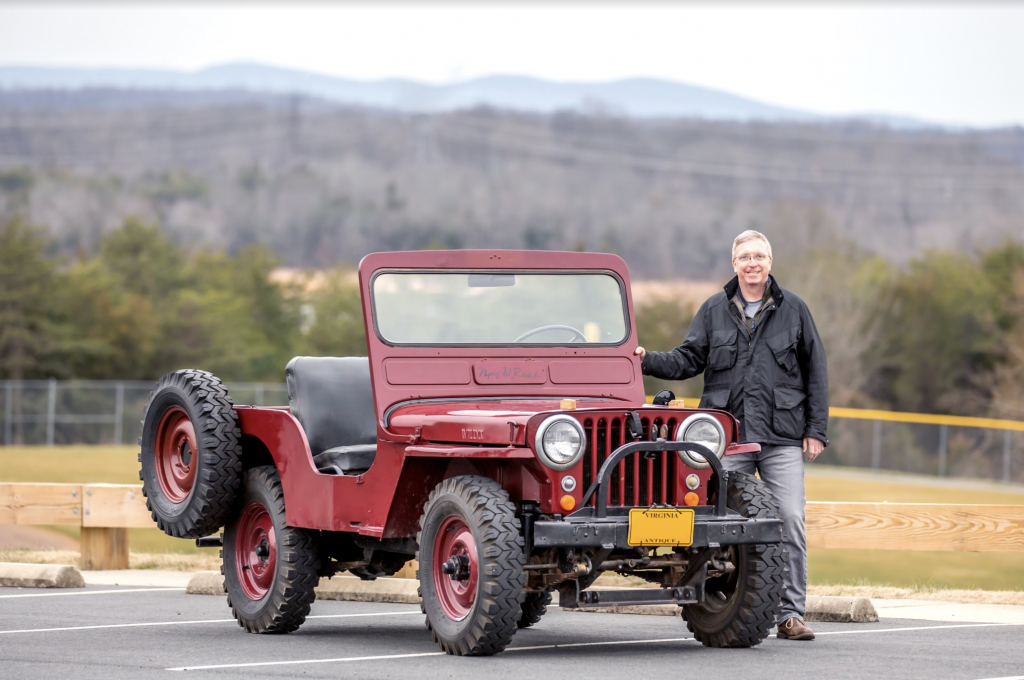 Car: 1949 Willys CJ-3A Jeep
Owner: Dain Wilson, Ashburn Farm
In the 1980s, Dain Wilson's first car was a Jeep Cherokee. Like many a young driver, you never forget your first car, and Wilson has been a fan of Jeeps and the Jeep lifestyle ever since. As his kids got older, he decided to get back into Jeeps. He got himself a 1995 Wrangler and then a 1984 Scrambler.
Then fate intervened and Wilson found his dream Jeep.
Wilson's wife's best friend's uncle (did you follow that?) had a vintage 1949 Willys CJ-3A Jeep on his farm in Pennsylvania. The Wilsons expressed interest in it and in 2018, the uncle called them. He was selling the farm and moving to California. If they wanted the Jeep, it was theirs. They picked it up that weekend.
"It started life as a civilian jeep, not a military jeep," Wilson said. "It came from the Flying W Ranch in Pennsylvania and it started life there as a ranch Jeep. Our friend's uncle bought it in 1981 and had it fully restored. It has all original parts. I've had to do nothing to it other than paint."
There's a huge Jeep subculture with national and international clubs for Jeep enthusiasts. Wilson belongs to a local Jeep club. This past summer, a group of them took their Jeeps on a tour of Loudoun vineyards. Wilson has also driven the Willys in local parades. Otherwise, he and his wife, Carol Ann, drive it on pizza outings and weekend jaunts.
"My wife is actually the one who originally said, 'I'm buying this jeep,'" Wilson said with a laugh. "Even though she's never driven it — technically it's hers and she reminds me of this all the time."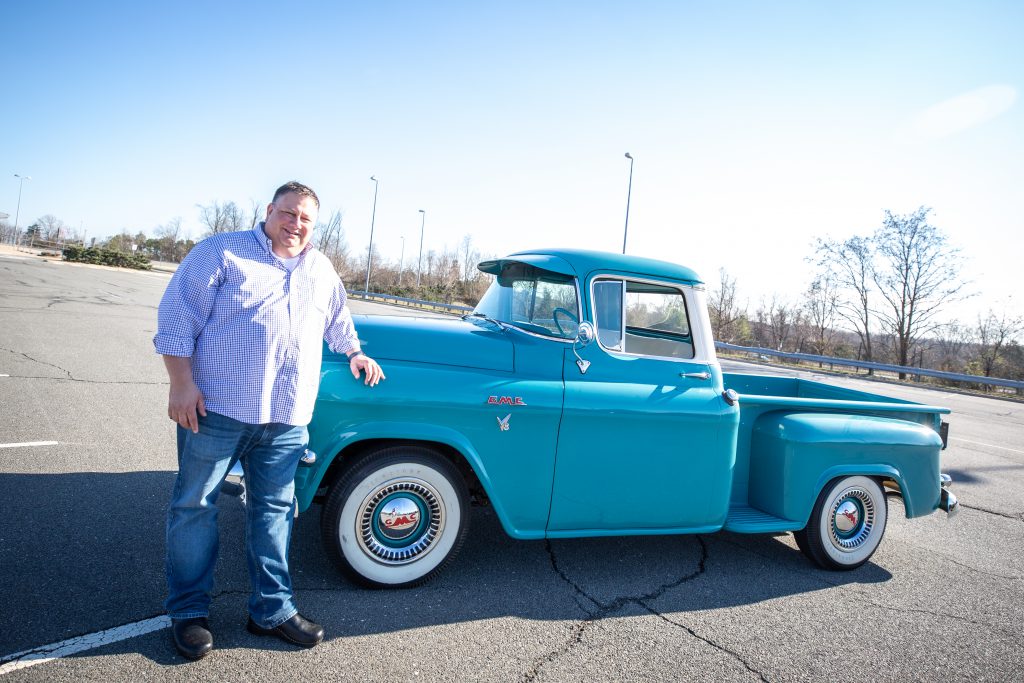 Car: 1956 GMC Model 100
Owner: Tony Stafford, Brambleton
Tony Stafford picked up his 1956 GMC pickup at an auction a few years back. The truck had been owned by an executive with the Rite-Aid drugstore chain and spent its whole "life" in the dry, car-friendly climate of New Mexico.
"I always wanted an old farm truck," Stafford said. "Being in Loudoun County, I thought it fit well."
The truck is one of 10 cars in this collector's stable. He also has a 1962 "Nassau Blue" Chevy Impala SS and a "Limelight Green" 1969 Pontiac GTO. But the bright blue pickup is always a crowd pleaser.
"Teal blue was popular back in the '50s," said Stafford, who added that the truck has all the original parts including the engine. "It's got a V8 engine, which is really rare. There are only 150 of them with a V8. I can actually get out and drive it on the roads and not worry about slowing people down."
Stafford even has the original car insurance documents and sales receipt. The 1956 price: $1,600.
Today, Stafford, founder and owner of the Ford's Fish Shack restaurants, uses his vintage vehicles for more than just joy rides around the Loudoun countryside. He's created a sister business to Ford's called Wicked Classic Autos, and he rents the cars and trucks for wedding photos and backdrops at special events.
"I was always very busy. When I was 40 years old, someone asked me what my hobby was and I didn't have anything. I was always too busy," Stafford recalled. "So I went to an auction about eight years ago and bought my first car."