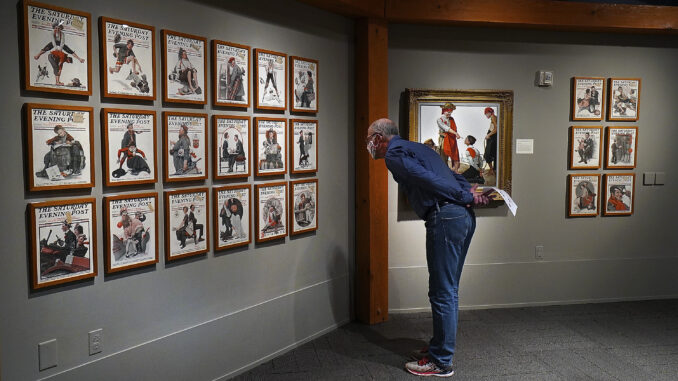 ROCKWELL'S AMERICA
By Jill Devine
"Life as I would like it to be."
That's how Norman Rockwell, one of the most beloved American illustrators of the 20th century, described his signature images of an idyllic America. Best known for his cover illustrations for Boys Life, the Saturday Evening Post, Look and other magazines, Rockwell used levity and humor to chronicle six decades of American history, gently walking his followers through the Great Depression, two world wars, civil rights milestones and the wars in Korea and Vietnam.
Ashburn Farm resident Josh Awtry has been a fan of Rockwell's art since his childhood in Nebraska in the 1970s and 1980s.
"Growing up and coming of age in the middle of America, looking at Norman Rockwell paintings reminded me of a place and time that we had just missed — that post-war, afterglow boom," Awtry said. "The Main Streets with the barber shops and the stores and the cool signs. Looking at Rockwell's works, you could feel what it was like 20 or 30 years before."
Now, thanks to a traveling exhibition at the Museum of the Shenandoah Valley in Winchester, about an hour's drive from Ashburn, Awtry and other Rockwell fans have the rare opportunity to view 27 of his original paintings up close. The exhibition also features vintage covers from all 323 of his Saturday Evening Post magazine commissions and a special print and digital display of his iconic Four Freedoms posters. Titled Norman Rockwell's America, the exhibition is on loan from the National Museum of American Illustration in Rhode Island, and the American Illustrators Gallery in New York.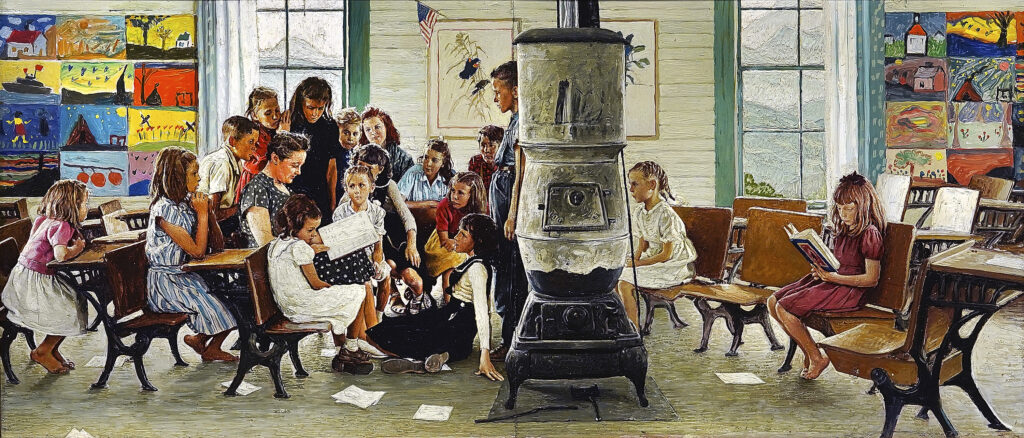 Rockwell's instantly recognizable style is highly lifelike and hyper-detailed. For many, his illustrations evoke nostalgia for simpler times with heart-warming scenes portraying ordinary people of all ages and walks of life doing everyday things — like threading a needle, reading the newspaper, shooting marbles or visiting the doctor.
"Rockwell's appeal is that he comments on the human condition in a way that we can all relate to," said Nancy Huth, the museum's deputy director of arts and education. "He focused on light-hearted emotion, friendships and family relationships, and his subjects covered the whole range, from posh international travelers and antique buyers to blue-collar workers or children."
Rockwell was born in New York City in 1894. At age 14, he left high school to formally study art. By 19,  he was hired as art director at Boys Life, the official publication of the Boy Scouts of America. His first cover illustration was for Boys Life, and his freelance relationship with that publication and the Scouts lasted more than 60 years.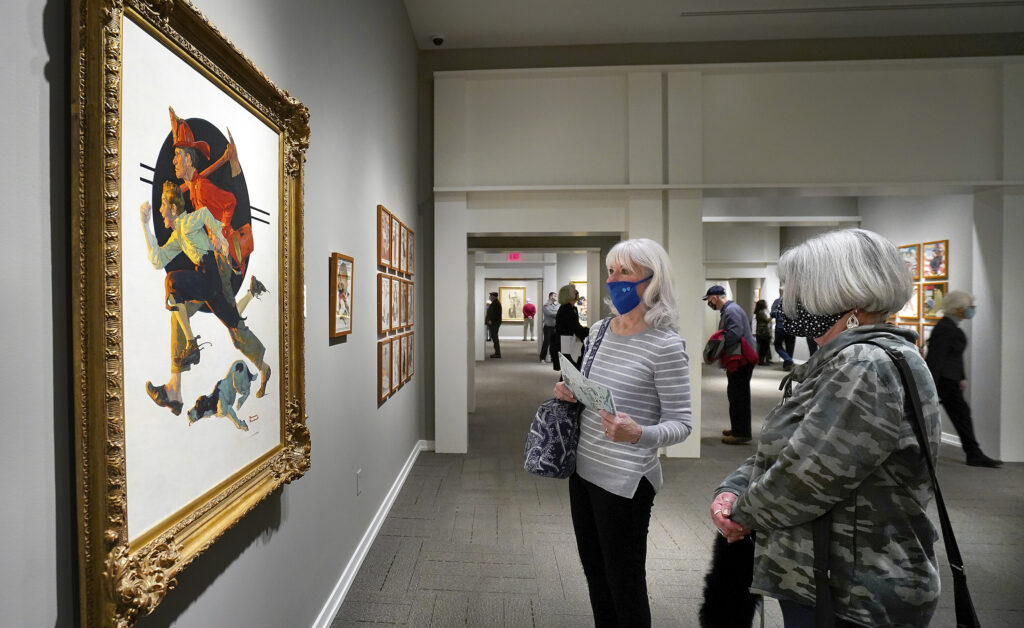 On display at the museum is On My Honor, Rockwell's oversized charcoal-on-paper study for the February 1953 Boys Life cover.  Winchester resident Gerald Crowell said he came to the exhibition specifically to see this piece, which features a Cub Scout, a Boy Scout and an Eagle Scout saluting in front of the Boy Scout Creed.
"I've been with Troop 2 in Winchester for a long time, first as a Scoutmaster and now as an assistant Scoutmaster, and I like how realistically Rockwell painted the Scout uniforms, right down to the troop numbers and uniform patches – almost like a photo," Crowell said.
Also on display are print posters of Rockwell's famous Four Freedoms – Freedom of Speech, Freedom of Worship, Freedom from Want and Freedom from Fear. Rockwell created the Four Freedoms, based on a 1941 speech by President Franklin D. Roosevelt, to raise money for the war effort in 1943.
Acknowledging that the America that Rockwell portrayed in his earlier works was mostly ethnically homogeneous, a digital display is next to the Four Freedoms titled For Freedoms. It presents a series of photographs of a more inclusive modern America and is on loan from an artist-led organization of the same name.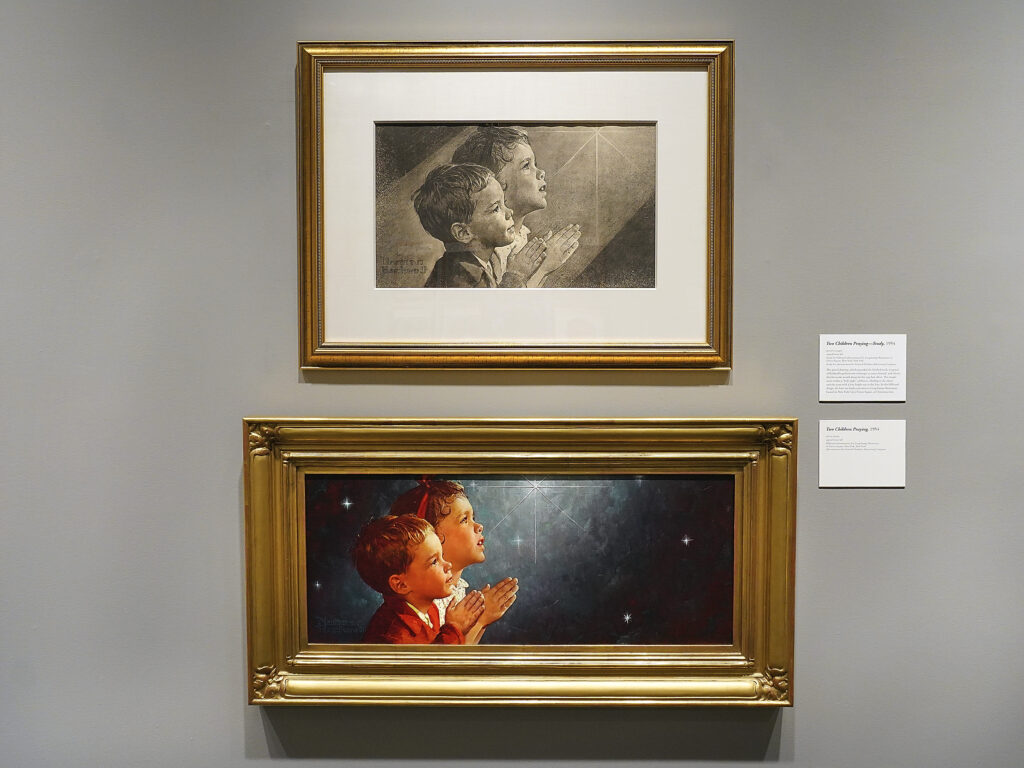 Also on display are some of Rockwell's later works reflecting milestones or changes in racial thinking, including 1963 Portrait of Nehru and 1966 Peace Corps in Ethiopia (Schoolroom). Other works, such as Rockwell's famous 1964 Look magazine cover, The Problem We All Live With, which depicts little Ruby Bridges' police escort into her New Orleans elementary school in 1960, are not part of the exhibition but are testimony to Rockwell's evolving view of life in America.
"When you look at his stuff later, it mirrors the journey that a lot of people took, and when you look at his work towards the end of his career, he took topics like race that people weren't ready to face and put it right out into the mainstream," Awtry said. "Had he not made that leap, I don't think he would be as relevant today."
Jill Devine is a freelance writer and former magazine editor from Loudoun County who writes for a variety of Virginia publications.
IF YOU GO
What: "Norman Rockwell's America" Exhibition
Where: Museum of the Shenandoah Valley, 901 Amherst Street, Winchester
When: Through Aug. 8
Distance: About a one-hour drive from Ashburn
More Info: www.themsv.org