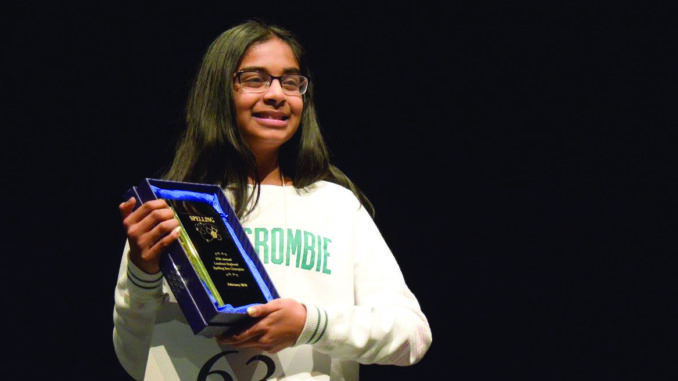 (Originally published in May 2019)
ONE LETTER AT A TIME
By Erica Garman

The third time's a charm, they say. C-H-A-R-M, charm.
Let's hope that's the case for 12-year-old Ashrita Gandhari who, after winning the Loudoun County Spelling Bee in February, will compete in her third Scripps National Spelling Bee this May in National Harbor, Md., at the Gaylord National Hotel and Convention Center.
"I just have a knack for words," Ashrita told Ashburn Magazine. "I was 5 and was in an art competition at school. There was a spelling bee going on in the next room, and after the art competition, my mom suggested I try out the bee for fun."  
She placed third in that spelling competition without any preparation.
Gandhari got that start in spelling while living in Massachusetts. During her first appearance at the Scripps Bee in 2017, Ashrita finished — as a 10-year-old — among the top 40 spellers. That's out of nearly 300 of the country's top spellers age 15 and under. The following year, she made it through Round 3 at the national bee, but didn't qualify for the finals.
The Gandhari family moved to Brambleton last summer, and Ashrita started sixth grade in the fall at Stone Hill Middle School — where she quickly won the schoolwide spelling bee. In the Loudoun Regional Spelling Bee, Ashrita secured her trip to the national bee by correctly spelling the championship word "séance." It's the second year in a row that a Stone Hill student has represented Loudoun on the national stage.
Along with accolades as one of the country's top spellers, Ashrita can add "movie star" to her growing list of achievements. During the 2017 bee season, filmmakers Sam Rega and Chris Weller followed four bee participants as they battled for the coveted spelling championship. Ashrita is the only girl featured in the "Breaking the Bee" documentary, which was screened in March at the SXSW Film Festival in Austin, Texas.
Despite all the glory, Ashrita seems to be a perfectly normal sixth-grader. When not studying words and their origins, Ashrita enjoys hanging out with her friends, playing tennis, and shooting hoops with her younger sister, Anvita, who attends Rosa Lee Carter Elementary School.
Ashrita's affinity for words started at a very young age, according to her parents, Sirisha and Bharat Gandhari. "We read to her as a baby and she was reading on her own by the time she was 3," Sirisha Gandhari said.
"Words are really cool," Ashrita said. "I like thinking about the different languages they come from and the different parts that make them up … When I hear a word — even if I don't know it — some type of spelling pops up in my mind like an index card."
Knowing how to spell tough words really comes in handy at school too, according to Ashrita, where her skills have helped her in English, science, math and other classes.
"Knowing the word parts and origins is helpful," she said. "In science we were studying weather patterns, and I knew what cumulonimbus clouds were as soon as I saw the word, because 'cumulo' means 'heaping up' and 'nimb' comes from a Greek god's name which means 'thunder.'"
Speaking of "heaping up," Ashrita has accumulated a large amount of prize money from her regional and national spelling bee awards. Over the past three years, she has donated more than $1,000 of her winnings to schools in India to help top students pay for college. She plans to give more if she places in the national bee or — even better — wins the Scripps trophy. "I want to save some of the money for college if I win," she said, "but I'd like to give most of it to charity."
The winner of the Scripps National Spelling Bee receives $40,000, in addition to other gifts. Finalists are awarded up to $30,000, depending on where they place.
Besides that huge spelling bee trophy, Ashrita would also really love to have a dog. "I have been begging my dad for so long!" she said. Mom and Dad jokingly replied that if she makes it to the championship round, a pet will most likely be in her future.
Maybe Ashrita should consider naming her future pup Champ. C-H-A-M-P, Champ.  
—Erica Garman is an Ashburn-based writer who has previously contributed to Northern Virginia Magazine and The Washington Post.