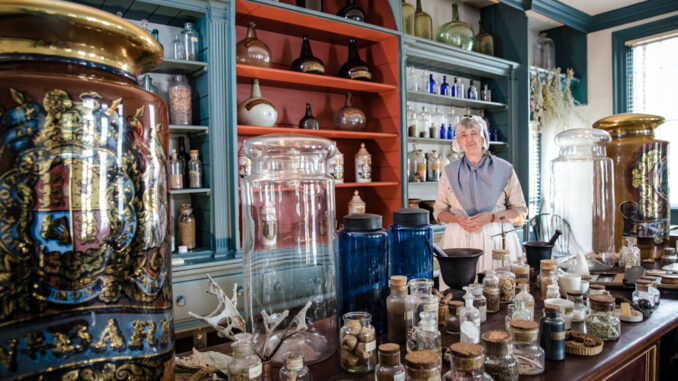 LIVING HISTORY
By Jill Devine
Every summer, tens of thousands of tourists head to Williamsburg to see the historic colonial sites and buildings and go on tours led by actors — called "historical interpreters" — wearing tri-corner hats or linen aprons. 
From Ashburn, it's roughly 175 miles to Williamsburg. But you can cut 100 miles off that drive and still have an authentic colonial experience by stopping in Fredericksburg instead.
Many travelers drive past Fredericksburg without realizing it was one of the most important cities in Colonial America. Fredericksburg was established in 1728 as a port on the Rappahannock River. President George Washington grew up in Fredericksburg, and many of his colleagues and family members lived in homes that still stand along the town's original eight-street grid. In fact, 86% of the buildings in Fredericksburg's 40-block historic area are original construction.
The city's Washington Heritage Museums are a "must see" for visitors who, like me, appreciate historic authenticity, such as original creaky floorboards, weathered stone steps, and tarnished door knobs. Currently, three of its four museums can be toured in one afternoon, with time for dinner before the drive back home. (St. James House, the fourth museum, is not currently open for tours.)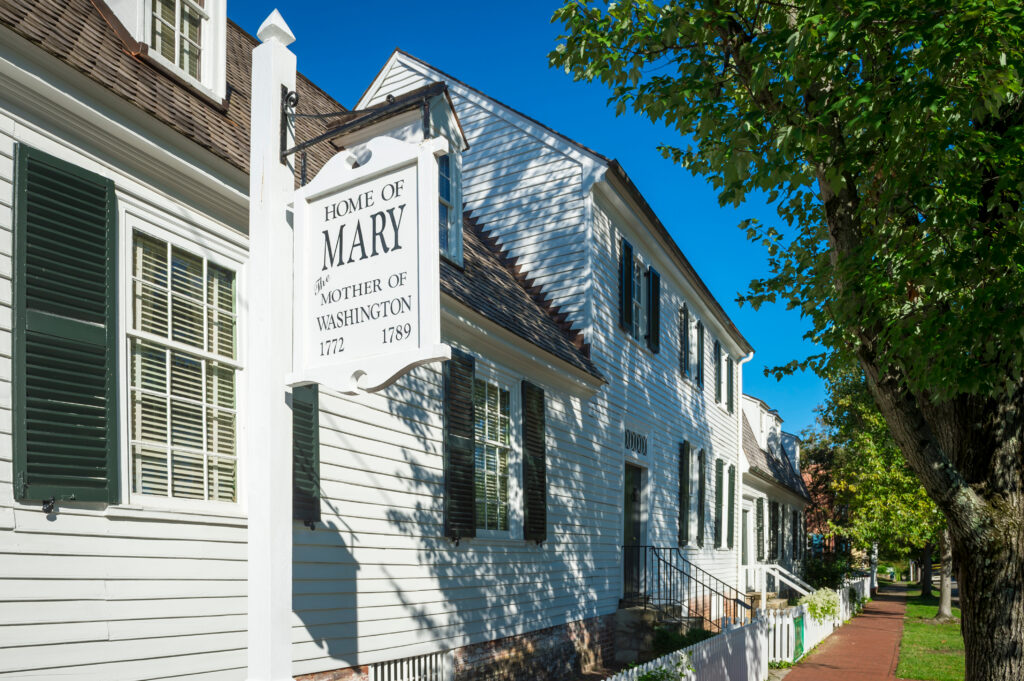 Mary Washington House

1200 Charles St.
 Maybe it's because I graduated from a college named in her honor, but the Mary Washington House is most dear to my heart.
In 1772, George Washington was searching for safer accommodations for his mother, Mary, who was struggling to manage their family property across the river at Ferry Farm. He bought a small home for her in town, close to his sister Betty's estate at Kenmore Plantation. My husband and I always smile when the guide mentions this, because we realize that even centuries ago, George and his sister faced the same concerns of an aging parent that many of us deal with today.
Mary was widowed when George was a boy, so she had raised her family alone. She made the unusual decision to never remarry so she would retain ownership of her deceased husband's property and estate. George visited his mother's new house often, sleeping in a loft in her attic. Before he had stairs built leading to the second floor, George would climb a ladder to the attic through an opening in the ceiling near her bedroom fireplace. I never tire of standing below that spot while imagining our first president pushing his tall frame up through such a small space.
Mary lived in the house for 17 years before dying in her bed of breast cancer at age 81 in 1789, not long after George's last visit to ask for her blessing before his presidential inauguration. 
The house retains much of its original construction, which miraculously was spared during the Civil War. Ask to see Mary's dressing mirror and teapot, both on display, and read a facsimile of her will, hung on the wall upstairs.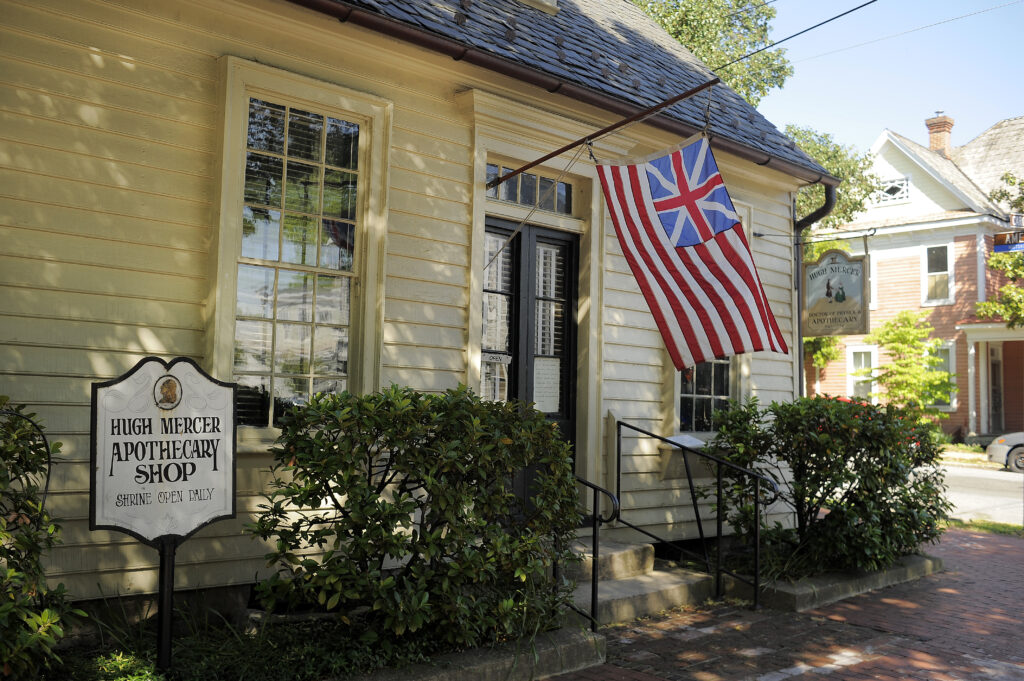 Hugh Mercer Apothecary Shop

1020 Caroline St.
Built in 1772, this museum represents the offices of Dr. Hugh Mercer, who practiced medicine in Fredericksburg for 15 years. Visitors are transported back to a time when colonists relied on ingredients foraged from nature to effectively treat every illness from "stomach gripe" to fever. 
Since the doctor always seems to be "presently away," his assistant offers a tour of his medicine shelf while we wait. I love learning the source and purpose of his entire collection of treatments, stored on long shelves in colorful bottles and jars. 
Fragrant dried roots, flowers and plants are bundled with twine and hang from the ceiling, and it's fun to see rose water drip from the steamy still in the fireplace. You will learn how the doctor blended ingredients like ground crab claws and horse hooves to cure ills, and how he packed wounds with the cobwebs that he stored on small sticks.
It takes a strong stomach to visit the doctor's examination room to discuss whether it's time to adjust one of our "humors" by being bled, using one of the various lances or the enormous live medical leeches stored in glass jars. 
A friend visiting with me jumped when the guide lifted a slippery 6-inch leech out of the water for us to take a closer look, not expecting it to be real. If things get serious, the doctor has every tool necessary for pulling teeth or amputations. No worries, he is trained to handle such things quickly to minimize pain. Check out the doctor's "Physick Garden" out back, where he grows his medicinal botanicals.
(The photo at the top of this article is also from the Hugh Mercer Apothecary Shop.)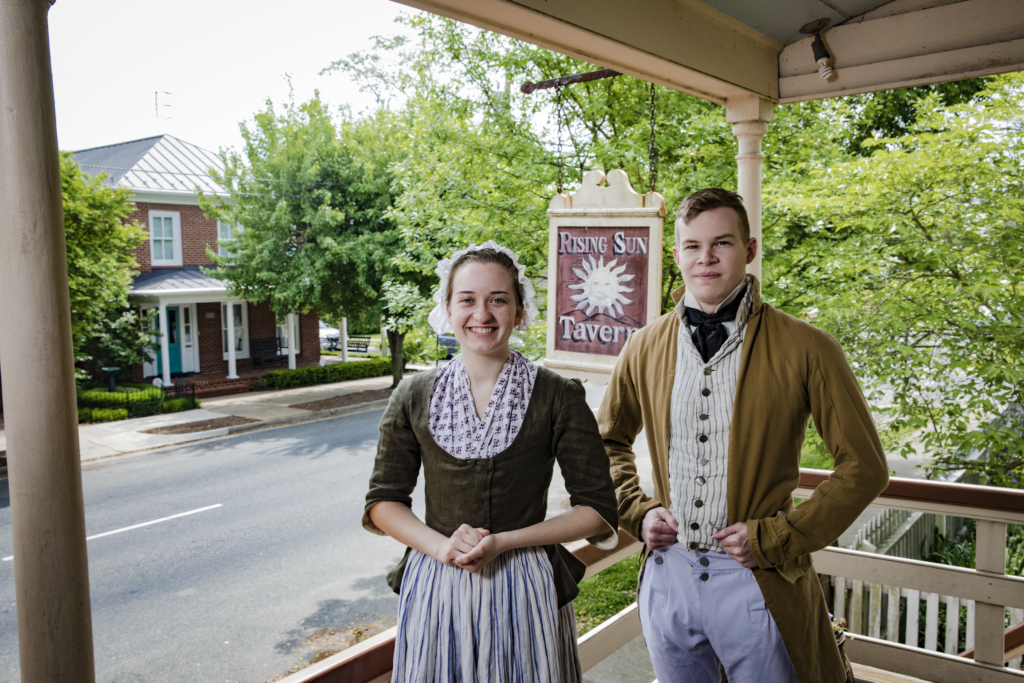 Rising Sun Tavern

1304 Caroline St.
This structure was built in 1760 as the home for George Washington's youngest brother, Charles, who later moved to what became Charles Town, West Virginia. The property converted to a tavern in 1792, and for 35 years this comfortable building offered weary travelers a place to rest and refuel. Fredericksburg residents also gathered there to dine, socialize and exchange ideas about politics and current events.
Ducking under the low door frames, one can easily imagine what it was like to be a colonial guest here, because most of the tavern's structure, trim and woodwork are original. The liquor shelves in the tap room are safely guarded by cage bars – perhaps to prevent imbibed colonial guests from helping themselves. 
Check out the upstairs sleeping quarters, where multiple travelers would sometimes share a single mattress. You might even encounter the spirit of the first tavern keeper, John Frazer, who died there in 1793 and is said to sometimes create harmless mischief.
Jill Devine is a freelance writer and former magazine editor from Loudoun County who writes for a variety of Virginia publications.
IF YOU GO
What: Washington Heritage Museums
Where: Fredericksburg
More Info: www.washingtonheritagemuseums.org or 540-373-5630
DURING COVID-19: Check the website for days and hours of operation, which are subject to change. Because of increased costume laundering requirements, some interpreters may not always be able to dress in period costumes.