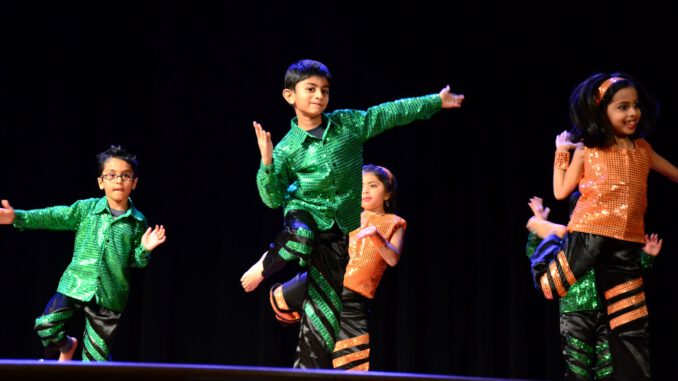 BOLLYWOOD BEAT
By Chris Wadsworth
Nikki Shah, 13, remembers the build-up vividly — the crowded backstage at a Washington Wizards basketball game in April 2018, everyone in their colorful costumes, stomachs flip-flopping as they heard the voice of the announcer and the roar of the crowd.
"Running out on the court was really nerve-wracking. There were cameras everywhere," she said. "I don't remember the actual performance. It went by so quickly — it kind of flew over my head."
Nikki and two dozen of her classmates at Studio Dhoom in Ashburn had just performed on center court during an NBA basketball game, doing a choreographed Bollywood-style dance with hints of other dance styles mixed in, including the all-American hip hop.
"It was such a great experience," the Eagle Ridge Middle School eighth-grader said. "I was extremely happy I got to represent my culture on such a big stage."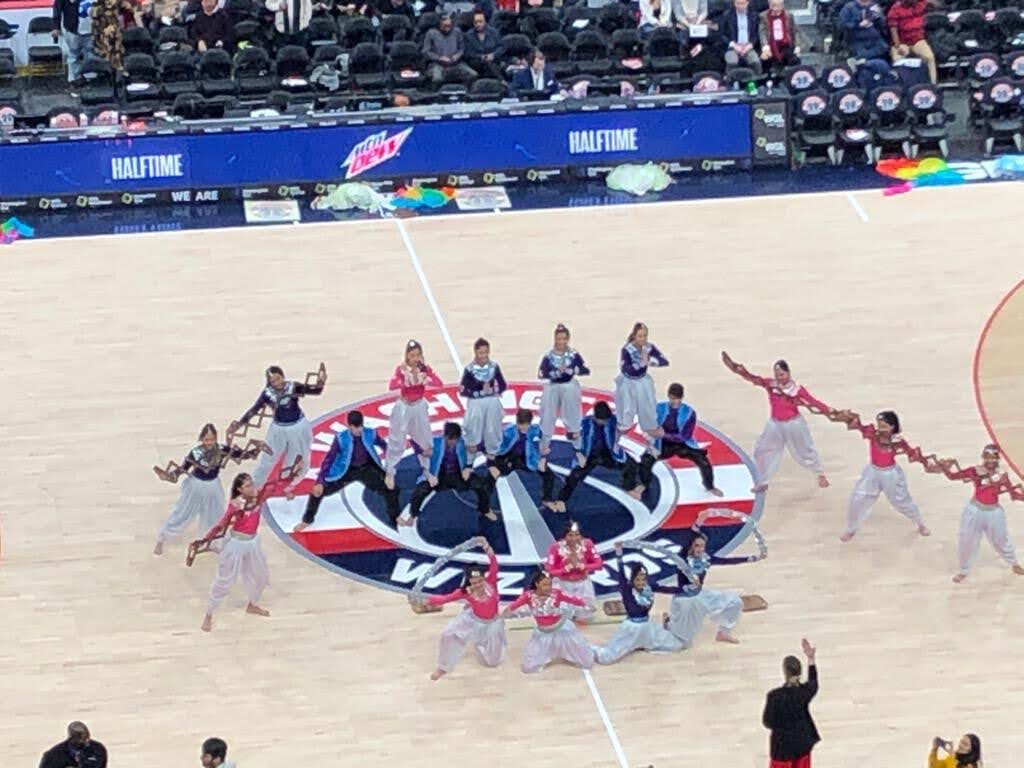 That's what Studio Dhoom is all about — celebrating South Asian culture and dance in a fun, engaging environment. Even the studio's name, "dhoom," means "having a blast" in the Hindi language. It was chosen by the first class of students to train at Studio Dhoom more than a decade ago.
Studio Dhoom was founded in 2009 by dance instructor Aanal Sheth. For years, she held her classes in rented spaces sprinkled around Leesburg and Ashburn. Finally, in 2017, when the studio was simultaneously renting space at three different locations, Sheth put down permanent roots and opened a single large studio in the Shops at Moorefield Village off Loudoun County Parkway.
"Having your own studio is a big financial commitment," Sheth said. "It was a risk, and no one had tried that before [for Bollywood dance]. But it was a calculated risk that was worth taking. They say, 'If you build it, they will come.'"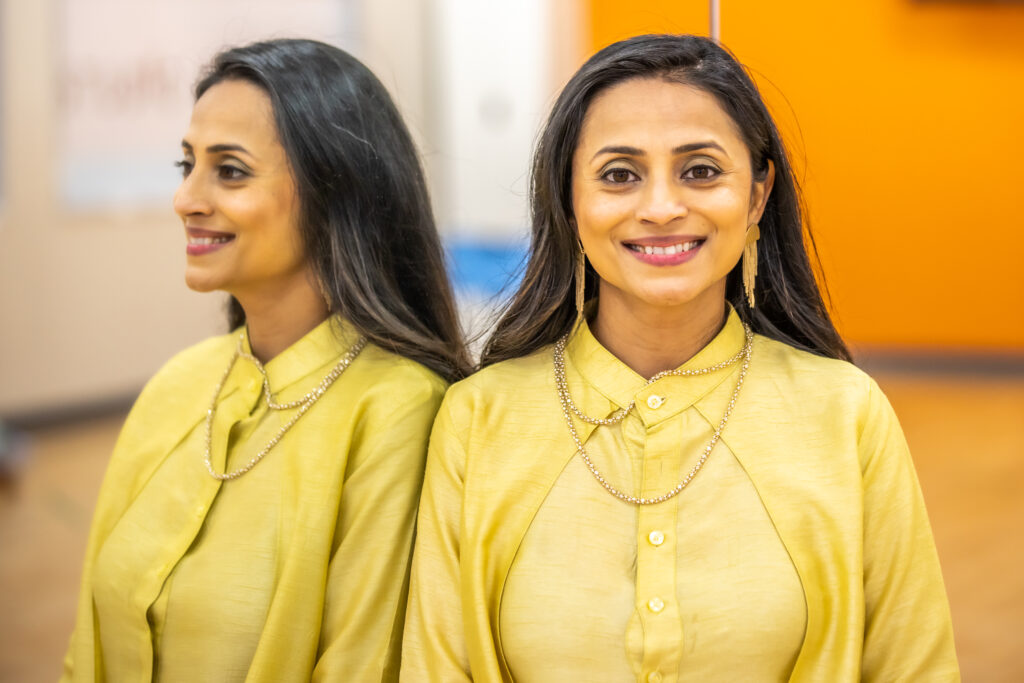 And they have come — to the tune of some 1,200 students over the years. They come to learn the Bollywood-style dance, but with traditional Indian dance forms like Bharatanatyam, Kathak and Kuchipudi and folk dances like Garba and Lavani mixed in. And Western styles of dance such as the aforementioned hip hop and jazz have a role, too.
That "unique blend" connects with the kids, Sheth says.
"Modern Bollywood is a big melting pot of so many genres," she added. "The latest trend currently is creating fusion choreography where you perform Indian semi-classical [dances to] popular songs like 'Shape of You' and 'Despacito.'"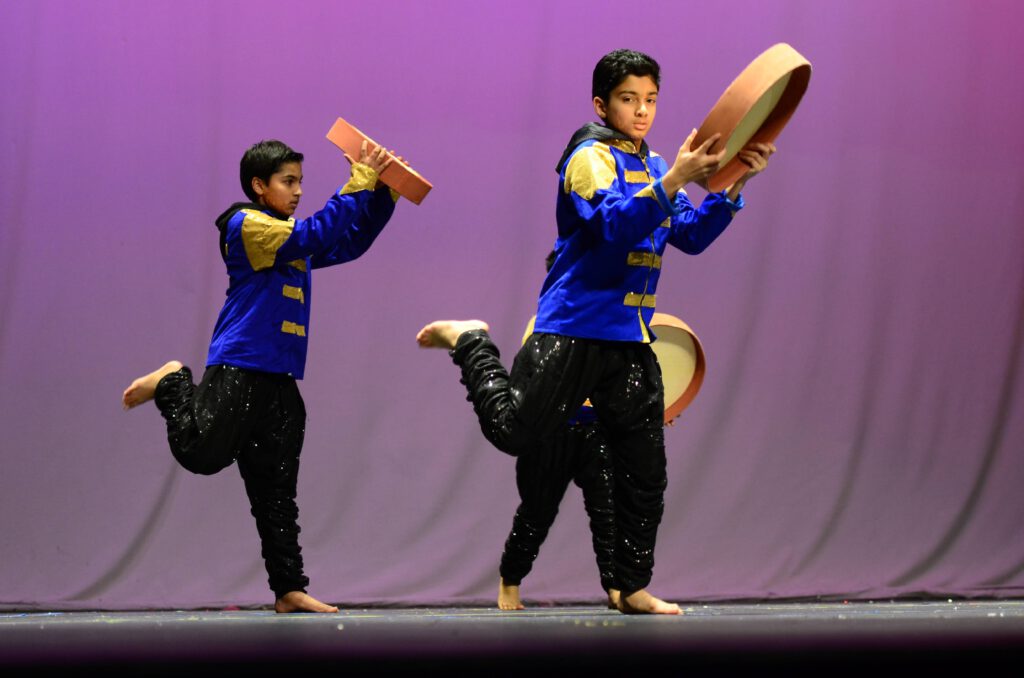 For parents in Ashburn's large Indian and South Asian communities, helping their children stay connected to family traditions and a faraway culture can be a challenge.
Sruti Pandrangi and her husband, Mahendra, live in Ashburn's Loudoun Valley neighborhood. Both are from the city of Hyderabad in southern India. Their daughters, Pranavi, 12, and Tanushree, 16, have danced at Studio Dhoom for three years.
"For us as parents, we feel it keeps them connected to their roots," Sruti Pandrangi said. "Being so far away from home, this is one way to have them see and learn about Indian culture, but, at the same time, do it in a fun way."
Despite the huge diversity of languages, music and cultures across India and South Asia — Bollywood dancing works for everyone. "A beat transcends language. You don't need to know a language [or a culture] to understand the beat. You just have to dance to it," Sheth said.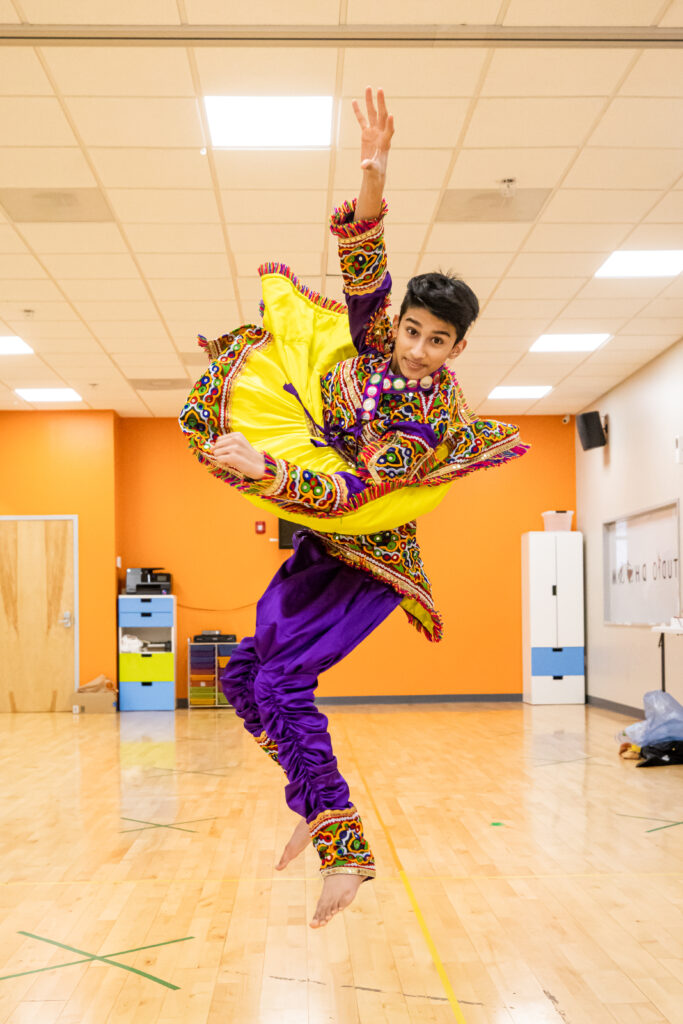 While many of the students are of South Asian heritage, not everyone is. Sheth says quite a few non-Asian students come to the studio to explore Bollywood dance. Some have seen the style performed on television dance reality shows. Others have seen them in Bollywood movies, including students from the Middle East, Russia and Eastern Europe, where the films are popular.
The students aren't all children and teens, either. Sheth says age is no limit. Indeed, one of Studio Dhoom's students, Barbara Mitchell, is in her 60s and currently taking classes via Zoom from Texas.
"It's just a wonderful opportunity to explore a neighbor's culture," said Mitchell, who moved to Dallas in 2018 after living in Ashburn for nearly two decades. "It's great exercise. The music is so upbeat and lively, even if you're having a down day. You start listening to the music and moving and your spirits just lift."
Students from Studio Dhoom perform on a variety of stages around the Washington area. Troupes have performed at the National Cherry Blossom Festival. They have performed as pre-show entertainment at Bollywood concerts. They perform at many South Asian festivals in the region and have even had students featured on the "Dance USA Dance" reality television show that airs on Zee TV, an Indian channel available in the United States. And, of course, the Studio Dhoom dancers have put on many half-time shows for the Wizards.
"I don't want to jinx it, but we have a pretty good track record of Wizards wins when we perform," Sheth said.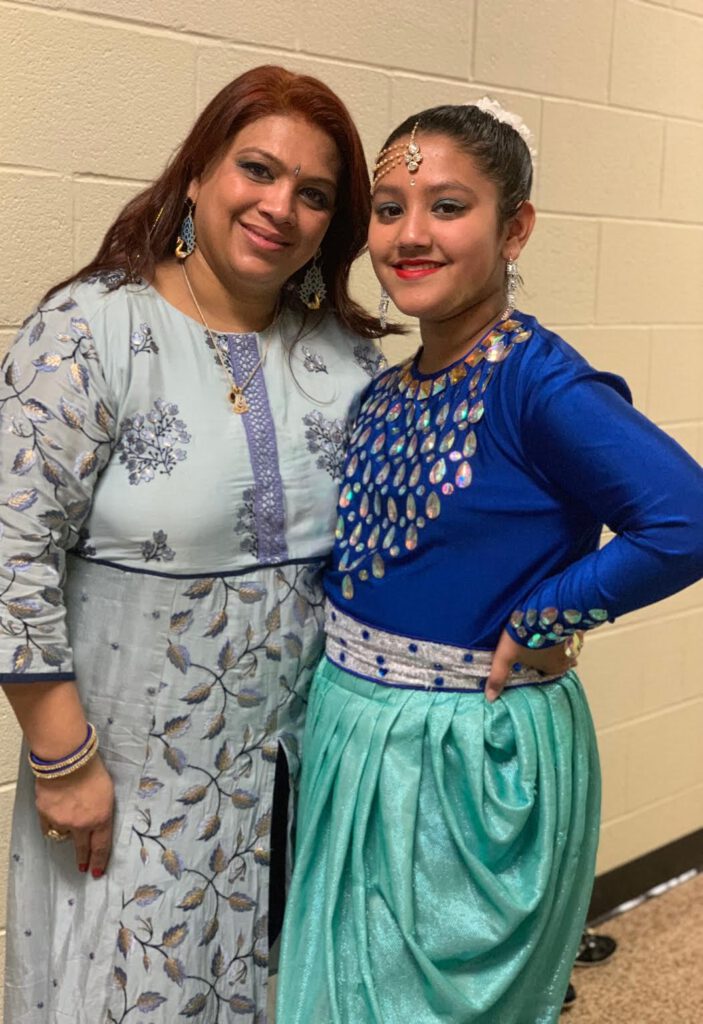 Jimmy Shah is Nikki Shah's mom. The family lives in the Broadlands, and Shah says her daughter has been studying dance at Studio Dhoom since she was 4 years old. Her 10-year-old son, Sajan, has been dancing there more than four years. Shah says opportunities to practice and perform complicated dance routines in front of crowds at festivals and Wizards games have made for wonderful lessons for her children.
"They have learned leadership, [public] speaking, teamwork and friendship skills — just to name a few," she said.
Indeed, Sheth says many students capitalize on those skills and go on to perform on college teams, which compete in Bhangra and Raas dancing as well as Bollywood dancing. 
"The beauty of these [teams] is that they are very multicultural and have big non-Asian participation at colleges," Sheth said. "When our students go on to college, they have an easy way to socialize and make friends in their first year. They go to competitions … they take leadership positions [with the teams] and learn about marketing, finance and corporate culture."
Of course, with the pandemic, nothing has been quite the same for the past year. When COVID-19 started to spread in early 2020, Studio Dhoom closed for six months. Recitals and shows were called off, venue reservations canceled, rental costumes returned. Sheth quickly rolled out a series of online dance classes and events that proved extremely popular, with 80 to 90 families taking part each week.
In the fall, the studio slowly reopened, with safety measures in place, including reduced class sizes and increased space between dancers. Many families felt comfortable with the new protocols and returned for in-person classes.
"It hasn't been easy and, as a small-business owner, this has been the most stressful time," Sheth said. "But I am grateful to be doing something I love. Kids learn a lot of things … through the medium of dance. We give them a platform and a seed is planted."