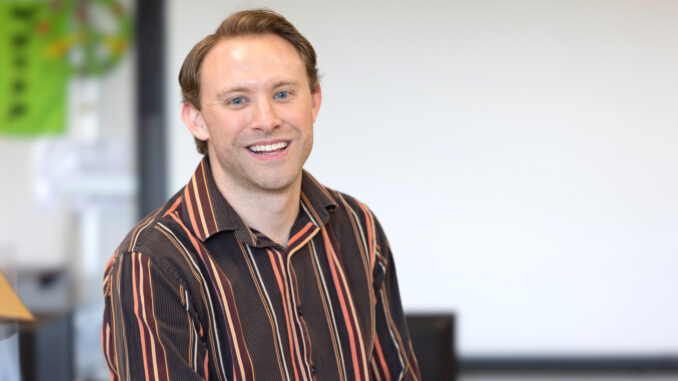 'I TEACH KIDS FIRST, NOT CONTENT'
By Chris Wadsworth
Jason Augustowski isn't your typical high school teacher. He plays paintball with his students, sets up haunted houses in his classroom, and changes his facial hair more often than some people change their clothes. He also can claim the title of Best High School Teacher in Ashburn, thanks to topping the category in Ashburn Magazine's Best of Ashburn 2021 survey.
 Augustowski has taught English at Riverside High School in Lansdowne for six years. (Yes, that's technically Leesburg, but for our purposes, we count everything east of Goose Creek as Ashburn.) Before that he spent four years at Belmont Ridge Middle School, where he was also the school's theater director, a role he continues in to this day.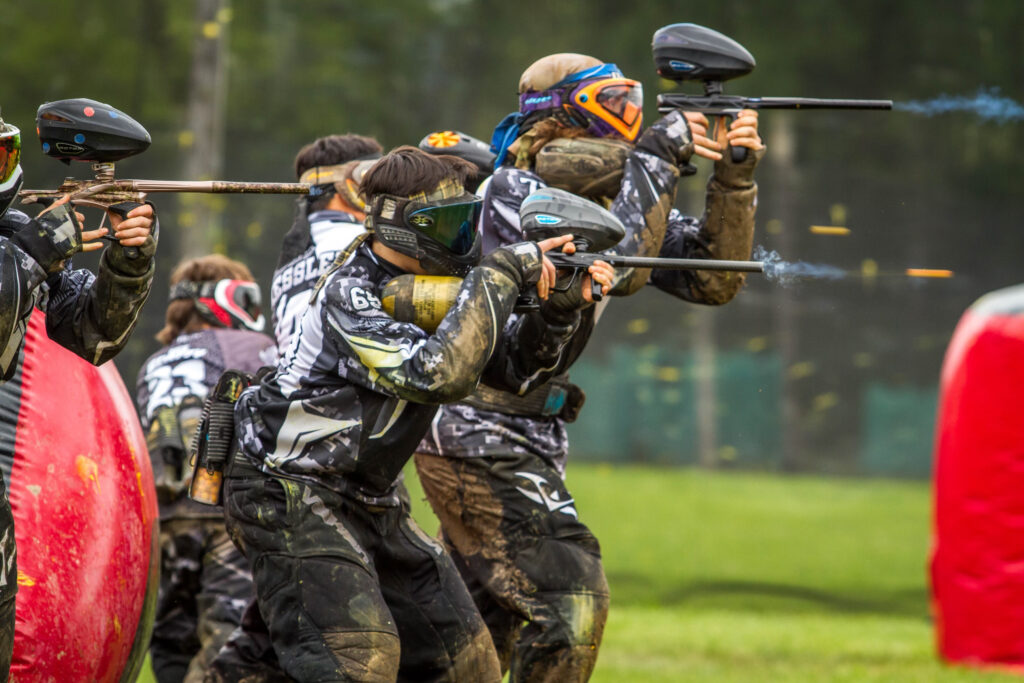 Kids are his world. He's a sponsor for the organization PEER (Positive Experiences in Educational Relationships), which teaches kids basic counseling skills and allows older students to work with younger students. He founded the extracurricular Bowtie organization, in which teenagers talk to educators about their experiences to help teachers relate to today's students. And he has founded a theater company to give aspiring thespians opportunities beyond drama club.
Ashburn Magazine spoke with Augustowski from his home near Lansdowne Town Center about his career, his students and his passions.
Ashburn Magazine: What was your reaction to the news you had won Best High School Teacher in the Best of Ashburn contest? Overjoyed? Profoundly honored? Thrilled beyond belief?
Jason Augustowski: "I got the news from you and it was a wonderful surprise. I first heard I was even nominated from another friend who was also nominated. I was shocked to be chosen because Riverside and Belmont both have such extremely talented faculties and it's an honor and privilege to work with them each day."
Why do you think you won? What is unique about your connection with your students and their families?
"I teach kids first, not content. I have a relationship with every single kid. If I teach 150 kids, I know 150 kids, not just the 10 who raise their hands. Early in my career someone taught me, 'No kid cares what you know until they know that you care.' And that's true."
You teach English primarily. Is getting kids engaged in reading and literature challenging in this day of 10-second digital videos?
"I try to make every class engaging. Everything is discussed and debated. The essays are always about fun and engaging topics. Around Halloween, I turn my classroom into a haunted house so the kids can analyze an environment and not just a text. I bring in guitars and we play old band songs and analyze lyrics. With Harry Potter, we play quidditch. 
What is the one book you think had the biggest impact on your life?
"For me — it's kind of a silly teen novel — but one that really impacted me was 'The Perks of Being a Wallflower,' by Stephen Chbosky. There's heart in it. I felt like when I was reading it – I wanted to help that kid, by becoming a teacher like I had always wanted to do. I switched majors – ended up getting my bachelor's in English literature and a master's in curriculum and instruction at Virginia Tech, and I have loved life every single second since."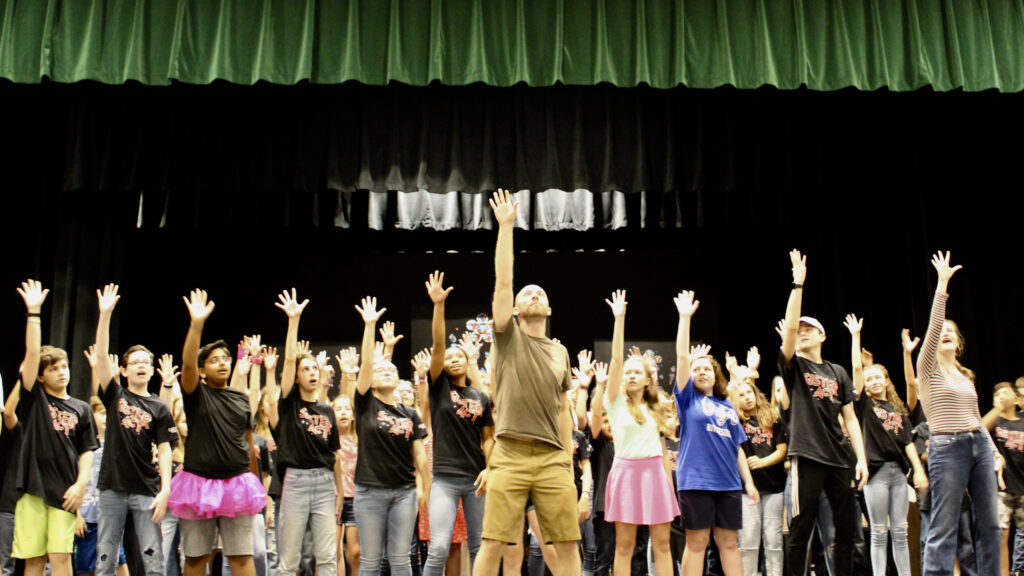 You are big into musicals. You've directed quite a few at the middle school level as well as for local arts organizations. Where does this passion come from?
"That was just my big thing growing up. I was in all the shows in high school. I did all the plays that I could. I was part of the marching band — I played saxophone and guitar. I had a band in high school. We played in coffee houses."
You've gone so far as to create your own business — Infinite Arts — with a fellow teacher, Jill Kerr. You teach area students the ins and outs of musicals and putting on performances. Tell us more about that.
"After doing all these Belmont shows for so long, I thought, 'Why am I only doing one play a year? What if Belmont also did a summer musical to keep the kids engaged over the summer?' So, then we started doing Belmont summer musicals. And I'd been doing that for seven or eight years when I thought, 'Why don't I create my own LLC and do whatever I want?' With the support of a bunch of parents, it's up and running. We are doing all these reimagined Shakespeare plays. This year we have five in the works. It's the original Shakespeare, but we tweak it and modernize the language. We just did a 'Star Wars' version of 'Julius Caesar.' We are about to do a werewolf version of 'Romeo and Juliet.' We're going to do 'Mortal Kombat' 'Macbeth.' This fall, we are going to get back to musicals when we hope it will finally be safe to have people singing in close quarters again."
Be honest — are you a frustrated Broadway performer yourself?
"No, people ask me that all the time. 'You're so outgoing. You could have been an actor.' I did all that when I was kid, but I'm not kidding — the best feeling is teaching and directing and coaching kids. They are better singers than I am. They are great dancers and performers."
When a student graduates from Riverside, what do you hope they will remember about Mr. Augustowski?
"I hope they remember how my class made them feel. At the end of the year, they are confident. They are hard workers. They say, 'Thanks so much for letting me express myself.' I don't care if they forget me. I just want them to be able to go out in the world and say, 'Hey, here are my views.'"
==========
LIGHTNING ROUND
Favorite Literary Work: I love Shakespeare and Dickens. "Macbeth" and "A Christmas Carol."
Favorite Guilty Pleasure Book: Anything by Chuck Palahniuk. He's one of my favorite authors. His books are super R-rated, but I just think they are hilarious.
Last Book You Read: "The Last Time We Say Goodbye." It's a random book that I had in my classroom.
Favorite Movie: I love the Harry Potter movies. I love "It's A Wonderful Life." And I love "Halloween" – I'm obsessed with it and know everything about it.
Favorite Musical: "Rent." By far.
Favorite Song from a Musical: "Who I'd Be" from "Shrek."
Favorite Role You've Ever Played: Lumiere in "Beauty and the Beast." I got to sing "Be Our Guest." It was pretty dope.
Favorite Ashburn Restaurant: If I'm trying to eat fancy, I love going to D.C. Prime or Eddie Merlot's.
Where can you be found on a warm summer day? I don't get many days off. I love riding roller coasters, so in a theme park somewhere.
What's one secret no one knows about you? I love to cook. I know that's kind of lame. I love to play disc golf. I love making films as well as watching them.