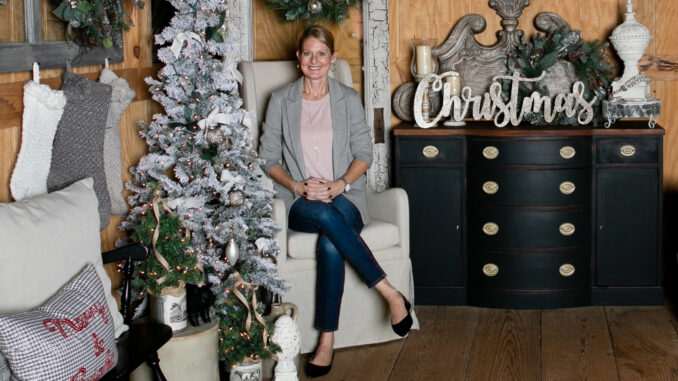 A ROOM WITH A VIEW 
By Jill Devine
Photos by Natalie Whitehead Photography
"It's not about what it is, it's about what it can become." ― Dr. Seuss, The Lorax
Like every item displayed in Ashburn's A New View Home Decor, the large eucalyptus wreath hanging in the foyer holds a bit of history. The fragrant green leaves and long burlap bow are supported by a circular frame of dark wood and metal spokes. 
"It's a veteran's wheelchair from World War II," said shop owner Kimberly Harris. 
It's also one of the few items in her store not for sale. "I don't know why I can't part with it," said Harris, rubbing her hand along the burnished rim. "I guess I'm just in love with its character."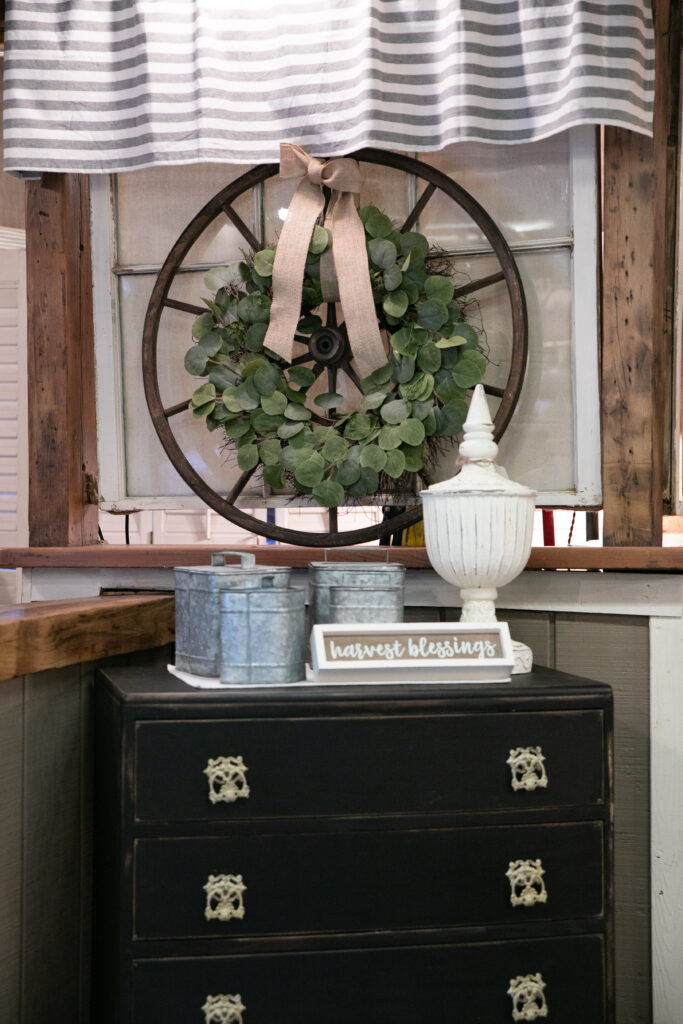 TURNING TRASH INTO TREASURE
Upcycling is the popular term for what Harris does — combining elbow grease with a dose of love to transform discarded, broken or worn out things into valued, stylish items for the home. Harris repurposes donated items or garage sale finds and creatively evaluates each piece in terms of function and material before painting and distressing the surfaces, often adding stencils, new upholstery or rustic hardware. Sometimes Harris disassembles the object to create something entirely new.
Her classy remakes are affordably priced and attractively displayed in her store, along with customized new merchandise, soaps, candles, cozy blanket throws, and homemade textiles, including pillows sewn by employee Lanie Sano. Accent pieces are often decorated to reflect local heritage, such as the oversized pillow ink-stamped with the Old Ashburn 20147 Zip code.
At A New View, a table leaf becomes a stenciled farmhouse sign to hang on the wall, the top of an old utility spool becomes a large clock face, an old postal cart becomes a rolling cocktail bar, scraps of fabric become little stuffed pumpkins with wine-cork stems, and a stack of antique books wrapped in stamped craft paper and burlap becomes a base for a potted tree. 
"Nothing I sell is cookie-cutter," Harris said. "You can't find these things anywhere else, because I dreamt them — I built them."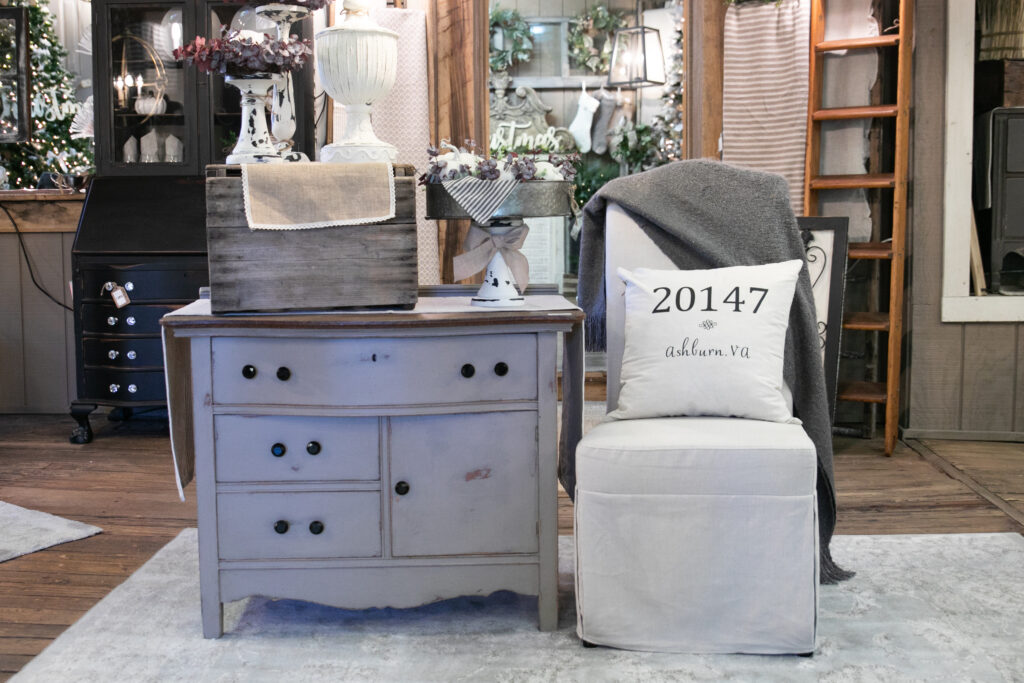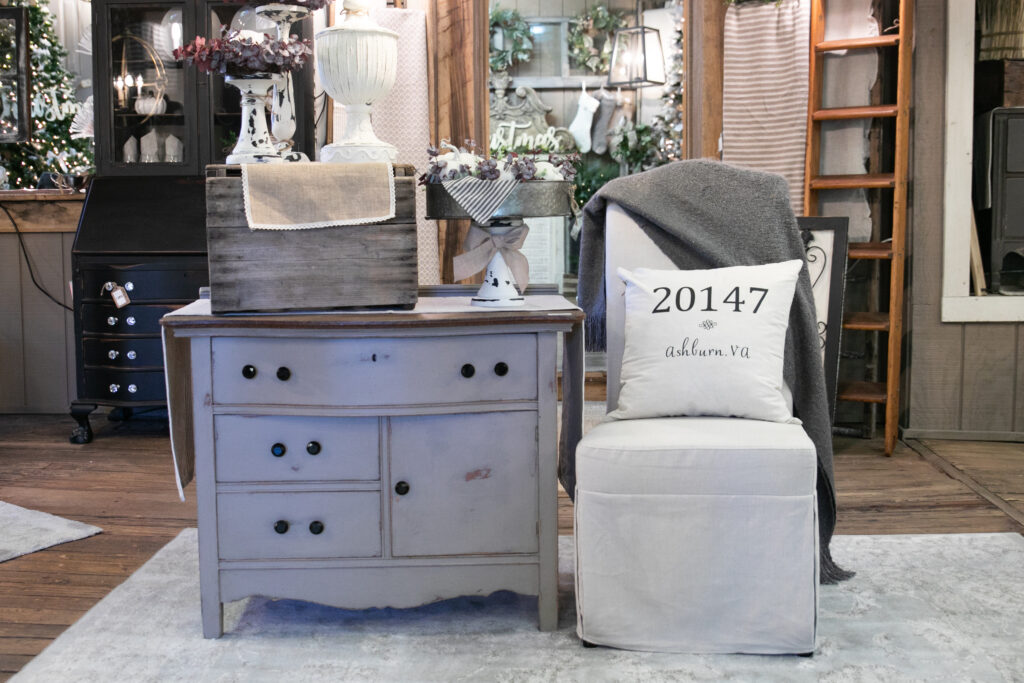 Breathing life into old things has been Harris' lifelong passion and, after working in corporate America and then raising a family, she decided to turn her hobby into a business. In 2016, she started upcycling from her garage in South Riding before setting up shop in the old Ashburn Mill in 2018. The mill space is slated for renovations, so Harris is planning to move her shop to a new retail space in a historic building across the street.
"It has the same historic, rustic vibe," Harris said.
A BIT OF OLD ASHBURN FROZEN IN TIME
The Old Ashburn location is key to the mood Harris wants to convey, and it attracts the kind of customers she aims to please. One of those customers is Dale Polen Myers, who was born at Loudoun Hospital in 1956 and has lived in Ashburn her entire life. Myers' family owned the old Polen Brothers dairy farm, and she raised her family in the house where she grew up on Hay Road.
"The first time I saw A New View, I felt like I was walking back in time," said Myers, describing the old wood furniture, punched-tin lanterns, pillow ticking fabrics and cast-iron lamps. 
"It reminded me so much of what homes in Ashburn used to look like when I was growing up," she added. "Every year a little bit of Old Ashburn is lost, so I like to go there for the memories." 
Myers stops by the store often, because Harris is always adding new merchandise. "I never walk out without buying something."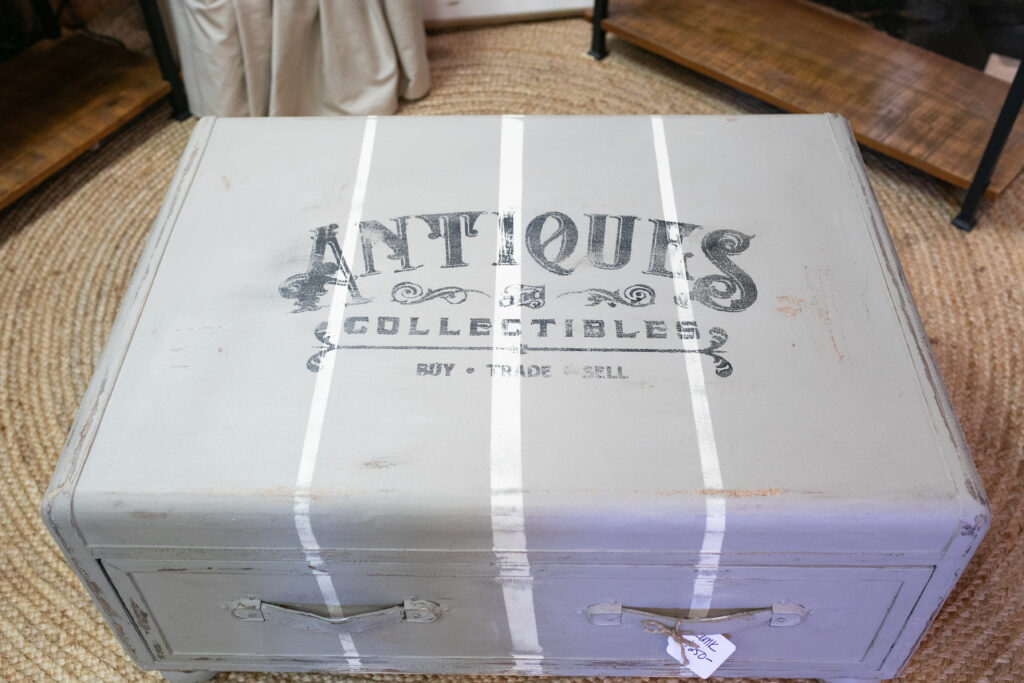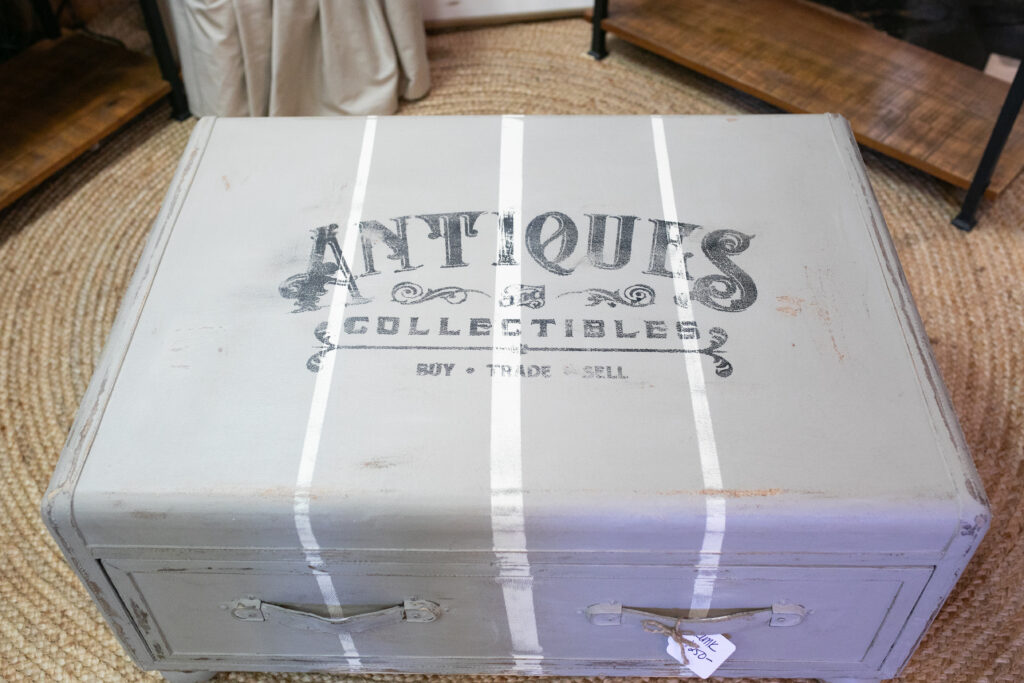 Leslie Barron, who owns the local canine care company Woofies, discovered A New View when she was looking for a coffee table for her Ashburn Village home. 
"I wanted to give my décor a facelift," Barron said. "I checked out all the stores that sell new furniture, but nothing seemed right." 
A Facebook post about A New View first caught Barron's eye. 
"It was exactly the old farmhouse look I wanted, so I went to check it out right away," she said. "Kim's incredibly talented at finding things she knows I will like – she's practically furnished my whole house." 
Barron said she soon hopes to have Harris help her give the same look to Woofie's front office.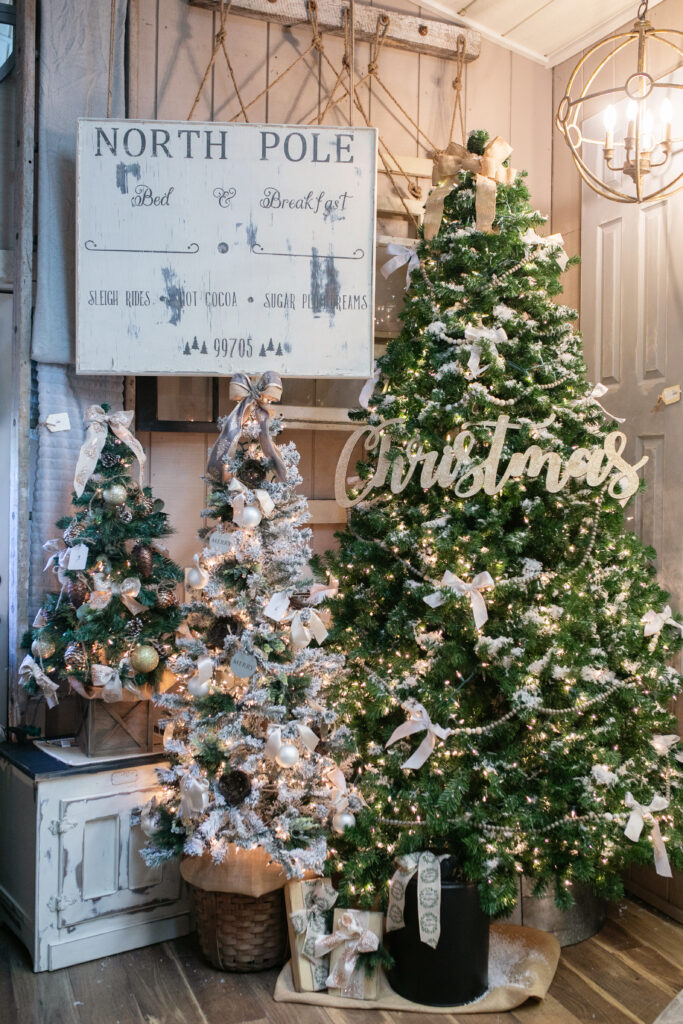 JOY WITH A PURPOSE
Harris said that making customers' hearts leap with joy is why she's in business. 
"I never throw anything away, because every object has the hidden potential to become something that someone will treasure," she said. "It's finding that antique shipping crate and turning it into a gorgeous coffee table for someone's home… and it's making people happy because they know Grandma's beloved mahogany buffet did not end up in the dump." 
==========
DO IT YOURSELF
Love the warm, cozy farmhouse vibe and want to create that feel at home? Kimberly Harris has some tips.  "Every setting I create, whether a dresser, a table or a corner always has three components — glass, wood and tin — and then I add layers to appeal to all the senses." 
Here are five of her secrets:
Lighting. 

 I always include sources of soft accent lighting, whether candles, lamps or lanterns, and pick warm light bulbs rather than cool. Shades can be traditional, or homemade from glass jars or baskets.

Color.

  I start with a neutral base — right now creams, tans, grays, and blacks are very hot. Then I always bring in some sort of natural greenery, like a candle ring of boxwood or eucalyptus, or a few twigs of evergreens tucked into a bow around a vase. After that, I can add small pops of color with fabrics, flowers or painted objects. As far as paint, everything I do is distressed, to give it that well-loved, cherished appeal. Antiques always tell a story, so surround yourself with stories you love.

Arrangement.  

I try to always arrange clustered items in a pyramid shape, with the tallest piece in the center, and everything else falling away from that on either side. You might not realize it, but that's the way the eye travels when looking at a space.

Textiles.

  My biggest magic trick involves tea towels, and I'm fond of nostalgic stripes and florals. Before putting that wooden lantern on top of the dresser, slip a little tea towel or cloth napkin under it. Doing so separates it from the colors and textures of the competing woods and gives the lantern its own little home, making it really stand out. Upholstery and decorative bows are other ways I incorporate fabric into a room. Last, add some soft pillows and drape a warm, fuzzy blanket across a chair.

Scent.   Familiar scents are critical to creating a mood, and I always rotate according to season. As soon as it's fall, I incorporate pumpkin, cinnamon or apple. In winter, I choose pines. Warm cotton appeals to everyone — a warm, cozy smell. And hot brewing coffee, always coffee, makes any room smell like home.
==========
IF YOU GO
What: A New View Home Decor 
Where: At the intersection of Ashburn Road and Hay Road
Contact: 703-477-6714, www.newviewtoday.com
Hours:  Open Thursdays, 9 a.m.-1 p.m., Fridays, 9 a.m.-5 p.m., Saturdays, 9 a.m.-6 p.m., and Sundays, 9 a.m.-5 p.m. Closed on Mondays, Tuesdays and Wednesdays.
Loudoun-based writer Jill Devine has worn many different hats over the years — newspaper reporter, magazine editor, teaching assistant, freelance writer and mom of four great kids. When not writing, you might find her and her husband, Paul, exploring Virginia's historic sites or pedaling on one of the area's many fun bike trails.