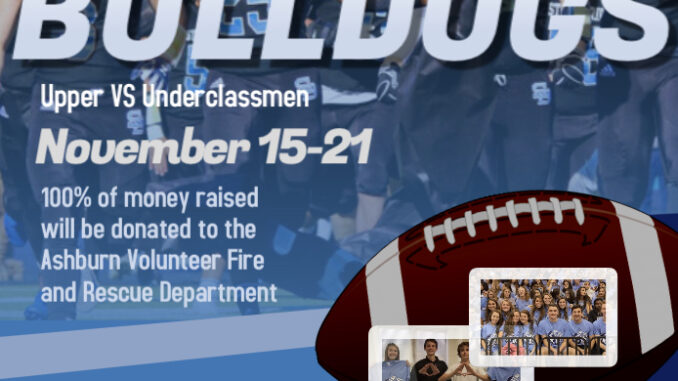 The "Battle of the 'Burn," held between rival Ashburn high schools Broad Run and Stone Bridge, has been the largest football game in Loudoun County for many years. In addition to football, the schools compete in a large fundraising competition to benefit a chosen charity.
However, due to the COVID-19 pandemic, the schools are unable to compete in both football and fundraising. The Stone Bridge High School DECA chapter has created a solution for this year's Battle of the 'Burn predicament: Battle of the Bulldogs, a competition between Stone Bridge upper and underclassmen. The BOTB fundraising battle will take place from Nov. 15-21.
Stone Bridge DECA will raise money for the Ashburn Volunteer Fire Department through COVID-safe fundraising events that allow for maximum community involvement. 
A GoFundMe has been created to accept online donations and can be found on the Instagram page @StoneBridgeBOTB. Monetary donations, in-kind donations to be raffled to a lucky donor at the end of the week, and grocery store gift cards for the fire department's Holiday Bingo Night are being accepted. In addition, two "Takeout Spirit Nights" will be held between Nov. 16 and Nov. 20 at the One Loudoun Firehouse Subs and at the Belmont Chase MOD Pizza. Dates and times will be found on the event Instagram
Business sponsorships are also available.  For information about helping in the fundraising process, contact elizabethcohen227@gmail.com.