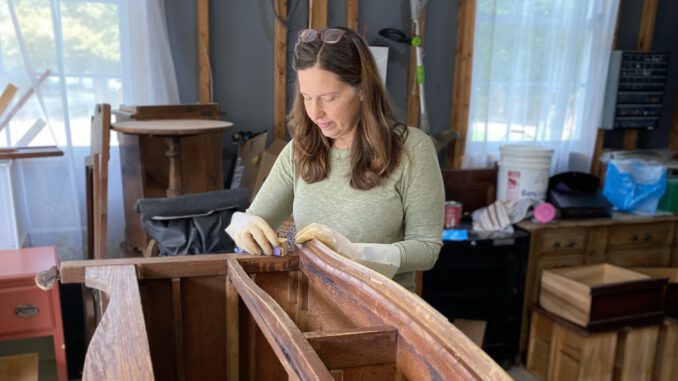 FINISHED FOR GOOD
By Chris Wadsworth
Aimee Taylor is a miracle worker. There's just no way around it. The Broadlands resident is a marketing consultant by day and a wife, mother and grandmother all the time. But it's what she does in her free time that is so amazing.
In October 2019 she started picking pieces of badly worn or damaged furniture out of people's trash and then repairing and restoring them in amazing ways. From there, she donates the items to the local ReStore, a shop run by Loudoun Habitat for Humanity that raises funds for the organization.
"From the start, I have only taken free furniture — trashed and on the curb, or pieces donated to me," Taylor said. "I do pay for my own supplies, although sometimes people donate those too."
Taylor dubbed her efforts Finished For Good and started posting about her work and her miraculous makeovers on Facebook. As of this writing, she has refurbished 46 pieces of furniture and décor that otherwise would have wound up in a landfill — and has helped raise money for a good cause to boot.
"We love what she's doing," said Kristen Wolfe, the manager at the ReStore in Leesburg. "Each piece has its own story behind it, and they sell like hotcakes."
And Taylor is always looking for ways to expand and grow what she's started.
"I'm at the point now where I don't have the room to store things — friends have called me when they see pieces at the curb, and I don't always have the space to store them so the trash truck gets them," she said. "There is an opportunity to take this initiative further, but I don't have the resources, know-how or time to do so. Maybe someone out there does."
 The Finished For Good postings on social media are written with such charm that we are sharing some of them here. You can follow Taylor's furniture adventures at www.facebook.com/finished4good.
THOR
"A friend spotted a Facebook listing for a free dresser. When I went to pick it up, the kind man told me that if someone hadn't taken it, Thor would have had at it. I looked up in confusion to see him holding his hammer, which he explained was called Thor. (See, I'm not the only one who names inanimate objects.)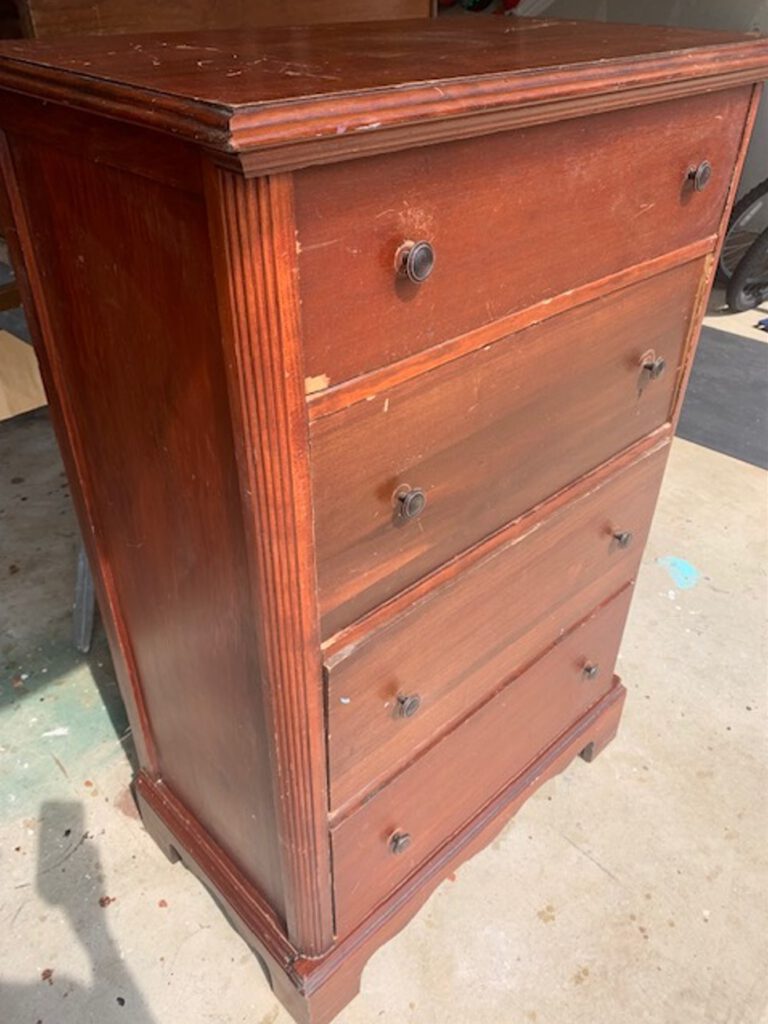 "So, it wasn't hard to come up with a name for this piece. Meet Thor. He was in rough shape, but structurally sound. I wanted to keep the wood, but the veneer was extremely thin and, with the various scratches and bumps, it made the most sense to fill, prime and paint him.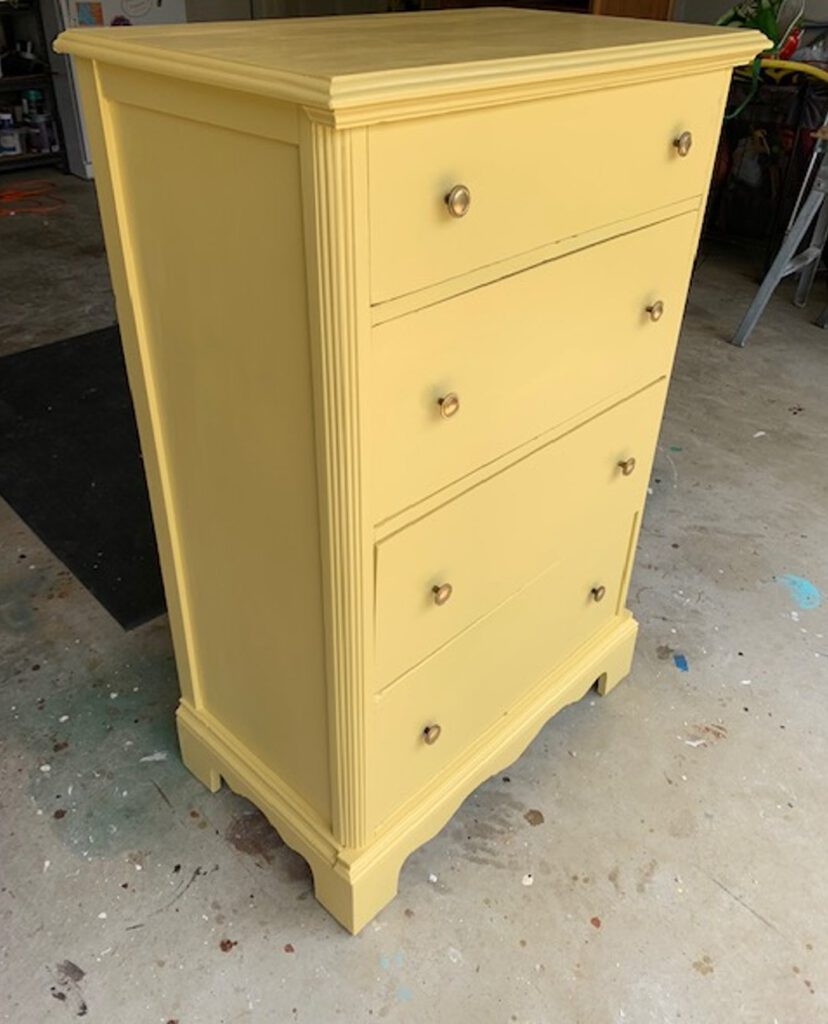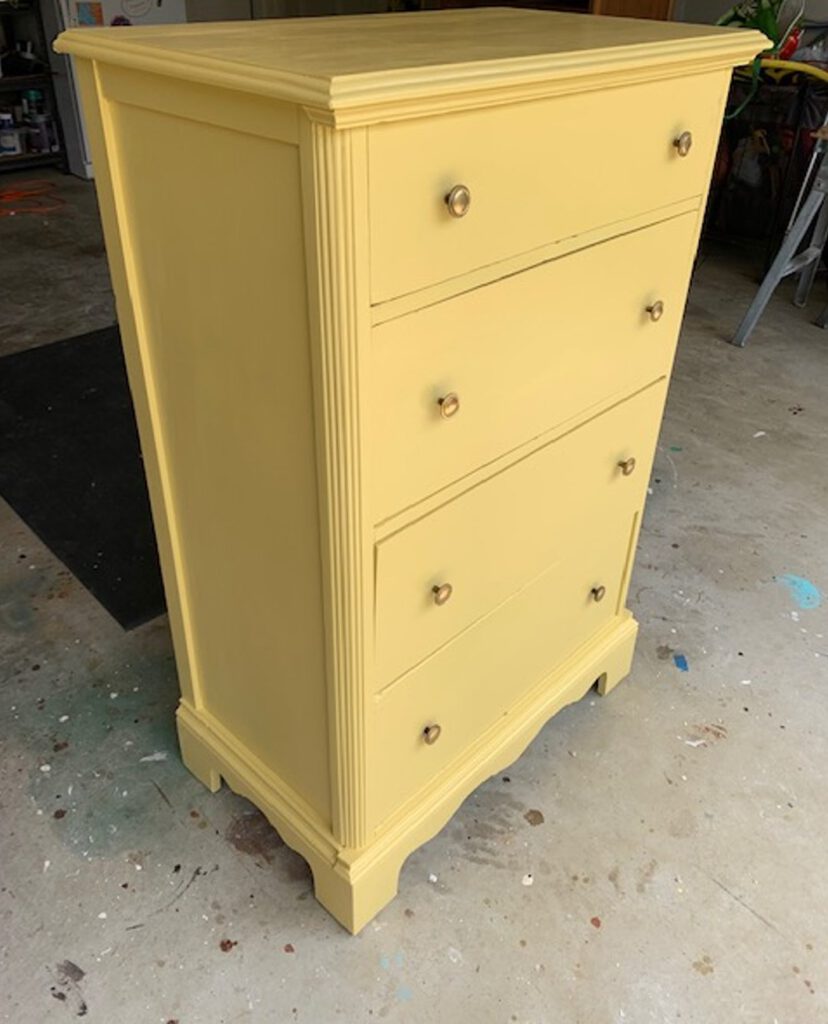 "Oops paint from Home Depot ($2) was used for Thor — I love his bright cheery color. I sprayed the knobs gold with paint I already had. Yes, he still has dings and bumps, but that gives him character."
VERA
"This is Vera. My teen told me she had spotted something that looked wooden on the side of the road the night before trash pick-up. She had no idea what it was. Sorry, kid — this is an old sewing/knitting box. You wouldn't know as your mother gets hives just thinking about sewing.
"Anyway, she found it, so she got naming rights. Vera had been painted a pretty blue over a coat of white paint. I was determined to get all that paint off and see what type of wood was underneath. Vera had other ideas.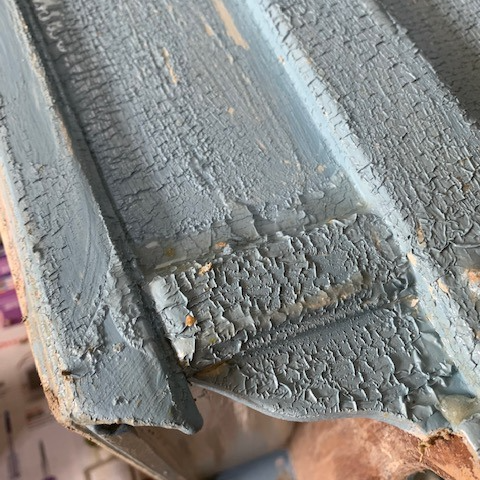 "Vera's handle snapped when trying to remove it. Some of the screws simply would not budge, so I could not disassemble and properly strip as I had hoped. Eventually, with chemical stripper, sandpaper, razor blades and even a nail file, I got 99.9% of Vera's paint off.
"I think Vera has some age to her. Maybe some attitude, too. There were times when I had to put Vera aside (and) walk away from her. We were not speaking for some time. She is stubborn but did not have me beat.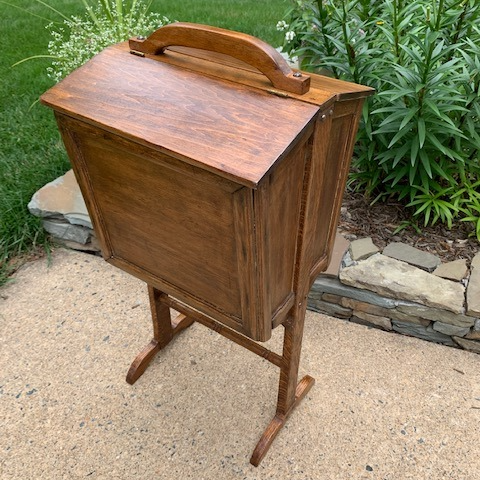 "When I got to the point that I worried about damaging the wood, I stopped. I re-stained her, fixed her handle and put a few layers of topcoat on her. To give her back some of that color she apparently really wanted, I painted the inside of the flaps a similar blue. And she is ready. Not perfect, but a bit rustic and reflective of her age. Even after our struggles, I'm happy she didn't end up in a landfill."
QUATTRO
"Meet Quattro! This cute (and large!) cedar chest had been in a family for four generations — hence the name I gave him. He had quite a bit of repair needed. His top was split so he could not properly open and close, and he was missing one foot entirely along with parts of others. Thankfully, his owner retained the pieces!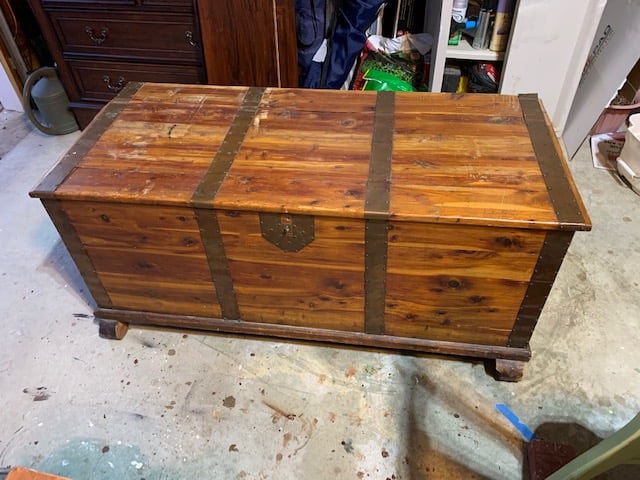 "I started out by repairing him — lots of wood glue for his feet, plus glue and braces for his lid. His inside was clean and just needed a bit of cleaning and sanding. 
"Removing the copper strapping on the top took a very long time but was necessary to repair the top properly. After getting him all fixed, I applied three coats of shellac and shined up the strapping. I was torn as to how much to shine the strapping — I wanted the copper to show, but not look too brand new. 
"Quattro was a lot of fun to work on."
AUNT FAYE
"A college friend met me in a parking lot to introduce me to Aunt Faye. This lovely balloon chair came from Pittsburgh and needed some repair. Gluing was tricky, but she held nicely.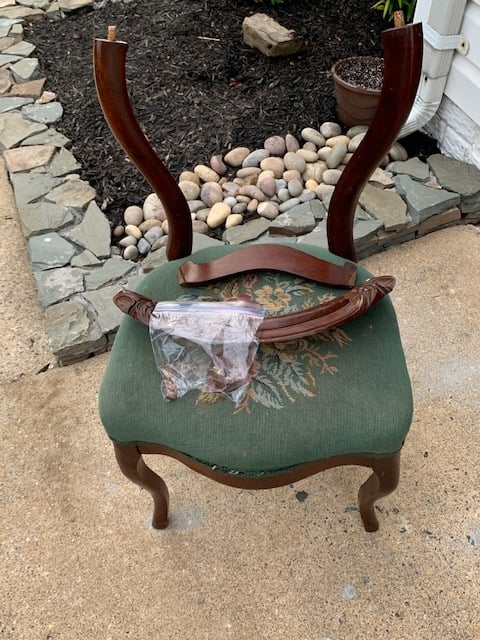 "I tried to spot clean her upholstery, but not knowing what I was doing, I ended up making some of the spots worse. So, I removed all of the staples and fabric and gently soaked the seat cover several times. (Note: Don't try this at home — I'm not an upholstery expert!)
"Her stuffing was very clean and seemed to be in great shape, so her new owner can easily choose to re-upholster her. I personally like the pretty green.
"I did not strip and refinish the wood as it was absolutely gorgeous — I just revived it a bit.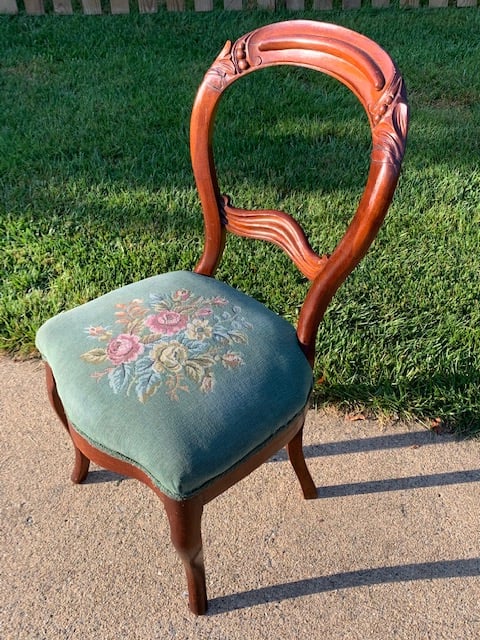 "A lady never reveals her age and Aunt Faye is no exception. [There were] no marks that I could find, and research has not yielded any matches. She does look very similar to chairs I found that were described as being Victorian. As much as I want to sit on Aunt Faye and take my afternoon tea, she will be going to ReStore."