GIRL POWER
By Chris Wadsworth
Sometimes in tragedy, a new purpose can be found, a desire to try to prevent other tragedies. That's the unfortunate, but inspiring, truth behind two new water safety signs installed near the Beaverdam Reservoir along Ashburn's Belmont Ridge Road. 
The signs were the work of two local Girl Scouts — Samantha Owens, 15, and Alyssa Heese, 14. It was part of their Silver Project, one of the highest-level projects in scouting, which requires identifying an issue, developing a long-lasting solution, educating the community, fundraising and more. 
When Samantha and Alyssa heard about a drowning at the reservoir, they couldn't get it out of their thoughts. The bicycle safety project on which they had been working suddenly grew in scope and complexity as they added water safety. This meant working with Loudoun Water and other agencies on a project that wound up taking most of their middle school years to complete. 
Ashburn Magazine interviewed the girls — now freshmen at Briar Woods High School — about the project. Here are excerpts from our conversation.
ASHBURN MAGAZINE: THE PROJECT STARTED FOCUSING ON BIKE HELMETS, CORRECT?
SAMANTHA: "The original plan … was to make signs to bring awareness of helmet safety. After we started middle school, we noticed that there was a lot of peer pressure that kept kids from wearing helmets. More and more kids were riding bikes to school without helmets." 
Q: SO HOW DID THAT FOCUS CHANGE TO WATER SAFETY AS WELL?
SAMANTHA: "On the night of Oct. 15, 2020, my family was hanging out in our backyard, and we could hear sirens coming from the reservoir. We knew something bad had happened because it went on for a very long time and there were helicopters flying overhead and searchlights. We later found out that a lady had drowned." (Editor's note: 38-year-old Leilani Laufiso Funaki drowned while paddleboarding at the reservoir. She was not wearing a life vest.) 
Q: SO, YOU WENT TO THE RESERVOIR TO CHECK OUT WHAT SIGNS THEY HAD?
ALYSSA: "We took a trip over to the reservoir to see if they had what we were thinking of. We could not find a sign that had color and an image, with a simple message. We wanted something obvious, with a picture, that even a child could understand."
SAMANTHA: "There was a sign, but it was an official sign and [it] contained a lot of other information [so] you actually have to take a few minutes to read [it] to realize that you are expected to wear a life vest on the reservoir. We decided to add life vest signs to our project, and it ended up becoming the bigger focus."
Q: HOW DID YOU COORDINATE WITH THE AGENCIES THAT MANAGE THE RESERVOIR?
SAMANTHA: "We had a Zoom meeting. We explained that while there technically [was] a sign, that people just don't read it. We suggested a sign that is hard to miss and gets right to the most important point ­— to be safe and wear your life vest. They were very helpful and spent a lot of time helping us create our project."
ALYSSA: "We took notes and combined our thoughts with theirs. They were friendly to work with." 
Q: WHO DID YOU WORK WITH TO CREATE THE ACTUAL SIGNS?
SAMANTHA: "Local sign maker Clay Downing helped us create our signs, but he was very careful not to give his opinion. He suggested that if this was our project, it shouldn't look like it was designed by a professional. In fact, [he suggested] that [our ages] might help us develop a sign that [was] more engaging and eye-catching to the public." 
Q: HOW DID YOU PAY FOR THE SIGNS?
SAMANTHA: "Mr. Downing only charged us for the materials. Loudoun Water made a generous donation, and we raised money to cover the remaining cost by pet-sitting and babysitting." 
Q: HOW DID YOU GET THE SIGNS INSTALLED?
SAMANTHA: "Dustin Betthauser [Northern Virginia Regional Park Authority manager at the Beaverdam Reservoir] helped us install the signs at the reservoir. We installed the helmet safety signs at Eagle Ridge Middle School with our dads. We dug a hole, poured in cement, stabilized the post, and attached the sign — it was a lot of work."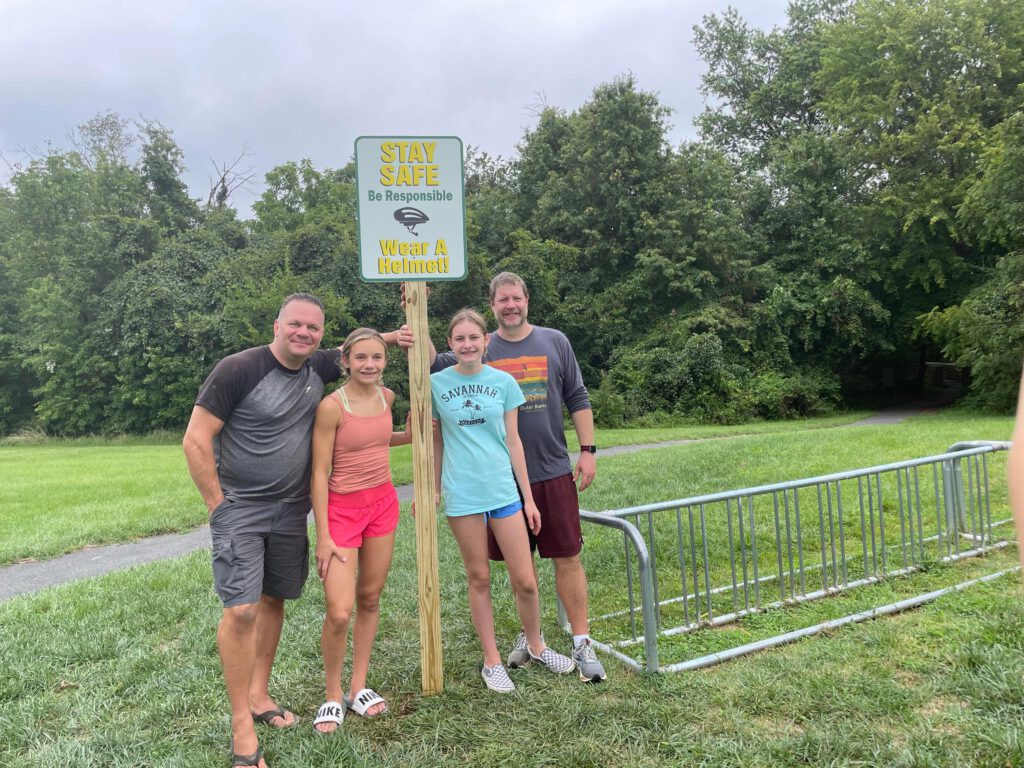 Q: HOW DID IT MAKE YOU FEEL TO SEE YOUR SIGNS POSTED AND KNOW THIS LONG PROJECT WAS COMPLETE?
SAMANTHA: "We really couldn't believe it after we put up the signs. We had worked so long and hard on the project, and it was incredible to see the signs in the ground."
ALYSSA: "We were proud that our design came out looking good so it would catch people's eyes and we were very glad to be done. It was a lot of work and a long process [especially] during a pandemic."
Q: ULTIMATELY, WHAT MESSAGE DO YOU HOPE THE SIGNS WILL SEND?
SAMANTHA: "An accident can happen in an instant. Head injuries or drowning can usually be avoided by wearing a helmet or life vest. It's sad that people are seriously injured or die because they just got too comfortable and think it won't happen to them. Even strong swimmers can drown. Even good bike riders can crash. Please protect yourself."