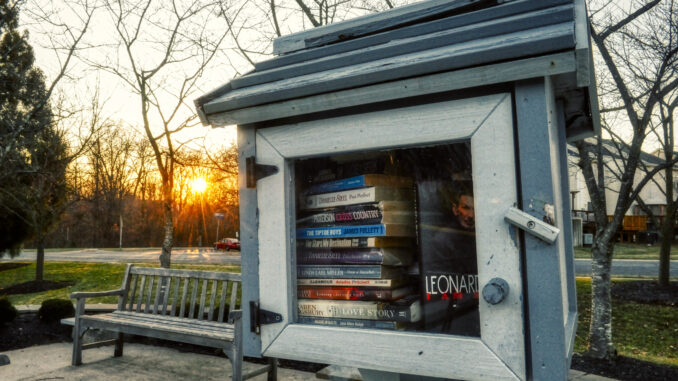 TAKE A BOOK, SHARE A BOOK
By Jill Devine
Maureen Cura remembers exactly when and where she was the first time she saw a Little Free Library. It was 2016 and she was attending the National Book Festival in Washington when she spotted a dollhouse-sized wooden box built with the sole purpose of sharing books and spreading a love of reading.
"I thought it was a fabulous idea," said Cura, who knows a thing or two about books. She's the school librarian at Sanders Corner Elementary in Ashburn Farm. 
You've probably spotted one of these charming book cupboards sitting atop wooden posts yourself – there are 12 officially registered Little Free Libraries in the immediate Ashburn area, and dozens more in neighboring communities. Tucked along paths and near parks and community buildings, each box is as unique as the person who created it, but all embrace the slogan – "Take a Book. Share a Book." 
Founded in 2012, Little Free Library is a Wisconsin-based nonprofit devoted to building community, inspiring readers and expanding book access. It has a professional staff of a dozen or so employees plus a worldwide network of more than 130,000 volunteers.
Individuals who put these little libraries in their community are called stewards. Through its website, the organization guides the stewards through the process of building or purchasing a library and registering it for inclusion on the online map. 
Although each little library is unique, collectively they form the largest book-sharing network in the world, with at least 138,000 registered libraries covering all seven continents, 112 countries and every U.S. state. The organization estimates that more than 250 million books have been shared through its registered libraries. There's even a Little Free Library at the South Pole, inside the National Science Foundation's Atmospheric Research Observatory in Antarctica, which helps scientific staffers better cope with the long, dark winters.  
On a recent winter afternoon, Andreas Schmidt and Devin Chicas were standing in front of Belmont Station Elementary as the dismissal bell rang. They were waiting for his two sons, ages 7 and 9, in a grassy area near the sidewalk. Next to them was a recently installed Little Free Library, brimming with titles from kids' series such as "The Hardy Boys," "Dr. Seuss" and "Arthur." 
"This is great," Chicas said. "Kids go through books so quickly, and they don't need to keep them as they progress. This lets others have a chance to read them when done, and it's so convenient having it near where the kids walk to and from school." 
Cura, the Sanders Corner librarian, was smitten with the idea of a little library and knew it could benefit her students and the surrounding community. She used funds from the school's used-book fair to buy an unfinished Amish-built library from the Little Free Libraries website store. The site offers plans and instructions for constructing a library from scratch, ready-to-build kits and even fully finished units that just need to be installed. 
The Sanders Corner Library was installed in a space memorializing former principal Kathleen Hwang, who died in an accident in 2012. 
"Kathleen was an advocate for reading," Cura said. "She had a program where students could come to her office, pick a book off the shelf, read it with her and then take it home."
Cura says the Sanders Corner library is constantly used. "It makes me smile to see parents or kids stopping to check out what's inside," she said. "It especially made a difference during the pandemic where – at any time of day – kids could get a book when the [public] libraries were closed."  
Nearby, Ashburn Farm resident Paul Nagele said he was inspired to build the little library in front of his house on Wintergrove Drive after noticing other free libraries in the community. 
"So many people walk this sidewalk every day, especially high school students, so I knew it would get a lot of exposure," Nagele said. He installed the library, with HOA approval, in 2020 and said the neighborhood response has been great, with a constant turnover of books. 
"I wish I had bought the larger box, with two shelves, because we have books in front of books," Nagele said. "We have a good range of titles from preschool board books to adult business books and even some DVDs. I never remove a book, unless it's damaged, because if someone thought enough of the book to leave it here, it's worth sharing."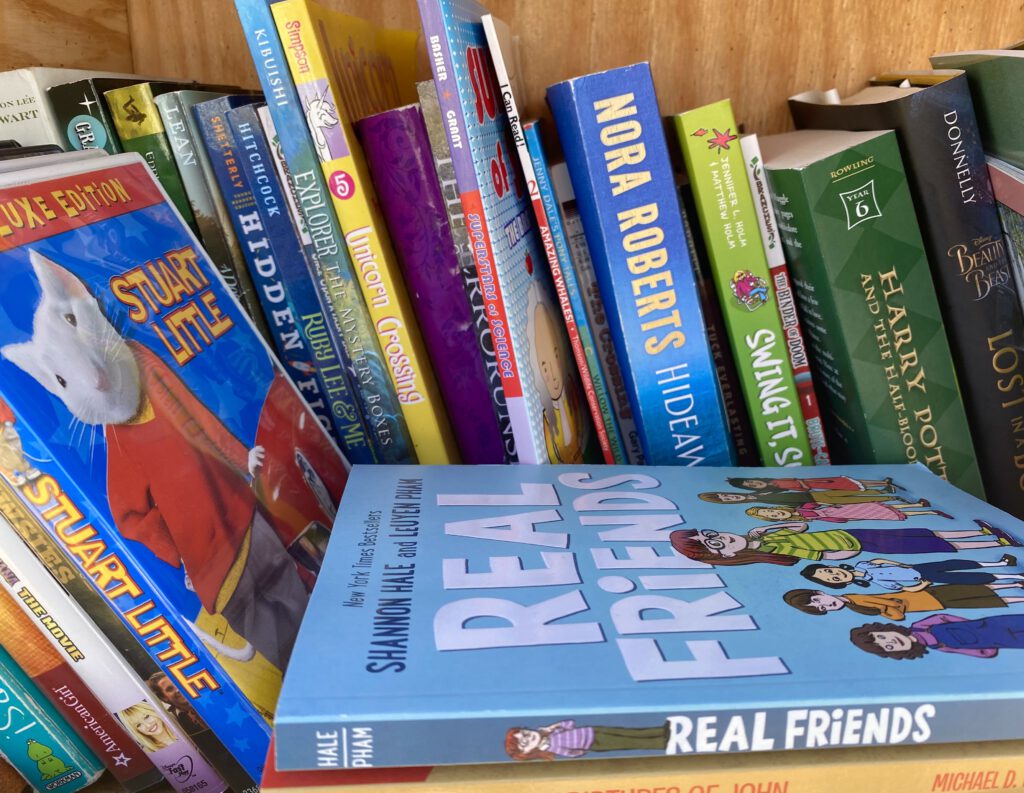 Anyone who builds or installs a miniature neighborhood library is encouraged to register it with the Little Free Libraries organization. This gets the library placed on the organization's map, and stewards are informed about opportunities to receive free books as well as literacy programs to help underserved communities. 
"We would love all Little Free Libraries to be registered, but anyone who puts up a generic community book-sharing box is still doing a good thing," said Margret Aldrich, the organization's director of communications.
Back in 2015, Megan Helge installed a little library near the leasing office at the Acclaim at Ashburn apartments in response to a school assignment.
"During fifth grade at Cedar Lane [Elementary], we had a project called, 'Yo, There's a Problem, and I'll Solve It,' so I decided to help kids who didn't have their own books or easy access to books," said Megan, now a 16-year-old junior at Stone Bridge High School. After receiving approval from management, and with help from her father, Wayne Helge, she built the library from scratch and then registered it with Little Free Libraries. 
"The grass around the library is always matted down, so it definitely gets a lot of use," Megan said. "It's fun to see that the community is still sharing and benefitting from this one little thing I did." 
That sense of sharing a good book and having new titles at your fingertips makes the Little Free Library movement so successful, said Aldrich. 
"Little Free Libraries are irresistible," she added. "It's like opening a present, and you never know what you'll find inside." 
Jill Devine is a freelance writer and former magazine editor from Loudoun County who writes for a variety of Virginia publications.