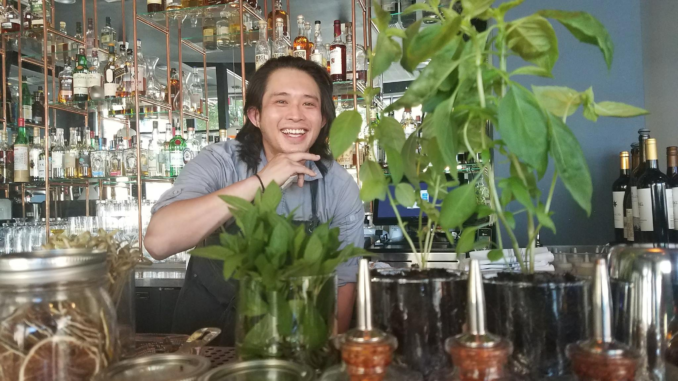 SECRETS OF ASHBURN'S FAVORITE BARTENDER
By Chris Wadsworth
From Sam and Woody at "Cheers" to Isaac on "The Love Boat" to Lloyd at the Overlook Hotel in "The Shining" — everyone has a favorite bartender. And Ashburn has a favorite, too. Phil Duong of Ahso Restaurant in Brambleton was voted Best Bartender in Ashburn Magazine's Best of Ashburn 2021 survey.
The 39-year-old is a Loudoun native and Brambleton resident. He started at the Sweetwater Tavern in Sterling and later became a mainstay at the iconic Mokomandy. Then Duong's old friend from grade school, Jason Maddens, called and said he was opening Ahso and wanted his help. Duong has been with the restaurant since Day 1.
They say that a good bartender listens to his or her customers, gives sage advice when warranted and never reveals the secrets and confessions they hear. So that's why we had to do some serious arm-twisting to persuade Duong to share a few secrets he's accumulated in his nearly two decades of bartending.
WHAT'S YOUR SIGNATURE DRINK?
"My favorite drink to drink would be a nice, aged scotch on the rocks. My favorite drink to make — that's hard to say. I like to tailor my cocktails to the guests, so when they ask me to make them 'whatever I suggest,' I have a certain couple of questions that I ask them. I 100 percent  enjoy the challenge and creativity."
ONE DRINK YOU WISH NO ONE WOULD EVER ORDER AGAIN
"A Long Island Iced Tea. Anyone who orders a Long Island Iced Tea is probably underage and has probably never been to a craft bar. When we were drinking underage at bars, that was our go-to drink , so it's always had that aura around it for me."
BEST HANGOVER CURE (BESIDES NOT DRINKING AT ALL)
"My personal one is a smoothie from Tropical Smoothie Cafe and pho from Super Pho, a pho place in Herndon. The pho helps you sweat out all the toxins, and the smoothie adds nutrition back into your body."
ONE THING YOU WISH EVERY CUSTOMER KNEW
"That everyone that is in the hospitality business is here for you; we're here to make you happy. That's the nice answer, a political answer. What I really want everyone to know is that making cocktails is really easy. My main job is to romanticize the food and drink so that when you come out to a restaurant, you have an actual memorable experience. We're like a personal commercial behind the bar."
MOST MEMORABLE NIGHT BEHIND THE BAR
"It was New Year's Eve 2006. I was the new guy at an unnamed bar in Arlington. The place had just built a 'back-bar,' essentially a six-seat full bar in the back of the restaurant.  The other 'veteran bartenders' at the place would never allow themselves to be put in the back bar, so that's where I was scheduled. At the last second, [someone] decided to make the rear entrance of the restaurant — accessible through the lobby of a hotel — the entrance point for the evening — which was right next to the back bar. As a result, all incoming guests stopped at my bar first, ordered their first drink and dropped a large tip on the bar so that I would 'take care of them' for the evening. By the time they got to the main bar, they were already set up with a drink and had given up their biggest tip of the night. I made bank, and the 'veteran bartenders' were furious. Everyone also wanted to do a shot with the first bartender they saw [me], and I ended up falling asleep in the cab on the way home, with pockets full of cash."
WILDEST CONFESSION A CUSTOMER HAS SHARED
"What happens at the bar, stays at the bar." (Editor's note: Booo!)