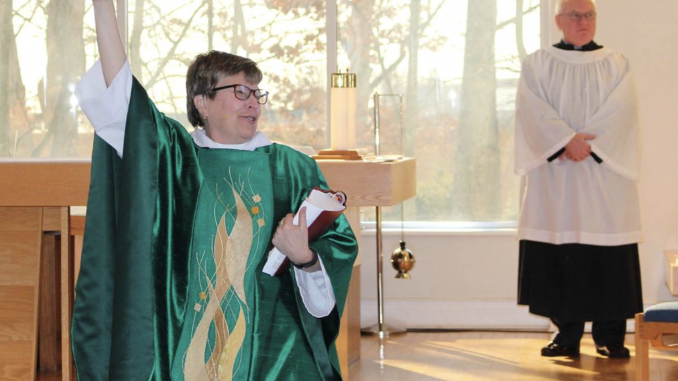 By Chris Wadsworth
At first blush, Mary Kay Brown seems quiet and soft-spoken, friendly but with a serious streak.
And then you hear her laugh. She has an easy laugh that exudes warmth and joy — and immediately puts those around her at ease. All good qualities considering that Brown, 60, is an Episcopal priest and has been the rector at St. David's Episcopal Church in Ashburn for 10 years.
Originally from the Pittsburgh area, Brown and her husband, Mark Boyer, moved to Ashburn in 2002, where they raised their two children. Today, they live in the Regency neighborhood off Waxpool Road. Ashburn Magazine sat down with Brown to ask her questions both divine and earthbound. Here is some of our conversation.
ASHBURN MAGAZINE: I HEARD YOU LIKE TO LEARN NEW THINGS. WHAT'S SOMETHING NEW YOU LEARNED THIS WEEK?
REV. BROWN: Now that's a hard question begin with … I'm getting ready to go on sabbatical and I'm going to be in Jerusalem and travel to Jordan and Egypt and Turkey. So, I'm learning a lot about geography and the history of Jerusalem right now.
WHERE DO YOU FIND GOD IN ASHBURN? WHERE DO YOU SEE HIS OR HER PRESENCE?
Certainly, I find God here at St. David's, but it's something that we really need to work at because you can find God everywhere. Not only in worship, but when I see people helping each other out. I see God in people. And sometimes I see God sitting on my back porch and watching the birds come to the feeder — those little moments.
YOU'VE DONE A LOT OF WORK WITH HOSPICE PATIENTS? WHAT DO YOU TELL PEOPLE WHO FEAR DEATH?
I tell people it's a completely normal and human thing because we all fear the unknown. Usually I do a whole lot more listening than talking because people want to tell their story. The questions we talk about in hospice are — at their heart — spiritual questions. Who am I? Where have I been and where am I going and what does it mean?
WHEN YOU'RE NOT WEARING YOUR MINISTERIAL HAT, WHAT DO YOU DO FOR FUN AROUND ASHBURN? ARE PRIESTS ALLOWED TO HAVE FUN?
Of course! God wants us to be joyful. I like to take long walks. I read a lot. I have a dog that I love to spend time with. Friends, movies, eating. Crossword puzzles.
WHAT'S THE BIGGEST MISCONCEPTION ABOUT BEING A PRIEST?
That we can't laugh. We are human beings like everybody else. We are really walking on the journey together. Maybe that's the biggest thing — that somehow I know more about how to be holy than anybody else, and really we are all just learning and growing together.
YOU LIVED IN ALASKA FOR A TIME — WHAT WAS THAT LIKE? LOTS OF MOOSE ATTACKS, I IMAGINE.
No attacks! I was there for 11 years and I loved every minute. It was beautiful. Talk about where I find God. It resonated with me at such a deep level. It's such a grand scale with the mountains and the oceans. The people are warm and engaging and there's something about living on the frontier — you see a very independent streak in people.
WHERE DID YOU GO ON YOUR LAST VACATION?
Italy. We were in Rome and the Cinque Terre. Lovely.
WHAT IS ONE SECRET ABOUT YOU THAT NONE OF YOUR PARISHIONERS KNOW?
Why would I tell you that? (laughs) I play the piano. Nobody knows that. I learned when I was 7. Over the years, I've studied as an adult and it feeds my soul.
WHAT TYPE OF MUSIC DO YOU LISTEN TO? HEAVY METAL?
I like all kinds of music and I don't want to get into trouble with anybody who likes country music, but that is my least favorite. I'm very eclectic, but country is not my thing.
YOU'RE FROM OUTSIDE PITTSBURGH, BUT YOU LIVE IN REDSKINS TERRITORY. HOW DO YOU RECONCILE THOSE TWO ALLEGIANCES?
Whichever team is winning. That keeps me out of trouble.
DESPITE PRIDE GOING BEFORE A FALL, WHAT ARE YOU MOST PROUD OF?
That's tough. I think about my children; I think about relationships. There's a whole thing about ministry — it's not about me. It's about the work that I've done overall that has been very meaningful. I wouldn't say I'm proud of it — it's been deeply meaningful to me and I feel like it's made a difference.
PRIESTS ARE NOT USED TO TALKING ABOUT THEMSELVES. THERE WERE A LOT OF LONG PAUSES ANSWERING THESE QUESTIONS. HAS THIS INTERVIEW BEEN HARD FOR YOU?
I am used to asking the questions rather than being asked. It's good to have this kind of reflection.
=====
LIGHTNING ROUND
Favorite Color: Purple
Favorite Food: Italian
Go-To Local Restaurant: Manhattan Pizza
Favorite Movie: Titanic
Favorite TV Show: The Marvelous Mrs. Maisel
Favorite Animal: Dog
Favorite Song: Billy Joel's "The Longest Time"
Besides the Bible, Favorite Book: "To Kill a Mockingbird"
Favorite Book from the Bible: Luke
Favorite Holiday: Easter
Favorite Destination for a Day Trip: Hiking at Bear's Den (near Bluemont)