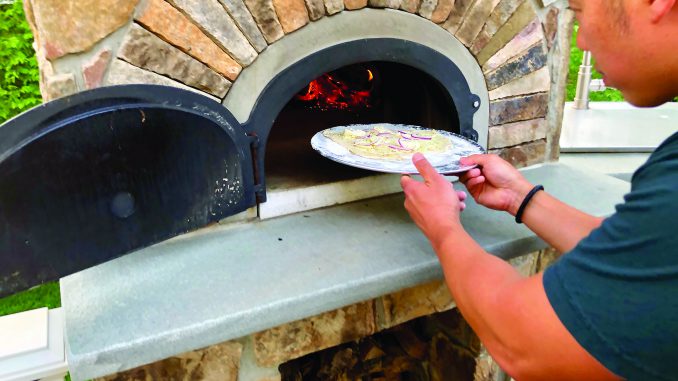 By Chris Wadsworth
Asking Jayson Jean to name his favorite pizza is a bit like trying to hit a moving target. He stops and thinks. Then, with a faraway look in his eye, he mentions red sauce and banana peppers, sausage and mushrooms before he settles on his choice.
"Recently, I've been loving the white pizza," he says. "Mozzarella, this really nice pizza oil with herbs, ricotta cheese and some thinly sliced red onions. As the pizza comes out of the oven, we put some fresh arugula on it."
To say that Jean and his wife, Christy, like pizza would be a bit of an understatement. Back in 2017, the Brambleton couple had a pizza oven installed on their back deck as part of an outdoor kitchen project. They say it's been a wonderful addition — using it several times a month, even during winter.
"Having people over to eat is a big part of our lives," Christy Jean said. "We liked the hands-on aspect of it — that we could all gather in the kitchen with the kids and make something."
Statistics on home pizza ovens are hard to find, but there's no question people are making more pizzas at home. A 2015 study from Consumer Reports showed a significant increase in the amount Americans were spending on make-your-own-pizza products. And the same report said more manufacturers were selling pizza ovens.
"If you are a true foodie, an entire evening can be spent around an oven, creating an authentic cooking experience for family and friends," said Ted Tidmore, owner of Holloway Co., a Sterling-based designer and builder of outdoor living spaces. "This takes entertaining to the next level."
Tidmore and his team built the outdoor kitchen, including the pizza oven, for the Jean family. They used an oven produced by the Chicago Brick Oven company and encased it in a stone masonry frame and chimney. It's the centerpiece of the home's wrap-around deck.
So, is a home pizza oven a good investment for your family?
Tidmore says there are a number of considerations. Do you have the space and what is your budget? Do you want an authentic wood-burning oven that takes a little more time and work, or a gas oven that heats up faster and easier?
Perhaps most importantly — are you sure you are really going to use it regularly? It's a lesson Melanie Dixon learned the hard way. She and her family installed an outdoor pizza oven as part of a full patio build-out in 2013.
"We used the oven a lot the first several weeks. It was fun for the fall, and the kids enjoyed a few small pizza parties with friends," said Dixon, who lives in Ashburn's Belmont Greene neighborhood. "Once we finally perfected the crust and the cooking time, however, everyone lost interest. I can't remember if we've used it since … those were the most expensive pizzas we've ever enjoyed."
If you're not sure how your family will take to the novelty of home pizza making, there are always less expensive options like countertop pizza ovens. Those can be anywhere from a few hundred dollars to a few thousand dollars. Higher grade ovens with masonry surrounds and a chimney are naturally more expensive — roughly in the $9,000 to $12,000 range.
For the Jean family, there's no doubt — the investment was worth it.
"I always make my own pizza," 8-year-old Holden Jean said proudly. "I really like cheese and salami because I don't like the spicy taste of pepperoni."
For Holden's dad, his one piece of advice for other Ashburn homeowners considering a home pizza oven — even if it costs a little more, get it the way you want it the first time.
"Don't cut corners," he said. "You're never going to regret spending the extra money because once it's done, you're probably not going to redo it."