Primetime for Pickleball
By Jill Devine
When retired IBM executive Dave Bauer moved from his long-time Fairfax City home to Ashburn's Ashby Ponds in December 2016, he wanted to stay active and make friends. An invitation from another resident to play pickleball, a sport that combines elements of tennis, ping pong and badminton, delivered more friends, fun and fitness than he ever expected.
"Pickleball helped me meet people with similar interests here," Bauer said. "It's a good [activity] for all ages."
If you haven't tried pickleball yet, take a number and get in line. According to the Sports and Fitness Industry Association, pickleball is one of the fastest growing sports in America, with more than 3.3 million players nationwide. The game, played on a badminton-size court using lightweight paddles and plastic hollow balls, was once considered primarily for older adults, but it has recently skyrocketed in popularity with younger players as well.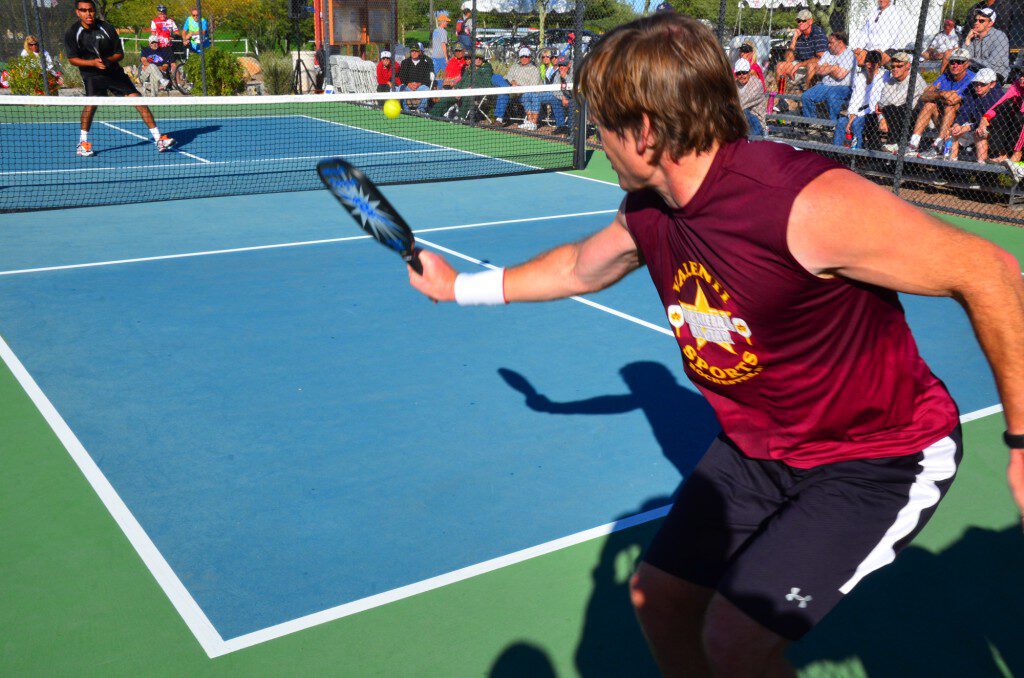 "Interest in pickleball has been unprecedented in recent years," said Justin Maloof. He's the executive director for USA Pickleball, a national governing body for the sport that is working toward getting pickleball recognized as an Olympic sport. The organization has seen its membership double since 2017 to roughly 40,000 players.
Pickleball was invented in 1965 by three friends — Joel Pritchard, Bill Bell and Barney McCallum — on Bainbridge Island, off the coast of Seattle. While on vacation, the men sawed off some wooden paddles and sent their kids to a badminton court with old wiffle balls to keep them busy.
When the kids didn't return because they were too busy playing, the adults went to find them and got caught up in the game as well. The group made up rules as they went along. Not long after, they packaged and marketed the highly addictive game, with one of the founders claiming it was named after Pickles, the family dog that kept running away with the ball.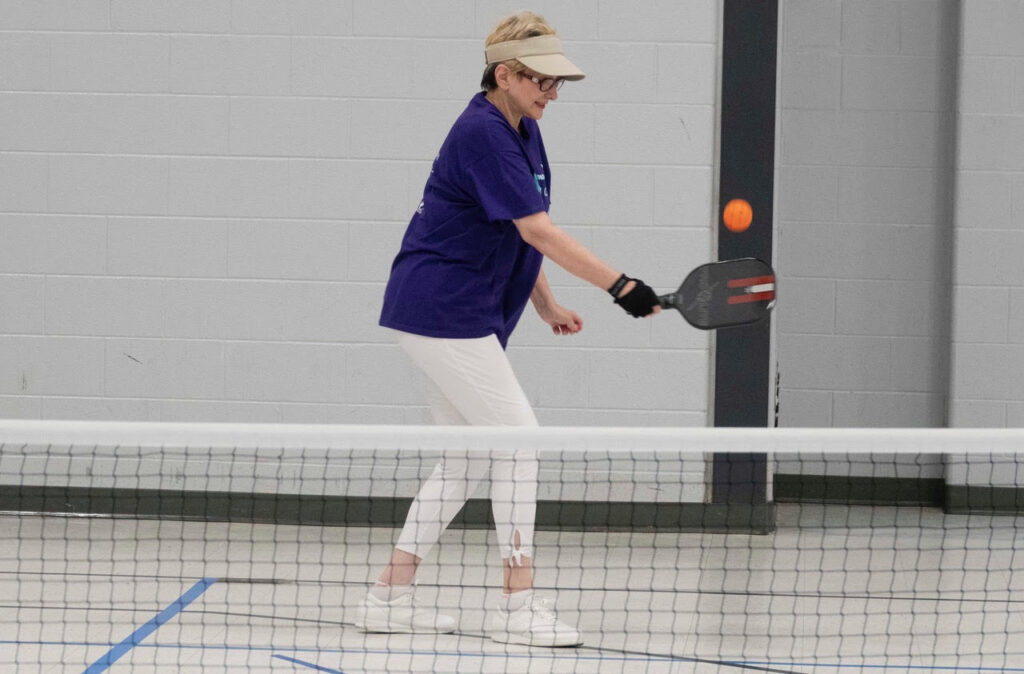 At Ashby Ponds, Bauer — who used to coach and teach tennis — made fast friends with fellow residents Lou Rodriguez, a retired school math teacher from New Jersey, and Roy Murphy, a former U.S. Navy officer and aerospace engineer. Now, the trio plays pickleball together every chance they have.
"The three of us are like-minded and have really melded," Rodriguez said.
The sport is becoming so popular among all age groups that last year, a new facility called Pickleballerz opened in Chantilly, just 20 minutes from Ashburn. The climate-controlled, indoor venue has six regulation-sized courts and offers clinics, special events and programs for kids. The owners say it's the only facility with indoor dedicated pickleball courts in the Mid-Atlantic. 
"Pickleball is the perfect pandemic pastime," said co-owner Greg Raelson. "Plus, it helps improve hand-eye coordination, gameplay strategy, spatial awareness and cardiovascular health."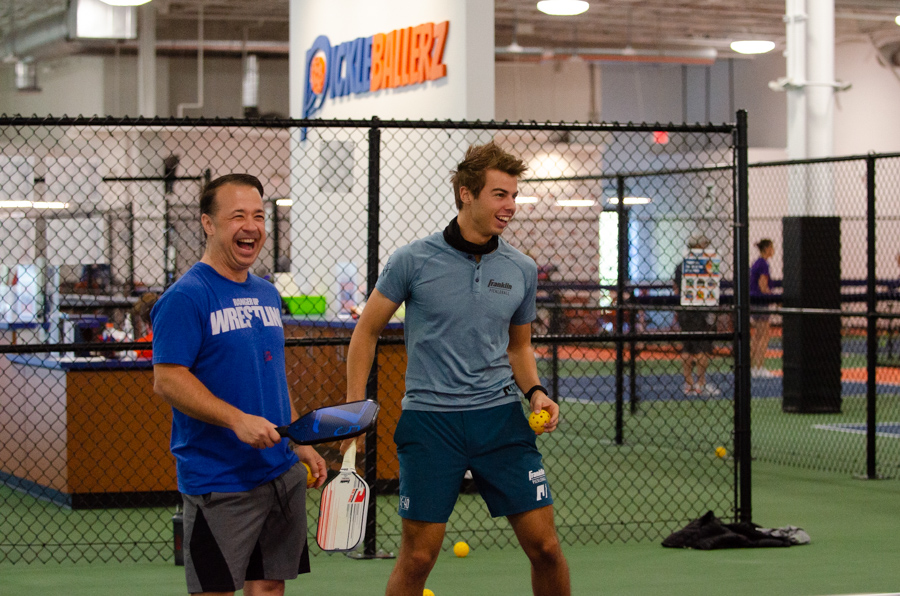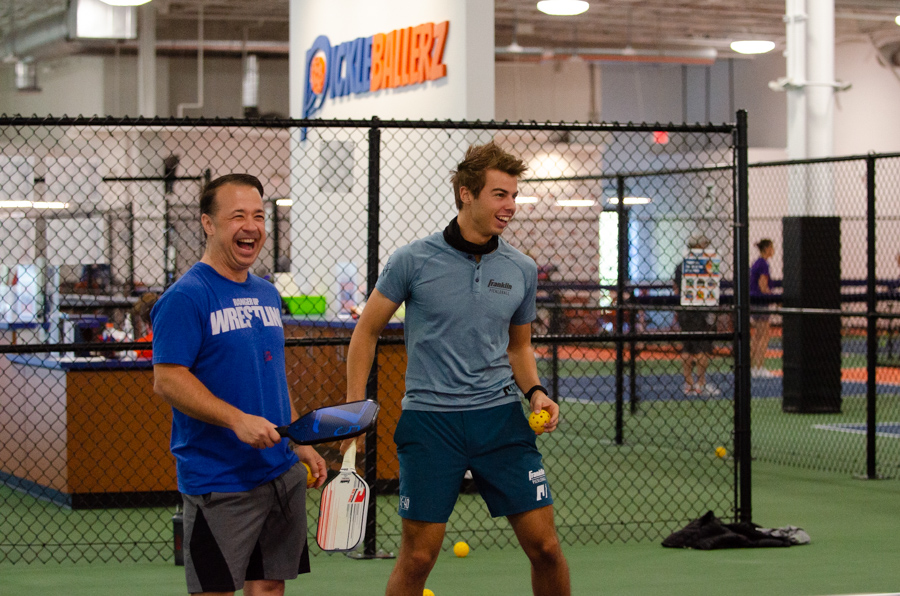 Bauer agrees, noting that pickleball has great aerobic benefits and is easier on the joints than tennis. It's also highly portable, with all the necessary equipment — including the net — fitting into a carry bag.
"It is easy for a pickleball beginner to advance to a playable level fairly quickly," he added. "The game delivers enough turns and moves that when you walk away … you might need a day to recover."
Around Ashburn, pickleball aficionados often play at community tennis courts that can be modified for pickleball. Meanwhile, the new 15,000-square-foot Ashburn Senior Center under construction on Marblehead Drive will have dedicated pickleball courts. It's on track to open this fall.
Back at Ashby Ponds, about 70 residents — pre-pandemic — played pickleball on a regular basis in a banquet room that had been turned into a narrow version of a pickleball court. The group even traveled to Maryland for a tournament. Residents look forward to playing on a new regulation-size pickleball court this spring, an amenity they petitioned for and helped design. 
"We told management that in order to play pickleball, we needed a real court, one better than we already had," Rodriguez said. 
To emphasize that point, the players put together a detailed PowerPoint presentation of what they wanted — with a Beatles tune with the lyrics "getting better all the time," playing in the background. With that kind of "go get 'em" attitude, opponents at their next pickleball tournament better be on their game.
Jill Devine is a Loudoun-based freelance writer. When not busy typing away on her latest story, you may find her and her husband, Paul, exploring Virginia's historic sites or pedaling on one of the area's many bike trails.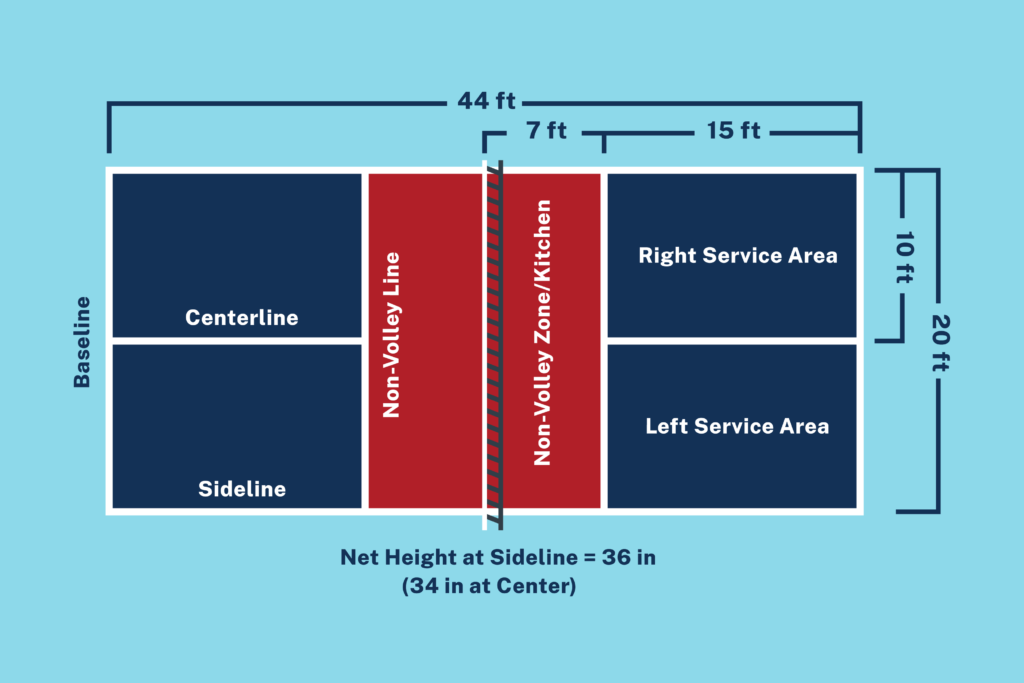 Pickleball — Basic Rules
Pickleball can be played as singles (two players), but doubles (four players) is most common.

Standing behind the baseline, a player serves the ball diagonally across the court, using an underarm stroke.

After the serve, the "two-bounce" rule requires each side to let the ball bounce once before returning before volley play (no bounces) is allowed.

Only the serving side can score a point, and play ends when one side commits a fault.

Players can enter the non-volley "kitchen" zone only to play a ball that bounces there.

The first side to score 11 points while leading by at least two points wins the game.

The USA Pickleball Association posts complete rules at

www.usapickleball.org

under "What is Pickleball?"