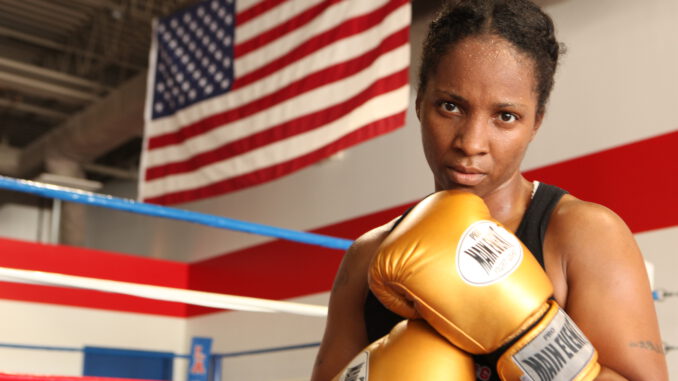 Sho-Nuff Nelson
By Jill Devine
Tori Nelson has the kind of hands you might expect of a 12-belt world champion boxer. Broad and thick, they are hands capable of knocking a person flat out — and she has done that 20 times, according to official fight records. On a chilly late fall day, however, those same hands were delicately cradling a cup of hot herbal tea as Nelson, 44, sat with Ashburn Magazine to talk about her life, her career and her plans. Here are portions of our conversation.
GROWING UP
"I grew up in South Hill, Virginia, playing rough with my brothers, and I loved any sport, especially basketball. My parents were divorced, and [my] mom worked as a counselor at the Halifax Correctional facility. She said she wanted a ballerina, but girly-girl stuff wasn't for me. I was a homecoming queen, I guess because everyone just knew me. My dad passed early. I met my husband, a truck driver from New Jersey. We ran a trucking business, but I didn't want to live in New Jersey. Virginia seemed a good place to come. We read about Ashburn schools and decided that's where we would bring up the kids [Simone and QuaMarque]."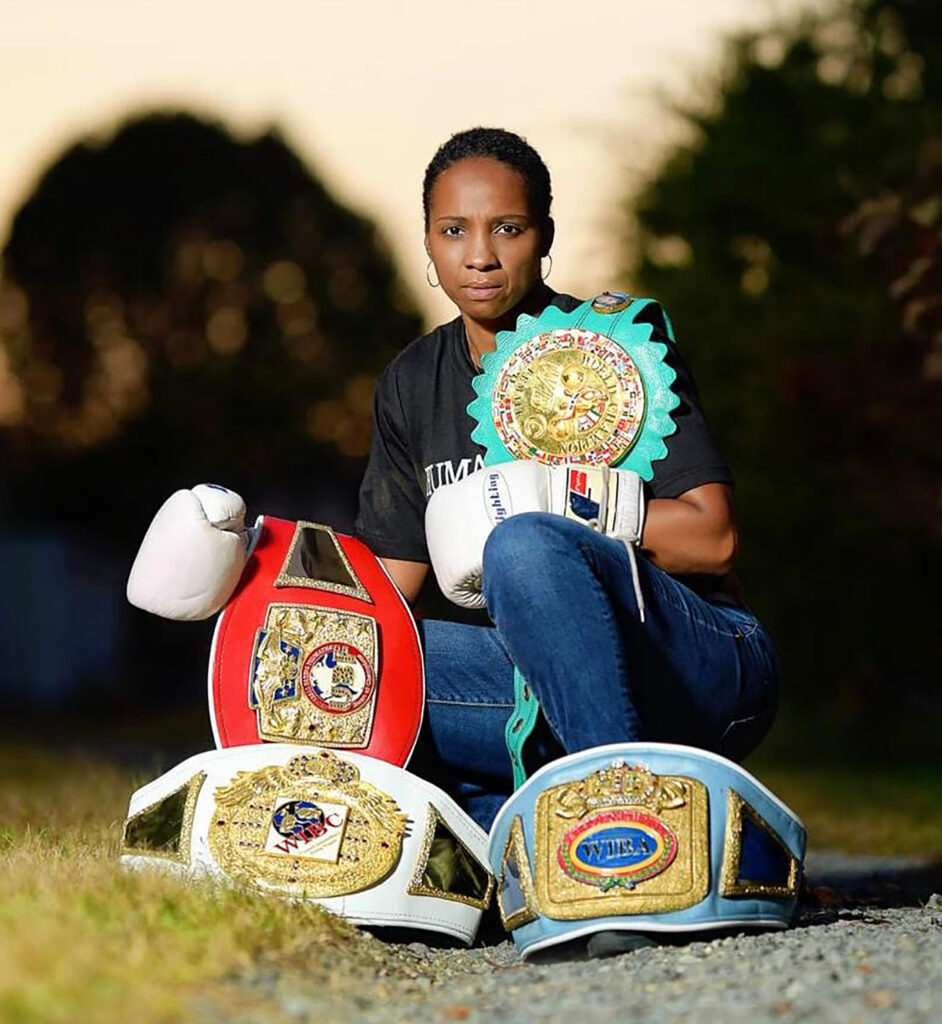 Nelson didn't learn to box until the ripe old age of 29. She has lived in Ashburn for nearly two decades, most recently in Brambleton. Over the years, both before and during her boxing career, her capable hands managed many other responsibilities: diapering and caring for her two babies, answering telephones at Sunrise Senior Living, running an adding machine at Brown's Sterling Nissan, driving a Loudoun County Public Schools bus, preparing lunches for Loudoun public school students, and — most famously — waiting tables at the IHOP on Pipeline Plaza. She even went through training to become a Virginia State Police trooper before deciding that wasn't the path for her. Nelson slipped her hands into boxing gloves for the first time at a gym in Ashburn in 2007, launching a 12-year adventure.
TOUGH LIKE TEFLON
"I get my drive from my mom. Like her, I'll do anything for my children. Something happens when I enter the ring — I'm a slugger. I stay in close and throw hard punches the whole time. I don't care for distance. I respect the other fighter, but I trained to win. Injuries are part of it. The first time I fought Rachel Clark in 2010, she punched my face hard and cracked my two front teeth. [My coach] Craig took me to the corner and took out my mouthguard and pulled out the broken chips. He wiped the mouthguard off, put it back in my mouth, and asked me what I intended to do about those teeth. I won that fight, and I fought with Clark again in 2011. I won that fight, too, and that time turned her ribs purple. I had to, because she had chipped my teeth."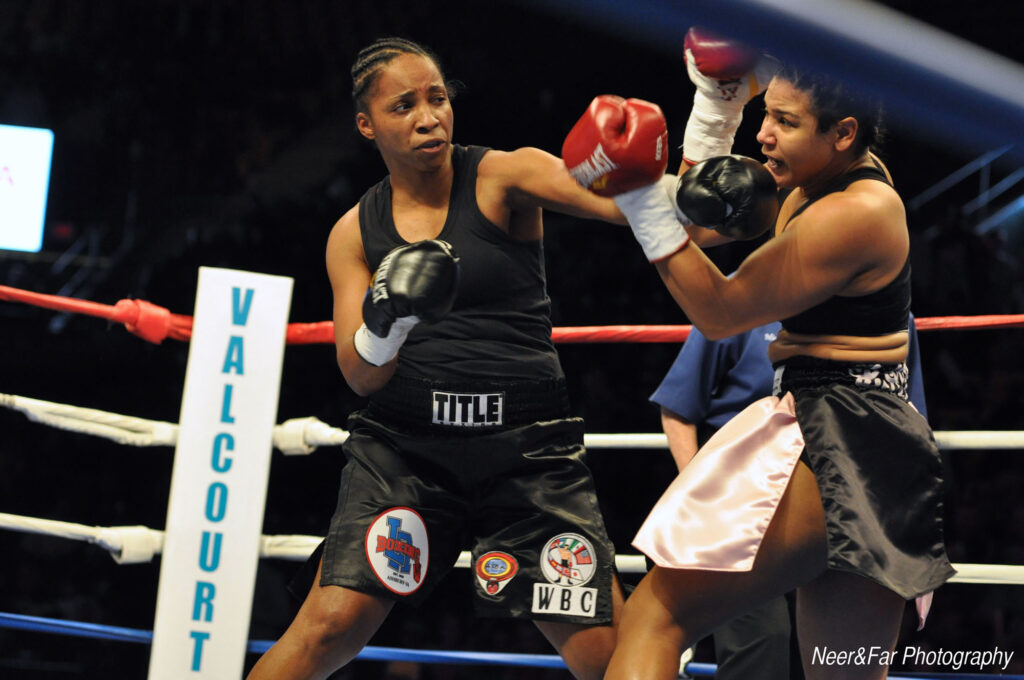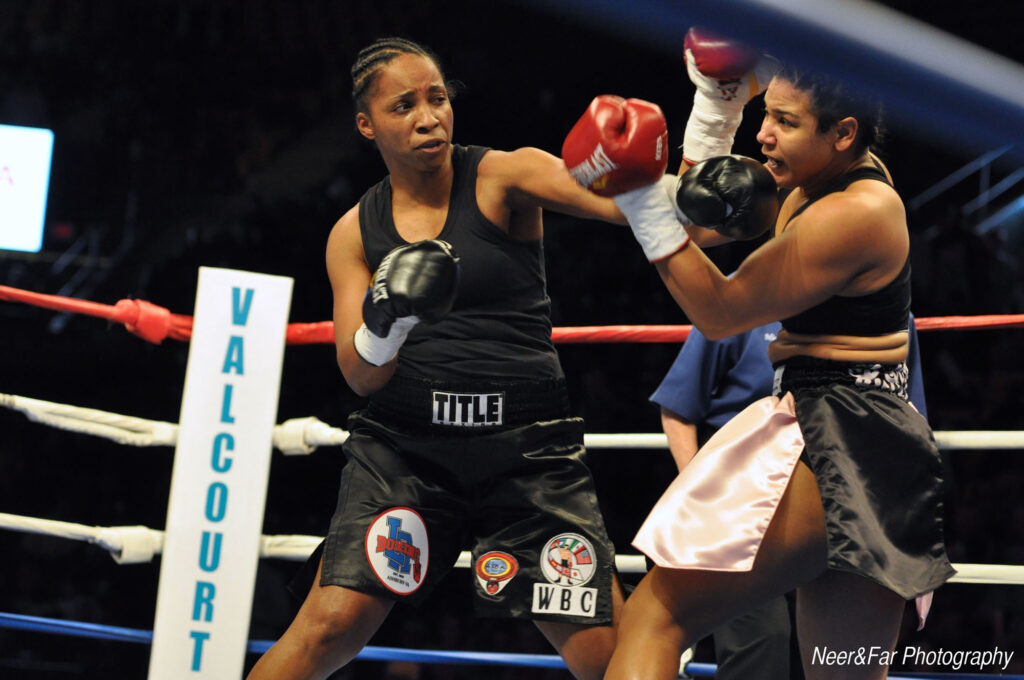 Nelson credits her success to the friends and family in her life. From Miss Alice who babysat her children when they were little to other boxers who helped the kids with homework while Nelson trained. And there was Craig Fladager, her first coach and trainer, who showed her the ropes of the boxing world and covered many of her career's expenses. Fladager also gave her the iconic nickname "Sho-Nuff" — from an old martial arts movie that became famous in the world of boxing. But most of all Nelson credits her deep faith.
FAITH FIRST
"I want to please God. I was raised that way — in a Baptist Church, and it's how I raised my own kids. My grandma used to tell us kids, 'You can stay out as long as you like on Saturday, but when this car cranks up on Sunday morning you better be in it.' I always pray the night before a fight that all the fighters stay safe, that everyone goes home with their families healthy. My whole team will pray — touching is important, holding hands — before every fight, not just for me, but for my opponent, and that if someone gets hurt that they recover. My Bible always comes with me. After a fight, I wash my clothes and put them away with my Bible on top — to keep my clothes blessed until the next fight."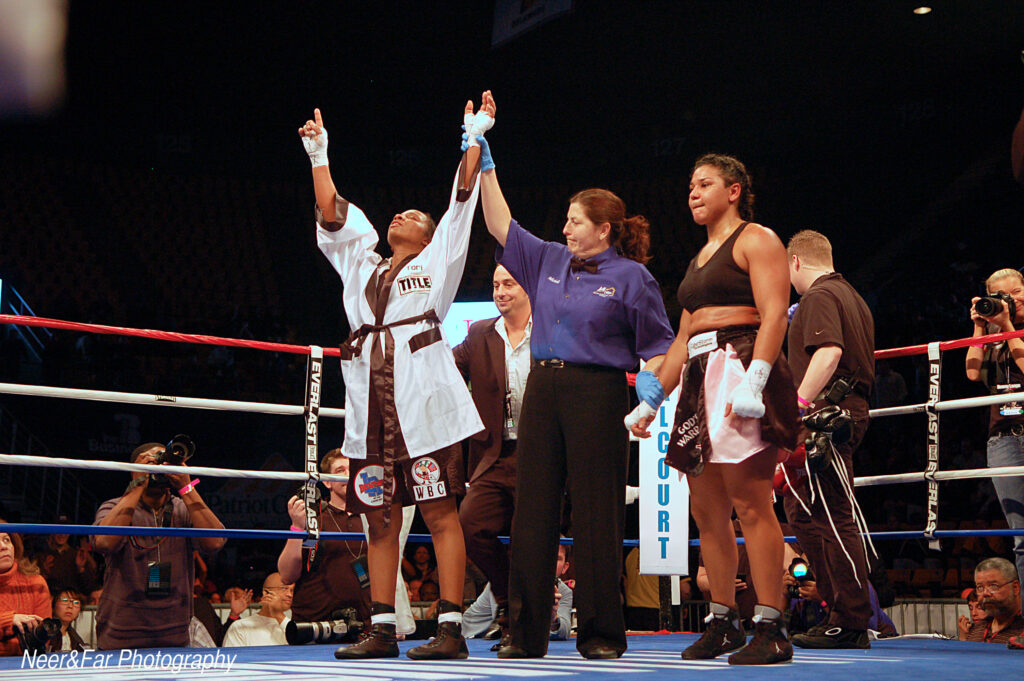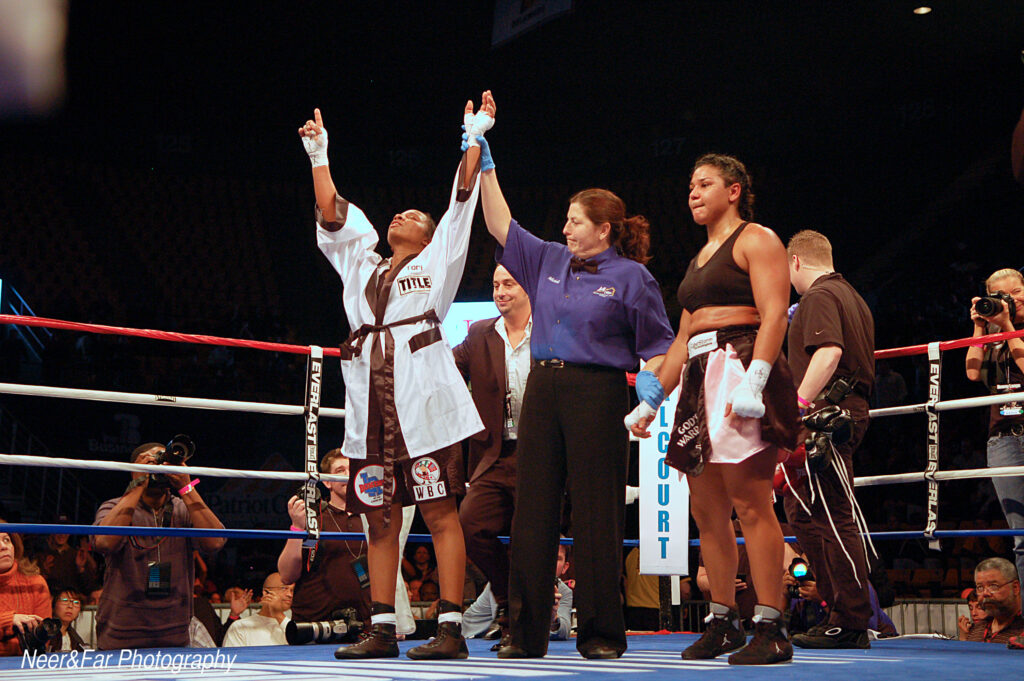 She punched and pounded her way through 25 official bouts under the banner of various boxing organizations, ranking as high as the No. 1 female boxer in the United States and No. 2 in the world in certain weight categories. Her resume includes 12 world titles, including Women's International Boxing Association (WIBA) world champion at four different weight classes; the World Boxing Council (WBC) world champion; and the Universal Boxing Federation (UBF) world champion. With only two losses and three draws on her remarkable record, Nelson exited boxing as a winner after beating Latasha Burton on Sept. 14, 2019, at Dulles SportsPlex in Sterling.
RETIREMENT
"I dedicated my last fight to my grandma who had recently passed. My family came — mom, brothers, aunts, uncles, cousins, kids. It was an easy win — I knocked her cold. Then the family jumped in and we put all my [title] belts inside the ring and took photos. It was great — and I knew in my heart it was the right time to go. I still train, and I help other boxers train, but no more fights for me. I was alone in my living room one day when I got a phone call from Hollywood saying producers were interested in my story. I was overwhelmed — and then I got a call from [Oscar-winning actress] Octavia Spencer herself. Her production company gave me a contract for rights to my story, and I've signed it. They want to make a movie, and we've even talked about casting. COVID pushed everything back, so I'm waiting to hear what the plans are."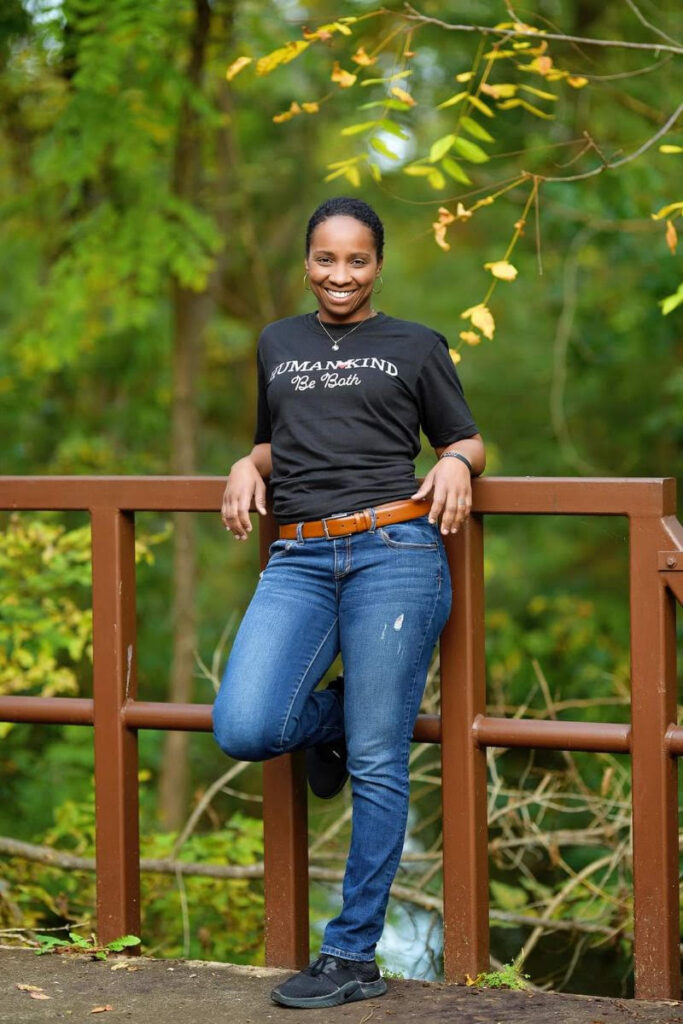 Nelson says her time in Ashburn may be winding down. Plans are afoot to move somewhere warmer with her fiancé of seven years. She looks forward to slowing down, training for fun rather than battle and seeing where this next phase in life takes her. But she will never forget a 12-year-long adventure that started in a tiny Ashburn boxing studio.
"Every minute of every day, it's been non-stop," said Nelson as she set down her teacup. "But I did it with the help of my God, my family and friends."
Jill Devine is a Loudoun-based freelance writer. When not busy typing away on her latest story, you may find her and her husband, Paul, exploring Virginia's historic sites or pedaling on one of the area's many bike trails.
(Image at top: Jeff Riegel)