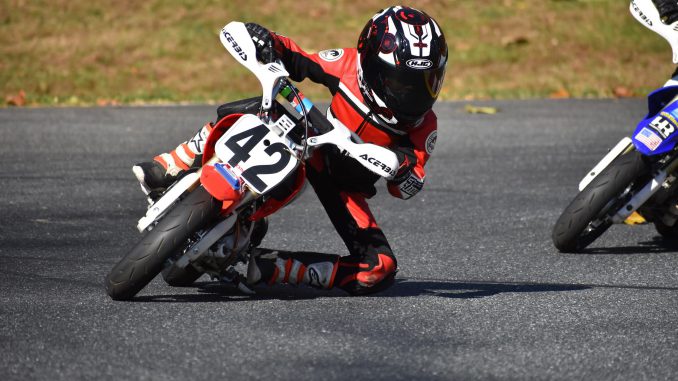 By Chris Wadsworth
8-year-old Sacha Agam had a perfectly good reason for wearing a boot covered in a piece of old carpet.
"We were at a flat track, but it wasn't dirt. It was hard, indoor concrete," he said. "My foot couldn't slide — our boots are rubber — so we added carpet so we could slide."
Making sure your foot can slide is important when you're taking corners at 45 mph in a motorcycle race. And Sacha — a third-grader at Discovery Elementary in Ashburn — is an amateur motorcycle racer who is coming off one heck of a season.
2019 was Sacha's first full race season. Weekend after weekend, he traveled to racetracks in Maryland, Delaware and New Jersey to compete in both mini moto races (paved tracks) and flat track races (dirt tracks).
How did he do? Let's just say he became well acquainted with the winner's podium.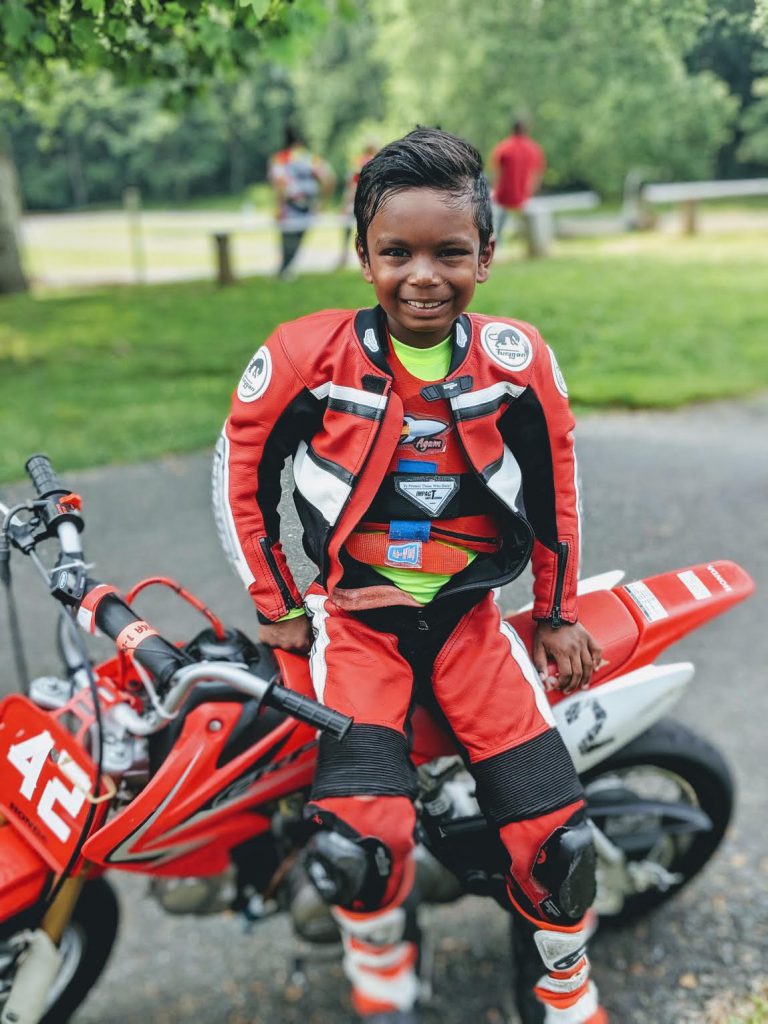 Out of 60 races in his age group, Sacha came in first an amazing 24 times. He got eight second places and seven thirds. That's 39 climbs up onto the podium in one season. 
So, he must be super talented?
"Talent is an interesting word," said Sacha's dad, Omesh Agam. "Since he's been winning a lot, people say he's really talented and I pause at that. They don't see the crashes and the blood on his face and the hurt knee. But he just wants to get back on the bike because he loves racing. It's some talent, but it's also a passion to just keep riding."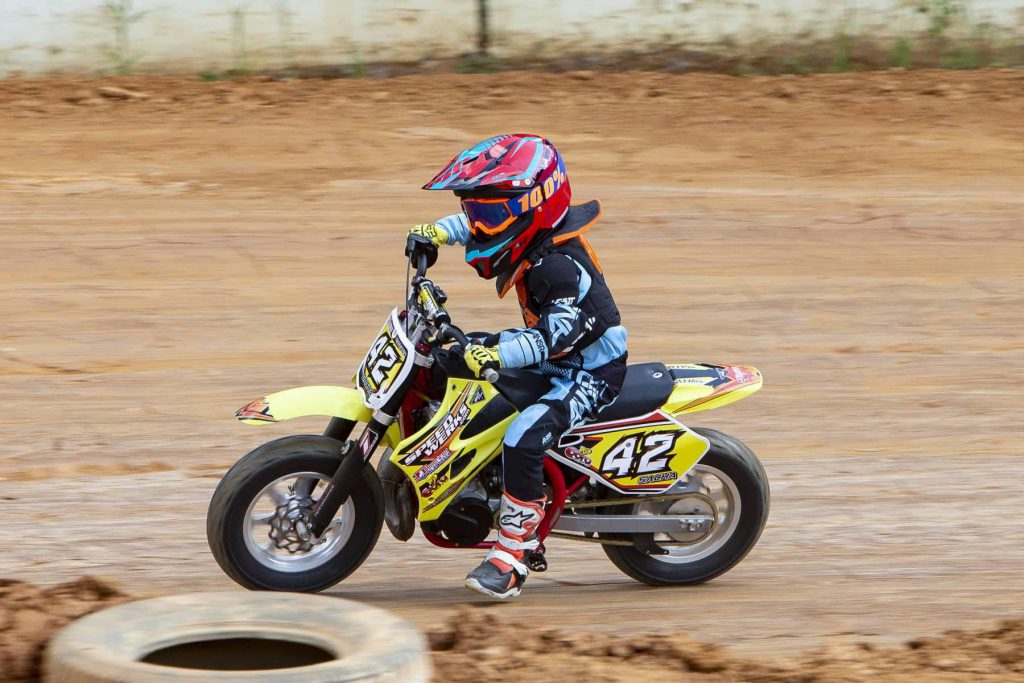 Omesh Agam has always liked motorcycles and he's ridden sports bikes on tracks before. But he's never raced. Still, Sacha and his little brother Julian, 6, have grown up watching dad tinker with motorcycles in the garage at their home in Ashburn's Farmwell Hunt neighborhood.
"I think both of them started riding a motorcycle before they rode a bicycle," Agam said with a laugh.
Sacha first got on a motorcycle — what's known as a "youth bike" due to its smaller size — at age 3 and after several years of letting him learn to ride in open fields around Loudoun County, his parents enrolled him in a three-day summer camp in New Jersey when he turned 6. That's the minimum age for kids on a paved track and that's where he got his first real taste of racing. He was hooked.
"I like going fast," Sacha said.
And what is he thinking about when he's zipping along at 40 mph or more? Is he nervous? Nope. This kid is in the zone. "I'm thinking what I'm going to do next, where the next turn is, looking far ahead."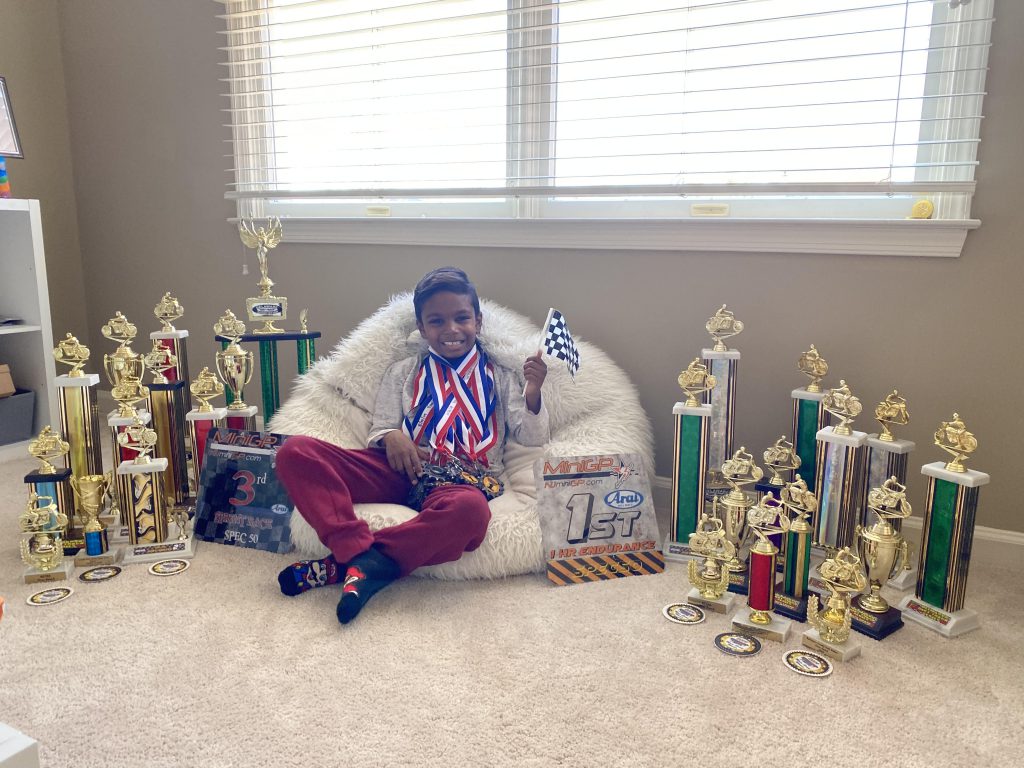 Robert Miller is the operator of the Sandy Hook Speedway in Street, Md., one of the regular stops for the Agams. He's been amazed by what he's seen in Sacha.
"Sacha is very quiet and reserved in the paddock area … he is watching everyone and listening to everything being said, which is a good sign for a racer," Miller said. "Because when he is on the track, he shows virtually no fear in chasing down other competitors."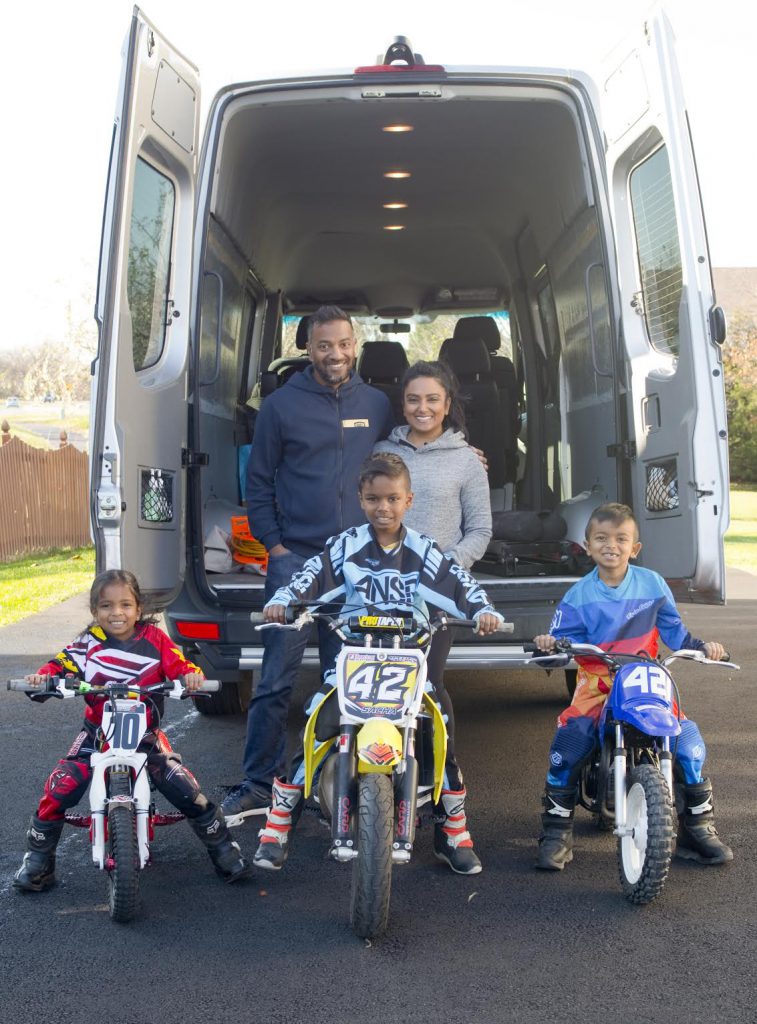 Today, the Agam family — which also includes mom Jennifer and little sister Mila, 4 — spends their weekends on the go. Sometimes the whole family loads up the car and heads off to Sacha's latest date with the checkered flag. Other times, they split up — with one taking Sacha to his race, while the other takes his siblings to soccer and other activities here in Ashburn.
2019 was a test season for the Agams — to see how Sacha really liked it and how he did. Now, looking ahead to 2020, the family feels they're going all in. They're already looking at races at tracks in South Carolina, Georgia, possibly even South Florida.
Now that brother Julian has turned 6, he has started riding a motorcycle, too, so big brother might have some competition soon. And don't count out little Mila. She's taken her first rides on a "bike" as well.
"She's grown up at the racetrack," Jen Agam said. "There are a lot of girl racers, and they have already started handing down their pink gear to her in hopes that she starts racing, too."
The world of racing has many dynasties  — your famous families — like the Andrettis, the Earnhardts and the Busches. And now, Ashburn has the Agams.