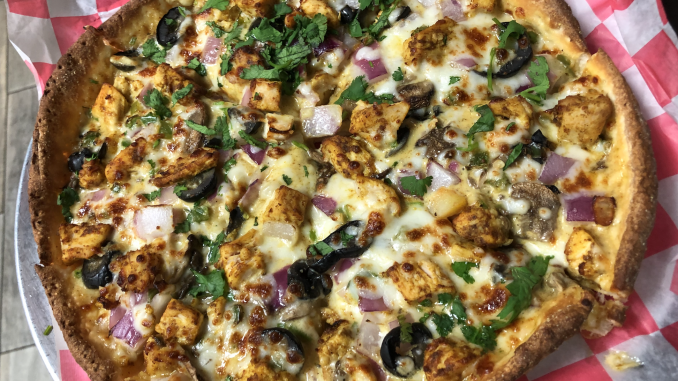 By Chris Wadsworth
Pizza may have its roots in Naples, Italy, but let's face it. It's as American as baseball and apple pie. And Ashburn is replete with pizza joints — from the national chains (Domino's, Papa John's, Ledo, MOD) to the locally grown brands (Manhattan, Paisano's, Rubino's, etc.) to the upscale (Matchbox).
But if pizza originally came from Italy and became an American standard, what happens when another culture decides to throw its flavors into the mix and make something both instantly recognizable and completely new?
We're talking about the new trend that's come to Ashburn — Indian pizza — as in pizza pies with toppings and seasonings from the cuisine of India and South Asia.
"They are becoming part of the culture now," said Suresh Sagadevan, who lives in Ashburn's Overland Park neighborhood. He's originally from Tamil Nadu, a state in southern India, and he says he sees Indian flavors mixing with American flavors both in India and here in Ashburn. 
"We had pizza before, but now they are fusing it with the Indian flavors. Even in McDonald's and KFC, you can get the Indian flavors. McDonald's has paneer [a soft cheese] in some of their dishes."
Ashburn has not one, but two restaurants that specialize in Indian-style pizzas. But you wouldn't know it from their names: Chicago's Pizza with a Twist and Pizza 360.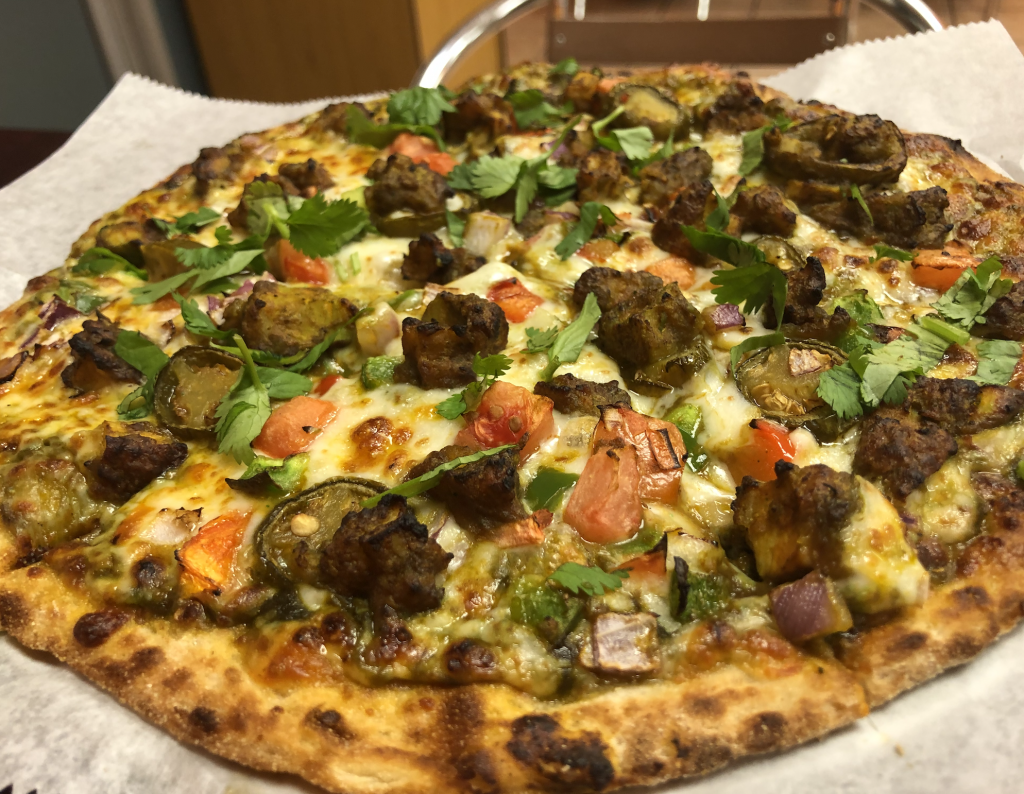 In the name of research, I ventured out to try these relatively new entrants into the local pizza scene. I took my son, Sean, 14, with me. We met up with Sagadevan and his son, Anish Suresh, 15. Sean and Anish both attend Briar Woods High School and have been friends since kindergarten.
Our first stop was Pizza 360, on Beaumeade Circle off Loudoun County Parkway. The restaurant is mostly carry-out and delivery focused but does have a few tables in the tiny dining room.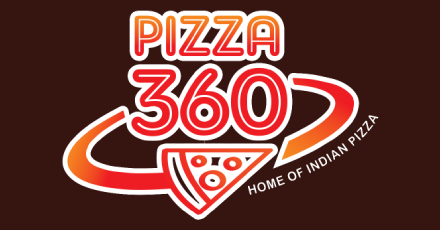 The menu has all the items and dishes you would expect to find at any pizza joint in America: Supreme, Hawaiian, Steak and Cheese, All-Meat, Four Cheese, plus fried mozzarella, wings, garlic bread and more.
But one section on the menu is different: Indian Specialty Pizzas. We're talking pizzas with tikka sauce, tandoori sauce, malai sauce, and toppings like paneer cheese and fried veggie balls called kofta.
We ordered a Chilli Chicken Pizza ("chilli" is the British spelling), which had a piquant green chili sauce as a base instead of a traditional tomato sauce. It was topped with grilled chicken, bell peppers, red onions, tomatoes, jalapenos and fresh cilantro.
We also tried a Butter Chicken Pizza with an Indian butter sauce, chicken, red onions, jalapenos, bell peppers and cilantro.
Our first impression — the heat. Both of the pizzas were hot temperature-wise, and hot in spiciness, too.
"Both of them are good. This one is spicy, way spicy," said Anish, pointing to the Chilli Chicken Pizza.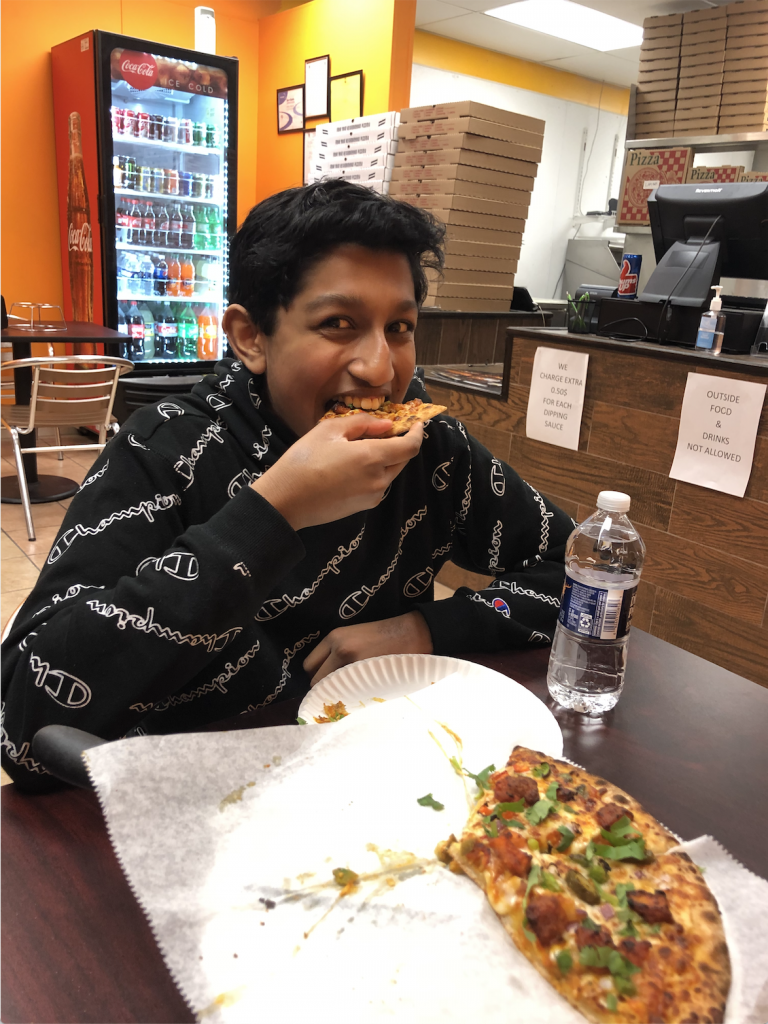 I'm a fan of Indian food and thought they were both delicious. My son, Sean, hasn't been a big fan of Indian food, but he is a fan of spicy things. (In sixth grade, he won an unsanctioned hot pepper eating contest in his middle school lunchroom.) He went back for seconds of the Chilli Chicken Pizza.
Our little international taste-testing group then made its way to Chicago's Pizza with a Twist. It's in a tiny strip mall on Ashburn Road in Old Ashburn and has a decent-sized dining room and even a bar.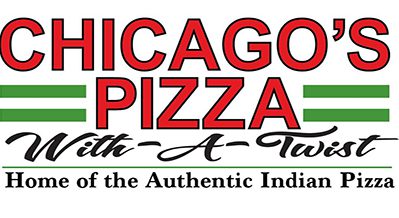 Chicago's Pizza with a Twist is actually part of a nationwide chain. According to its website, it has 35 locations open across the country, with another 20 in the works. As you may have guessed — the "twist" in the name is that it offers Indian-style pizzas as well as pizzas with traditional American toppings, along with wings, pasta and more.
You can order paneer pizzas, with curry or pesto. The restaurant has Desi-style meat pizzas, including a lamb kabob pizza. It even has pizzas made on the traditional Indian naan bread that resemble what Americans often call a flatbread pizza.
Sukhdeep Singh is the local franchisee who owns Ashburn's Chicago Pizza with a Twist. While many of his customers are part of the local South Asian community, he also gets a good number of non-Indian patrons who quickly become regulars.
"When people eat it, they really like it," Singh said. "They like trying the Indian twist. They like all the fresh vegetables that we cut all day, and the fresh dough. They say it's very tasty."
Our group ordered a Chicken Curry pizza with curry sauce, chicken, mozzarella cheese, mushrooms, black olives, red onion, garlic, ginger, fresh cilantro, green chilies and jalapeno.
We also got a Paneer Tikka Masala pizza. That had tikka sauce, paneer cheese, mushrooms, bell peppers, red onion, tomatoes, garlic, ginger and green chilies.
"With the paneer, it's more like a cottage cheese, so the flavor really gets into it. The stronger flavors get into it more," noted Sagadevan.
The Chicken Curry pizza was my personal favorite. It was creamy and reasonably mild, with just a bit of heat. And the toppings came together for a great flavor.
An internet search shows similar Indian-style pizza restaurants popping up around the country in such far-flung locations as Everett, Wash., Canton, Mich., and Roseville, Calif.
With Ashburn's large South Asian population — not just those of Indian origin, but also those from countries such as Pakistan and Bangladesh — it seems likely we will soon see more places offering this fresh take on the most quintessential of American dishes.