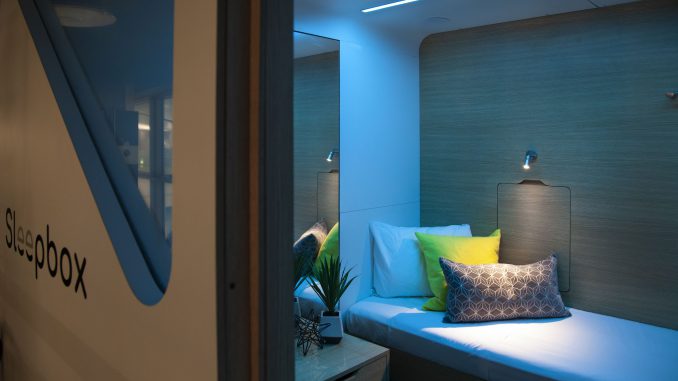 By Jill Devine
Imagine this scenario. You've driven to Dulles International Airport, parked in the long-term lot, checked your luggage, made your way through security, hopped a train and finally arrived at your gate — only to hear an announcement that your flight is delayed. Maybe it's just a short delay. Maybe it's a few hours. Maybe the duration is unknown.
What do you do? Head home? Find a bar to camp out in? Try to get comfortable in a waiting area? Now you have a new option at Dulles — a Sleepbox.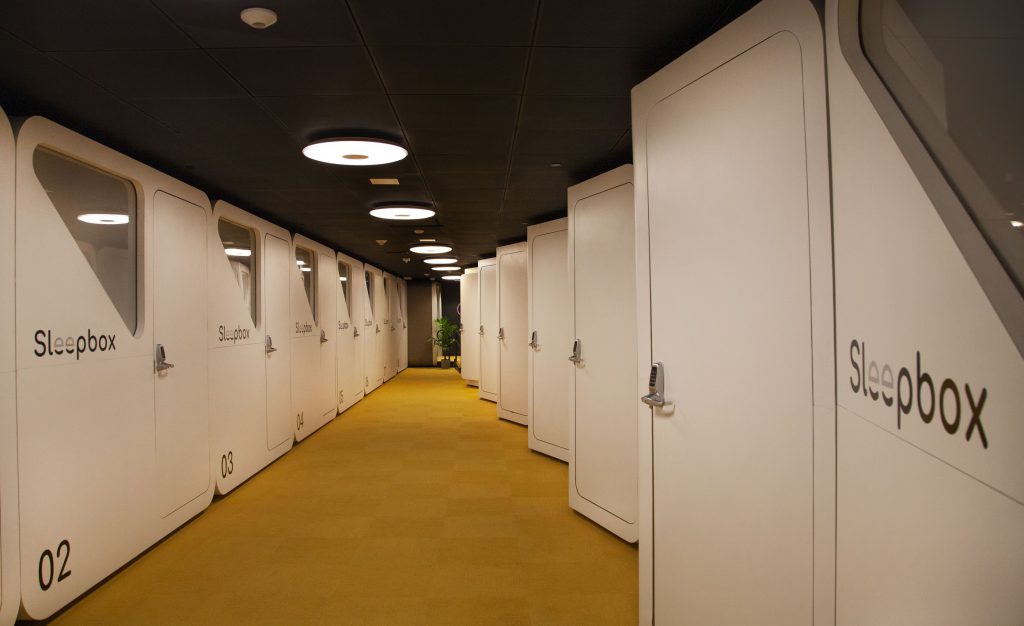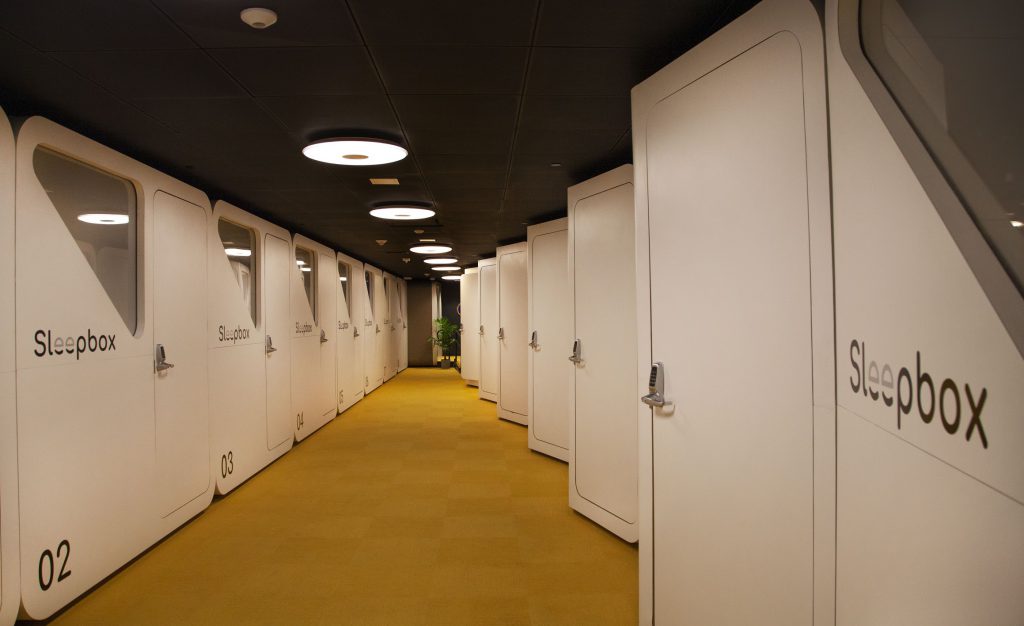 Dulles International just southeast of Ashburn is on the frontline of this major new amenity that could soon be coming to airports across the country.
In April, Dulles proudly welcomed the first and only Sleepbox airport lounge in the United States. The name Sleepbox fits the minimalist product — the onsite concession consists of 16 stand-alone modular units, which patrons can rent by the hour to nap, recharge or use as an office to get some work done.
Sleepbox general manager Passion Martin said the micro-hotel, located post-security above the AeroTrain in Concourse A, gets a lot of attention.
"Passengers are fascinated — they stop to ask questions, take photos, or peek at one of the units."
Through early December, Sleepbox had topped 4,000 bookings with an average stay of two to four hours.
Available in standard, compact or ADA-compliant variations, each single-occupancy unit provides a memory foam bed with clean sheets, a flip-down lap desk, a reading light and a strong Wi-Fi connection, plus a few frills like colorful mood lighting, Bluetooth speakers, and ports to charge electronics.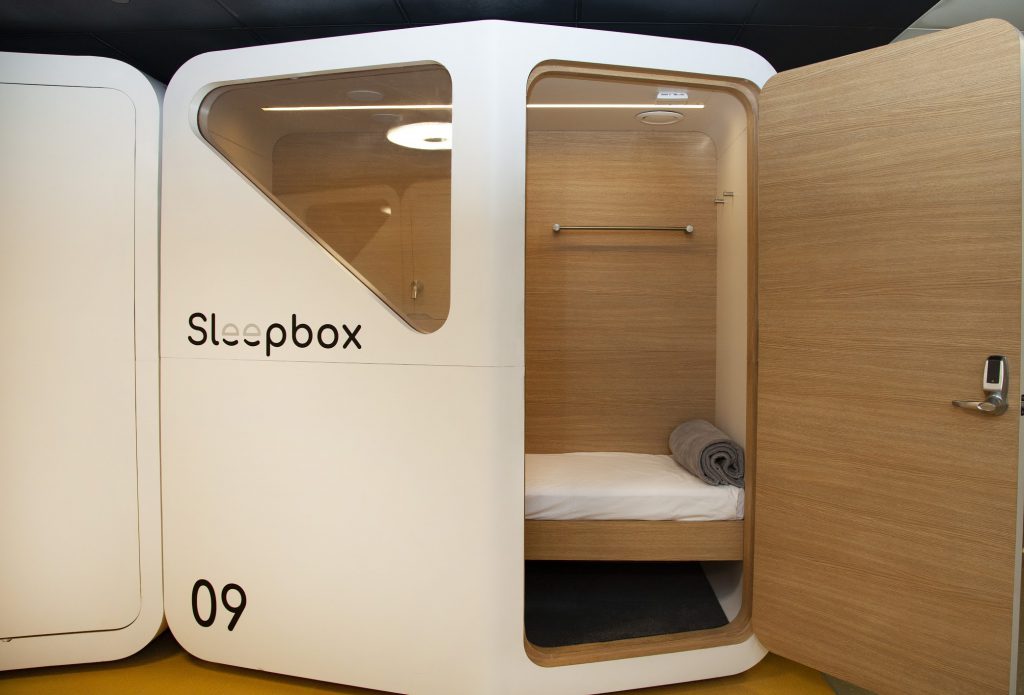 Sleepbox CEO Mikhail Krymov was an architect in Moscow when he was stranded overnight in an airport in France. "People were in misery, sleeping on the floor, and I wanted to solve that problem," he said.
He helped design a prototype and took that concept to Boston in 2016 while studying as a research fellow at MIT. There he met and became business partners with COO Peter Chambers to co-found Sleepbox, which is based in Boston.
The duo brought Sleepbox to Dulles after winning a contract to provide a concessions nap lounge in the busy airport. Although it is the first airport Sleepbox in the United States, short-term sleep lounges have been a feature in airports in other countries for years.
Stacey Armstead, general business specialist for the Metropolitan Washington Airports Authority, which operates Dulles, said Sleepbox is a popular concession for passengers.
"Sleepbox's offering of quiet, private space post-security makes it a unique amenity for passengers beginning or ending their trip at the airport," he said, noting that MWAA has received positive feedback from many passengers using the facility.
Ashburn Magazine visited the Sleepbox lounge over Thanksgiving weekend to gauge the reaction of travelers.
"Oh, my, I was so tired, but I got the rest I needed," said a nurse named Elaine on her way from San Jose, Calif., to Columbia S.C., after her first time trying Sleepbox.  "I'll definitely use it again."
A traveler named Alex stopped for a nap on his way from Woodbridge to Guadalajara, Mexico.
"I was already tired from waking up too early, so I looked online to see if the airport had anywhere to rest and found this," he said.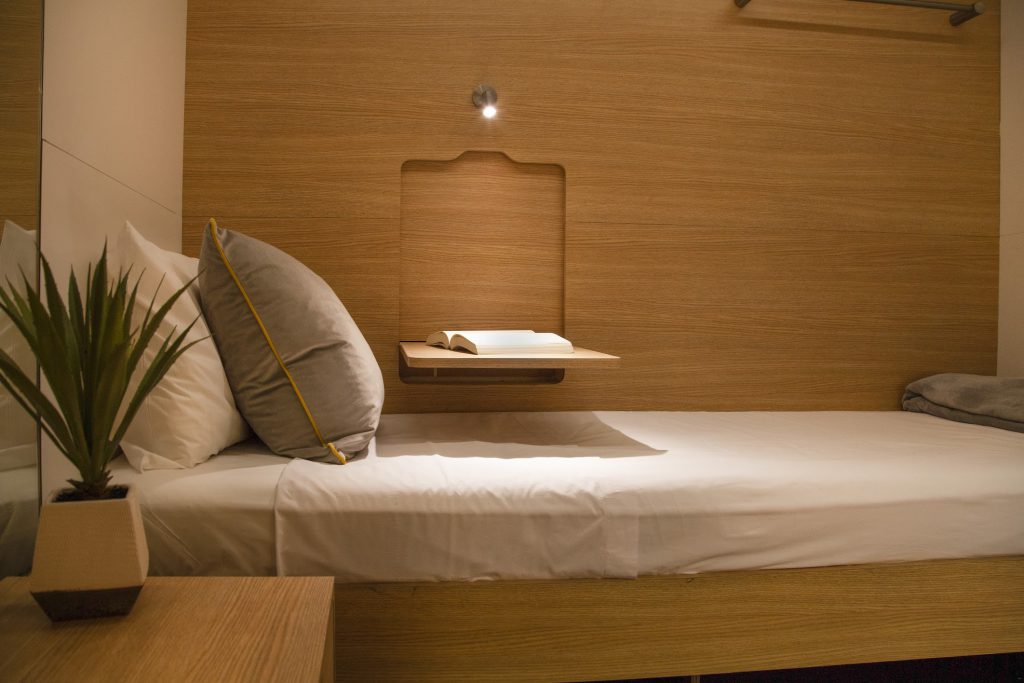 Krymov employs a local operational team to staff and clean the units 24/7. He pointed out that the concession makes practical use of what had been dead space at the airport. Everything from choosing, reserving and paying for a room to unlocking the door and adjusting temperature and lights can be controlled through the company's smartphone app.
"Ninety-nine percent of our customers use the app," said Krymov.  Downloading the app offers discounts, bringing costs to as low as $20 an hour. Priority Pass members enjoy the first hour free, and all customers can increase stays by 15-minute increments after the first hour. Overnight stays have a flat fee, which varies according to the room and applicable discounts.
Because Sleepbox is located post-security, delayed travelers can find the solitude they need and still stay close to their gate. "It's less expensive and easier than taking a cab home or to a local hotel," Martin said. Sleepbox is also popular with tired airport staff and flight crews.
Airports like Dulles are just the tip of the iceberg for Sleepbox.
"It's more about privacy and finding a quiet space to work or simply think," Krymov said. He said the company recently entered agreements to sell and lease Sleepbox units to companies to install at their own facilities as rest areas for employees.
"We can quickly install Sleepbox anywhere it's needed, such as hospitals, convention centers, offices, expos, festivals and in the center of cities, and still deliver a cost-effective, excellent, predictable and consistent experience," Krymov said. "The market opportunities are endless."
Jill Devine is a freelance writer living in Loudoun County. She served six years as an editor for Contract Management magazine.