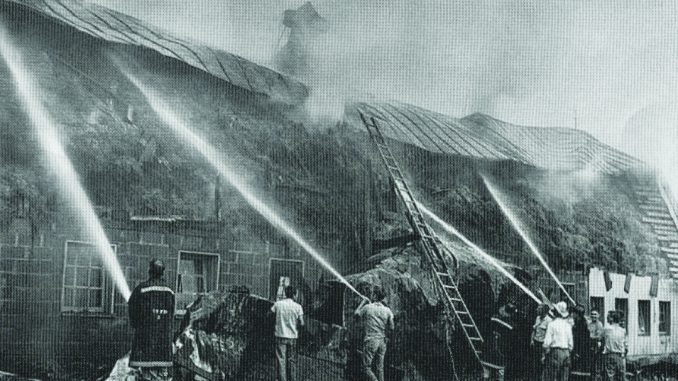 By Alexandra Broughton
Dan Corder's 15th birthday changed his entire life.
"My dad came into my room and said, 'Happy birthday, Dan. I'm taking you out.' I asked him where — there weren't many places to go to in Ashburn back then — and he said, 'We're going to the fire department and signing you up,' and that was that."
Corder, now 60, ended up serving as a longtime firefighter with the Ashburn Volunteer Fire Department and today lives in Virginia's Northern Neck. Back in the 1970s, when Ashburn still had more farmland than shopping centers, he says it was expected that many teenage boys would volunteer as firefighters. In 1974, Corder was one of those teens and he grew to love the work so much, he went on to become a career officer with the department.
Ashburn Magazine gathered some fascinating memories from Corder, now retired, and the department about the station's early years.
The Ashburn Volunteer Fire Department was formally established in 1945 after a fire that broke out in both a local home killed three children, followed by a fire at the old Ashburn School. It was originally led by Chief Nelson Partlow — as in Partlow Road and the Partlow Brothers Store, the local general store back in the day. (Today, it's the home of Carolina Brothers Barbeque.)
Later in 1945, the department got its first fire truck — a 1929 open cab American-LaFrance pumper that cost $3,225. Since they didn't have a firehouse yet, it was kept in Chief Partlow's shed. During the coldest months, it was kept in a local cow barn because the cow's generated enough heat to keep the truck from freezing up.
There was no 9-1-1 number to call. Residents needing assistance had to call a seven-digit number known as the "fire control," which would set off a whistle heard by the Partlows at their general store. They would immediately shut down their shop and drive their fire truck to the scene. Because there were no radios or walkie-talkies, other volunteer firefighters would have to try to follow the truck and its siren and quickly figure out where they needed to be.
The department has always helped fund itself over the years with an annual carnival, Friday night turkey shoots and, more recently, its famous pancake breakfasts. One of the most memorable events for many longtime Ashburn residents was the "Ham and Oyster Dinner" held twice a year. Citizens from miles around took part in it.
"This was serious business," Corder recalled. "The Ladies' Auxiliary would buy hundreds of cartons of saltine crackers and turn it into ground cracker meal. Then they would crack and scramble hundreds of eggs with salt and pepper. They would put the cracker meal in the palm of one hand, take three oysters, put it in the egg wash, and they put them in your hand and squeeze them together to make an oyster patty."
Even today, Corder says he often wishes he could go back and relive his time serving in the department.
"Like most people at that age … I was starting to grow up and didn't really know what I wanted to do," he said. "Joining the Ashburn Fire Department gave me a purpose in life, and a second family I still have to this day."
—Alexandra Broughton is a freelance writer in Ashburn.