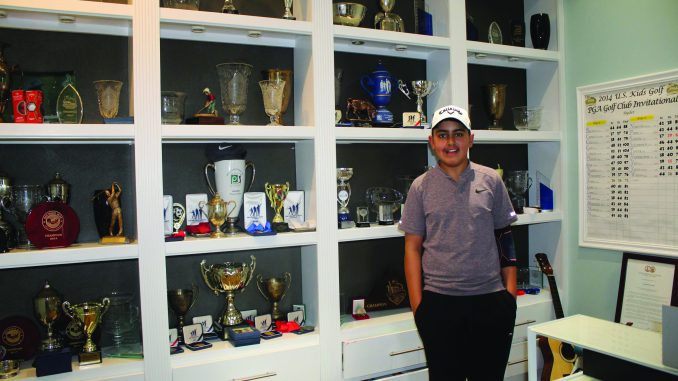 By Erica Garman
Science is his favorite subject at school, he loves Indian food, and he likes to play video games, especially NBA2K. Oh, and his favorite club is the Callaway Epic Flash Sub Zero.
"It gives me lower spin numbers and is much more forgiving on mis-hits," Sihan Sandhu said, speaking his best "golf-ese."
Although Sihan may be a typical Ashburn teen in most aspects, his golf acumen is off the charts. Entering the summer, the 13-year-old was the world's number one male golfer in his age group, according to the Rolex American Junior Golf Association rankings.
Sihan is a three-time winner of his age group at the U.S. Kids Golf European Championship, a two-time winner of the Future Masters, and the 2016 winner of the U.S. Kids Golf World Championship — where he shot 23-under par, easily breaking the previous record of 18-under. Because he has won the U.S. Kids Regional Championship 16 times, he's now focused on competing in more prestigious events, including tournaments where he's often playing against high school juniors and seniors. All in all, he has won over 100 tournaments, and he has a wall of medals and trophies in his room to prove it.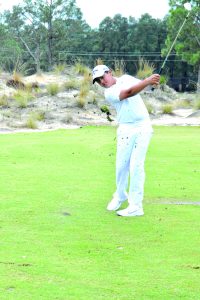 He's a rising ninth-grader, but previously Sihan attended Creighton's Corner Elementary School in Ashburn. Because of strong player his extensive practices and rigorous April- to-October tournament schedule, Sihan is now homeschooled.
The teen, who lives in the Evergreen Reserve neighborhood, practices six days a week at 1757 Golf Club, where he's coached by PGA Teaching Professional Adam Harrell.
"He has a unique ability to hit solid shots that finish in close proximity to the hole," said Harrell, who uses words like "dedicated" and "amazing" when talking about Sihan. "He is mentally a strong player who always fights till the end and never gets rattled."
When the Northern Virginia weather isn't conducive to hitting the links, Sihan heads to his garage where the Sandhu family had a Trackman golf simulator installed that lets the teen practice his swing indoors.
Sihan has been holding a golf club in his hand since he was a toddler, said his father, Ruby Sandhu. "He was copying my swing in the mirror one day and he was just a natural. He picked it up very quickly."
Ruby first enrolled a 5-year-old Sihan in lessons at 1757 with PGA pro Paquiry Loganathan. Sihan built a strong swing under the tutelage of Coach "Paq" and won his first tournament at age 6. Sihan believes his swing is one of his key strengths. He has a keen ability to drive the ball and place it on the greens. His average drive is about 260 yards, which will certainly improve as he gains height and strength.
"I've grown 2 inches in the last few months," said Sihan, smiling proudly. He's now a bit taller than his mother, Navneed, who is 5-foot-7. A future milestone will be catching up to his longtime caddie, better known as dad, who stands 6-foot-4.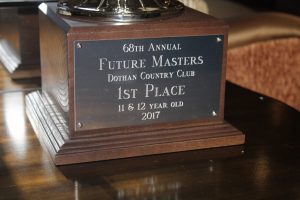 Although Ruby admires his son's ball-striking skills, he said Sihan's greatest strength is his mental aptitude and resiliency. Ruby shared an anecdote from a past European tournament that Sihan was favored to win.
On the second hole, Sihan scored a 9 on a par-5, which he could have easily birdied.
"At the end of the front nine, everything that could go wrong, went wrong [for Sihan]," said Ruby. He tried to put on a good face for his son, but Sihan sensed his father's uneasiness.
"Don't worry, Dad," Sihan assured him. "There are still nine holes left!"
Sihan ended up finishing the back nine 2-under par and placed third in the tournament. It's this positive attitude that carries Sihan through the ups and downs of the game. "He deals with adversity much better than most adults," said Rudy. "To me, that's something that cannot be taught."
So, what are Sihan's future goals? College coaches have naturally expressed an interest in his talents, but Sihan isn't eager to commit to a program quite yet. "College is important to us, obviously," Ruby said. "It could include learning on a college campus or possibly online."
"We'll see how it goes," Sihan chimed in. "College is in my future, but my obvious goal right now is to play golf. If I'm very good — I have to practice — I'll go on [the PGA] tour."
The Sandhu family has recently created a website featuring Sihan's accomplishments and his tour schedule. You can find it at www.sihansandhu.com.