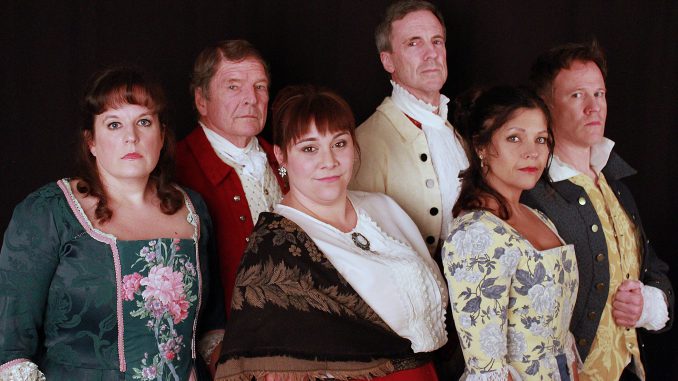 By Amira Zaidi
No stage. No red curtain. Just a couple of props. A cozy, little hall. And five actors. This is the simple recipe for an entertaining evening at a performance by the StageCoach Theatre Company in Ashburn.
"I'm a long-term theater lover and StageCoach is a completely different experience," said Katie Hudson of Ashburn Village. She has worked with the company in the past and has seen more than 20 performances as an audience member. "You're not just sitting and watching the show. You are immersed in the show. They invite you to respond and question what's going on and interact with everything."
Indeed, it's not just the talented actors and fun scripts that help pull off the evening. Many — if not most — StageCoach shows are billed as "interactive." Actors roam among the tables, talking to the audience. Some visitors may even get involved by playing an impromptu character in the play, reading their lines cold from a highlighted script.
"They talk to the actors and the actors talk back," said Terry Smith, one of the founders of StageCoach. "It's a lot of fun."
StageCoach is Ashburn's only true local dinner theater — offering fascinating and fun murder mystery whodunits with delicious meals catered by local companies.
StageCoach started in 2011. Smith met his business partner, Jerri Wiseman, while working on a show at another theater company. The duo hit it off and decided to launch their own company in Ashburn. April Bridgeman recently joined them as a new partner.
The name StageCoach is actually a play on words. In the old days, a stagecoach was a vehicle pulled by horses, and because the theater company travels around Loudoun County and Northern Virginia putting on shows, the moniker fit.
But the company also offers acting and production classes and summer camps for young people. So, they are "coaching" people in "stagecraft." Ergo, StageCoach.
"We do both equally — performances and theater education," Wiseman said. "We provide the after-school classes, summer camps, and even theater courses for adults."
In addition to taking shows on the road to area wineries, restaurants and other venues, StageCoach opened a brick-and-mortar location in 2017 in a commercial building in historic Old Ashburn. The company holds classes there and puts on its popular dinner theater shows as well as other productions, including a monthly improv.
Classes for different age groups cover topics such as improvisation, story book adventures, acting skills and creating plays and musicals. Older students can learn stagecraft and stage combat.
Linda Cirba loves teaching voice lessons at StageCoach because she gets to know each student's personality and character through his or her voice.
"I've been working with some of these kids for five years," Cirba said. "You develop a relationship with the family, and you get to see them grow as singers and actors and that in itself is just a beautiful thing."
Beth Bollerer, who lives in Herndon, says her daughter has been involved in local theater for nine years, the past two with StageCoach. She has seen her daughter's confidence increase through auditioning and performing. She's also met many people outside her regular friend group and learned more about the theater industry.
"I appreciate that she has been exposed to some of the many different ways people can turn an interest in the arts into a career," Bollerer said.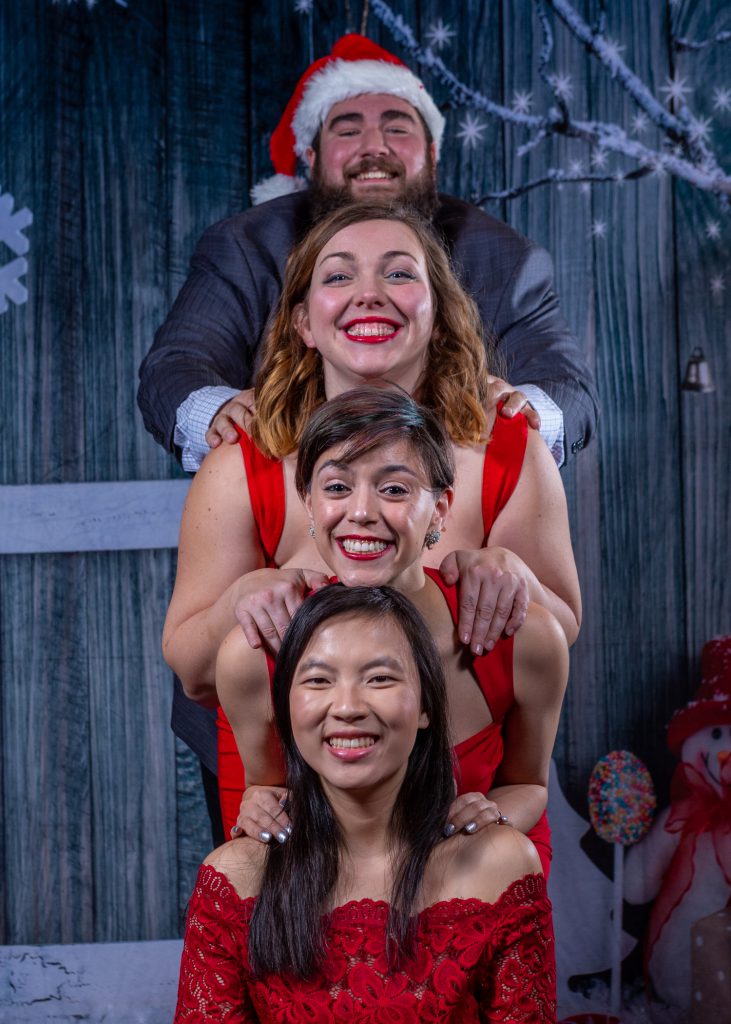 For Smith, Wiseman and Bridgeman, running a theater is a labor of love. Smith still spends his days working as a computer engineer and his nights at the theater, while Bridgeman recently retired as vice president at an insurance company.
"In the early days, Terry and I were both performers, but the business has grown so much," Wiseman said ruefully. "Now, Terry is writing and directing, and I'm producing and running the business. So we rarely get a chance to be on the stage ourselves." 
And Bridgeman has her hands full managing costumes, props and the physical theater itself.
But the trio still get a thrill watching their troupe's latest performances as they end with loud applause from the small, intimate gathering of 35 or so thoroughly entertained audience members.
It's local theater at its finest — right here in Ashburn. 
Amira Zaidi is a mother of three and a freelance writer in Ashburn.
=====
StageCoach Theatre Company
20937 Ashburn Road, Suites 115 and 120, Ashburn
571-477-9444
info@stagecoachtc.com
Go to stagecoachtc.com/events/ for upcoming shows and classes.