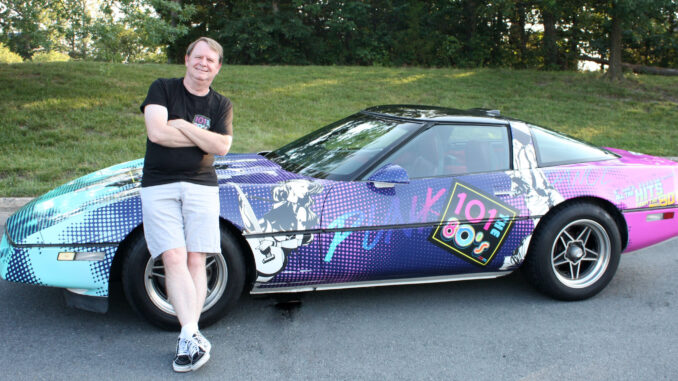 HE LOVES ROCK & ROLL 
By Chris Wadsworth
Matt Greenwood is the type of guy who turns heads in Ashburn. Well, maybe not Matt himself, but certainly his car. He regularly cruises down local streets in his vintage 1986 Corvette that is "wrapped" in eye-catching purple and magenta images to promote his radio station, 101 The 80s.
Yes, his radio station.
Greenwood is a lover of '80s music, and after his kids left the nest, he decided to start an internet radio station. It's just a side gig, but for a guy who has loved music since dancing to "Born in the U.S.A." with his family as a teenager in Ohio, it's a dream come true.
Ashburn Magazine hopped on the phone with Greenwood to learn more about 101 The 80s and, of course, the Corvette.
Ashburn Magazine: Who starts their own radio station? Where does an idea like that even come from?
Matt Greenwood: I've always liked '80s music and I've always liked radio. When I was raising a family, I didn't really have any time for that with the kids and working full time. Then one day, I was reading an article online about internet radio and I'm like, "Hey that's something I could do." I could do it from home.
When did you launch and how did you go about it?
Back around 2016, I started with this company called Shoutcast, this free internet streaming service, but that wasn't doing it for me. The station has to run on high-speed internet. I wasn't using high speed at the time; I was using Wi-Fi and it was dropping out. I switched to a new streaming service and new software built by NextKast. It's really easy to use.
Where do you get the permissions from the music owners?
I have to have a license to play it. I have three license companies – ASCAP, BMI and SESAC — to play the music. I have to do quarterly reports and turn those into the licensing companies. I have to do financial statements on the music I play and how many times I play it. It's the same as when a restaurant plays music or if you're a business with a jukebox.
Do you make much income or is it a passion project?
Some of our income is coming from our (101 The 80s) roller skating events that we do here in the DMV. And I do finance some of it myself. I use the income from the roller skating events and a little from my other job to keep things going. The cost overall isn't very much to run the station, so that helps.
What is the size of your audience?
Our motto is "Coast to Coast, Around the Globe." It's free to tune in. You can download our app. You can enable us on Amazon Alexa. We average about 300 to 500 listeners a month. That's not bad considering the competition that is out there for internet radio, plus you have Sirius with millions of listeners. We focus in the Mid-Atlantic region because that's where our skating events are. We like to advertise in areas where we do our skating events.
What are these skating events — 80s-themed roller skating parties with music?
Yes. We were doing them once a month before COVID and we would get really good turnout. We started in Purcellville two years ago. Then we branched out. We were in Winchester and then we were over in Manassas late last year. We did a Halloween event in Manassas. And then we had just started over in Hagerstown (Maryland) at the Skate Palace. It was really great; the turnout had been great. We were looking at places in Pennsylvania and West Virginia. So COVID sort of put the brakes on everything.
I've listened to the music you play on 101 The 80s and it isn't just Top 40. It seems you have some deep cuts. How do you select the music?
That's how we differentiate ourselves. We obviously play the Top 40, but we are always looking at deeper cuts from Top 40 artists like Cindy Lauper, like Duran Duran. The Bangles have a lot of deeper cuts. Sure, you can hear "Walk Like an Egyptian," but they have four or five other songs that — in my opinion — are just as good. I also look for songs that maybe didn't crack the Top 40, but still made the charts — kind of lost hits.
Finally, tell me about the wrapped car that so many people have seen zipping around Ashburn.
It's a 1986 Corvette. I bought it locally from a guy here in Ashburn who was moving. I went to the folks at Speed Pro Imaging in Sterling. Boy, I tell you I've been pleased as punch with the car. Everyone stares. The kids go crazy. People take pictures of the car. It's been great around Ashburn and I have taken it to Purcellville for our skating events. I haven't taken it too much farther yet.
LIGHTNING ROUND
Favorite '80s movie? "Top Gun"
Favorite '80s TV show? "Magnum, P.I."
Favorite '80s performer or group? Joan Jett & the Blackhearts
Favorite '80s song? "I Love Rock 'n' Roll" by Joan Jett & the Blackhearts
Favorite '80s sports team? I'm a big Cleveland Browns fan.
Favorite food? Pizza
Favorite drink? Diet Coke
Favorite Ashburn restaurant? Blue Ridge Grill
Favorite place to hang out in Ashburn? Clyde's Willow Creek Farm
One fashion from the '80s ready for a comeback? Leg warmers