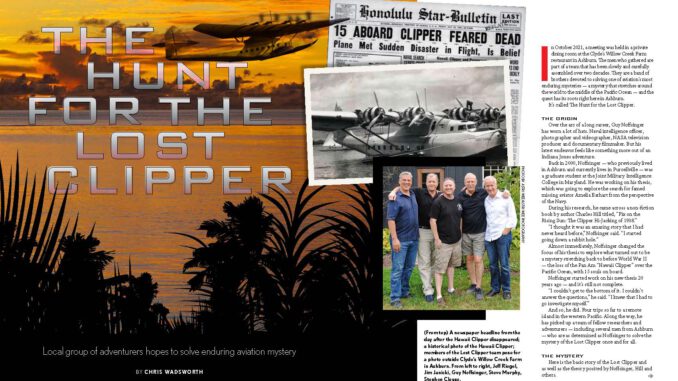 Ashburn Magazine received two Best-in-Show awards and 16 other prizes in the Virginia Press Association's annual competition for journalistic and advertising excellence in 2021.
This was the first year Ashburn Magazine, a new VPA member, has entered the competition. The magazine competed in the Specialty category, which includes Richmond Magazine, Virginia Business magazine and the Washington Business Journal, among other publications.
Editor Chris Wadsworth won Best in Show for writing for his story "The Hunt for the Lost Clipper," which appeared in the November/December issue.  The feature chronicled the effort led by a group of Ashburn men to solve the mysterious disappearance of a commercial airliner over the South Pacific in 1938.
"This was an excellent and engaging article," the judge wrote. "I want to know what they find!"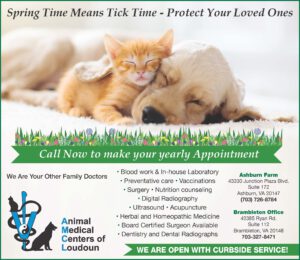 Production manager Nicky Marshok and Advertising Account Executive Judy Harbin won Best in Show for advertising for an ad for Animal Medical Centers of Loudoun, which features a dog and a cat snuggling.
"Not a person in the world who wouldn't be brought in by the graphic alone," the judge wrote. "Love in the graphic translates nicely to the message in the headline."
Ashburn Magazine was started in 2019 and is distributed every other month to over 13,000 Ashburn households by direct mail, with another 3,000 copies available for free at stores and other locations around the community.
"We set out to produce a high-quality, compelling magazine that would reflect the community that is Ashburn, and these honors from the Virginia Press Association indicate we are succeeding," said Bruce Potter, publisher of the magazine. "Credit goes to our small but powerful team that works very hard every issue to produce the best magazine possible – and thanks to our readers and advertisers for their support."
Ashburn Magazine received six first-place awards, four for editorial and two for advertising:
EDITORIAL
Feature Story Writing: Chris Wadsworth, "Hunt for the Lost Clipper"
Food Writing: Chris Wadsworth, "Kissed With Fire"
Front Page or Front Cover: Kara Thorpe, for a selection of three covers
Page Design: Kara Thorpe, for a selection of three layouts
ADVERTISING
Entertainment: Judy Harbin and Nicky Marshok for Animal Medical Centers
Professional Services/Medical and Healthcare: Judy Harbin and Nicky Marshok for Dulles Urgent and Primary Care
The magazine's five second-place awards were as follows:
EDITORIAL
ADVERTISING:
Education, Churches and Organizations: Nicky Marshok and Judy Harbin, for Linda Cirba/Sova Studios
Fashion and Personal Care: Connie Fields and creative staff, for Four Seasons Salon & MedSpa
The magazine also won five third-place awards:
EDITORIAL
ADVERTISING
Fashion and Personal Care: Judy Harbin and Nicky Marshok, for Zazu
Ashburn Magazine is owned by Rappahannock Media LLC, whose other publications also did well in the VPA contest.  InsideNoVa/Prince William, its weekly newspaper in Prince William County, won 31 awards, including 11 first-place honors, and both the news sweepstakes and the grand sweepstakes awards among the state's largest weekly papers.  The sweepstakes prizes are awarded based on a points system for each individual award.
The Rappahannock News, competing in the category of second-smallest weekly papers, won 30 awards, including 16 first places and two Best in Show Honors, as well as the news sweepstakes prize.  And the Culpeper Times, an every-other-week publication, won five awards, including two first-place honors.
All winners of the VPA contest are available here.