ALL THE WORLD'S A STAGE 
By Jill Devine
Five years ago, a teacher at Briar Woods High School gave her students an assignment — spend 20 percent of their time in class exploring something they were passionate about and turn it into a project.
Fast forward to today, and that simple assignment is still paying dividends in the form of the Lady Chamberlains, an all-female Shakespeare troupe that performs the famous bard's plays each school year, all while opening minds and hearts.
"Knowing we help turn on that lightbulb — that someone picks something up from a play we produced and that it will stick with them afterward, maybe forever — is the best feeling," said senior Kira Vedamtam, the troupe's president and a resident of the Broadlands.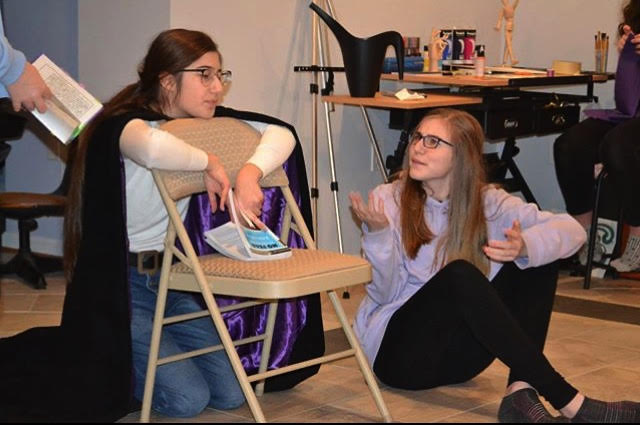 The assignment was given by English teacher Lisa Preston, and two of her students — then sophomores Katy Shinas and Emily Wolfe — jumped at the opportunity to channel their love of Shakespeare into a project to aid women. They formed The Lady Chamberlains specifically as an all-female drama club — all the staging, set design, direction, and performing would be by young women — not just from Briar Woods, but from any area high school. And the proceeds would support the Loudoun Abused Women's Shelter (LAWS).
To date, The Lady Chamberlains troupe has performed seven different Shakespeare plays and has donated more than $9,000 to the women's shelter by staging two Shakespeare productions yearly.
The women's shelter, based in Leesburg, provides free, confidential services to adults and children who are victims of domestic violence, sexual assault, and child abuse. "We are so thankful to The Lady Chamberlains for caring so much about their community and the survivors LAWS serves," said executive director Judith A. Hanley. 
The name "The Lady Chamberlains" is a playful twist on the Elizabethan era all-male troupe "The Lord Chamberlains," who performed when women could not be actors. The Lady Chamberlain's official mission statement is "Helping Women Onstage, Backstage and Off-Stage." 
Kira, 17, said the group, which typically consists of 15 to 30 girls, provides a unique opportunity to experience what women can do in positions of leadership.
"We are all about having female voices heard," Kira said. "It's definitely not that we're against guys — it's all about giving female voices a chance and a platform."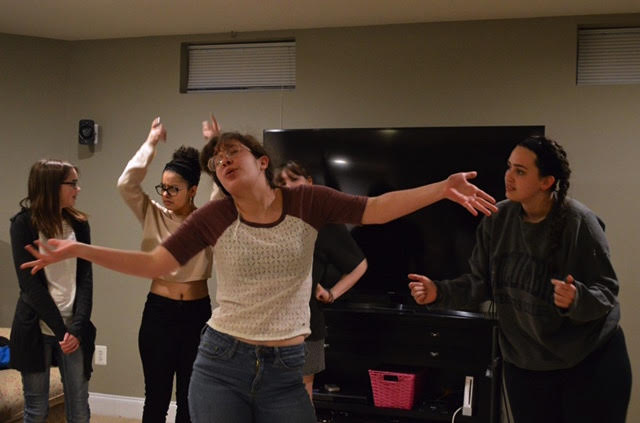 Students from Briar Woods, Stone Bridge, the Academies of Loudoun and home schoolers have participated in the past, but productions are open to any female high school student, even from neighboring counties.
"The only requirements are that you be female and in high school," said Kira, although non-binary members of the LGBT community, "who often find no place in theater," are welcome as well.
Lisa Preston, who gave the original assignment, now teaches at Independence High, but her daughter, Jacqueline, is a senior at Briar Woods. Jacqueline is also a member of the Lady Chamberlains and the secretary of the group.
"What I like about us being all-female is that we get to explore areas that would not be available to us normally," said Jacqueline, 18, noting that in Shakespeare's plays the male characters are bigger and exude more confidence. "It gives women more range to try these parts."
The Lady Chamberlains have already staged "King Lear," "Hamlet," "As You Like It," "The Tempest," "A Midsummer Night's Dream," "Twelfth Night" and "Julius Caesar." In August — barring changes in schedule due to the coronavirus pandemic — the troupe plans to present "Much Ado About Nothing."  Details will be announced when a venue has been secured.
Finding an available venue is the only time adult assistance is required for the Lady Chamberlains. Parent Linda Shinas, mother of founder Katy Shinas and current member Kira Shinas, said the girls handle every aspect of the show themselves, but adult sponsors are required to reserve and supervise use of county facilities. 
Shinas' favorite Lady Chamberlains' production so far?  "'Twelfth Night,' because I got to see both of my daughters playing twins Viola and Sebastian on stage at the same time."
The Lady Chamberlains will keep delivering in the future.
"We have many enthusiastic juniors who are capable of taking the troupe to a new level," Jacqueline said, noting that the girls help with a Shakespeare minicamp at Eagle Ridge Middle School in the summers to cultivate the interest of future freshmen.
"We are always planning ahead," she said, "and our newcomers are showing passion and strength in their love of Shakespeare."
Jill Devine is a freelance writer who lives in Loudoun County. When not writing, she enjoys her job as a kindergarten teaching assistant for Loudoun County Public Schools.