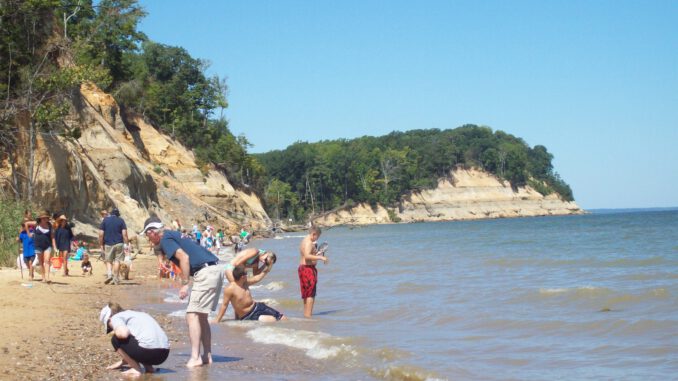 BACK IN TIME 
By Jill Devine
Seeing a 10-million-year-old shark's tooth in a museum is cool, but who wouldn't rather find one at the beach? Look no further than Calvert Cliffs State Park in Lusby, Md., where finding such fossils is an everyday occurrence. About five miles north of Solomons Island, the park entrance is less than a two-hour drive from Ashburn. 
SOMETHING FOR EVERYONE
Our family started visiting Calvert Cliffs years ago in an effort to find an activity that would make all four of our kids — two boys and two girls — happy at the same time. We weren't disappointed.
The 1,400-acre park delivered — with a quarter-mile natural beach rich in shells and fossils where we all enjoyed the sun and swimming, 13 miles of hiking trails, a pond for fishing, a network of freshwater and tidal marshlands, an expansive playground, and clean bathrooms and picnic facilities. 
The first time we visited Calvert Cliffs State Park, we weren't sure what to expect. My husband wisely brought a backpack to tote our baby girl as we began our 1.8-mile hike along the designated path to the shore. The terrain was unlike any we had ever experienced together, twisting through pine and hardwood forests before giving way to swamps, wetlands, and then finally a small beach brightly lighted beneath blue skies. My oldest son, Charlie, who at the time was obsessed with "Jurassic Park" movies, convinced his siblings that we were trekking through a movie set, with prehistoric danger lurking behind every tangle of vines.
Instead of dinosaurs, we have been amazed over the years to spot modern-day creatures up close in their natural setting, including frogs, turtles, crabs, bald eagles and all kinds of waterfowl – and even beavers building a dam.
The reward at the end of the hike is always, of course, the fossil-rich beach, where so many family memories have been made.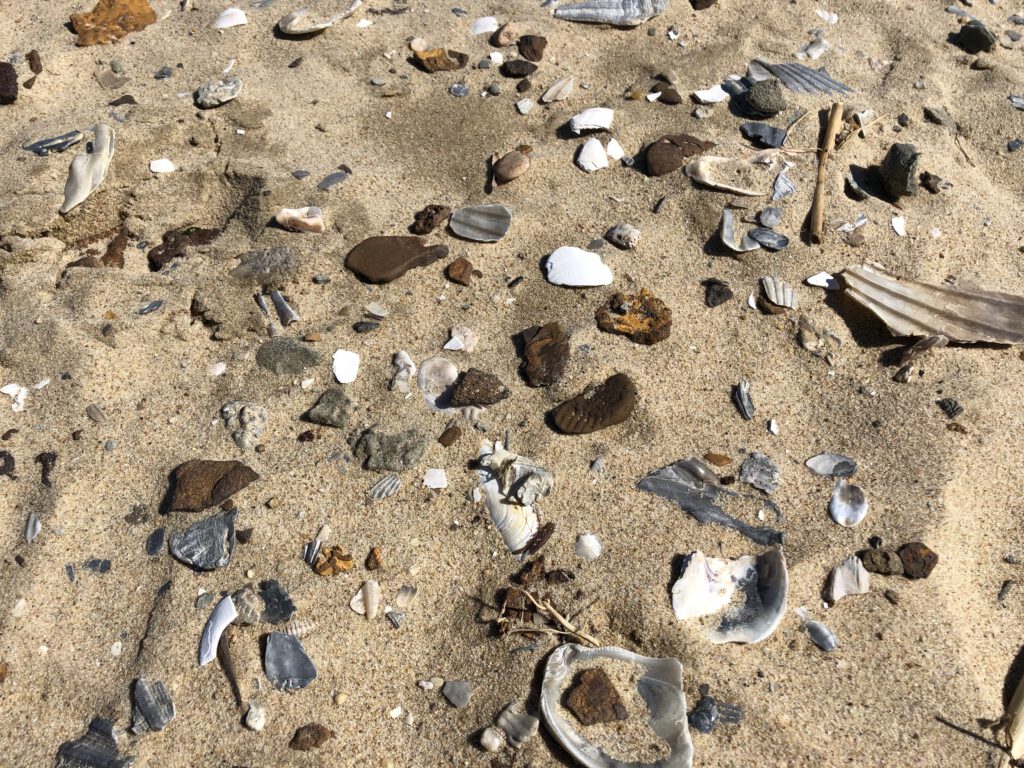 Charlie, who grew up to be an environmental scientist and Ph.D. research assistant at the University of Arizona, says our Calvert Cliffs visits had a big impact in helping him choose his career path of environmental science and hydrometeorology.  He once told me that Calvert Cliffs was his first exposure to a beach shoreline that wasn't along an open ocean, where he noticed the diversity of plants and animals. Of course, the lure of fossils added to the experience.
FINDING FOSSILS
"You're guaranteed to find a fossil when you visit the Calvert Cliffs beach," said Zakary Lellis-Petrie. He's a seasonal ranger for Friends of Calvert Cliffs State Park, a group dedicated to maintaining and improving the park.
"It might not be a shark's tooth, but just about every scallop shell you find, and many of the oyster and clam shells, will be more than 10 million years old," said Lellis-Petrie.  
Ten to 20 million years ago, in the middle of what is known as the Miocene epoch, a shallow sea covered all of southern Maryland. Ancient sharks, whales, stingrays, long-snouted dolphins, seals and sea cows swam in the warm waters, along with scallops, clams, oysters and snails. Crocodiles, turtles and ocean birds inhabited the shoreline, along with peccaries (pig-like creatures), camels, horses and even rhinos and mastodons.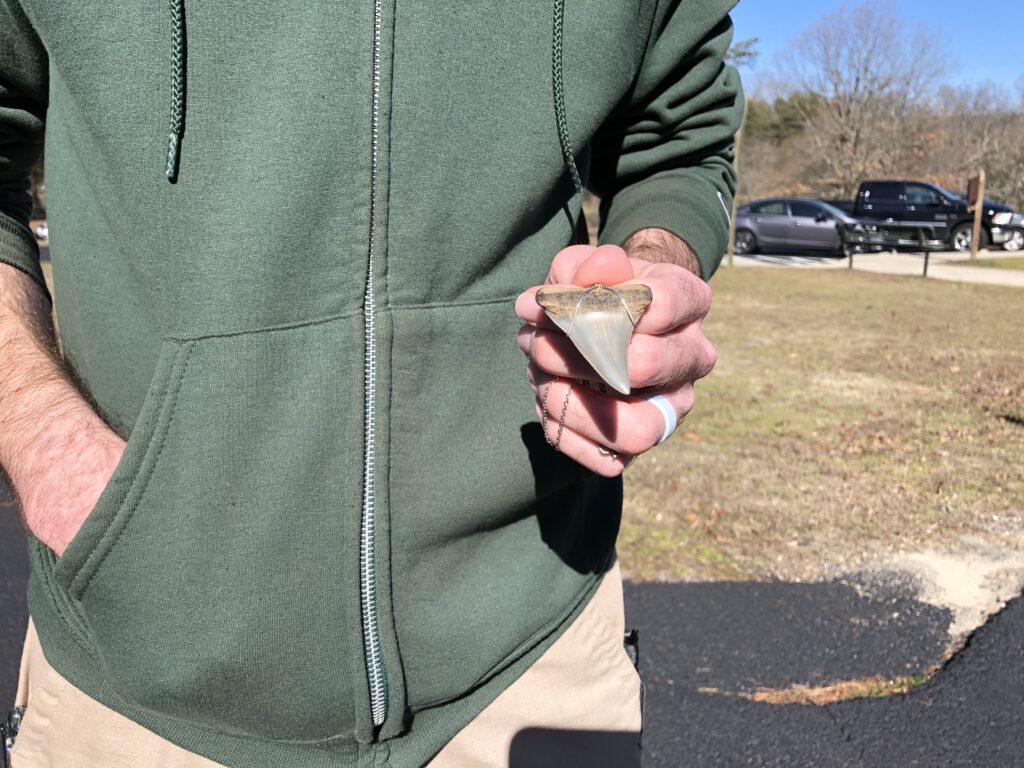 A calving ground for whales and dolphins, the sea attracted enormous megalodon sharks, which left large teeth behind as evidence of their presence. During a recent visit, Lellis-Petrie proudly pulled such a tooth out of his pocket, which he found on the beach not long ago.
The Calvert Cliffs, which rise over 100 feet and occupy more than 30 miles along the western side of the Chesapeake Bay in Calvert County, were formed when the ancient sea retreated and exposed the sea floor. Today more than 600 species of fossils can be found in the crumbling, sandy cliffs. According to the Maryland Department of Natural Resources, the cliffs are the most extensive assemblage of Miocene fossils in the eastern United States.
MEMORY MAKERS
On our first trip, Charlie discovered the first fossil – a chunk of rock about the size of a volleyball heavily embedded with ancient shells, much to the delight of younger sister Michelle and brother Philip. Baby sister Beth returned many times over the years with us to find her own sharks' teeth and shell fossils as well.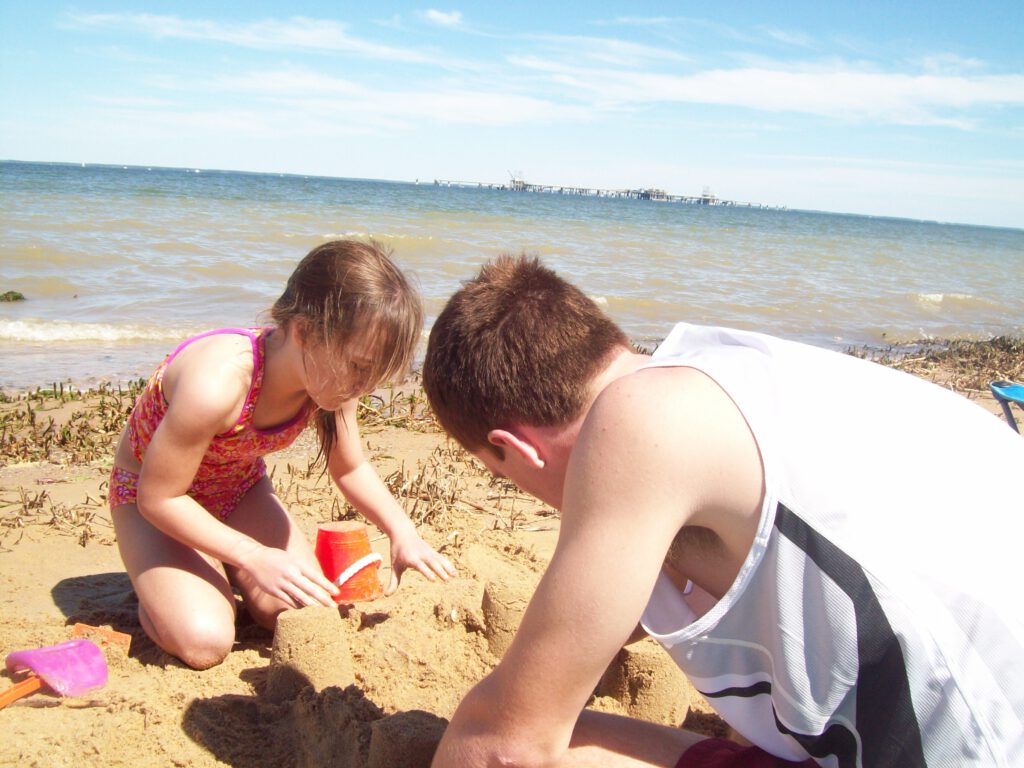 As a mother, nothing compares to seeing siblings laugh and work together while they hunt for treasure and build the occasional sandcastle. Skateboards, cell phones, video games and Barbie dolls forgotten, it was a joy to see them focused on the beauty of nature and each other's company.
A word of warning: Walking under and digging into the actual cliffs is dangerous and illegal. There have been several fatalities as the result of collapsing sand and landslides. Fossil searching is allowed only on adjoining beaches, which are replenished daily with fossils and shells after storm waves and retreating tides. In fact, the best time to find fossils is after a storm during low tide.
Our kids are grown now, but my husband and I still visit Calvert Cliffs. It's a great spot for everyone — solo hikers, couples on a date, families and — most of all — fossil hunters.
Jill Devine is a freelance writer who lives in Loudoun County. When not writing, she enjoys her job as a kindergarten teaching assistant for Loudoun County Public Schools.
==========
WHAT TO KNOW BEFORE YOU GO
Arrive early during peak times/seasons:

The park is popular on weekends and holidays, and the entrance will close once the large parking lot is at capacity.  

There is a $7 per vehicle out-of-state entrance fee

: Different rates for walk/bike-ins, buses and annual passes. Credit cards not accepted. No ATM available.

Amenities:

There is a bathroom with running water at the park entrance; a few portable toilets are located at the beach. Dogs are allowed in the park on leash.

Expect to walk:

The foot trail to the beach is 1.8 miles, so the round-trip walk is a little more than 3.5 miles. The trail is mostly a dirt path through forest, although long sections are built up with deck planks through marshes and wetlands.  Some sections dip into ankle-deep water after heavy rain, and many sections are bumpy with tree roots and exposed rocks.  

What to wear: 

If it's warm and you plan to get in the water, put on your swimsuit before you go, because there are no changing facilities on the small beach. Because the hike is long and muddy, wear old, broken-in, comfortable closed-toe shoes.

What to pack:

Pack lightly. Bring a small shovel and a lightweight sand sifter to search for sharks' teeth. Sunscreen and bottled water are musts; insect repellent is advised. Bring a towel for swimming/sitting. Pack a small first-aid kit, including adhesive bandages.

Picnics/food/coolers: 

Except for small snacks, it is best to leave all food in a cooler in your car to enjoy before or after your hike to the beach.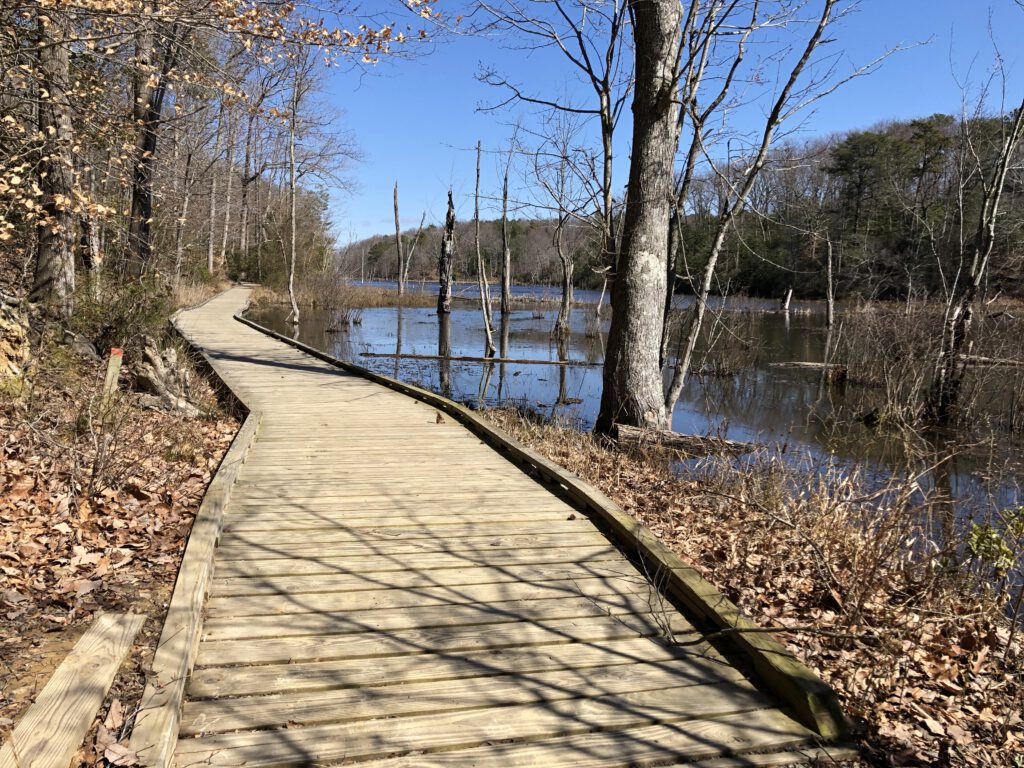 ==========
IF YOU GO
Calvert Cliffs State Park
10540 H. G. Trueman Road
Lusby, MD  20657
Contact: ​301-743-7613​​
Regular Hours: Open daily, sunrise to sunset, year round*
* — Due to the coronavirus crisis, the beach and playground have been closed, while the rest of the park has been open. Due to the changing circumstances, please check on the current status of the park before making a trip to Calvert Cliffs.