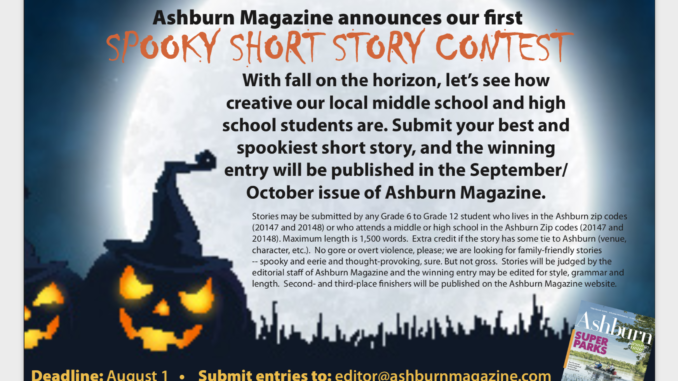 Ashburn Magazine is pleased to announce our first ever creative writing contest for local students. With autumn coming soon, leaves will begin falling, the air will get chillier and it's a perfect time to bundle up around a fireplace and tell spooky stories.
We are asking local middle school and high school students (rising grades 6 to 12) to submit their spookiest short stories. They can be on most any topic — as long as they are spooky. We'd love to see some set in Ashburn or otherwise tied to the community, but you are the author, so it's your story.
Our favorite spooky story submission will appear in the next issue of Ashburn Magazine (September/October) and on our website as well. The second and third place stories will be published on our website.
August 1 is the deadline for submission. Additional details are below.
Students must live in the Ashburn 20147 or 20148 zip codes, or attend a school in the 20147 or 20148 zip codes.
Maximum story length is 1,500 words.
No gore or overt violence. Looking for family friendly stories. Spooky, eerie, thought provoking, but not gross.
Stories will be judged by the editorial staff of Ashburn Magazine.
Winning entries may be edited for style, grammar and length.
First place winner's story will appear in Ashburn Magazine and on the Ashburn Magazine website. Second- and third-place winners will be published on the Ashburn Magazine website.
Submit entries by August 1 to:

editor@ashburnmagazine.com