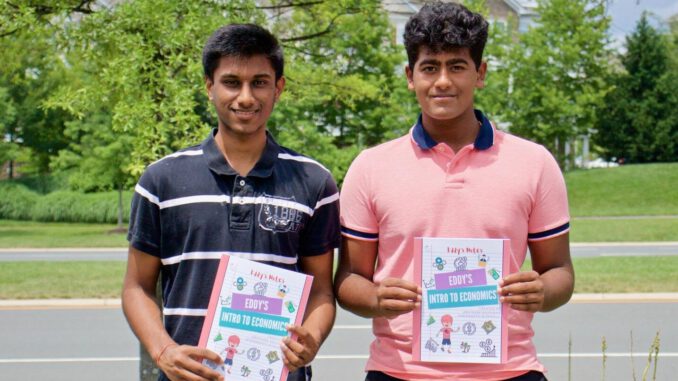 DOLLARS AND SENSE
By Chris Wadsworth
Lots of young people dream about writing a book, but few actually pull it off. And in those dreams, it's probably a book with dragons or spaceships or at least some romance or mystery.
But not Abhishek Krishnan, 17, and Dheemanth Munipalli, 18. They wanted to write a book, set to it, and succeeded — with a very down-to-earth look at economics aimed at middle-schoolers and high-schoolers.
The book they produced and published is called "Eddy's Intro to Economics." The two seniors at Rock Ridge High School in Ashburn — who also attend the Academies of Loudoun — published the book when they were juniors. Ashburn Magazine interviewed them about how they did it and what drove this unique interest.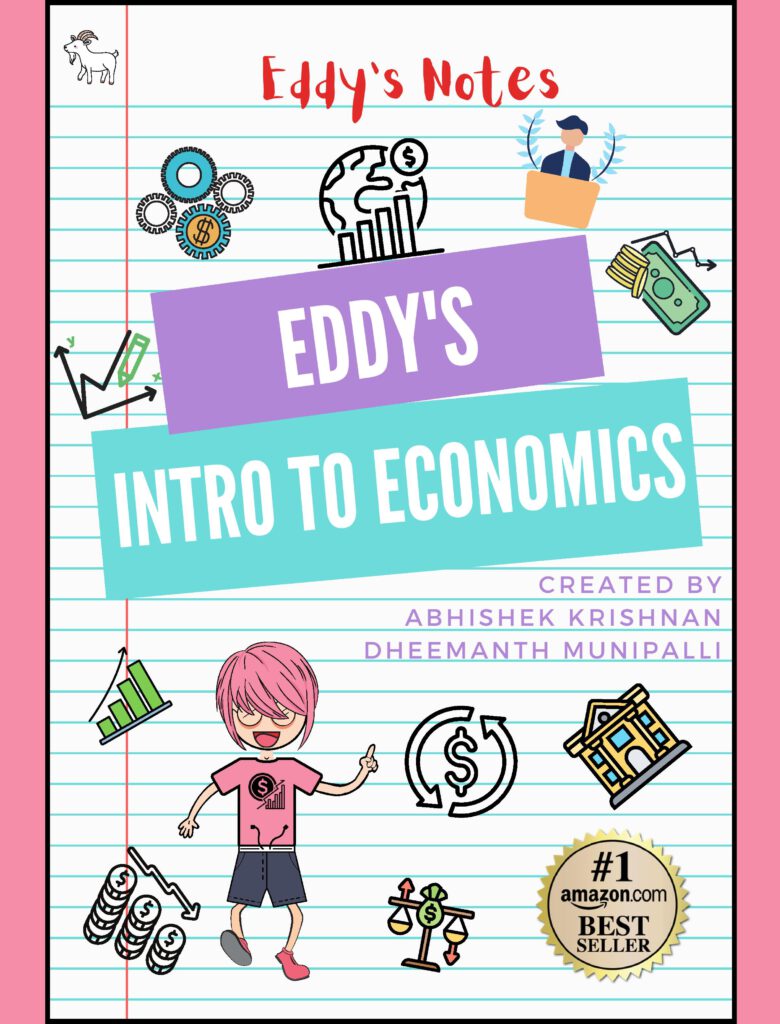 Q: Where does your interest in economics come from? What spurred it?
Abhishek Krishnan: "In [my] junior year, I decided to take AP Economics to learn more about the world around me. I thought that it would just be another class where I would memorize content purely for the purpose of quizzes and tests. To my surprise, though, it was a transformative class that opened my eyes to the interconnected relationship between human behavior and the free market. I instantly became fascinated by the field, and how every lesson we learned was applicable to our lives."
Q: Where did the idea of writing a book come from?
Abhishek: "We live in a society where a new ideal is emerging: If you don't pursue a career in STEM, then you won't be 'successful.' Challenging humanities courses, however, aren't even available in most school districts. Dheemanth and I decided to write an introductory economics book that could be understood by all ages [middle school and up]."
Q: Why do you think a simple, straightforward book aimed at students is needed?
Dheemanth Munipalli: "When you write a book, there are millions of ways to articulate one economic concept. Due to this, we were able to get our perspectives and economic teachings across in a method that is fun to learn. We understand that economics might not be the most fun for children to learn. But through a straightforward, interactive book, we can instill passion within young economists."
Q: Is there a lack of knowledge about economics among younger people, in your opinion?
Dheemanth: "There is a major gap in economics education among young people. From the first day of preschool, we learn English, math and science. Yet we never learn economics. This is something I find heavily concerning as economics is arguably one of the most pivotal topics to learn. Every economic policy, market shift, cryptocurrency, etc., has a direct effect on the well-being of every individual in society." 
Q: What was the writing process like? What were some of the challenges?
Abhishek: "Because 'Eddy's Intro to Economics' is an educational book, we had to brainstorm how to make it simultaneously engaging and challenging. We came to the decision that we would use a myriad of graphics/elements, content display methods and stories to contextualize what concepts look like in the real world. For example, after a chapter on supply and demand, where we explain the idea of shortages, we had a story that explained how COVID caused a shortage of toilet paper and applied the economic concepts of that chapter to the situation." 
Q: Who helped you with proofing? Did you have an econ expert review the material? And how did you publish it?
Abhishek: "We submitted it for review from economics professors across different universities [University of Virginia, Pennsylvania, California-Berkeley] to verify that the content was all represented well and not interpreted wrong. We self-published through Amazon's Kindle Direct Publishing."
Q: What has the response been like to your book?
Abhishek: "We are incredibly surprised by the reactions to our book. Since our publication, we have already been approved by over 300 public schools across 12 states [on] the East Coast to be in the school library."