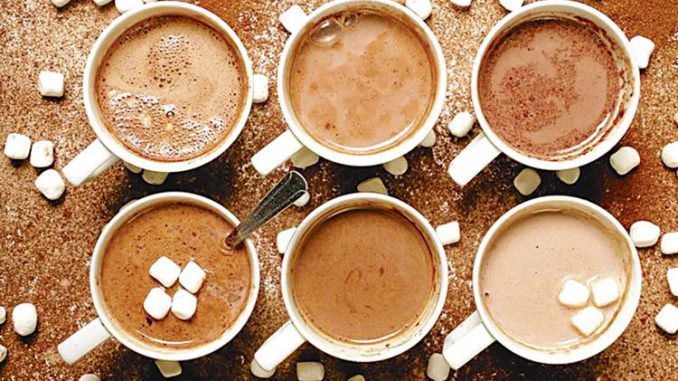 We put six store-bought hot cocoa mixes to the test to find the best.
Snow days aren't complete without a hot, creamy mug of cocoa.
After a day of sledding and making snowmen, the hot chocolate treat hits the spot.
And no matter what your stance is about marshmallows, most of us adore a good hot cocoa.
But the stores offer so many choices, it's hard to know which one to pick.
With snow on the ground this week and many schools taking snow days, we enlisted the taste buds of five adults and one child to taste six common brands found in most grocery stores. Each powdered mix was combined with hot milk for our taste test.
For the most part, it seems you get what you pay for. But there were some good buys that stood out in the bunch.
Here's how we ranked them and a few comments on how they taste.
Ghirardelli hot cocoa was our tasters' favorite.
No. 1: Ghiradelli Premium Hot Cocoa
$4.99 for 10.5 ounces
Comments: "The most chocolaty with a real dark chocolate bitterness. This is the one I want with butterscotch schnapps."
"This is saving my life. It tastes like I am drinking chocolate chips and I love it."
"Winner! Aroma has hints of coffee, and there was definite dark chocolate edge to the flavor. Not too sweet, so the chocolate comes through strong. I would drink a cup of this."
"Definitely my favorite of the bunch. I want more, please."
"Has a great, rich melted chocolate taste, but it's a tad too sugary for me."
Child taster: "Tastes like chocolate. It's the most chocolatey. Also could use 6 or 7 marshmallows. This has a lot of chocolate in it."
Swiss Miss hot cocoa reminded our tasters of childhood.
No. 2: Swiss Miss Classics Hot Cocoa Mix
$2.69 for 10 packs
Child taster: "Pretty good. Could use 8 marshmallows."
"Creamy and mild. No big aftertaste. This is a good campfire hot chocolate."
"A solid, well-rounded chocolate flavor."
"This one tasted better than it smelled. A slight astringency that I associate with a darker, richer chocolate. Not great but not horrible."
"Tastes like melted chocolate instead of powder. Perfectly sweet without being cloying."
No. 3: Land O' Lakes Chocolate Supreme Hot Cocoa Mix
79 cents per package
Child taster: "Pretty good. But not as chocolaty."
"Meh. No chocolate at all — it's like someone waved an unopened Hershey's Kiss over a cup of sugary milk."
"Milky with an almost caramel note."
"Rich, though somehow light on chocolate flavor. I didn't want to finish it for some reason."
"Mild on sweetness and chocolate."
"A hint of salt, which is a good thing."
No. 4: Cafe D'Vita Hot Cocoa
$5.39 for a 10 ounce can
Child taster: "Tastes chocolaty. Needs 6 or 7 marshmallows."
"Whew. What an aroma. But the taste is like melted Tootsie Rolls."
"Creamy with just a small hit of chocolate at the end."
"Great chocolate aroma, and the least sweet example so far. Decent."
"This is the winner for 'most obviously out of an old package found in the back of the cupboard' award."
"Creamy with a great aroma."
No. 5: Nestle Rich Milk Chocolate
$1 for a box with six servings
"Less sugary, a nuanced chocolate. More like vanilla."
"Not a lot going on here."
"Tastes pretty generic, which is to say it tastes like hot chocolate from my childhood. Is that good or bad? I don't know."
"Smelled more like chocolate than it tasted. Chocolate flavor very weak, more like drinking sweetened milk."
"Watery and not enough chocolate."
Child taster: "Rich and creamy. It needs something. Problem is, I don't know what it is."
No. 6: Shur Fine Hot Cocoa with marshmallows
$1.47 for 10 packets
"Creamy but otherwise pretty meh."
"A little thin, with a saccharine sweetness. Almost a burnt note to the chocolate."
"The rich chocolate flavor was overly sugary and had that icky melted marshmallow tinge."
Child taster: "Tastes normal. Like every hot chocolate I've ever had. Could use more marshmallows. One more marshmallow."
"Frothy, but I would pass on this one."
"Very sweet, with a mild milk chocolate taste. More watery than creamy or milky."
——————————————————————————–
Here's a homemade hot cocoa mix and several recipes that use the mixes as an ingredient.
HOT COCOA MIX
2 cups powdered sugar
1 cup cocoa (Dutch-process preferred)
2½ cups powdered milk
1 teaspoon salt
2 teaspoons cornstarch
1 pinch cayenne pepper, or more to taste
Hot water
1. Combine all ingredients in a mixing bowl and incorporate evenly. In a small pot, heat 4 to 6 cups of water.
2. Fill a mug half full with the mixture and pour in hot water. Stir to combine. Seal the rest in an airtight container. It keeps indefinitely in the pantry. This also works great with warm milk.
— recipe from Alton Brown via Food Network
——————————————————————————–
HOT CHOCOLATE CHIP COOKIES
2 sticks salted butter, room temperature
1 cup granulated sugar
? cup packed light brown sugar
2 whole large eggs
1 teaspoon pure vanilla
3¼ cups all-purpose flour
4 packages (1-ounce packets, not sugar-free) hot chocolate mix
1 teaspoon salt
1¼ teaspoon baking soda
1 cup each white, milk and semi-sweet chocolate chips
1. Heat oven to 350 degrees. Cream butter and sugars until smooth.
2. Beat in eggs and vanilla until combined. In a separate bowl, combine flour, hot chocolate mix, salt and baking soda.
3. Add to wet ingredients in 3 to 4 parts, making sure all is incorporated. Fold in chips. Chill the dough for an hour or so.
4. Use a ¼ cup measuring cup to scoop dough onto baking sheets lined with parchment paper. Bake for 9-11 minutes or until edges are golden brown. Let cool for 5 minutes before removing from pan.
— tastykitchen.com