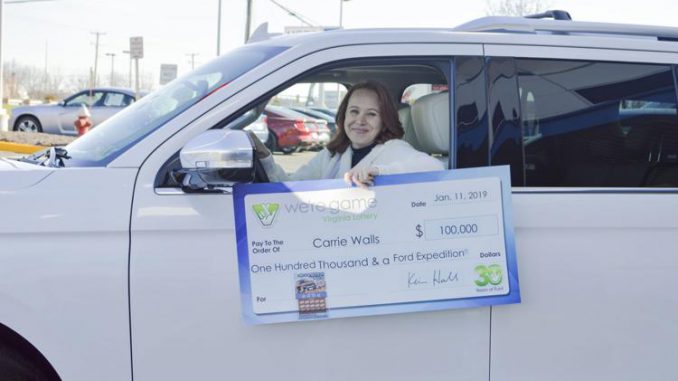 Carrie Walls' husband was a furloughed government worker, but thanks to the Virginia Lottery, the Ashburn family didn't have to worry as much about missing paychecks.
The Ashburn woman's lottery ticket was drawn out of more than 554,000 entries in the Dec. 4 drawing to win the top prize of a Ford Expedition plus $100,000. On Jan. 11, she was at Koons Sterling Ford in Sterling to receive the keys and her check from the Virginia Lottery.
"I cried. I couldn't believe it," she said.
She said the $100,000 portion of the prize was especially timely because her husband is a federal worker who was furloughed in the federal government shutdown.
Walls, who spent more than 13 years in the U. S. Air Force, entered her non-winning Ford Expedition Plus $100K tickets in the promotion.
The game features prizes ranging from $5 up to that top prize. In addition to Walls, two people have won an Expedition and $100,000 with winning Scratcher tickets.
That means one more top prize remains unclaimed.
The odds of scratching to win the top prize in Ford Expedition Plus $100K are 1 in 1,387,200. The odds of winning any prize in this game are 1 in 4.16.