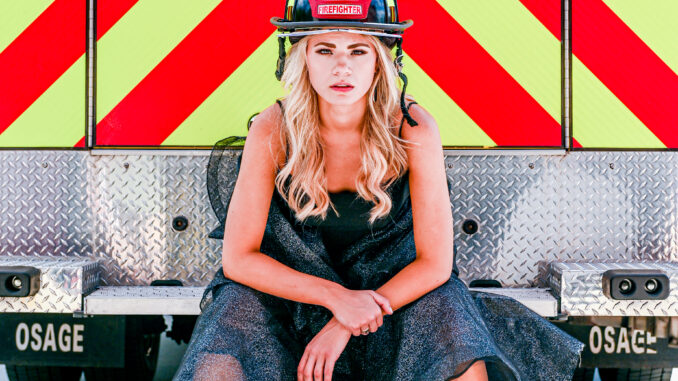 A Helmet & A Crown
By Chris Wadsworth
For Kailee Horvath, 23, helping protect people runs in the family. Her father, Julius, signed on with the Ashburn Volunteer Fire & Rescue Department more than 20 years ago and served as a rescue chief for a time. Her brother, Alex, is a professional firefighter with the city of Fairfax while also volunteering in Ashburn. 
So no one was probably too surprised when – at age 17 and still a student at Broad Run High School  – Kailee joined the Ashburn fire department and started working toward becoming an emergency medical technician. She went on to complete fire school as well and now is a volunteer firefighter and EMT in Ashburn alongside her dad and brother.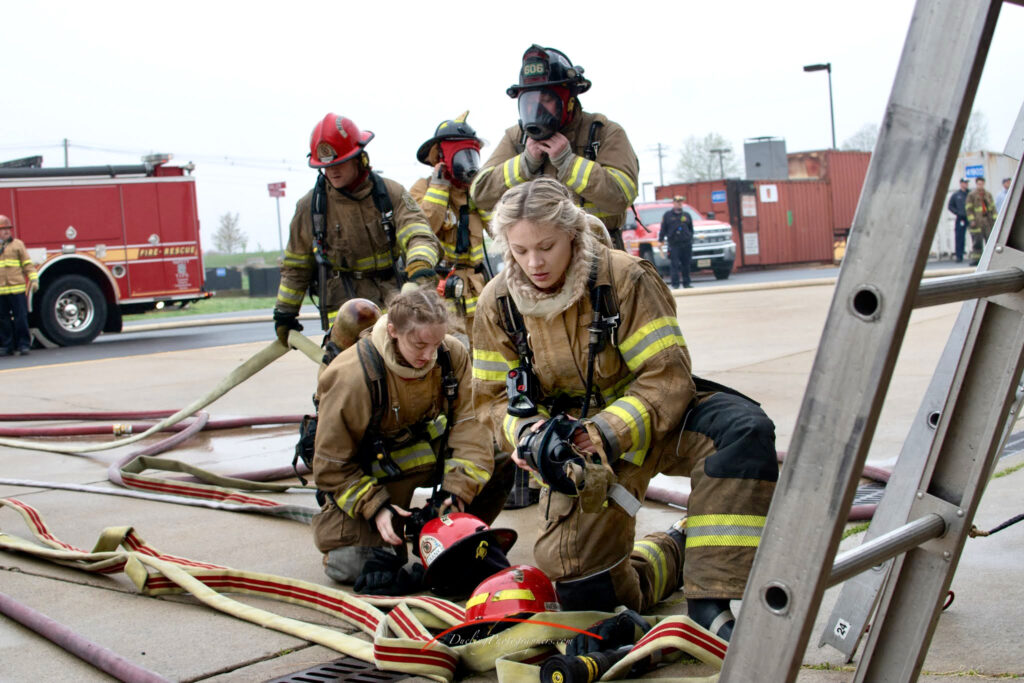 And she's also a full-time college student studying nursing at Marymount University in Arlington. 
Oh, and she's the reigning Miss Virginia USA and headed to the famed Miss USA Pageant in Reno, Nevada, in October. [Editor's Update: Horvath proudly represented Virginia in the competition at the start of October. The crown ultimately went to Miss Texas — R'Bonney Gabriel.]
Just typing up her accomplishments is exhausting, so living it must be a wild ride indeed. Ashburn Magazine interviewed Kailee about everything she has going on and the dichotomy of being both a rough-and-tumble firefighter and an elegant beauty queen. Here are excerpts from our conversation. 
Q: You're a beauty queen and a volunteer firefighter. Such an unusual combination. Let's start with the firefighting. How did this come about?
"I grew up around the firehouse because of my dad. I'd spend my weekends there for pancake breakfasts or open houses. … Then my brother joined when he was in high school. But at that point in my life it wasn't something I ever saw myself doing. But I got to a point in my life where I was going through what I like to call growing pains. I had to quit dancing. I grew up as a dancer, but I quit due to an injury. I didn't know what I was going to do next in my life and I felt very stuck. And one night I visited my brother at the firehouse, and it all just seemed like something I wanted to do. So I joined and I fell in love with it."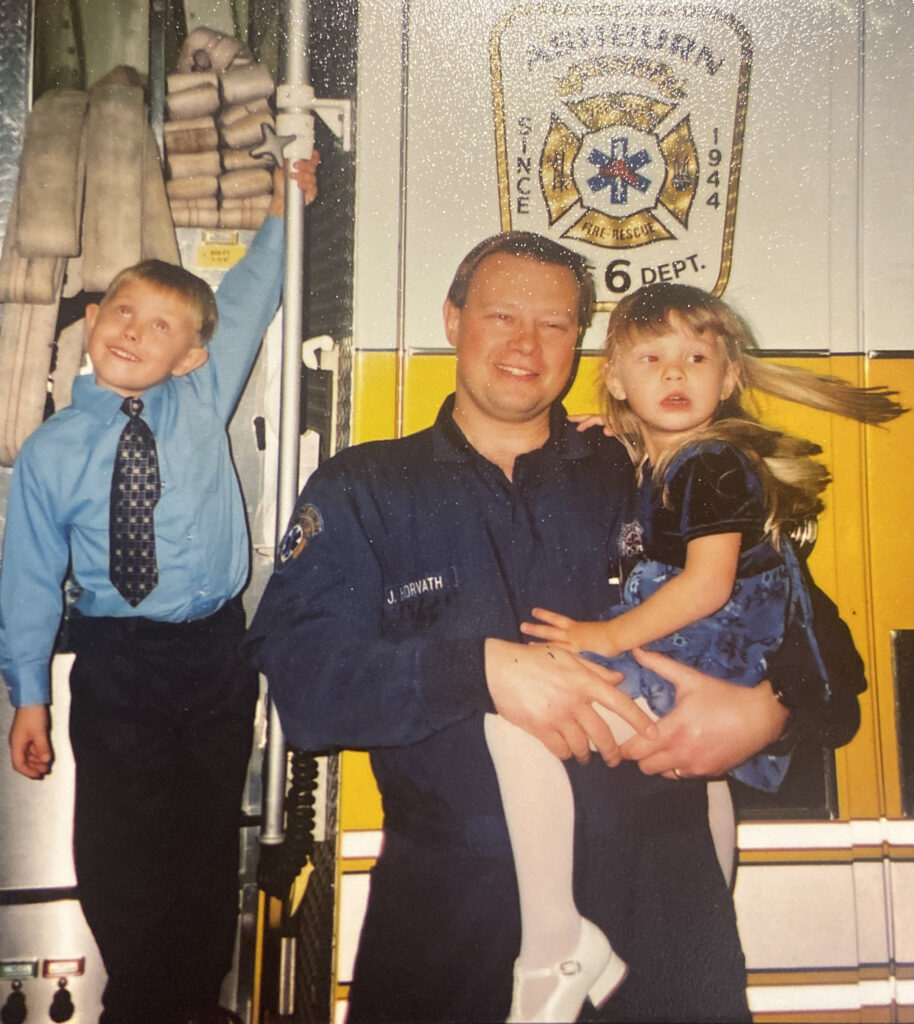 Q: What drew you to it?
"For me, it's always been about the atmosphere and the camaraderie. There is this family feeling … you truly cannot get anywhere else other than the fire house. There are people there that are twice my age that are like family members to me. Age, gender, all of that aside – you get to know people on a really personal level. You spend hours and hours with them and you go through crazy experiences. It truly is one big happy family." 
Q: What type of training or preparation did you have to do? How tough was that?
"EMT class was a little bit tougher for me. I started a week after my 18th birthday … it was three months … and you do that on top of finishing my senior year of high school. It was all medical – it was all foreign to me. I had never experienced anything like that. Then fire school last year – the testing and quizzes and reading and coursework wasn't hard. What you don't get at EMT school is how physical it is. We were there training 20 hours a week. The entire time you are there you are throwing ladders and pulling lines doing hands-on training. That's the only way you really learn in that kind of field is hands-on repetition. Very different. So fun – but very very challenging." 
Q: What was your most memorable call?
"I always say some of my most meaningful calls are some of the nursing homes that we run. Or the elderly patients that live alone. With the fire service, you only really get to spend maybe 20 minutes to an hour tops with someone. And then I drop them off at the hospital, and I don't get to know what happens to them next. So some of my favorite memories are just people who oftentimes live alone that I get to make an impact in their life in a short period of time. Some of them are lonely, and I get to interact and talk with them." 
Q: Are you a bit of a tomboy? It seems that beauty queens may not like getting dirty and breaking a sweat — things that must happen all the time responding to an emergency.
"It's weird. Growing up, I loved wearing dresses and skirts and putting on make-up, but I always say I have that really good balance. I'm probably the girliest tomboy you will ever meet. On a day-to-day basis, I don't do my hair, I don't wear makeup. I'm in workout clothes or scrubs, or jeans and T-shirt. But on the other side of things, I do love putting on makeup. I do love curling my hair and putting on a dress and going out or going to appearances as Miss Virginia. I've always been a little bit of both – so it's nice that I have that luxury to do both sides of it." 
Q: Where did your interest in pageants develop?
"When I was about 10 years old, my mom stumbled across an advertisement … for a local pageant and I competed, and it kind of just stuck. We jumped around different [pageant] systems and then I started in the Miss USA system when I was 16 as a teen contestant. And I've been with that system ever since."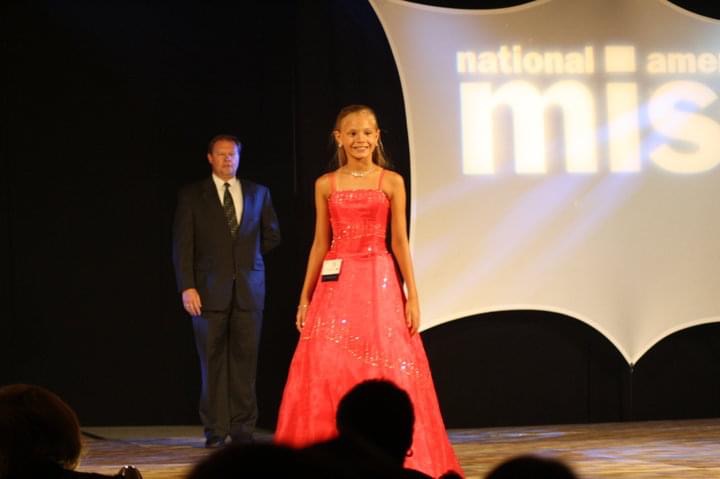 Q: Tell us about some of the pageants you have participated in. And did you try for Miss USA Virginia before?
"When I was younger, in smaller systems, I won a handful, but nothing super well known. I never won any national titles or anything crazy. It wasn't until I won Miss Virginia USA back in April that I felt like I won something big. This was my third attempt at Miss Virginia USA. I competed for Miss Virginia Teen USA three times, and this was my third time competing for Miss Virginia USA." 
Q: How did it feel when they called your name?
"Honestly, I hate saying it was shocking because when you try for something so hard, you have to believe to some extent that you're going to win. But it was incredibly exciting. This is something I worked toward for years, and I felt like all my hard work had finally paid off. Pageants are incredibly subjective. It's not like there is a magic formula that will get you to win. You have to deal with maybe not knowing why you didn't win. Different judges, different days, different wardrobes can all play a role in who wins. It was just cool that all the stars finally aligned."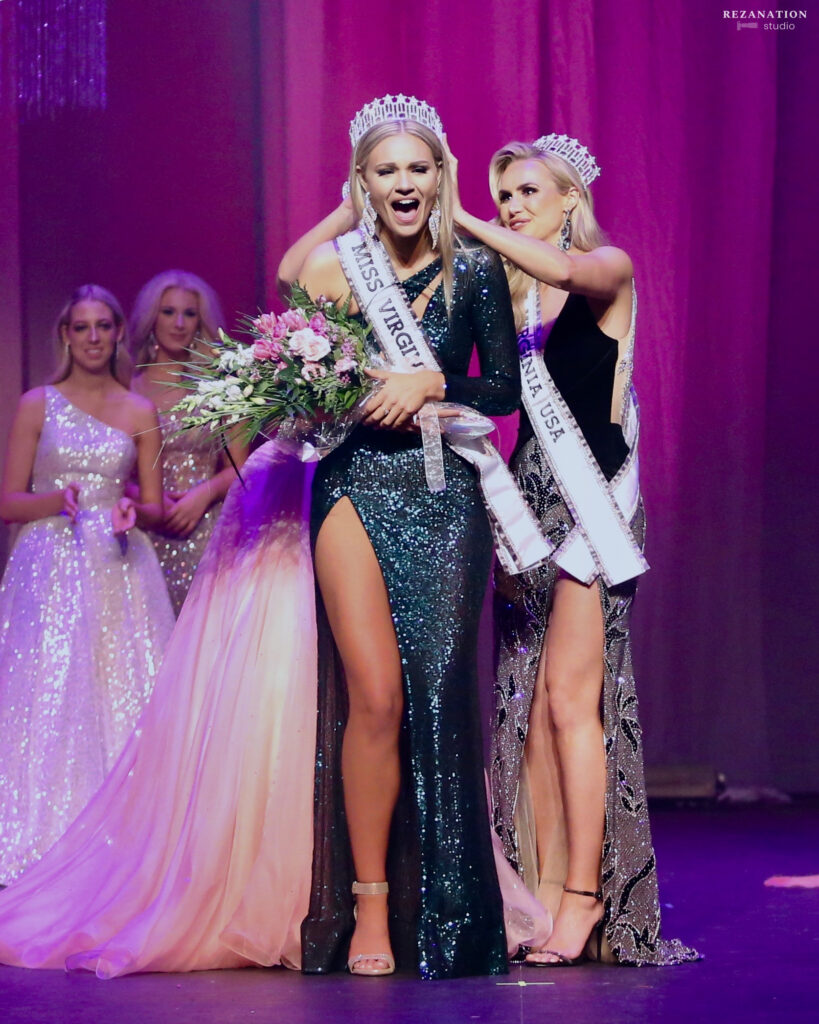 Q: What was your most memorable moment from a pageant?
"A couple of years ago, back when I was about 17, I was backstage and you're by yourself. My mom couldn't come back there. You're with all the other contestants. I was curling my hair and I accidentally set my curling iron on my lap and I burned this huge mark on my leg right before I had to go out [on stage] in activewear. I had this probably 3-inch mark on my skin. All the girls were so nice. They all had Band-Aids and were so great about helping me. It's such a weird story. It's funny when I look back on it, but I still have the scar." 
Q: How do judges or other contestants react when they hear you are a firefighter? Do you think it helps you stand out?
"It's caught a lot of attention. People have always been like, 'Whoa.' It definitely makes someone stop and take a second look because it is so uncommon. I do think that the one thing that describes me pretty well is that I'm not just Miss Virginia USA. I'm also a firefighter/EMT on top of that. It's two opposite ends of the spectrum, but I also feel like it perfectly encapsulates who I am as a person. [There are] people who just don't believe me, but [I tell them], 'I have pictures to prove it. I promise.'" 
Q: What are your expectations for the Miss USA Pageant (Oct. 3 at the Grand Sierra Resort and Casino in Reno)?
"My expectations are honestly just to do the best I possibly can. I know that sounds cheesy, but I have been working toward Miss Virginia USA and getting to compete at Miss USA for my whole life, it feels like. It truly is a dream to get to compete against so many amazing women of that caliber. They sent us on a little retreat back in June … so I've already met all the other 50 women I will be competing against. We talk every day. These women are so amazing. I just hope that I can stand out and I can show who I truly am. As long as I put everything that I have out there, I will be proud of myself."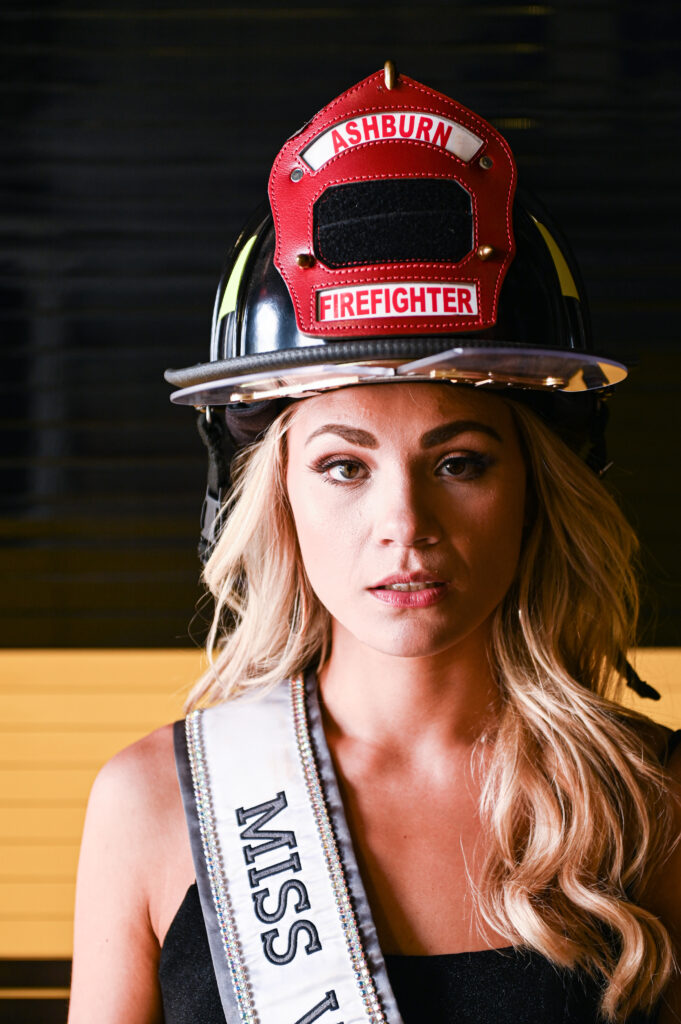 Q: What does your future hold?
"I've always said you can't really get any bigger than the Miss USA or the Miss America stage. So Miss Virginia USA will probably be it for me … unless I were to win [Miss USA] and go on to compete for Miss Universe. It's sad and it's a little bittersweet;  I've been doing this for over 10 years. I would love to volunteer [with pageants] in my free time if I still can, and I'm really just looking forward to starting my career in nursing." 
Q: Is there a particular type of nursing you plan to focus on?
"I'm not sure yet, but I would love to do pediatrics or work in an ER." 
Q: How do you think firefighting and pageants will help you reach your goals?
"I've always said if there is one thing that I have learned from both pageants and the fire service, it's perseverance. I've learned that not everything is going to come easy to you. You're not going to succeed at everything on the very first try – and that's OK. It's how many times you pick yourself up and try again and keep trying. It's that tenacity that I think I will carry with me in my nursing career and everything else that I one day do."
SECOND ASHBURN BEAUTY QUEEN TAKES TITLE, TOO
Kailee Horvath isn't the only Ashburn native to take a major pageant title. Victoria Chuah won the Miss Virginia title in June and will compete in the Miss America 2023 pageant, which is expected to be held in December 2022 or January 2023.
Chuah, 22, is originally from Ashburn and graduated from the Thomas Jefferson High School for Science and Technology in 2018. More recently, she graduated from the University of Pittsburgh with a master's degree in computer science. She is the daughter of Chong-ket Chuah and Dr. Ann Hebda. Hebda is a prominent Ashburn dentist.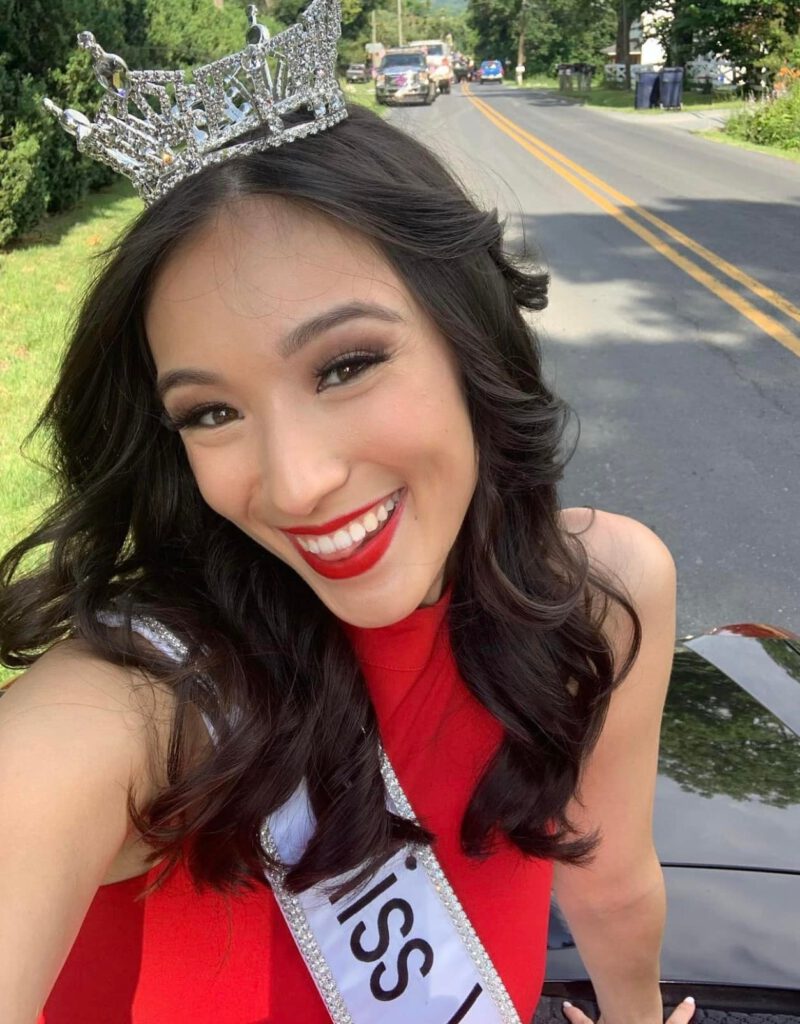 Chuah competed in the Miss Virginia competition representing Arlington. The Miss America pageant and the Miss USA pageant are two separate programs. Chuah won Miss Virginia and will compete for the Miss America title. Horvath won Miss Virginia USA and competed in the Miss USA pageant.