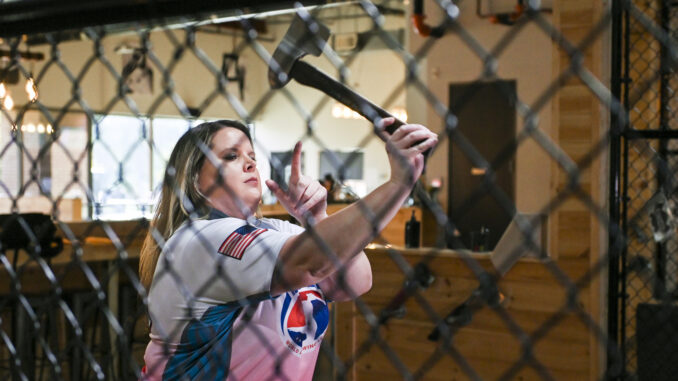 THE AXE FACTOR
By Jill Devine
Photos by Astri Wee
Like most attorneys, Suzanne Bassett flings a heavy satchel over her shoulder when she leaves her office for the day. But sometimes Suzie, as her friends call her, isn't simply carrying a big load of case files to review.  
"You never know what a woman has in her bag," laughed Bassett, as she opened it to reveal a gleaming collection of hatchets, axes and knives. 
Those eye-opening implements have made it through baggage checks at airports across the country. That's because, at press time, Bassett is the top-ranked female in the World Axe Throwing League. When you include men, she's still No. 53 overall – out of more than 5,000 active league participants worldwide. 
TARGET: ATHLETICS
"I've always been competitive, both academically and in sports," said Bassett, who lives in the Broadlands. 
At her upstate New York high school, she was a straight-A student and class valedictorian, and she earned seven varsity letters as a field hockey goalie, softball pitcher and volleyball middle player.  
She moved to Ashburn about 10 years ago, graduated cum laude from the American University Washington College of Law and now specializes in food and drug law as an associate attorney for the Polsinelli law firm in Washington.
Bassett thinks her athletic background conditioned her to be good at axe throwing, a sport rooted in lumberjack traditions that didn't formally exist until the early 2000s.  
"I've used my wrists my whole life, controlling slight movements to get a ball to do what I want it to do," she explained. "Understanding how my wrist works and having control over my arm helps me throw accurately."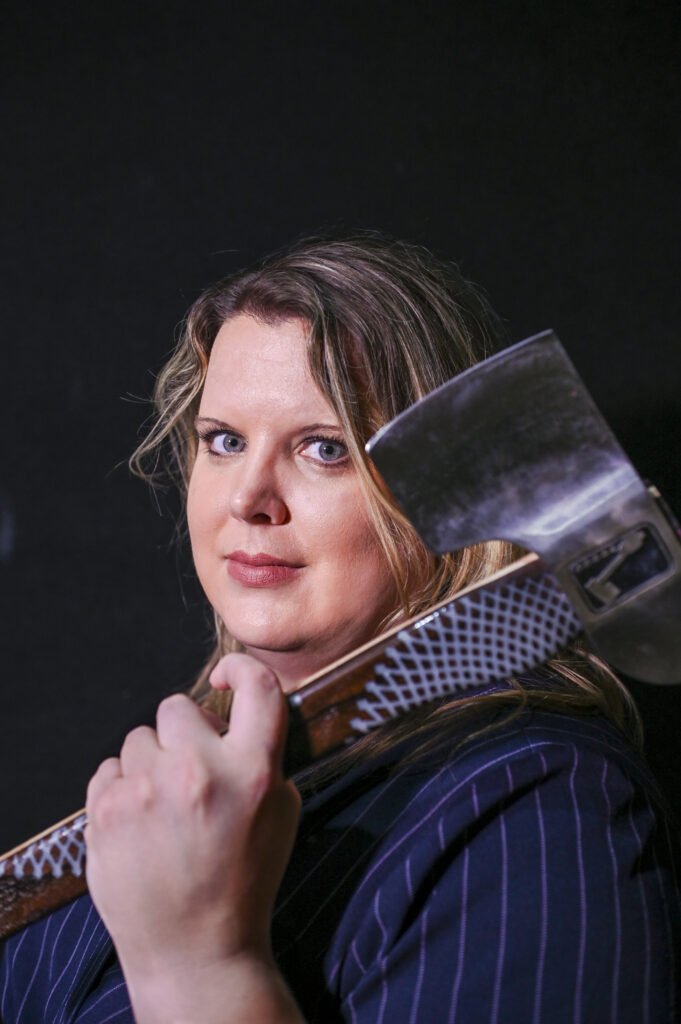 A NEW TALENT
An invite to a scavenger hunt a few years ago led Bassett to discover axe throwing.  
"I was working late and couldn't go, so my friend suggested I meet with them afterward at an axe throwing place in D.C.," she said. "I showed up in a dress and had no idea what I was doing. A guy handed me an axe and told me to throw it, and I surprised everyone by immediately being pretty good at it."  
Bassett started winning competitions in Washington before joining a league in Baltimore. 
In 2019, Bassett read about a new axe throwing venue, Axes and O's, that was opening in Sterling. She reached out to the owners about throwing there. 
"Watching Suzie throw, I could tell right away, from her form and concentration, that she knew what she was doing," said Tara Hampton, the owner of Axes and O's. "Being a lawyer, Suzie is very persuasive, and she convinced me to start a social league, even though I wasn't sure we were ready. We started with about 12 people, but as pandemic restrictions eased, we quickly grew to more than 50 for the Thursday night league." 
ARMED & READY
Bassett's heavily padded competition bag currently holds nine customized axes and hatchets and a set of knives, although she says she owns about 50 related tools total. Competition disciplines are categorized as Hatchet, Big Axe or Duals, with appropriate rules and tools for each.  
"Everyone loves to watch Duals," she said. "It's the most fun because two people throw at the same target at the same time, and sometimes even the best of us screws up and hits each other's axe. There's more fun and chaos at Duals – anything can happen." 
Her favorite axes have custom wooden handles created by fellow Axes and O's thrower David Kline, owner of DMV Axes. Because she uses a pinch grip when throwing, Bassett prefers square handles that won't rotate like round handles.  
"He just made one for me with a design like the lace on Ruth Bader Ginsberg's collar," Bassett said. She paired it with her favorite leather blade sheath that has RBG's portrait on one side and an image of the Supreme Court on the other. "RBG is my idol," she said.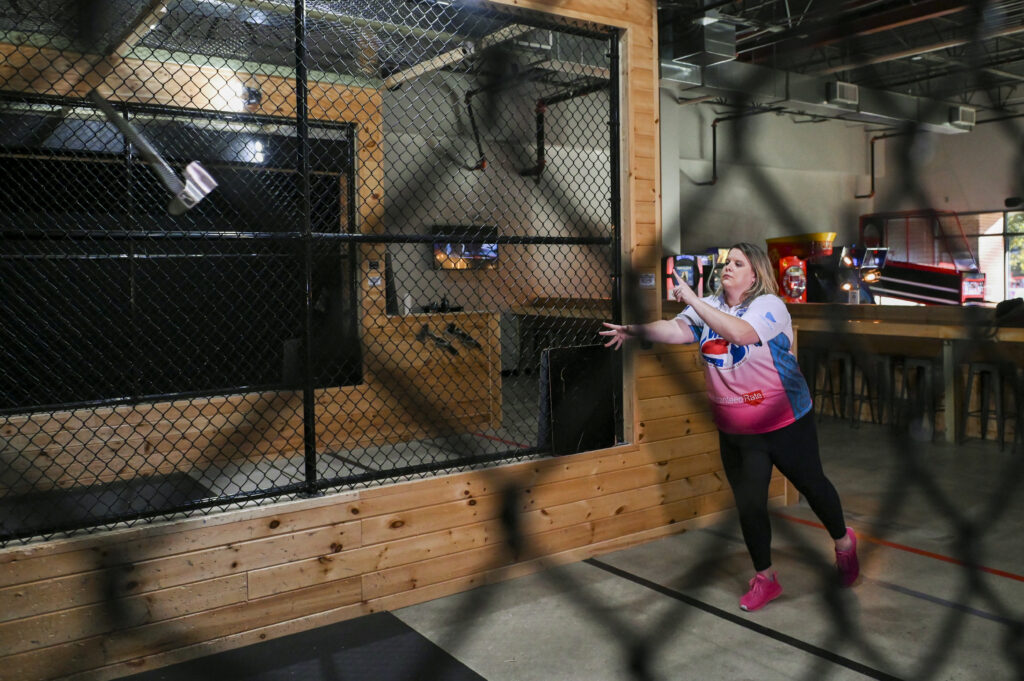 AIMING TO WIN
Bassett has earned a bid to the World Axe Throwing Championships in Appleton, Wisc., in December. She qualified in all three disciplines. 
"I take pride that I do very well in a male-dominated sport," Bassett said. "There are no gender differences in axe throwing. We play in the same leagues, compete in the same tournaments, and I don't get a handicap." 
Bassett has won or placed in quite a few different tournaments in the past few years. She took third place at the Tilted Axes Spring Fling, a coed WATL-sanctioned tournament in West Chester, Penn., and was the highest ranking woman in that contest. She won second in the coed Rustbelt Rumble in Rochester, N.Y., beaten only by the reigning world champion. And earlier this year, she took the title in the Queen of the South competition, a women's tournament in Tyler, Texas.
As a woman in a male-dominated sport, Bassett is breaking new ground.
"Suzie is currently the top-ranked female in our sport, competing in multiple disciplines against anyone that steps up to the line," said Mike Morton, commissioner of the World Axe Throwing League. "[She is] consistently proving that success in axe throwing is not tied to one specific gender."
GRACE UNDER PRESSURE
Bassett credits her success to consistent practice, her willingness to change her throw or try a new axe as needed, and her ability to channel stress into energy that works to her advantage in competitions. 
"Suzie's game is always about what she needs to do with her throw, not who she is throwing against," said Russell Murphy, Bassett's duals partner and boyfriend. 
Murphy recalled how focused Bassett was at a tournament where she was competing against one of the top throwers in the world, Mark Tishko.
"It was insanely close, and they almost threw a perfect game," said Murphy, referring to a score of 64. "Suzie lost two matches to him, but she threw two of her best games – 62 and 63 – in a row." 
Prizes aren't usually huge when compared to many other sporting events. They can range from hundreds of dollars up to thousands at major tournaments. Bassett took home roughly $1,000 in 2021 and, because she has competed a bit less this year, she's taken home roughly $600 so far.
Fortunately, Bassett says thanks to her day job as an attorney, she has the luxury of worrying less about the cash prizes and focusing more on inspiring her fellow female throwers as well as encouraging more women to join the league and helping them find sponsors to cover costs. 
"Most of the time, the men are on the podium. Very rarely do women win any money," Bassett said. "So my goal is to go there and do my best and make a splash for women in the tournament – and make some men nervous."
Jill Devine is a freelance writer and former magazine editor from Loudoun County who writes for a variety of Virginia publications.
SUZIE BASSETT OFFERS UP SOME AXE THROWING ADVICE
Don't be afraid to try. Don't be put off by an image of bearded men in plaid shirts. That's not what the community is. There are lots of axe throwing venues so give it a try.
Repetition is key. Throw and repeat. When you're under pressure at a tournament, you need that muscle memory. Just keep throwing.
Don't be afraid to change up something that's not working. A lot of players plateau, but they aren't willing to change a handle or change their throw. That's the best time to try something different.
Don't throw it like a baseball. People try to throw it hard, to throw it through the wall, but you don't have to do that. The harder you throw, the less control you have. People who make the big stage are throwing relatively softly.