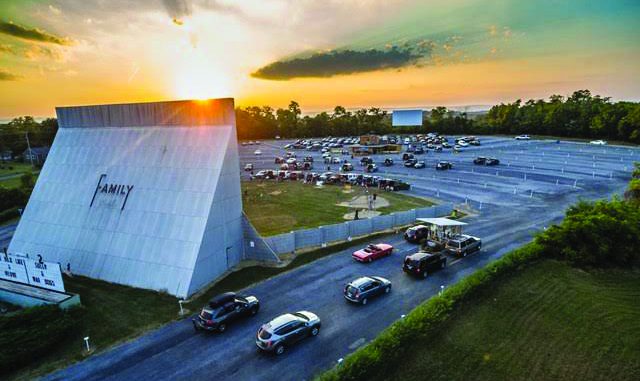 By Angela Marsh
When it comes to watching movies, I like comfort. My squad — husband Dan and teenagers Katherine and Tommy — rarely strays from our beloved Alamo Drafthouse at One Loudoun. How can you beat warm cookies and milk while watching "John Wick 3"? Sometimes we switch it up for the cozy seats at the Starplex. (Yes, it's technically called the Loudoun Station 11 now, but it will always be the Starplex to me).
However, we were feeling adventurous and decided to strike out and do something different — a good, old-fashioned drive-in movie. Considering a double-feature was only $9 for each of us, it seemed worth the risk.
It takes about an hour to drive from Ashburn to the Family Drive-In Theatre in Stephens City, just south of Winchester. It's the last drive-in theater left in Northern Virginia. We knew we had arrived when we saw the line of cars nearly a half-mile long pulled onto the shoulder of the two-lane Highway 11. But once the gates opened at 7 p.m. sharp, the line moved quickly. Pro Tip: Get there early.
As you approach the theater, you can see the giant screen. It is straight out of the 1950s and immediately transports you back in time. It's an old screen with a few panels worn and torn, but it has a certain vintage charm. We pulled into the parking lot, and I half expected to see the T-Birds sitting on top of Kenickie's car or Rizzo walking out of the bathroom. (Those are references to the classic movie "Grease" in case some readers aren't familiar.)
The Family Drive-In opened way back in 1956. It still features the original car speakers on poles, but they have been updated with digital stereo technology. We hung ours inside the car window and were surprised at how good they sounded. You can also tune into the drive-in's FM channel via your car radio. Pro Tip: Bring a portable radio to create crazy cool surround sound.
Our car was packed with lawn chairs, blankets, bug spray, and our dog, Rascal. There's an area for the children to run around and two playsets with swings and a slide. Popcorn is a must, so we headed for the concession stand. Both the lines for the bathrooms and the snack bar were fairly long, but the menu choices were great. They even cook the burgers on an outside grill. Pro Tip: Pack a picnic. You can bring in your own "outside" food for a $10 fee.
Just before the movie started, the clouds rolled in and it started to rain. We all piled into the back of our SUV and it got just a bit too crowded. It was stuffy and I started to miss the Alamo. Where was the server with my cookies and milk? But the rain quickly passed, and we set up our tailgate camp again. Pro Tip: Be prepared with rain gear, just in case.
I wrapped myself in a blanket and got cozy as a cool breeze blew in. Fireflies flew over my head as lightning flashed in the distance. It was beautiful and I soon felt fully relaxed — a rarity. I looked over to see my 16-year-old daughter singing along with Aladdin and I smiled.
A light drizzle returned and forced us to retreat once again. We packed into the car and snuggled up tight like we did when the kids were little — the type of moment I thought had long passed. I was delighted. Reclining seats and attentive waitstaff – who needs them? I'll take the magical time machine of the Family Drive-In Theatre any time.
If you go
What: Family Drive-In Theatre
Where: 5890 Valley Pike, Stephens City, Va.
When: Gate times — 6 p.m. Saturdays, 7 p.m. Fridays and Sundays, 8 p.m. Monday thru Thursday — show start at dusk.
Season: Mid-March thru mid-December — open 7 nights a week during summer break, open weekends during spring and fall
Cost: $9 per adult in car, $4 children ages 3-11
Info: http://www.thefamilydriveintheatre.com
— Angela Marsh is a freelance writer living in the Broadlands with her husband, Dan, and their two children. She's also the owner of CoolMama, a local purveyor of gourmet granola products.