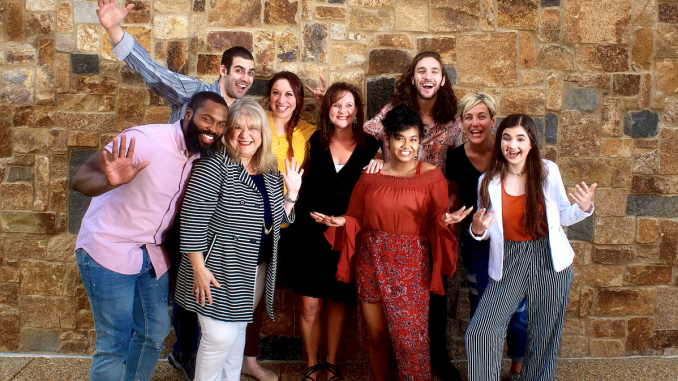 Local reality television stars dish about their time in the spotlight.
=========================
BRANDON DIAZ
Singer/songwriter and Berklee College of Music graduate
Appeared on NBC's "America's Got Talent," NBC's "The Voice," Fox's "The X-Factor," and ABC's "American Idol" 
Some might call Brandon Diaz the "king" of Ashburn reality stars. The Briar Woods High School grad first did "America's Got Talent" when he was 12, "The Voice" and "The X-Factor" when he was 16 and then "American Idol" when he was 21, where he made it to the Hollywood rounds.
"I was so nervous – it was my first performance on Hollywood week, and just before I walked on, they called a bathroom break and all the judges and producers walked away," recalled Diaz, 22. "And I'm standing there, and my nerves are getting worse. [Judges] Katy [Perry] and Luke [Bryan] walked right by me and then I feel Lionel [Ritchie]'s hand on my back and he says, 'You got this,' and it calmed everything down and I went out there and killed it."
Sure enough, Diaz sailed into the top 24, but was eliminated when the contestant pool was cut to 14. 
Diaz recently graduated from the Berklee College of Music and is living in Los Angeles, working on his craft. He's been writing music with friends and expects to release some new songs in the next few months.
Looking back on "Idol" and his other TV experiences, Diaz doesn't regret a minute of it. "It allowed me to push myself — and I love pushing myself."
—Chris Wadsworth
=========================
KRISTA WOODS
Creator and founder of GloveStix
Appeared on NBC's "Today," ABC's "Shark Tank"
Krista Woods was a typical Ashburn mom, complaining about her kids' smelly athletic shoes and equipment. But then Woods did something atypical: She developed a product that eliminates unpleasant odors, created a company, and then used reality TV to help her market her invention.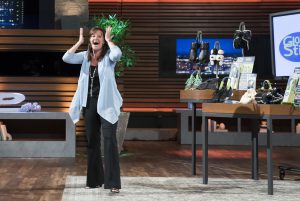 By now, many Ashburn residents are familiar with GloveStix, the anti-microbial sticks with moisture absorbing inserts that are placed in shoes and other sweaty clothing to inhibit bacteria growth and neutralize smells. Woods created GloveStix in 2015 and the following year, on a whim, she applied to be on the "Today" show's "Next Big Thing" competition. She was selected as a finalist and pitched GloveStix live on morning network television.
"I remember that moment like it was yesterday," Woods said. "You're standing behind these 'Today' show doors and they're about to open up and you're going to walk out there on live TV.  My entire body was shaking, armpits sweating. I've never been that nervous in my entire life. They started counting down — 20 seconds until the doors were going to open — and full blown panic set in. I told them, 'Stop counting!'"
Despite the nerves, Woods did wonderfully and went on to win the competition. Her prize:  pitching her product live on the QVC shopping channel. 
Woods went on to appear on the popular reality entrepreneur show "Shark Tank" in 2017.  On air, she struck a deal for investment in her company by "sharks" Lori Greiner and Alex Rodriguez, but afterward, hiccups arose, and the deal was never executed.
Still, Woods says she would absolutely do her reality TV experiences again.  "One hundred times over. I take every opportunity I can to make people aware of my product and my story."
—Chris Wadsworth
=========================
PJ RINER
Realtor with Local Home Co.
Appeared on HGTV's "House Hunters" 
In 2015, real estate agent and longtime Ashburn resident PJ Riner had clients — a couple looking for a local home — who were selected to be on the popular HGTV program "House Hunters." As part of the process, Riner had to send in her own audition tape, to prove she was sufficiently upbeat and personable. She passed and soon found herself showing houses in and around Ashburn with a producer, a cameraman, a sound man and a production assistant in tow.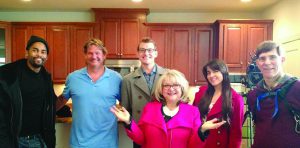 "After Day 1, I felt like I had been hit by a bus," said Riner, who today is with the Local Home Co. in Ashburn. "When you're going through 5,000-square-foot properties and it's all ad-libbed and you have to remember everything you said because you're going to re-do it over and over again. Due to sound issues and camera shots … you have to go up and down steps and go into rooms three or four times."
One longtime "House Hunters" rumor that Riner confirmed: The people hunting the houses have usually already bought their home before shooting begins.  Then they are shown their actual house, plus a couple of decoys. This streamlines the production process and makes sure the show doesn't waste time on people who don't end up buying.
"They have to do it," Riner said. "Home deals fall through so easily."
Interestingly, Riner's partner in her agency is her daughter, Lauren Riner. Reality TV must run in the family because Lauren has appeared on two episodes of the HGTV show "Get It Sold."
—Chris Wadsworth
=========================
ERIN SCHWARTZ & JOE MARIANO
Owners of Stacked Cakes in Ashburn
Appeared on the Cooking Channel's "Cake Hunters" and "Crazy Cakes" and the Food Network's "Ridiculous Cakes"
Despite "devouring" cake shows while she was growing up, Erin Schwartz never dreamed she would make a name for herself on national television with her own cake creations. But that's just what happened.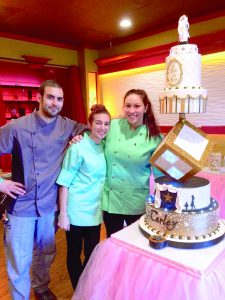 Schwartz, 29, and her boyfriend/business partner Joe Mariano, 30, started Stacked Cakes in 2012 to channel their passion for art and cake design. They have a cake studio off Red Rum Drive in Ashburn. Within a few short years, they had been featured in numerous magazines, and not one, not two, but three different reality TV shows.
One of Schwartz's favorite network TV cakes was a 6-foot behemoth she and Mariano made for some expectant parents on the Cooking Channel program "Cake Hunters." Featuring a levitating pointe ballet shoe, six separate layers and LED lights designed to flash in synch with music, the cake was titled "A Star is Born."
Although Schwartz and Mariano make their culinary work look easy, that's not always the reality. Often, cake designers who take part in television shows work all night in addition to long days filming the show.
"For a life-sized desk cake we created, we had to work through the night to make sure we'd stick with production schedules," Schwartz said. "Naturally, the crew isn't going to stay with us all night, so they ended up setting up an overhead time-lapse camera for us."
—Christin Perry
=========================
JEREMY ROSS
Bartender at Sense of Thai at One Loudoun
Appeared on Food Network's "Chopped" 
Jeremy Ross is well known in Ashburn for the amazing cocktails he whips up nightly at One Loudoun's hot spot restaurant Sense of Thai. But this talented mixologist has a secret talent than many of his regulars didn't know about — he's also one heck a of chef.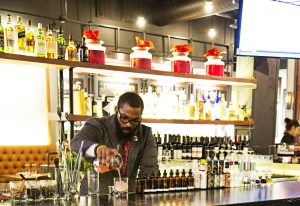 Producers for the television show "Chopped" saw his food photos on Instagram and invited him to compete against other bartenders in an episode of the cooking contest show, where chefs have to create dishes on the fly from a hodge-podge of ingredients.
He went to New York City for the show, which started taping at 5 a.m. and wrapped up at 9 p.m. His episode aired in January.
"It was a cool experience," said Ross, 29. "It was cool working under such pressure. A lot of cameras can intimidate you, but I just envisioned the cameras as guests at a restaurant."
Ross finished as the runner-up. He made it to the dessert round, but his strawberry rhubarb turnover with a whiskey-based eggnog tripped him up. But it was still a victory in his book. "I was just happy to finally show the world that I have developed this skill for cooking."
—Chris Wadsworth
=========================
REEM DALY
Works in federal sales at SailPoint Technologies Inc.
Appeared on CBS's "Survivor: Edge of Extinction"
Many people in Ashburn watched the most recent season of "Survivor" as Ashburn mom Reem Daly had one of the most grueling experiences ever in the show's 38 seasons. Voted out at the first tribal council, Daly chose the "Edge of Extinction" option, which took her to a deserted island where she spent the next 35 days in harsh conditions for a shot at getting back in the game.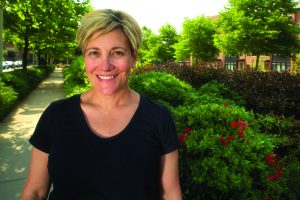 At one point, rats were running across her chest while she tried to sleep.
"Are you serious? It was terrible," Daly told Ashburn Magazine. "I had never been so miserable in all my life. It was pouring down rain. It was freezing. But I signed up for that. I didn't feel bad for myself.
As brutal as the conditions were, Daly was most interested in the interpersonal relations among the contestants. She rubbed some people the wrong way, and some of the others annoyed her, but she doesn't regret how she played the game.
Her takeaway from the experience: "Kindness goes a long way … I think some people have a hard time accepting that someone is being kind to them and there are no ulterior motives behind it."
—Chris Wadsworth
=========================
KAITLYN MAHER
High school student
Appeared on "America's Got Talent"
Ashburn resident Kaitlyn Maher, 15, has a lot of feathers in her young cap. She was the youngest Top 10 finalist on the show "America's Got Talent" — when she was just 4 years old. She also sang in front of President George W. Bush at the annual National Christmas Tree Lighting in 2008, where one of her main memories is being given a holiday cookie in the shape of the president's dog.
"I learned a lot about the industry and performing at a very early age," said Kaitlyn, who attends The Potomac School in McLean. "The directors and producers were all wonderful to work with. Everyone was very supportive and encouraging — it felt like having an extended family."
A YouTube video of little Kaitlyn singing "Happy Birthday" caught the attention of NBC producers who asked her to audition for "AGT." Audiences caught Kaitlyn fever too, especially when she appeared on the show performing the song "Somewhere Out There" wearing a bright pink dress and matching Crocs.
Since then, she has performed at events around the country and continues to work in the entertainment industry. She's had several TV and movie acting roles — including a starring role in the Disney Channel movie "The Search for Santa Paws" — and has done voice work for animated programs as well.
—Christin Perry
=========================
CAROLINE MURPHY
Vice President of Franchise Development at Woofie's
Appeared on CNBC's "The Job Interview"
Woofie's is one of Ashburn's most notable homegrown businesses. Started as a dog-walking business by a couple of Ashburn neighbors, it has since grown into a large mobile grooming and pet-sitting business. And yes, they still walk dogs too. Recently, the company started franchising into other communities.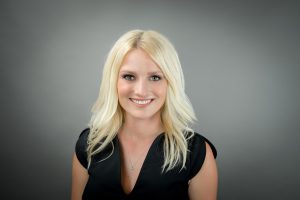 So, when the phone rang one evening in early 2017, Caroline Murphy, a VP with Woofie's, assumed it was another potential new client. She was wrong. It was a producer from the business network CNBC calling to invite Woofie's to appear on an episode of "The Job Interview" — a reality TV show that follows the interview and hiring process of small businesses.
Before she knew it, Caroline and colleague Renee Ventrice were ushered to New York, where they participated in a dawn-to-dusk marathon of interviewing job candidates, looking for a perfect fit for Woofie's.
"We were brought into a room where they had about 25 cameras set up. They were filming us from every angle —it was crazy. They sent candidates in one after the other, and we had no idea what they would be like other than a quick glance at a stack of resumes they had given us," Murphy said. "It was a great format, though, because all of our reactions were genuine — everything is in real time."
The Woofie's team was delighted to fill not one, but two open positions — a dog walker and a groomer.
—Christin Perry
=========================
PARAVI DAS
Recent Stone Bridge High School graduate, headed to UCLA
Appeared on ABC's "American Idol"
Paravi Das had a circuitous route to appearing on "American Idol" in the spring 2018 season. She applied online, was invited to an audition in Annapolis, went to Los Angeles for another audition and then went in front of the celebrity judges in Savannah, Georgia. And that's where — lo and behold — they gave her a coveted golden ticket to Hollywood.
"I was completely in shock," Das said. "I'd been watching 'American Idol' since elementary school so this scene that I had seen happen on my TV screen for so many years was finally happening to me. That was one of the happiest moments I can remember. I still can't believe it happened."
In Hollywood, Das made it into the Top 169 contestants, but was eliminated in the section where the singers are divided into rows of 10. During this time, Das' father had a stroke at home and she found out mere minutes before she performed. "At that point, I didn't care about being eliminated," she said. "I just cared about him and how he was doing."
This fall, Das will be a freshman studying musical theater at UCLA. Her dream is to stay in California and pursue a career in music and acting.
—Chris Wadsworth