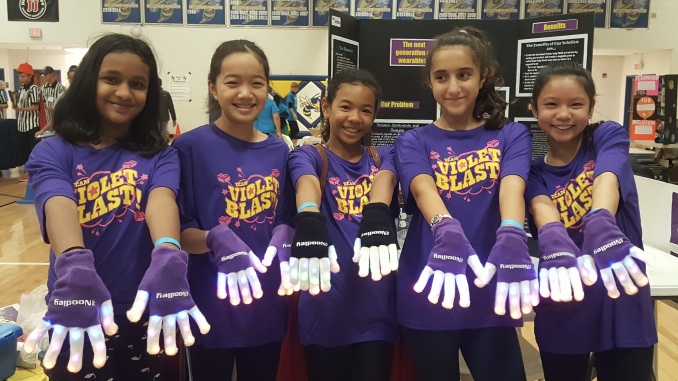 By Erica Garman
Lots of children play with Legos and build houses, towns, castles and even spaceships. But it's not every youngster who builds a working robot out of Legos and goes on to win award after award for the creations — and the brains behind them.
 "It's all about trial and error, and how to try again when something doesn't work out," said Mahsa Riar, 12, a 7th-grader at Belmont Ridge Middle School.
 Mahsa is a member of Violet Blast — an all-girl Lego robotics team from Ashburn that competes in local, regional and national competitions.
 Why the "Violet Blast" moniker?
 "We all like the color violet," said Shriya Avala, 12, a team member alongside Mahsa and also a 7th-grader at Belmont Ridge, "And we're very hyper, so 'blast' seemed to fit into our team name."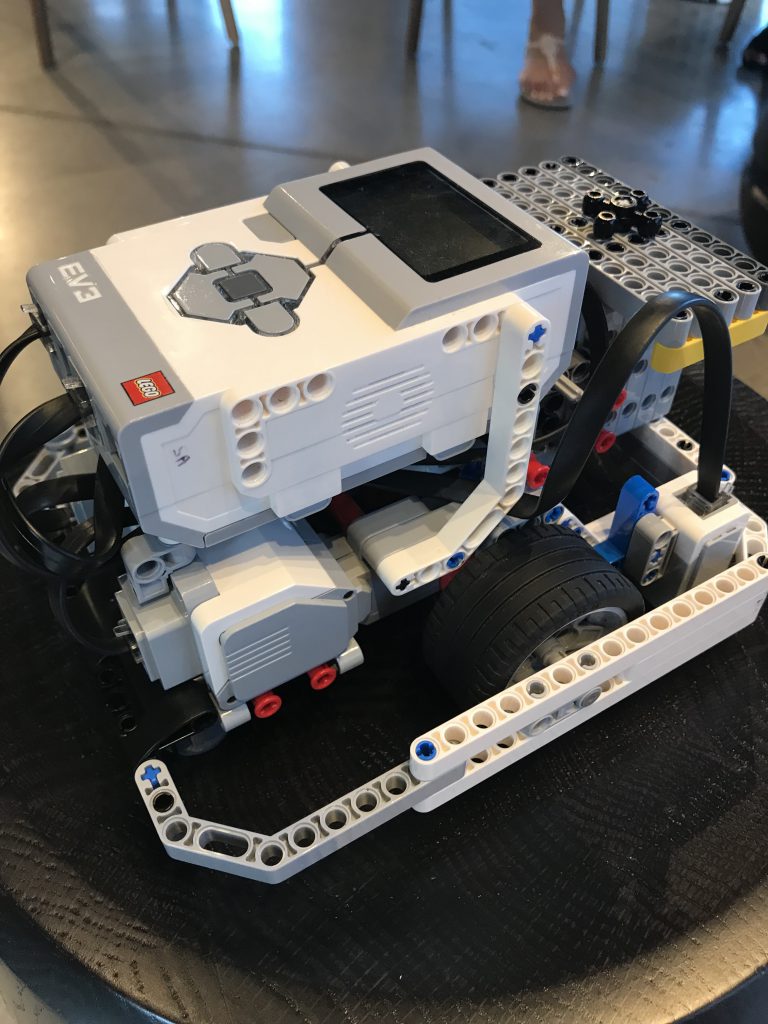 Violet Blast competes in what's called the FIRST Lego League, an international competition for teams of students ages 9 through 14. The league focuses on robotics, teamwork and real-world problem-solving and teaches children a variety of STEM skills — science, technology, engineering and math.
 The competition was founded in 1998 by FIRST, a non-profit organization that promotes STEM for young people, through a partnership with Lego. FIRST reports an estimated 40,000 students around the world participated in its program in the last school year. 
 The program is especially important for girls and women, who haven't always been well represented in STEM classes and careers. 
 "We've seen female participation in the United States rise steadily, and studies have shown girls who participate in FIRST indicate even greater gains in STEM than boys," said Don Bossi, the organization's president. "Armed with what they've learned, these girls and young women are poised to solve our most pressing challenges and make the world a better place."
 In competitions, teams are awarded points in three different categories: building a robot and competing in a robot game, presenting a research-based innovation, and demonstrating FIRST core values such as teamwork and "gracious professionalism."
 "[Gracious professionalism] means helping others when you don't exactly need to help them," said Violet Blast team member Amanda Chin, 12, a 7th-grader at Trailside Middle School. "For example, if another team is missing a piece for their robot and you have one, you should lend them a piece to help them out."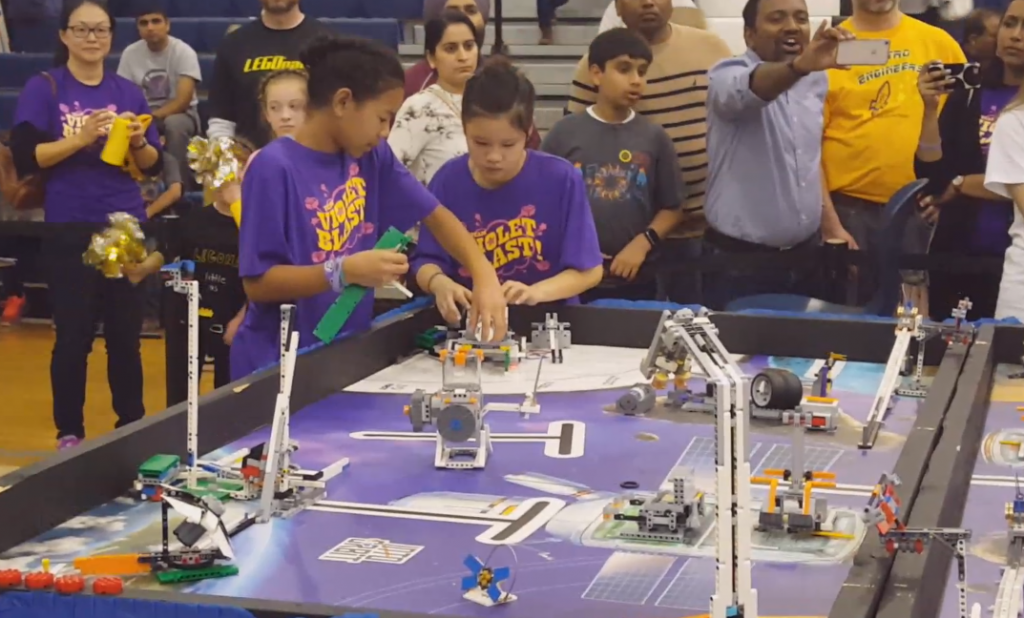 Last November, the team's total score in a local competition propelled them to the regional tournament in Manassas. There, they won second place and a spot in the state tournament at James Madison University in Harrisonburg. They won third place there and an invitation to represent the Virginia/DC area at the Legoland California International Open in Carlsbad this past May.
 "We were shocked," said Maia Brown, 11, a member of the team and a 6th-grader at Belmont Ridge. "We were kind of sad because we thought it was the end of everything, and then they called our name."
 Violet Blast was now in the "big league," competing against 68 other teams. 
 The annual competition's theme was "Into Orbit." Violet Blast researched, designed, and prototyped a wearable helmet that hypothetically simulates artificial gravity, thus keeping fluids from rising to an astronaut's cranium, or the part of the skull around the brain. As the team puts it, the helmet prevents "squished eyeballs" in space. 
 For the robot aspect of the competition, the team designed and built a working robot using Lego bricks and other special attachments that enabled the robot to pick up, drop, and push objects across the competition board. They coded the robot to perform a variety of tasks using a simple Lego-provided programming language. 
 Violet Blast placed 42nd at the international competition. But the girls all say they were just thrilled they had a chance to participate. They've been together since elementary school and don't plan to stop anytime soon. Next year's competition is already in their sights. The theme is "City Shaper," where teams will identify problems facing their communities and together strive to find creative solutions.
 It's a topic tailor-made for Violet Blast.
 "[These girls] work very well together," said Amanda's dad and team coach, Kevin Chin. "They just love hanging out with each other. That's why they've lasted five years. They aren't so focused on winning. They're focused on being together."
— Erica Garman is an Ashburn-based freelance writer who has written for Northern Virginia Magazine and The Washington Post.