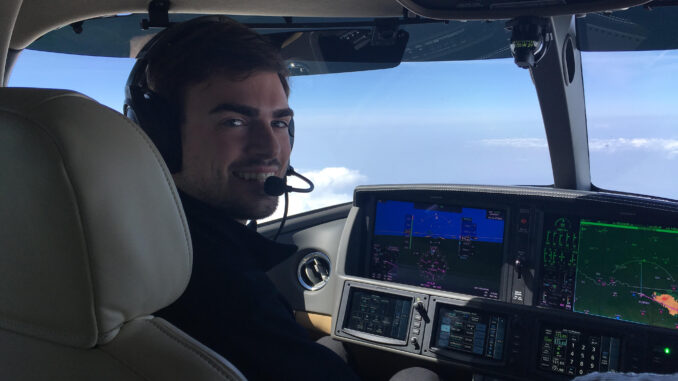 FLYING INTO THE EYE OF THE STORM
By Chris Wadsworth
Technically, Andrew Hoyler is a politician. He was a candidate for the Loudoun County School Board in 2020, lost that election, and then due to a bittersweet twist of fate, found himself on the board on which he has long wanted to serve.
But Hoyler is also more than just a politician. He's a local man — raised in The Broadlands. He attended Loudoun public schools, graduating from Briar Woods High School in 2014. From there he went to Purdue University and earned a bachelor's degree in professional flight. 
Today, Hoyler is 25 and a commercial airline pilot. Between flying all over the country, he's finding his way around being a School Board member. He was appointed to the board in October to represent the Broad Run District after the previous board member, Leslee King, passed away.
His appointment came at perhaps the most challenging moment in Loudoun school history since desegregation — as mask mandates, fights about critical race theory and reports of sexual assualts in schools have rocked the district and the School Board and drawn national media attention.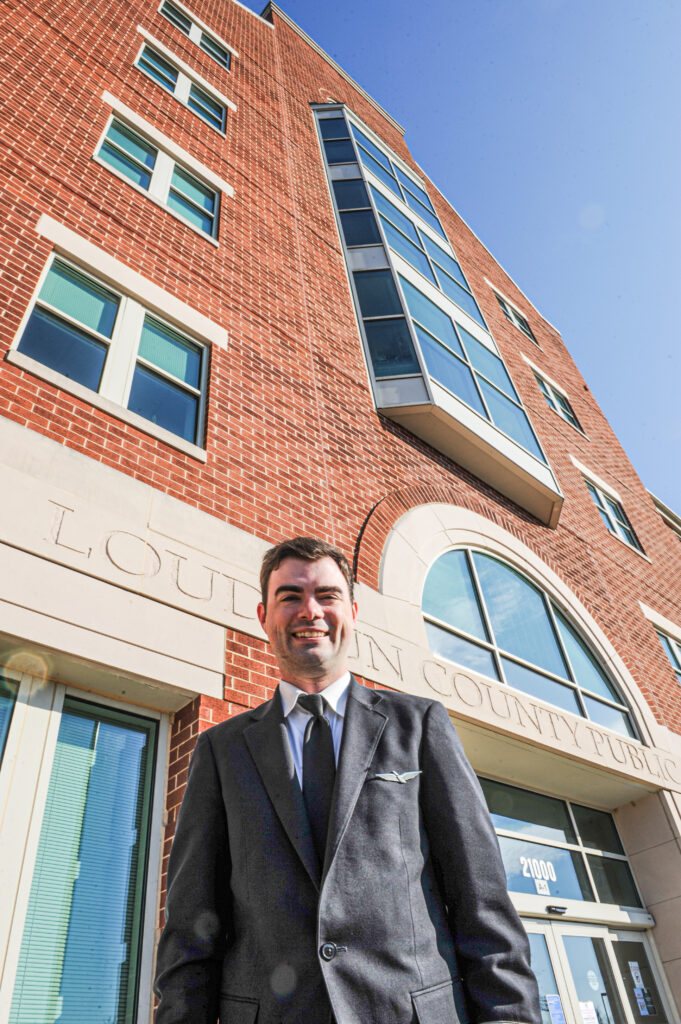 EDUCATION
Ashburn Magazine spoke with Hoyler about his life, his background and how he developed a passion for education at such a young age.
"My interest in running for the school board started in 2018, when I began to reflect on my time as a student in Loudoun County public schools. Being that I still had three siblings in our schools, I recognized a need for me to speak up and bring my own perspectives and experiences to ensure that my siblings, and others, did not have to go through the same negative events that I did.  
"I thought that the perspective of someone who had recently been through our system would be a good one to have on the board. I am the only board member at the moment who was ever a student in LCPS — a view that I think is extremely valuable.  
"I also have great knowledge in what our students need for the next step in their lives, whether that is college, trade school or the military. Setting up our students for success in whatever path they desire is where I see my main passion. We need to recognize the fact that college is not an option, or desire, for all students. However, we still have a duty to offer them the same great options to ensure they have all of the tools they need the moment they step out of LCPS." 
BULLYING
The negative events Hoyler mentions include a terrible experience with bullies that affected his life dramatically — and could have ended much worse.
"Middle school was a very rough time for me — to the point where I wrote my goodbye letter to my family and planned on burning my house down when I was home alone. From week one in middle school, I had a target on my back. I hit my growth spurt early and was not emotionally strong enough to defend myself. 
"I have vivid recollections of being slapped in class when the teacher wasn't looking, being made fun of for the clothes I wore, and being left voicemails from classmates telling me to kill myself. Despite wonderful parents at home and counselors at school, I didn't feel that I knew how to handle myself. 
"Thankfully, through Sources of Strength [a youth suicide prevention program], LCPS has started to shift how we handle anti-bullying campaigns. I believe we need to continue to teach our kids how to build mental resiliency and cope with negative stressors, and not simply teach them that bullying is bad. Bullying isn't going away anytime soon. For anyone reading this who may be struggling themselves — let me be a great example that it WILL get better." 
SCHOOL BOARD
Hoyler's appointment to the board came just as emotions were reaching a fever pitch over topics such as critical race theory and several reported sexual assaults in Ashburn high schools. Upset parents started trying to recall several board members — including King, Hoyler's predecessor. Another board member resigned after reportedly receiving threats against her and her family.
"It's no secret that I was appointed during one of the craziest times in the school district's history — and there have certainly been some 'What did I just get myself into?' moments. But I believe setting expectations with my constituents right off the bat has helped tremendously.  
"I've pledged openness and have created many opportunities for my constituents to interact with me through town halls. I've pledged to listen and take perspectives into each vote and make my votes based on data and facts and not emotion.  
"Finally, and most importantly to me, I've been honest by saying that I am not going to vote the way every constituent wants me to vote 100% of the time, but my hope is that I am seen as a logical board member who wants to focus on the items that have the largest effect on our greatest stakeholder — our students. 
"I have been very thankful that people have given me a chance to show what I am made of and truly believe we — as a School Board — are on an upward trajectory. I cannot wait to see what 2022 has in store."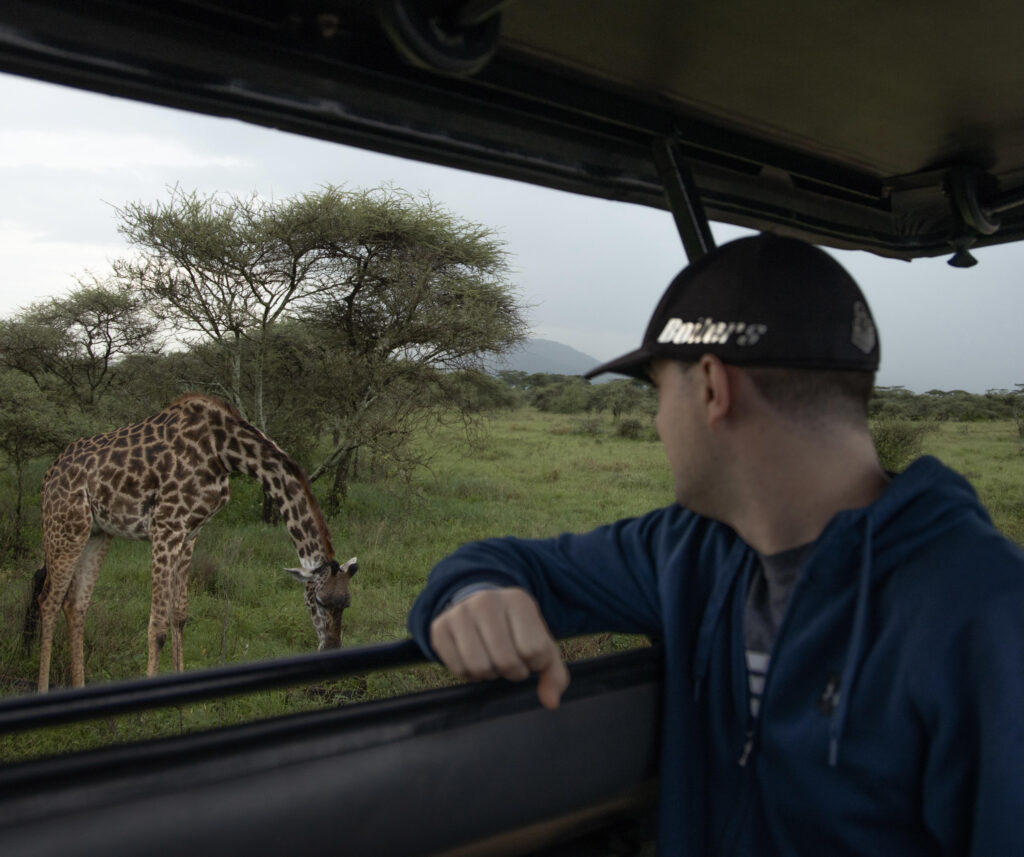 FLYING
Growing up in the shadow of Dulles International Airport left a deep impression on a young Andrew Hoyler. He got his pilot's license when he was just 18 and has turned this love of flying into both his career and the catalyst for another passion — overseas travel.
"As the oldest of five kids, we never got to travel to faraway places with the exception of Disney World, and being a big fan of 'Survivor' and 'The Amazing Race' gave me the desire to travel to … places I'd only seen on television. 
"I have traveled to some amazing places over the last five years — 35 countries and counting. My favorite places are Easter Island, Vienna, Austria and Malaysia. Gabon, Egypt, New Zealand and Antarctica are at the top of my list for places to head to next.  
"Growing up right under the path of Runway 30 at Dulles — the busiest runway for departures — also gave me a desire to learn more about the industry. I am able to choose my flight schedule to work around my requirements on the School Board, and am able to work on research and respond to emails during my overnights in cities around the country."
LGBTQ
Another important part of Andrew Hoyler is one he doesn't talk about a lot publicly — his sexual orientation. The reason — he doesn't believe it's relevant to either of his jobs.
"The fact that I came out in high school is a topic that surprises many people. Despite growing up in a relatively accepting community, I ran into issues in Indiana while attending Purdue.  
"For those who have never been to Indiana, it is a far different place than Loudoun County, especially in the more rural parts of the state. People who lived on my floor refused to associate with me when they found out about my sexuality — something that never happened at Briar Woods. 
"I carry my life no differently, however. I recognize the fact that people are free to believe in or be against whatever they would like. I am not out to convince others that my lifestyle needs to be accepted by them at any and all costs. Some of my closest friends do not support marriage equality, and yet we are able to coexist just like any other group of friends can. 
"My hope is that my community can see me for the meaningful change I am able to bring, and are able to put aside any deeply held beliefs or convictions when my name appears on a future ballot. 
Looking to the future — Hoyler says he hopes he can continue to serve on the School Board for years to come. But first he must win over more voters later this year when his appointed seat is up for re-election. 
"My goal in life is to continue to do what I love," Hoyler said. "Fly people safely to their destinations, travel the world and make a difference in the community that has given so much to me."