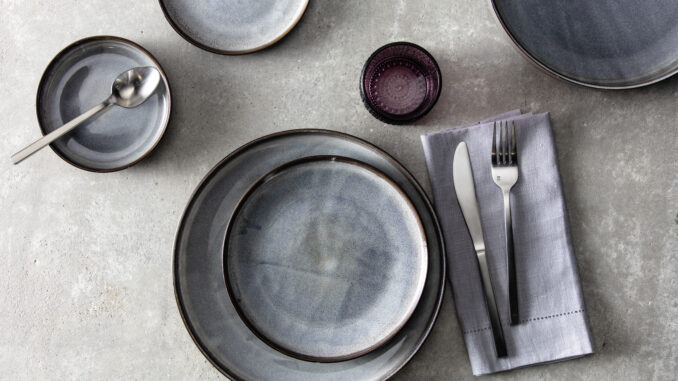 TABLEWARE TITAN 
By Jill Devine
Whether you're in New York City, Los Angeles, London or here in Loudoun County, the next time you're dining out at a nice restaurant, look at the place setting. Pick up the stemmed water glass. Feel the weight of the fork and knife. Notice the pattern on the edge of the bread plate.
Chances are pretty good that everything in front of you was designed right here in Ashburn by a local company that is one of the world leaders in providing dishes, flatware and glassware to restaurants around the world.
We're talking about the dynamic duo of Fortessa Tableware Solutions and Sterling Restaurant Supply — headquartered in a three-story building in One Loudoun. The facility includes two elegant, beautiful — and very different — showrooms.
The location is important for Thomas Harvey, who likes to judge the weight, feel and quality of merchandise before buying. As the corporate chef for the local Tuskie's Restaurant Group — which includes Tuscarora Mill, Magnolia's at the Mill, Fire Works Pizza and South Street Under — he has a lot on his proverbial plate.
"You can tell just by holding a fork if it is going to bend easily," Harvey said. "You might not get that from looking at a photo online."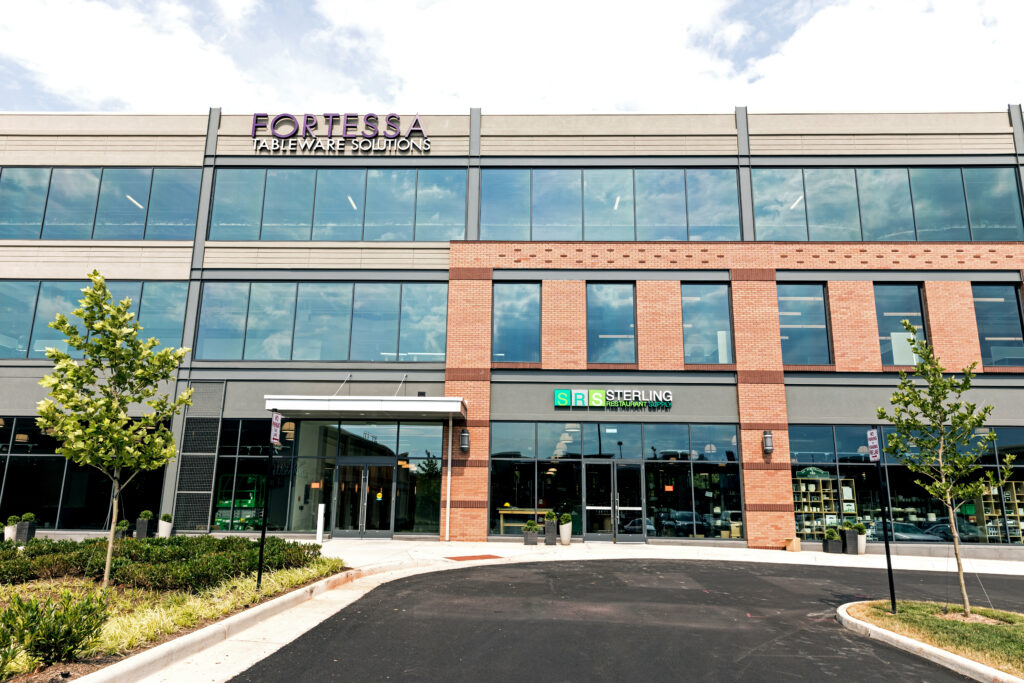 Brambleton resident Scott Hamberger is president and CEO of Integrus, the parent company of Fortessa and Sterling Restaurant Supply. He formed the company with his brother, Eric, after graduating from Georgetown University in 1993. With a credit card advance, the brothers narrowed their interest in international trade to tableware opportunities. The duo worked day and night selling, packing and distributing orders, and before long they jumped from being the U.S. representatives for other manufacturers to designing, producing and commercializing their own brand — Fortessa — in 2001. 
"It was never a question of whether we would start a business — just what kind," Hamberger said.
In a typical week, the 40,000-square-foot facility receives a steady stream of visitors, ranging from CEOs of international hotel chains and airlines to executive chefs for global cruise lines to buyers for national restaurant chains.
But it's not just for titans of industry — local chefs and restaurant owners as well as home cooks and foodies are welcome to visit the One Loudoun headquarters too. That's because Integrus offers two completely different experiences for customers, depending on their needs.
FORTESSA PRIVATE SHOWROOM
The first is the Fortessa showroom, where — by appointment only — major commercial hospitality, food service and retail executives from all over the world meet with company representatives to select Fortessa tableware, flatware, drinkware and barware for large-volume purchases. Fortessa tableware is shipped to more than 160 countries worldwide and can be found in more than 1,350 hotel locations and more than 2,200 upscale restaurants.
"Contemporary luxury is more about the level of detail," Hamberger said. "We serve the luxury market by being flexible to the luxury market's demands."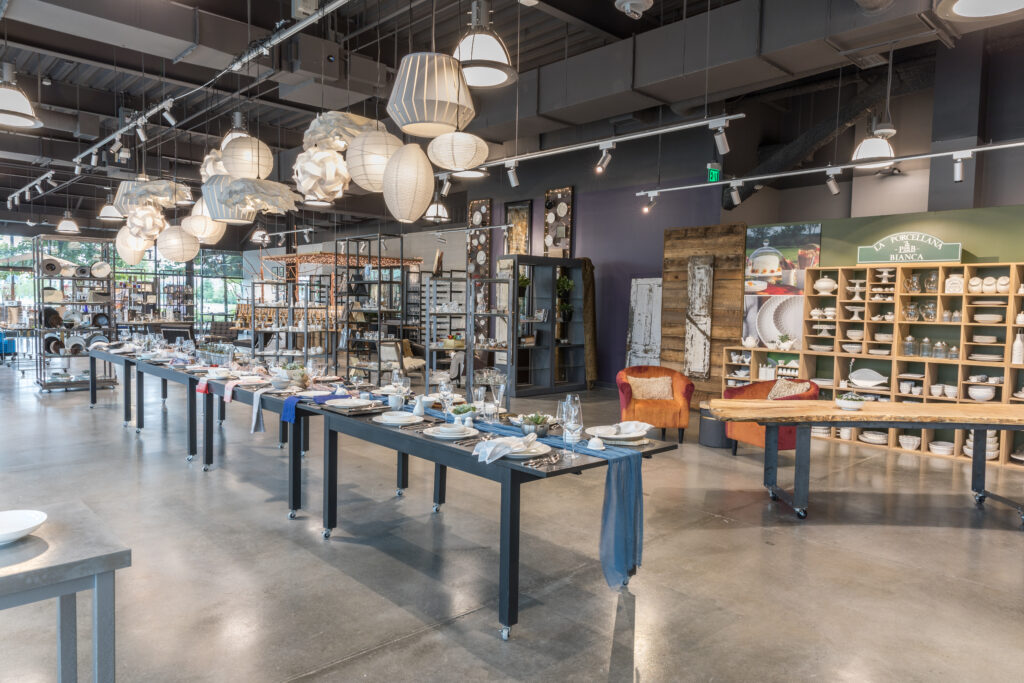 The Fortessa showroom includes a catering prep space for events and fundraisers that is also used to demonstrate to customers how Fortessa product selections will appear to patrons in actual use. 
Fortessa products are also available to commercial and consumer customers directly through the Fortessa website and other online sellers, as well as through more than 6,600 third-party retail stores.
"We definitely are becoming more focused on helping consumers entertain at home like they see professionals doing," Hamberger said. "We want to help consumers achieve their lifestyle goals, enjoy their homes, and elevate their everyday experiences."
For the choosiest of customers, Fortessa offers the design services of its Cloud Terre Studio, where chefs and restaurant owners can be involved in the design process and order custom-made tableware that is handcrafted onsite in the company's pottery studio. 
STERLING RESTAURANT SUPPLY
The second experience at the One Loudoun headquarters is the Sterling Restaurant Supply store, a cash-and-carry venue where anyone who cooks can make smaller-scale purchases of Fortessa products while shopping for "back of house" items from other high-end vendors. This means items used in the kitchen, such as stainless steel mixing bowls and bakeware, serving sets, cutting boards, or cake keepers.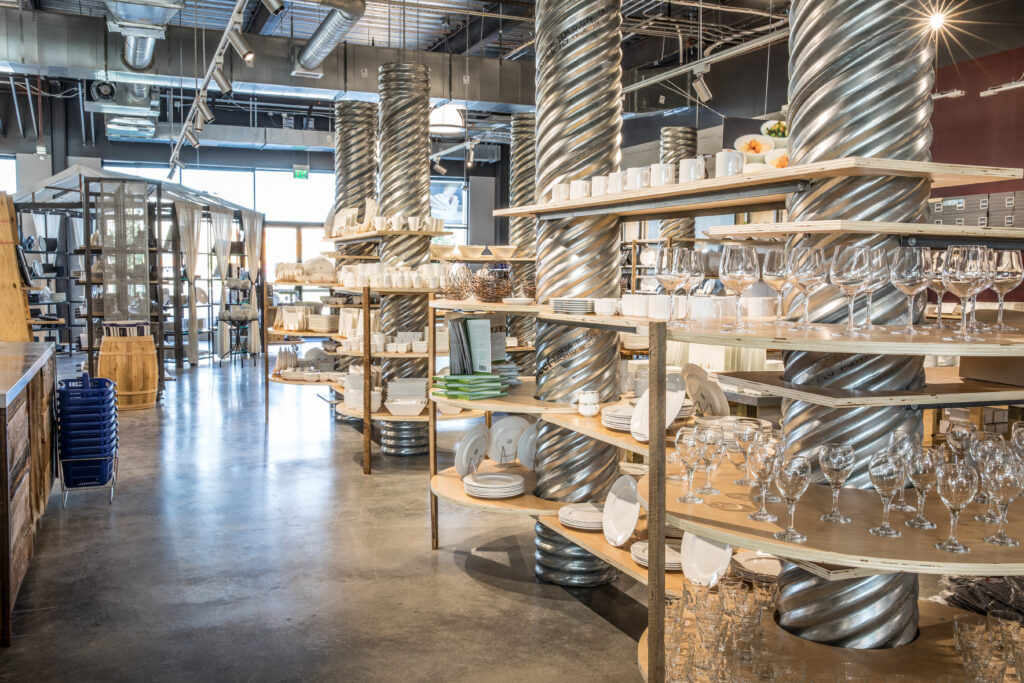 Even more unique, as the only Fortessa outlet store in the world, SRS also sells steeply discounted products that may have been samples, or discontinued items, or even — believe it or not — used items that restaurants have traded in.
This exchange program is unique to SRS, because Fortessa buys back large quantities of luxury tableware from hotels or convention centers that are buying new Fortessa patterns. Public shoppers can, in turn, buy those exchanged products for $2 or less per piece. The deals get even better during periodic sales.
"We are open daily to the public; no membership required," said SRS store manager Blair Ellis. "Practically every chef in the area has at least stepped foot in the store."
Ellis said SRS products are used at Ashby Ponds, the National Conference Center, and restaurants all over Loudoun — naming AhSo, Market Table Bistro, Sense of Thai St. and Copperwood Tavern as examples.
"I deal with SRS constantly," said Tuskie's Harvey, who turned to Sterling Restaurant Supply when he had just one day to fully stock the dining room and kitchen for the newest Fire Works location in Sterling. "I love visiting SRS. I'm like a kid in a candy shop."
Jill Devine is a freelance writer who lives in Loudoun County. When not writing, she enjoys her job as a kindergarten teaching assistant for Loudoun County Public Schools.